CBRE Newspaper Updates on Residential Ads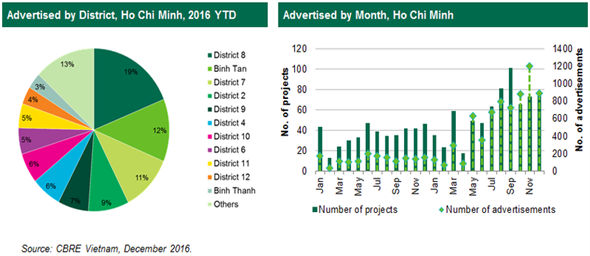 No new launch
Advertisements

Hado Centrosa (District 10)

Total units: 2,178 units
Scale: eight 30-floor blocks
Unit size: 48.12 – 123.65 sm (1 – 3 bedrooms)
Price: from VND 960 million per unit

Moonlight Park View (Binh Tan District)

Total units: 463 condos, 38 office-tels and 34 shophouses
Scale: three 19-floor blocks with 2 basements
Unit size: 51.14 – 119.13 sm (1 – 3 bedrooms)
Price: from VND 986 million per unit

Dream Home Palace (District 8)

Total units: 978 units
Scale: 22 floors with land area of 13,000 sm
Unit size: 51 – 80 sm (2 – 3 bedrooms)
Price: from VND 898 million per unit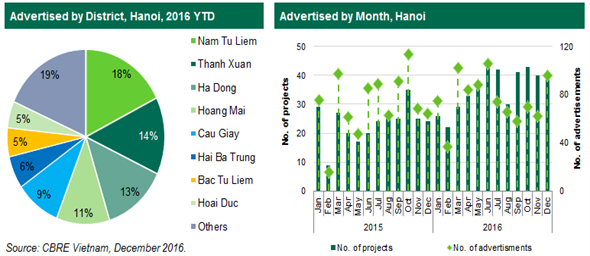 ​
One new launch

HUD 3 Nguyen Duc Canh (Hoang Mai District)

Total units: 392 units
Unit size: 55.9 – 95.3 sm (1 – 3 bedrooms)
Price*: from VND 22 million per sm (basic furnished)

Advertisements

The Golden Palm (Thanh Xuan District)

Total: 405 units
Scale: total area 5,859 sm
Unit size: 63 – 130 sm (2 – 3 bedrooms)
Price*: from VND 34 million per sm (basic furnished)

Tabudec Plaza (Ha Dong District)

Total units: 252 units
Scale: total area 5,546 sm
Unit size: 73 – 106 sm (2 – 3 bedrooms)
Price*: from VND 15.5 million per sm (basic furnished)

Anland Complex (Ha Dong District)

Scale: total area 7,300 sm
Unit size (carpet area): 54 – 90 sm (2 – 3 bedrooms)
Price*: from VND 21 million per sm (basic furnished)
* Prices included VAT
Note: Selected newspapers include Dau Tu Bat Dong San, Thoi bao kinh te Vietnam, The gioi thong tin bat dong san, CafeF, Tap chi dau tu bat dong san, Vietnamnet, Thi truong Bat dong san & Tai san, Nguoi dua tin, Vnexpress
Co-working space rise presents new trend in Vietnam office space market
Vietnam Investment Review
| | |
| --- | --- |
| | The rising popularity of the "Co-working space" model pushes office space providers to supply more flexible working space for companies. Vietnam and Hanoi in particular do not stand apart form this trend, as there are now various developments offering shared office models: there has been a marked expansion in leasing size, the number of sites, and diversification in location and service types in the third quarter of the year. |
Thai investors sweep Vietnam retail market
Vietnamnet
| | |
| --- | --- |
| | In early 2016, Thai tycoons are pushing the speed of acquisition of the wholesale and retail system of Vietnam. Most recently, two Thai groups – Berli Jucker Corporation and the Central Group have declared their wish to acquire the Big C system. The number of shops specializing in Thai products in Hanoi and Ho Chi Minh City is growing at a more competitive level. Realizing the situation, many retailers operating in Vietnam such as Aeon, Big C and Lotte Mart have raised the rate of Thai products. For Thai businesses, business opportunities in Vietnam will increase rapidly in the future when the AEC tariff barriers are gradually removed. |
Zara Vietnam flagship opens in HCMC
Inside Retail Asia
Covering 2400 sqm over two levels, the first

Zara Vietnam

flagship store has opened at

Vincom Center

in Ho Chi Minh City. Customers have views of the main street, Dong Khoi, from its windows, while on the racks are collections including women's and men's styles as well as Zara Kids, Zara Basic, TRF and the latest fall/winter styles. Customers say they are impressed with the prices, noting they are cheaper than in Singapore and Thailand.



Mapletree Acquires Kumho Asiana Plaza in Ho Chi Minh City, Vietnam
Mapletree
| | |
| --- | --- |
| | Mapletree Investments Pte Ltd ("Mapletree" or "the Group") has acquired Kumho Asiana Plaza Saigon in District 1 of Vietnam's Ho Chi Minh City ("HCMC") from Kumho Industrial Company Limited and Asiana Airlines Incorporated. This is Mapletree's largest acquisition involving a completed, income-producing property in Vietnam. It is in line with the Group's overall strategy to invest in strong-yielding assets to further grow its business and earnings. |
Vietnam: Korea's AON Holdings takes over Hanoi Landmark Tower
Deal Street Asia
| | | |
| --- | --- | --- |
| | | South Korea's mid-sized financial group AON Holdings will be the new owner of the Keangnam Hanoi Landmark Tower, Vietnam's tallest building from Keangnam Enterprise, The Korea Economic Daily reported. Samjong KPMG, the principal underwriter for selling debts of Landmark 72, has selected AON Holdings as the preferred bidder to the deal, according to investment bank sources on December 16. Keangnam's debts are currently held by a project financing creditor group comprising five commercial banks and ten savings banks. |
Novaland becomes 2nd biggest listed housing developer
BizHub
| | |
| --- | --- |
| | Giant developer Novaland Group has become the second largest listed real estate firm after surging by the maximum allowed 20 per cent on listing day at the HO Chi Minh Stock Exchange. Novaland listed almost 589.37 million shares at a starting price of VND50,000 (US$2.1). Within minutes, the share reached VND60,000 ($2.6). At that price, its market capitalisation topped VND35 trillion ($1.5 billion), second only to Vingroup's VND111 trillion ($4.8 billion). Novaland is among the biggest real estate developers in the south with 40 projects in all segments like houses, villas, apartments, and office-tel. |
Top developers eye affordable housing
Vietnamnet
| | |
| --- | --- |
| | The property market expects to see a wave of developers expand into affordable housing developments, which faced a severe shortage until the Government took steps to promote investment. Investments in affordable homes are encouraged by Prime Minister Nguyen Xuan Phuc at a recent conference in Hanoi. Heating the market, development giant Vingroup–previously known for its luxury real estate brands–introduced VinCity, a brand for affordable homes. |
Warburg Pincus, Vietnam's VinaCapital in $300 million hotel venture
Reuters
| | |
| --- | --- |
| | U.S.-based Warburg Pincus LLC and Vietnam's VinaCapital said on Thursday their affiliates have agreed to invest up to $300 million in a hotel venture in Southeast Asia. This will include acquisitions, the development and operation of hotels in the region, where tourist numbers are expected to triple over the next decade, especially from China, Warburg Pincus and VinaCapital said in a joint statement. The venture will seek to expand by buying and revamping hotels in major cities and developing luxury resorts across Southeast Asia. |
Vietnam welcomes 10 million international arrivals
Vietnam Economic Times
| | |
| --- | --- |
| | Vietnam welcomed its 10 millionth annual foreign visitor for the first time on December 25 at Phu Quoc International Airport off the coast of the Mekong Delta's Kien Giang province. This is the first time Vietnam has welcomed 10 million international arrivals in a calendar year and represents an increase of 25 per cent year-on-year. The country also catered to more than 62 million domestic travelers this year, with total revenue estimated at VND400 trillion ($18 billion). |
Mövenpick Villas to heat up Vietnam's second home market
Vietnam Investment Review
| | |
| --- | --- |
| | In 2016, the appearance of coastal resort villas boasting international 5-star brands created a fierce competition in the coastal second home market. With the strict standards of prestigious international management companies, these resort villas ensure the quality in design, construction, operation, management and maximum profitable efficiency. |
FOR MORE INFORMATION,CONTACT:
Dung Duong MRICS
Director
T +84 8 3824 6125
dung.duong@cbre.com
An Nguyen
Director
T +84 4 2220 0220
an.nguyen@cbre.com