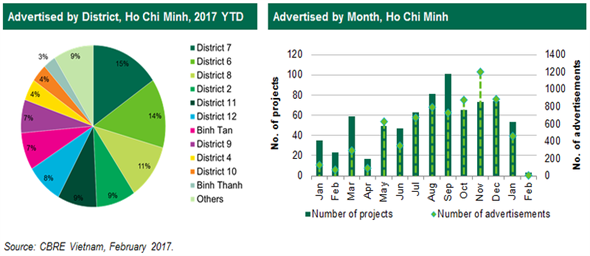 No new launch
Advertisements:

Richmond City (Binh Thanh District)

Total units: 800 units
Scale: three 25-floor blocks
Unit size: 65.6 – 86.28 sm (2 – 3 bedrooms)
Price: from VND 990 million per unit

Khuong Viet (Tan Phu District)

Total units: 233 units
Scale: one 17-floor block
Unit size: 51 – 94 sm (1 – 3 bedrooms)
Price: from 970 million per unit

Moonlight Boulevard (Binh Tan District)

Total units: 656 condos, 54 office-tels and 54 shop houses
Scale: one 20-floor block
Unit size: 51.41 – 96.16 sm (2 – 3 bedrooms)
Price: from VND 999 million per unit
* Prices included VAT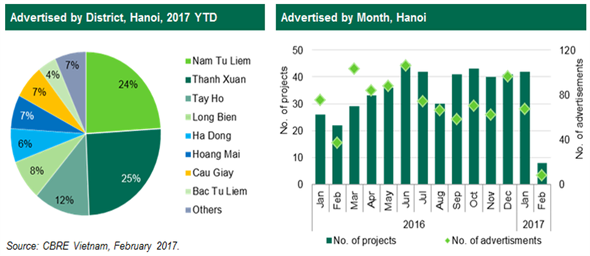 ​
No new launch
Advertisements:

D'. Le Roi Soleil (Tay Ho District)

Total units: 498 units
Scale: 9,185 sm
Unit size: 83 – 333 sm (2 – 3 bedrooms)
Price*: from VND 65 million per sm

Sunshine Riverside Tay Ho (Tay Ho District)

Total units: 932 units
Scale: total area 5,430 sm
Unit size: 64 – 170 sm (2 – 4 bedrooms)
Price*: from VND 38 million per sm

Sun Grand City Ancora Residence (Hai Ba Trung District)

Total units: 720 units
Scale: 5,932 sm
Unit size: 71 – 395 sm (2 – 5 bedrooms)
Price*: VND 45 million per sm
* Prices included VAT
Note: Selected newspapers include Dau Tu Bat Dong San, Thoi bao kinh te Vietnam, The gioi thong tin bat dong san, CafeF, Tap chi dau tu bat dong san, Vietnamnet, Thi truong Bat dong san & Tai san, Nguoi dua tin, Vnexpress
Big companies invest in real estate in the South of Hanoi
VnEconomy
| | |
| --- | --- |
| | Within a relative short time, many important transportation projects are completed, such as overpass O Dong Mac – Nguyen Khoai, widen Tan Mai and Kim Dong road. Furthermore, the Prime Minister has also agreed Hanoi to operate Minh Khai – Vinh Tuy – Yen Duyen Project with 1.65 km long. According to master planning, Minh Khai road will be broaden and have more overpass which is expected to reduce traffic jam. Thanks to infrastructure development, big real estate companies like Vingroup, Tan Hoang Minh, MIK Group, Geleximco and T&T Group have already invested in this area. Firms are eyes on the South of Hanoi area, therefore, it is forecasted that the area will receive many more real estate projects. |
Investigating a series of issues in converting golden land in Hanoi, Saigon and Danang
Land Today
The government inspector – Phan Van Sau has signed the Decision no. 3344/GD-TTCP in approving the inspection plans in 2017 which the agency will conduct 23 official inspections and 6 preventive inspections. Government Inspector will investigate the conduction of switching prime properties for public uses to properties for other purposes in HCMC, Hanoi, Khanh Hoa and Danang.
Vietnamese crazy about cars, manufacturers rush to sell​
Vietnamnet
| | |
| --- | --- |
| | Car trading in 2016 saw the number of projects in the sector increasing sharply. About 505 projects in the field were licensed, ranking second in terms of foreign direct investment (FDI), just after real estate, according to the Ministry of Planning and Investment (MPI). The representative of a foreign-invested automobile manufacturer said previously, FDI capital flowed into production and assembling, but now, it pours into retail and post-sale services. He said foreign investors all can see great potential in Vietnam, where the demand has been increasing rapidly. There is a big wave of foreign investors coming to Vietnam to work as distribution agents for manufacturers. |
Hanoi finding solutions for aging condominiums
CafeLand
| | |
| --- | --- |
| | Hanoi authority has assigned 19 developers to investigate a plan for 19 old condominiums' reconstruction. This assignment, according to Planning – Architecture Department's Director, has faced many challenges. Hanoi has just refurbished 1% of a total 1,500 aging condominiums. Most of the projects are in slow progress or delayed. |
Chairman of VnREA: Need to "pedal" for lending to buy low-price housing
Land Today
According to the Chairman of Vietnam Real Estate Association – Mr. Nguyen Tran Nam, many banks have not behaved well with credit for real estate for such a long time. The review of credit for high-end segment and resort villas is needed. The bank should press the brake for social housing and low-price housing.
Players continue to come and go in Vietnam's ecommerce
Vietnamnet
| | |
| --- | --- |
| | As soon as Deca.vn and Lingo.vn closed, Shopee.vn and aeoneshop.com were launched. There is no lack of vibrancy in Vietnam's e-commerce arena. The race between purely e-commerce companies and traditional retail companies in Vietnam has not seen the clear winners, and purely e-commerce firms currently have an edge. However, with the determination of retail companies to expand online, the competition will be exciting to watch in 2017. |
5 HCMC traffic projects expected in 2017
NDH
| | |
| --- | --- |
| | 2-gate overpass connecting Truong Son and Tan Son Nhat Aiport, An Suong tunnel, connecting point between Nguyen Van Cu Bridge and Vo Van Kiet Avenue, etc. are the main projects which are expected to make the traffic congestion decrease. According to the Ministry of Transport, these projects must be completed within this year that is allowed by the Prime Minister – Mr. Nguyen Xuan Phuc following the emergency order. |
Dai Nam racecourse opens without gambling​
Vietnam Investment Review
| | |
| --- | --- |
| | On January 29, the Dai Nam racecourse started operation at the Dai Nam tourism zone in Hiep An commune, Thu Dau Mot city in Binh Duong province. Earlier this month, Prime Minister Nguyen Xuan Phuc signed a decree allowing Vietnamese to gamble at casinos in Vietnam. On this occasion, the racecourse, in cooperation with the Binh Duong Department of Culture, Sports and Tourism and the Vietnam Association of Sports Bicycles and Motorcycles announced the start of its first horse racing and motorcycle racing tournament. |
Vietnam's economy less dependent on cheap labor force
Vietnamnet
| | |
| --- | --- |
| | For a long time, Vietnam has been considered an economy that has taken advantage of its cheap labor force. Foreign experts say this is 'economic development with no depth'. Labor-intensive industries such as mining and agriculture are no longer expanding, according to Nguyen Duc Thanh, Director of the Vietnam Institute for Economic and Policy Research (VEPR). International and Vietnamese experts in recent years repeatedly have warned that Vietnam can no longer count on the cheap labor force as the competitiveness of the economy. In order to improve the current situation that Vietnam has been developing based on a cheap labor force, it needs big changes in policies on education and bigger opportunities for youth to approach technology. |
Long Thanh Airport project: VND 5,000 billion for clearance separated into sub-projects
CafeF
| | |
| --- | --- |
| | According to Ministry of Transport, based on the expected schedule, the feasibility study report of Long Thanh International Airport project will be completed and presented to the National Assembly in 2018. Moreover, it is expected to be reviewed by the end of 2018 or early 2019. The Ministry of Transport has released a draft about the separation of the content for land acquisition and compensation, and resettlement into sub-projects. |
FOR MORE INFORMATION,CONTACT:
Dung Duong MRICS
Director
T +84 8 3824 6125
dung.duong@cbre.com
An Nguyen
Director
T +84 4 2220 0220
an.nguyen@cbre.com