CBRE Newspaper Updates on Residential Ads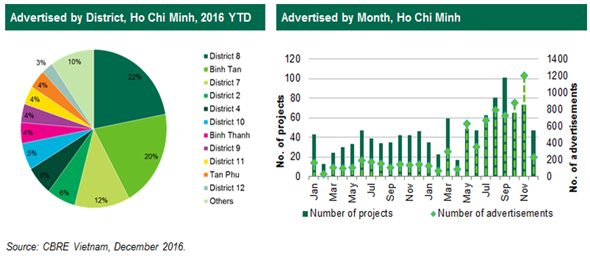 No new launch
Advertisements:

Homyland 3 (District 2)

Total units: 744 units
Scale: two 27-floor blocks with one basement
Unit size: 75 – 107 sm (2 – 3 bedrooms)
Price from VND 900 million per unit

Golden King (District 7)

Total units: 372 units
Scale: one 21-floor block with 1 mezzanine and 2 basements
Unit size: 31.6 – 323 sm
Price from 1.3 billion per unit

Riva Park (District 4)

Total units: 320 units
Scale: 18 floors; land area: 4,827.8 sm
Unit size: 58.46 – 113.13 sm
Price from 31 million per sm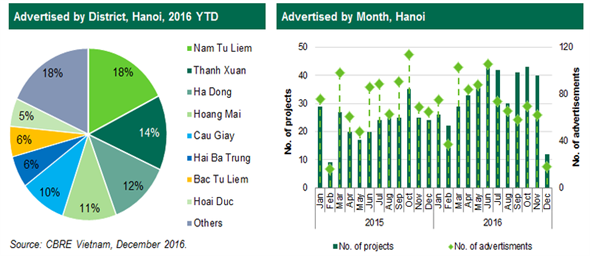 ​
Two new launches

Viet Duc Complex (Thanh Xuan District)

Number of units: 704 apartments
Scale: total area 11,754 sqm
Unit size: 73 – 137 sqm (2 – 3 bedrooms)
Price*: from VND 28 million per sqm (basic furnished)

My Dinh Pearl (Nam Tụ Liem District)

Number of units: 984 apartments
Scale: total area 3.8 ha
Unit size: 54 – 109 sqm (1 – 3 bedrooms)
Price*: from VND 33 million per sqm (basic furnished)

Advertisements:

An Bình City (Bac Tu Liem District)

Number of units: for a population of 10,000 people
Scale: total area over 4.4 ha
Unit size: 74 – 114 sqm (2 – 3 bedrooms)
Price*: from VND 26 million per sqm (basic furnished)

Anland Complex (Ha Dong District)

Scale: total area 7,300 sqm
Unit size (carpet area): 54 – 90 sqm (2 – 3 bedrooms)
Price*: from VND 21 million per sqm (basic furnished)
* Prices included VAT
Note: Selected newspapers include Dau Tu Bat Dong San, Thoi bao kinh te Vietnam, The gioi thong tin bat dong san, CafeF, Tap chi dau tu bat dong san, Vietnamnet, Thi truong Bat dong san & Tai san, Nguoi dua tin, Vnexpress
Vingroup to build VinCity's projects for middle income families
Vietnam Economic Times
| | |
| --- | --- |
| | Vingroup has officially launched the VinCity public real estate brand. VinCity's projects will be designed with a synchronized infrastructure and services, including education, health care, sport, culture, shopping and entertainment. Vingroup is also planning to build 200,000 to 300,000 apartments named VinCity with prices from VND700 million ($31,800) in the next five years. In the first period, VinCity will be implemented in seven provinces and cities including Hanoi, Ho Chi Minh City, Hung Yen, Hai Phong, Thanh Hoa, Ha Tinh and Nha Trang. In Hanoi and Ho Chi Minh City, projects of VinCity will be built in the suburbs to reduce the concentration of population and to avoid traffic jams. Mr. Le Khac Hiep, Deputy Chairman of Vingroup said that VinCity's projects will bring modern apartments and services to the middle income customers. |
Vietnamese Government wants energy-efficient buildings
Vietnam Breaking News
| | |
| --- | --- |
| | Vietnam is going through a construction boom, with apartment and office buildings mushrooming, and energy efficiency is imperative, Nguyen Cong Thinh, head of the Ministry of Construction's science, technology and environment department, told a seminar in HCM City yesterday. Officials say new buildings should pay attention to construction materials, air conditioning and ventilation systems, lighting, elevators, automatic power cut-off, and hot water system or reduce their energy consumption. |
D'.Capitale introduced new product line
VnEconomy
| | |
| --- | --- |
| | SOHO – type of real estate product flexibility to meet both demands simultaneously living and working. SOHO is defined as housing flexible office functions, small area, modern design, and dynamic style. This type is especially suited to those who do start-ups, freelance or corporate employees choose to work flexibly at home. Inspired by the modern pace of life in the world, D'.Capitale introduced product line fully converged SOHO superior value most, bring advantages 3 in 1 "live – work – enjoyment", direction to the rhythm of life and work in the center of the dynamic capital city. Apartments in the tower layout SOHOduoc D'.Capitale C2 – Project property with a prime location overlooking the front three three busy roads, busy: Tran Duy Hung, Khuat Duy Tien and Hoang Minh Giam. |
HCM City to build 30km elevated road in 2017
Vietnam Plus
| | |
| --- | --- |
| | Construction of HCM City's elevated road No.5 linking Hanoi Highway in Thu Duc district with the Tan Tao – Cho Dem junction in Binh Tan district will begin next year. It will run above the length of National Highway 1A between the two points, passing through District 12 and Binh Chanh district. The Department of Transport said the 30.4km road would be 17.5 metres wide and have four lanes. It will pass through Thu Duc district, District 12, Binh Chanh District and Binh Tan District. |
HCM City to reclaim land of 880 projects
Vietnam Breaking News
The city People's Committee has proposed the People's Council consider passing the land acquisition projects and change the land use of projects below 10 ha agricultural land; below 20 ha forest land, specialized forest land within the land use planning in 2017 in all districts.
The land acquisition projects have an area of 8,000 ha, of which, 7,000 ha will be withdrawn. Ho Chi Minh City also has 321 projects for agricultural use which will be retrieved, of which, 316 projects are agricultural land and 5 projects are designated protective forest.
Hanoi: 1/500-ratio Planning for functional urban Southern Thang Long Boulevard
CafeLand
| | |
| --- | --- |
| | After approving the planning not long ago, Hanoi Committee of People has also approved detailed planning 1/500 functioning urban Nam Thang Long Highway (Me Tri Ward, Trung Van, Phu Do, Nam Tu Liem District) by JSC Central Vietnam Exhibition Fair (member Vingroup) as an investor. Compared with the task of planning, detailed planning 1/500 of this urban Nam Thang Long Boulevard has a total area of ​​about 75.296 ha and a population of about 10,000 people. Functional areas of the Nam Thang Long Highway north frontage roads with Thang Long Avenue; to the east the region is expected to arrange the office of ministries, central agencies and existing residential areas; the west width 21,25m route planning. |
Hanoi approved a list of recalled construction sites, projects in 2017
CafeLand
| | |
| --- | --- |
| | In morning of 6 Dec, the Hanoi People's Council adopted a Resolution on the list of land acquisition projects; the list of projects to change the purpose of land for rice cultivation, protection on the territory of the city in 2017 under the jurisdiction of City Councils with the rate reaching 77.88% approval. City Councils resolutions, uniform taken off the list issued together with Resolution No. 13 / NQ-HDND dated 02 Dec 2016 with 122 land acquisition projects in 2016 with an area of ​​179.04ha; 99 projects to change the purpose of rice land, protection forest land, with an area SUF 116.9. |
Hanoi: Construction of National Road 21B is launching
CafeF
| | |
| --- | --- |
| | Hanoi Committee of People has issued Decision No. 6674 / QD-UBND approved the red line boundary 21B Highway running through the town of Kim Bai, Thanh Oai district, ratio 1/500. The route length is about 2,85km. First point line (point 1) is located at Km10 + 350. The end point (point 12) at Km13 + 200. Route navigation is determined on the basis of the existing road 21B. Main road width of typical cross-section B = 35m, roadway for motorized 6-lane 15m wide, roadway for mixed vehicles 6m, 3m wide median strip, separators party motor lanes separated and mixed lanes 1m wide (can be replaced with painted lines); 10m wide sidewalks sides. |
Hanoi: pilot Rapid Bus Transit to be soon deployed
Hanoitimes
| | |
| --- | --- |
| | The local Department of Transport joins hands with Transerco to create favourable conditions for Bus Rapid Transit operation, to ensure transport safety and convenience for passengers. The project is hoped to officially operate within the year. The pilot route is from Kim Ma station in Ba Dinh district to Yen Nghia station in Ha Dong district through Giang Vo, Lang Ha, Le Van Luong, Le Trong Tan, Tran Phu and Ba La streets. There are 21 bus stops on the 14.7 km route. Each bus has a capacity of 90 passengers. It is expected to take a passenger 30 minutes for the whole route. |
Vietnam's 2016 inflation seen picking up, says World Bank
Vietnam Breaking News
Vietnam's inflation is forecast to pick up to 4.9 percent in 2016, in line with a government target, while increased lending keeps the economy resilient despite a fragile global environment, the World Bank said on Monday. "Inflation is expected to come in just below the official target of 5 percent this year and then moderate next year as administrative price hikes — which were the main driver of inflation this year — moderate," the bank said in a report.
FOR MORE INFORMATION,CONTACT:
Dung Duong MRICS
Director
T +84 8 3824 6125
dung.duong@cbre.com
An Nguyen
Director
T +84 4 2220 0220
an.nguyen@cbre.com