CBRE Newspaper Updates on Residential Ads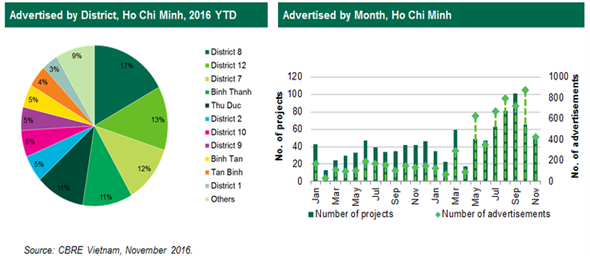 No new launch
Advertisements:

Vision 1 (Binh Tan District)

Total units: 1,980 units
Scale: 10 blocks from 19 to 25 floors
Unit size: 45 – 77 sm (1 – 3 bedrooms)
Price: from VND 980 million per unit

Duc Long New Land (District 8)

Total units: 700 units
Scale: three 22-floor blocks
Unit size: 65.1 – 73.5 sm (1 – 2 bedrooms)
Price: from VND 900 million per unit

Soho Premier (Binh Thanh District)

Total units: 168 units
Scale: one 15-floor block with 1 basement
Unit size: 45.22 – 94.42 sm (1 – 3 bedrooms)
Price: from VND 1.6 billion per unit

Asa Light (District 8)

Total units: 1,149 units
Scale: three 21-floor blocks with 2 basements
Unit size: 49.98 – 69.99 sm (1 – 2 bedrooms)
Price: from VND 1 billion per unit
* Prices included VAT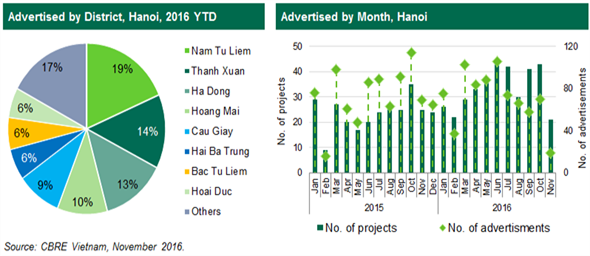 ​
Two New-launch projects

Sunshine Riverside (Bac Tu Liem District)

Total units: 932 units
Total area: 5,430 sm
Unit size: 65 – 122 sm (2 – 4 bedrooms)
Price: from VND 40 million per sm (fully furnished)

Park View Tower (Hoang Mai District)

Total units: 672 units
Total area: 6,025 sm
Unit size: 61.9 – 87.2 sm
Price: from VND 20 per sm (basic furnished)

Advertisements:

Hanoi Starlake (Tay Ho District)

Total area: 186.3 ha
Unit size: 200 – 400 sm (land area) of Villa; 130 – 150 sm (land area) of Terraced house

Golden Field (Nam Tu Liem District)

Total units: 437 units
Total area: 4,435 sm
Unit size: 68 – 124 sm (2 – 3 bedrooms)
* Prices included VAT
Note: Selected newspapers include Dau Tu Bat Dong San, Thoi bao kinh te Vietnam, The gioi thong tin bat dong san, CafeF, Tap chi dau tu bat dong san, Vietnamnet, Thi truong Bat dong san & Tai san, Nguoi dua tin, Vnexpress
H&M Vietnam launching in 2017
Inside Retail Asia
| | |
| --- | --- |
| | International fashion brand H&M Vietnam (Hennes & Mauritz) has signed for its first store openings next year. No further details have been released by the Swedish fast-fashion company, which will also move into Colombia, Iceland, Kazakhstan and Georgia next year. Its debut in Vietnam was widely expected after rival brand Zara launched in Ho Chi Minh City in September, achieving the highest first day sales of any store globally. |
Nguyen Hue leads HCMC property price
Vietnam Economic Times
| | |
| --- | --- |
| | The housing land price per sq m on the street front along vehicle-free Nguyen Hue is the highest in Ho Chi Minh City, according to the latest figures from gachvang.com. Its latest research to the end of October shows the Top 10 most expensive streets in terms of housing land in Ho Chi Minh City. All are located in District 1, which has long been a "golden land". Prices on Nguyen Hue average above $49,500 per sq m, followed by Le Loi with $36,900 and Dong Khoi with $31,500. |
Vingroup to develop Thu Thiem sports and entertainment complex
Vietnam Economic Times
The Ho Chi Minh City People's Committee has officially approved Vingroup as the developer of the sports and entertainment complex at the 2C functional area in the Thu Thiem New Urban Area.

Vingroup will build and develop the project over 50 years and complete construction within 36 months, under the latest decision issued by local authorities. The project will cover an area of 31.49 ha. The complex will include a multi-purpose gymnasium and a sports and entertainment park, among others, and be a key project in the planning of the Thu Thiem New Urban Area.
Dubai-based realty major Limitless resumes $550m Vietnam tourism project
Deal Street Asia
| | |
| --- | --- |
| | Dubai-based real estate developer Limitless, an affiliate company of holding group Dubai World, has said it is in the process of receiving the infrastructure contract for the long-delayed $550 million hospitality project Ha Long Star on Vietnam's northeast coast. Ground works at the project site commenced earlier this year with construction of the main access road underway and an infrastructure contract imminent in the next few days, the UAE company said in a statement. |
Vinhomes Smart City project with the same scale with Royal City on Nguyen Trai street is ready for construction
CafeF
| | |
| --- | --- |
| | On November 8, Hanoi People's Committee issued Decision No. 6174/QD-UBND to adjust the land-use plan of Thanh Xuan district in 2016. According to the Hanoi People's Committee decision to readjusted and approved the project of functional urban area at 233, 233B, 235 Nguyen Trai street, Thuong Dinh Ward, Thanh Xuan District – Vinhomes Smart City, an area of 11ha into the land-use plan of Thanh Xuan district in 2016. The functional urban area has a total land area of about 109,980 m2 (with the scale approximately equal to Royal City – 120,945 m2). Under the approved plan, a "megacity" will be constructed here with 43-floor and 46-floor office buildings on 15,180m2 area, the project's gross floor area is 239,330 m2, and other green area, sport area … The project has the building density of 35.5%. |
Muong Thanh spent 6,000 billion constructing Thanh Ha urban area
VnEconomy
| | | |
| --- | --- | --- |
| | | Muong Thanh Group has officially announced the plan to build Thanh Ha urban areas, Ha Dong, Hanoi with total capital of 6,000 billion. After the acquisition of the Cienco 5 last May last with 95% shares, equivalent to 1,500 billion, Muong Thanh group has decided to uses more than 4,000 billion in addition to liberate ground and developed on electricity infrastructure, roads, construction of schools, markets and the construction 2 lakes area of nearly 10 ha. As planned, the project Thanh Ha is divided into zones A and B. In particular, the Thanh Ha A has the scale of 195 ha and Thanh Ha B cover 193ha area. |
Vietnam shares dip after Trump's victory
The Saigon Times
A selloff hit multiple stocks on November 9 with the VN-Index of the HCMC exchange shedding more than six points (0.92%) at 670.26 points amid news that Republican Donald Trump won the U.S. presidential election. Viet Capital Securities Company (VCSC) said in a report that stock losses in Vietnam were in tandem with world market movements after the U.S. election stunner sent markets into a tailspin. After the lunch break, as it became apparent Trump would win, the VN-Index fell a staggering 2.9% against Tuesday's close.
Gold price jumps on U.S. election results
The Saigon Times
Domestic gold price surged to more than VND37.35 million (US$1,669.4) per tael on November 9 afternoon given Republican Donald Trump's victory over Hillary Clinton in the race for the White House before dropping back following the global trend. Saigon Jewelry Company (SJC) at 4:00 p.m. quoted the precious metal at VND36.5 million and VND37.15 million per tael for buying and selling respectively, up VND600,000 and VND870,000 from the previous day respectively.
Bac Ninh more than 2,900 billion for expanding Yen Phong Industrial Zone
CafeLand
| | |
| --- | --- |
| | The extension part of Yen Phong Industrial Zone has the scale of 313.9 ha; placed in the area of Yen Trung, Thuy Hoa, Dung Liet and Tam Da ward, Yen Phong District, Bac Ninh Province. Total investment of the project is 2908 billion. Yen Phong Industrial Zone located in Bac Ninh province with total area of 658.71 ha. It was constructed in 2005 and many big brands such as Samsung, Orion, Flexcom, Dongsin, Mobase, Dawo Vina , Hansol chose to invest. Phase 1 of the project has an area of 344.8 hectares was constructed in 2005 and after more than ten years has been fully filled. |
FOR MORE INFORMATION,CONTACT:
Dung Duong MRICS
Director
T +84 8 3824 6125
dung.duong@cbre.com
An Nguyen
Director
T +84 4 2220 0220
an.nguyen@cbre.com