CBRE Newspaper Updates on Residential Ads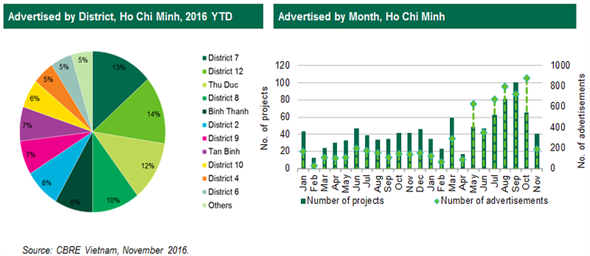 No new launch
Advertisements

Richmond City (Binh Thanh District)

Total units: 1,100 units including 800 units of condominium and 300 units of office-tel
Scale: three 25-floor blocks
Unit size: 66 – 86 sm (2 – 3 bedrooms)
Price: from VND 1.5 billion per unit

Prosper Plaza (District 12)
Total units: 1,172 units
Scale: 3 blocks, land area: 15,585.2 sm
Unit size: 49 – 70 sm (2 bedrooms)
Price: from VND 868 million per unit
Total units: 648 units
Scale: two 20-floor blocks, land area: 15,314.5 sm
Unit size: 50.37 – 71.68 sm (1 – 2 bedrooms)
Price: from VND 1.1 billion per unit
Total units: 1,300 units
Scale: four 24-floor blocks
Unit size: 53 – 91 sm (1 – 3 bedrooms)
Price: from VND 1.2 billion per unit
Lavita Garden (Thu Duc District)
Park Vista (Nha Be District)
* Prices included VAT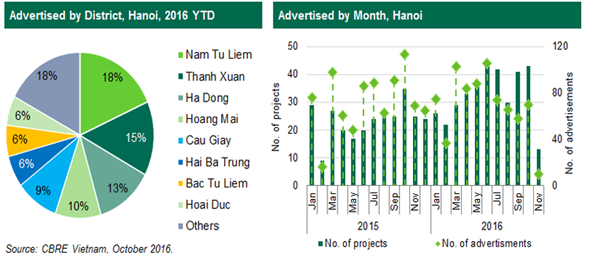 ​
•New-launch projects
•The Green Daisy (Ha Dong District)
•Total units: ~600 units of Terraced & Villa
•Scale: 125 ha, 28% for green area
•Price: from VND 3.5 billion per villa
•Golden Field My Dinh (Nam Tu Liem District)
•Total units: 437 units
•Unit size: 68 – 124 sqm (2-3 bedroom)
•Price: from VND 30 million per sqm
•Re-launch projects
•Evelyne Gardens – Phase 2 (ParkCity Hanoi – Ha Dong District)
•Total units: 165 units of Terraced
•Unit size: 120 sqm
•Average price: VND 86 million per sqm (fully furnitured)
•Five Star Garden (Thanh Xuan District)
•25 story building
•Unit size: 72 – 124 sqm
•Price: from VND 25 million per sqm
* Prices included VAT
Note: Selected newspapers include Dau Tu Bat Dong San, Thoi bao kinh te Vietnam, The gioi thong tin bat dong san, CafeF, Tap chi dau tu bat dong san, Vietnamnet, Thi truong Bat dong san & Tai san, Nguoi dua tin, Vnexpress
Vietnamese market slide ends on oil recovery
Vietnam Plus
| | |
| --- | --- |
| | Shares bounced back on the two local exchanges on October 27 from a five-day losing streak, driven by the energy sector following a rebound in oil prices. Property companies' shares also performed well on October 27, including Hoa Binh Construction and Real Estate Corp (HBC), Tan Tao Investment and Industry Corp (ITA), Saigon Thuong Tin Real Estate Corp (SCR) and Vingroup JSC (VIC). |
Information apply tax on 2nd house, is not performed since 2017
CafeF
According to expert, if the 2nd house is taxed, it would reduce speculation.
In fact, in some countries in the world, the taxation on the 2nd house and above has been applied. In Vietnam, if enforced, it is important to have a database of national land to ensure the correct and full, fair taxation between the rich and poor.
Some comments concerned if the proposal is implemented, there will have phenomenal that house buyer has other people named their houses.
Vietnam Dealbook: Masan buys out unit; Nam Thai ups stake in Vingroup
Deal Street Asia
| | |
| --- | --- |
| | Masan Group, one of Vietnam's largest diversified conglomerates, will execute a buyout of its Masan Resources subsidiary, the world's largest tungsten mine owner. Meanwhile, property giant Vingroup has seen Nam Thai Investment and Development increasing its stake to over 5.9 per cent. |
Amusement parks for children: attractive market worth $3 billion
Vietnam Net
| | |
| --- | --- |
| | Developing amusement parks for children is a lucrative business field with expected profitability of 30 percent. However, investors must have huge capital and continually update products. For example, Him Lam Company runs Vietopia center and Vingroup develops Vin Kids Center, while Thieu Nhi Moi develops tiNiWorld. |
Lotte Group launches online shop in Vietnam
Retail in Asia
| | |
| --- | --- |
| | Lotte Group said Thursday it will launch its online shopping site in Vietnam on 27 October ― "Lotte.vn" ― seeking to expand in the country's e-commerce market. Korea's major retailer established a limited company named Lotte E-commerce Vietnam in February and has recruited local sellers to prepare for the new website. Lotte.vn will offer goods and services based on the retail networks of Lotte Department Store, Lotte Mart, Lotte Home Shopping and L.POINT, which opened earlier in Vietnam, the group said. |
FDI-Invested gypsum board plant inaugurated in Hai Phong
Vietnam Plus
| | | |
| --- | --- | --- |
| | | Knauf Vietnam Co ., Ltd. inaugurated its gypsum board manufacturing plant in the northern port city of Hai Phong on October 30 after nearly two years of construction. The plant, worth 30 million EUR (32.9 million USD), is one of the biggest foreign direct investment (FDI) projects in the city. Covering nearly 63,000 square metres in Dinh Vu industrial park, the plant is expected to produce 12 million square metre gypsum board and 15 million linear metre metal profiles on an annual basis. Founded in 1932, Knauf is a multinational producer of building materials and construction systems that operates more than 220 production plants in over 60 countries. |
Amata to build high-tech IP in Quang Ninh
Vietnam Economic Times
| | |
| --- | --- |
| | Northern Quang Ninh province has asked the Amata Vietnam Joint Stock Company, owned by Thailand's Amata Corporation, to begin construction of the first phase of a high-tech industrial park and township complex. The project is located in Uong Bi city, Quang Yen town, and Song Khoai commune and covers an area of 6,403 ha. Amata plans to complete the project by 2035. According to the plan, the high-tech industrial park and township complex will include functional zones, free trade zones, research and development zones, and a trade and services area At a previous meeting with the province the project was valued at $1.5 to $2 billion when the high-tech industrial park was planned to be located in Phuong Nam commune. |
FLC will renovate and rebuild old apartment in Kim Giang
VnEconomy
After the Hanoi People's Committee assigned the above items, the corporation is planning to implement this project.
Specifically, the FLC has been working with research and consultant Unit, expectedly early next November, they will decide the key consultant unit
FLC expected, from now until May,2017 will conduct surveys measuring of the current situation and detailed planning of the project. From May,2017, conduct the procedure to be approved by investment policy. Then, from March 4 – 11/2017 implementing the recovery steps, clearance, and land use purpose changes.
Lang Son province wants to build a railroute that connects to China
CafeF
Lang Son province has proposed to Prime Minister on some problems, urgent issues of this province, which asked the Prime Minister to require the Ministry of Transportation and relevant ministries to research and start the high-speed rail route project Hanoi – Dong Dang as soon as possible.
The goal is to increase freight capacity when connecting with China by the railway
According to Lang Son province, railway transportation has the advantages of easily carry heavy cargo to remote places, stable speed, highly safe, low transportation costs.
In order to promote the development of international rail route, China has invested, operated high-speed rail route Nanning – Pingxiang which reached the speed of hundreds kilometer.
Hanoi: Organize extra overhead bridges An Duong road intersections with Thanh Nien Street
CafeF
| | | |
| --- | --- | --- |
| | | Date 31/10, Hanoi People's Committee issued Official Letter No. 6251 / Committee-KT to request the Ministry of Agriculture and Rural Development agree with plan to build overpasses at intersections An Duong – Thanh Nien. This Project Road is 1 in 8 emergent public transport investment projects of Hanoi People's Committee to overcome traffic jams on the city of Hanoi. However, until now this project is in difficult progress. The most difficult of the project is the agreement with the General Department of Irrigation, Water Resources Association of Vietnam due to the project related to the dykes. |
FOR MORE INFORMATION,CONTACT:
Dung Duong MRICS
Director
T +84 8 3824 6125
dung.duong@cbre.com
An Nguyen
Director
T +84 4 2220 0220
an.nguyen@cbre.com