CBRE Newspaper Updates on Residential Ads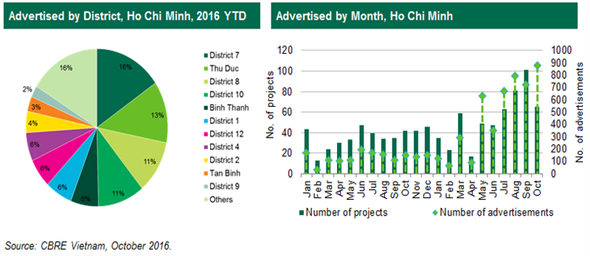 One new launch

Vista Verde (District 2)

Total units: 1,152 units
Scale: 4 blocks – 35 floors each
Unit size: 45 – 189 sm (1 – 3 bedrooms)
Price: from VND 1.789 billion per unit (2 bedrooms)

Advertisement:

Diamond Island (District 2)

Total units: 1,250 units
Scale: 8ha, 3 river views and 6 blocks
Unit size: 55 – 138 sm (1 – 3 bedrooms)
Price: from VND2.2 billion per unit (1 bedroom)

8X Plus (District 12)

Total units: 551 units
Scale: one 19-storey building with 2 basements
Unit size: 63.32 – 83.21 sm (2 bedrooms)
Price: from VND12.3 million per sm

La Astoria (District 2)

Total units: 422 units
Scale: one 25-floor block with 1 basement and 1 mezzanine
Unit size: 55 – 150 sm (2 – 3 bedrooms)
Price: from VND1.5 billion per unit (3 bedrooms)
* Prices included VAT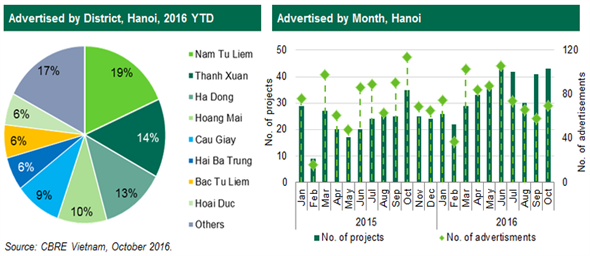 ​
One new launch (last launch: block CT2)

Eco Green City (Ha Dong District) on 23 and 29/10/2016

Total units: ~300 units
Scale: 4 blocks – 35 floor each
Unit size: 55 – 115 sm ( 2 – 3 bedrooms)
Price: VND 28 – 30 million per sm (basic furnished)

Advertisement:

Shophouse 24h (Ha Dong District)

Total units: 125 units (land plot)
Scale: 125 land plots, 1 basement and 3.5 floor each
Unit size: 50 – 60 sm, width:5m
Price: VND 132 million per sm (land price)

Green Daisy (Ha Dong District)

Total units: 18 terraced house, 12 villas and 2 apartment buildings
Scale: 135 ha land, 40 for construction
Unit size: shophouse: 132 – 144 sm, terraced house: 114 – 160 sm, villas: 240 -300 sm

Xuan Phuong Residence (Nam Tu Liem District)

Total units: 616 units and 126 terraced houses
Scale: 6 apartment buildings – 17 floor each and 126 terraced houses
Unit size: 51.7 – 115 sm (2 – 3 bedrooms)
Note: Selected newspapers include Dau Tu Bat Dong San, Thoi bao kinh te Vietnam, The gioi thong tin bat dong san, CafeF, Tap chi dau tu bat dong san, Vietnamnet, Thi truong Bat dong san & Tai san, Nguoi dua tin, Vnexpress
* Prices included VAT
Back to top
Sunwah Group announces a new $100 million investment in Vietnam
Saigon Asset Management
| | |
| --- | --- |
| | Sunwah Group today announces a new $100 million investment in Vietnam. The new investment is organized as an investment company called Sunwah Vietnam Investment Company (SVIC), a subsidiary of Sunwah Group. Mr. Louis Nguyen, CEO of Sunwah Kingsway Vietnam (SKV) and Saigon Asset Management (SAM), has been assigned as the Investment Advisor. |
Korea's Lotte expands Vietnam real estate business footprint via M&As
Deal Street Asia
| | |
| --- | --- |
| | Lotte Asset Development will buy a 10 per cent equity interest in Lotte Properties (Hanoi) Singapore for 16.32 billion won ($14.43 million), to develop and manage real estate assets in Hanoi, the report cited a company announcement on October 21. The report stated that other Lotte affiliates and local partners will take over the remaining 90 per cent. DEALSTREETASIA could not independently verify the announcement. Along with the move to boost its presence in Hanoi, Lotte will also purchase 10 per cent of another company to manage properties in Ho Chi Minh City. Deal value is reported to be pegged at 22.3 billion won. |
Hello Kitty Park coming to Hanoi
Vietnam Economic Times
| | |
| --- | --- |
| | The BRG Group and Sanrio Wave Hong Kong, which owns the world famous Hello Kitty character, signed a memorandum of understanding (MoU) on October 21 to develop the Hello Kitty Park in Hanoi, the first internationally-branded park in Vietnam. The project is expected to begin in the fourth quarter of 2018 but BRG has not released any specific information.At the signing ceremony, Ms. Nguyen Thi Nga, Chairwoman of the BRG Group, said that its cooperative efforts with Sanrio Wave are directed at the development of a unique, creative entertainment market, meeting demand among children. |
Extending Ben Thanh – Suoi Tien Metro to Bien Hoa, Di An
CafeF
| | |
| --- | --- |
| | The Management Authority for Urban Railways (MAUR) has proposed City's People's Committee to suggest People's Committees of Dong Nai and Binh Duong provinces to coordinate in extending the urban railway Ben Thanh – Suoi Tien (Metro line 1) to 2 areas above. According to MAUR, Japan International Cooperation Agency (JICA) in Vietnam also announced that they cannot commit to further support long term investment. |
City to have four underground parking lots in 2019
Vietnam Breaking News
| | |
| --- | --- |
| | Work on four underground parking lots in downtown HCMC will commence this year and next and be up and running in 2019, the HCMC Department of Transport has said. Among of those four, Vingroup plans to carry out two underground parking lot projects from 2017 to 2019, with one at Hoa Lu Stadium and the other at Tao Dan Cultural Park. |
HCMC to build tunnel to ease traffic congestion
The Saigon Times
| | |
| --- | --- |
| | Hung Thinh Real Estate Business Investment Corporation is seeking approval from the HCMC government to build a tunnel beneath the intersection of Hoang Van Thu and Nguyen Van Troi streets to tackle traffic congestion at the key gateway to Tan Son Nhat International Airport. The tunnel is designed to stretch 785 meters with two lanes running from Hoang Van Thu to Nguyen Van Troi and Phan Dinh Giot streets in Tan Binh District. Once completed, vehicles traveling from the airport to the city center will go from Truong Son Street through the tunnel. |
Increasing budget for Nhon – Hanoi Train Station metro line
CafeF
| | |
| --- | --- |
| | Hanoi Metropolitian Railway Management Board sent a document no. 1140/ĐSĐT-BQLDA1, date Oct 13 2016 to People's Committee of Hanoi of increasing budget for project no. 2-lb.2 of Nhon – Hanoi Train Station metro line. This metro line has a length of 12.5 km including 8.5 km highway (from Nhon to Thu Le) and 4.0 km underground (from Thu Le to Hanoi Train Station. |
Building VND1,500 bil – bridge connects Hanoi with Phu Tho
CafeF
| | |
| --- | --- |
| | People's Committee of Hanoi published a document no. 6099/UBND-KT to request Ministry of Agriculture and Rural Development negotiating a project of building Viet Tri – Ba Vi bridge which links national road no.32 and no.32C crossing Red River. The construction site locates in Phu Cuong, Ba Vi, Hanoi. Its length is 9.46 km including the main bridge (1.55 km) and related roads. The road in Phu Tho side is 0.26 km and the road in Hanoi side is 7.54 km. This bridge is designed to have a width of 12m, 2-way lanes. The total budget for Phased 1 is 1,462.85 bil VND, including 885 bil VND for construction. |
China Southern Airlines to open more routes to Vietnam
Global Times
China Southern Airlines, a major Chinese airline, will launch a direct air route between Shanghai and Ho Chi Minh City, using Airbus 320s, on Oct. 30. The air company introduced to the press on Wednesday its products and flight schedules for the coming winter, including the weekly flight between Shanghai and Ho Chi Minh City. It will also increase the flight frequency on the route between Ho Chi Minh City and the Chinese port city of Shenzhen to daily from the current three flights a week from Oct. 30.
City struggles to diversify tourism products
Vietnam News
F

or over a decade the pace of tourism development in HCM City has been rather slow due to limited products in terms of places of interest and cultural and entertainment activities for tourists. Though the city is a tourism hub visited by 56 per cent of all foreign arrivals in Việt Nam, the tourism sector accounts for less than 10 per cent of its economy. Visitors coming on package tours to Việt Nam usually spend two nights in HCM City before leaving for other places, said Ka Sa Ha Klas, a tour guide working for Indochina Tourism, said.
Tourism developing projects in 6,000 ha in Tam Dao Mountain
CafeF
| | |
| --- | --- |
| | A general project has a scale of 1/500, developing tourism, services, facility near the foot of Tam Dao mountain. The total area is 6,000 ha covering Minh Quang, Hop Chau, Tam Quan, Dai Dinh and Dao Tru in Tam Dao. It has a resort in over 1,193 ha, including a system of services as: Vinh Ninh Lake, Dong Mo Lake campus, Tam Dao Golf, Tay Thien, Ban Long playground… and an area of natural conservation in 3,115 ha. |
Researching on the construction of coastal road of Thai Binh Province
CafeF
The Deputy Prime Minister – Trinh Dinh Dung has assigned the Ministry of Transportation, in collaboration with the Ministry of Construction and related agencies in the appraisal report for the feasibility studies of coastal road investment project in Thai Binh province.
According to Thai Binh People's commitee, the coastal roads of Thai Binh province is planned to go through the administrative boundaries of Thai Thuy and Tien Hai district. It has the length of nearly 45 km, and would be built as follow the grade 3 road standard.
The coastal route around the northern sea includes of 6 province: Quang Ninh, Hai Phong, Thai Binh, Nam Dinh, Ninh Binh and Thanh Hoa, which at least be constructed as a grade 3 road.
Exclusive: Vietnam plans new law for venture capital investments
Deal Street Asia
| | |
| --- | --- |
| | Vietnam plans to implement a new law that will govern the establishment of domestic venture capital funds, and help funnel investments into startups in the country, that has become an emerging markets standout with steady growth. According to the Communist party's draft socioeconomic plan, Vietnam will target 7 per cent growth annually until 2020. The draft law on support for small and medium enterprises (SME), which is expected to be passed during the country's third parliamentary session this year, has a dedicated section for startup companies, which it calls "innovative businesses". |
FOR MORE INFORMATION,CONTACT:
Dung Duong MRICS
Director
T +84 8 3824 6125
dung.duong@cbre.com
An Nguyen
Director
T +84 4 2220 0220
an.nguyen@cbre.com