CBRE Newspaper Updates on Residential Ads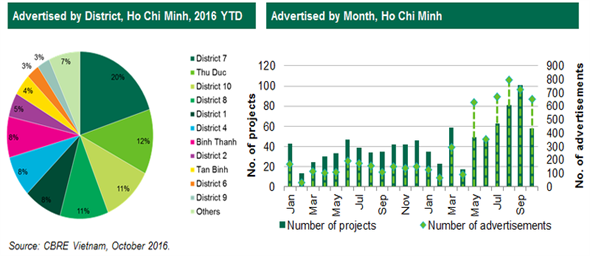 One new launch

Feliz En Vista (District 2)

Total units: ~800 units
Scale: 4 blocks including 3 blocks for condominiums and 1 block for serviced apartments
Unit size: 51.92 – 106.6 sm (1 – 3 bedrooms)
Price: from VND 32 – 36 million per sm

Advertisement:
Summer Square (District 6)

Total units: 256 units
Scale: two 18-floor blocks
Unit size: 50.78 – 75.25 sm (2 – 3 bedrooms)
Price: from VND 1.2 billion per unit

Sky 9 (District 9)
Total units: 1,222 units
Scale: three 19-floor blocks
Unit size: 49 – 74.24 sm (2 – 3 bedrooms)
Price: from VND 989 million per unit
Total units: 221 units
Scale: one 20-floor block with 2 basements
Unit size: 45.6 – 95 sm (1 – 3 bedrooms)
Price: from VND 24 million per sm

Carillon 5 (Tan Phu District)

* Prices included VAT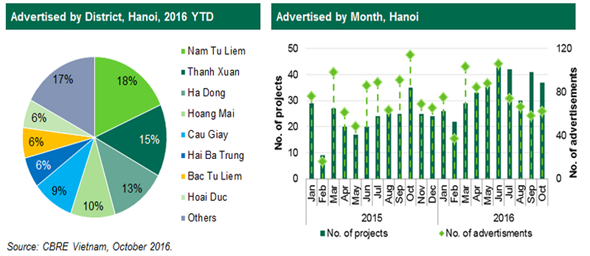 ​
One new launch and one re-launch:

Vinhomes Gardenia (Nam Tu Liem District)

Total units: 741 units
Scale: 2,000 sqm, 2 floors shopping mall, 2 basements, 37 floors apartment
Unit size: 56.6 – 146.8 sm (1-4 bedrooms)
Price: VND 33-42 million per sm (fully furnished)

Advertisement:
D' Capitale (Cau Giay District)

Total units: 574 units
Scale: 2 towers, C1 tower with 39 floors, 37 apartment floors, 2 shophouse floors; C6 tower with 42 floors, 36 apartment floors, 6 shopping mall floors
Unit size: 50 – 109 sm (1-3 bedrooms)
Price: VND 40 – 61 million per sm (fully furnished)

V3 Prime (Ha Dong District)
Total units: 272 units
Scale: 4 towers from 31-33 floors, 3-4 ground floors for commercial, and 1 basement, 3 lots of terraced house
Unit size: 57 – 69 sm (2 – 3 bedrooms)
Price: VND 16 – 18 million per sm (basic furnished)
Total units: 341 units
Scale: Two 21-floor towers, 4 commercial floors, 17 apartment floors
Unit size: 49 – 94 sm (2 – 3 bedrooms)
Price: VND 26.8 – 27.8 million per sm (basic furnished)
536A Minh Khai (Hai Ba Trung District)
Note: Selected newspapers include Dau Tu Bat Dong San, Thoi bao kinh te Vietnam, The gioi thong tin bat dong san, CafeF, Tap chi dau tu bat dong san, Vietnamnet, Thi truong Bat dong san & Tai san, Nguoi dua tin, Vnexpress

* Prices included VAT
Back to top
City developers look to youths
Bizhub
| | | |
| --- | --- | --- |
| | | Young buyers make up a promising segment for the HCM City real estate market because of the high rate of migration to the city and rapid urbanisation, a conference on the housing market heard on Thursday. Nearly a month ago Phu My Hung Development Corporation launched for the first time in its more than 20 years in Vietnam a project outside its Phu My Hung City Centre. The project, Saigon South Residences, is being built in Nha Be District targeting young customers who would like to live in a place with Phu My Hung's building and management standards but with more affordable prices. Him Lam Land, changing its business strategy this year, has announced it will focus on this segment. The company will bring 2,000 apartments into the market this year. |
Which design is proposed for Long Thanh International Airport?
CafeF
| | |
| --- | --- |
| | According to information from Ministry of Transportation, there are three planning designed for Long Thanh International Airport which are highly rated by the government council have the station roof shaped like palm leaves, lotus and bamboo furniture. Accordingly, three options will be released to get the opinions and feedback from people and experts across country. |
New bridge to connect District 6 and 8 in HCMC
The Saigon Times
| | |
| --- | --- |
| | About VND3.5 trillion will be invested to build a bridge linking districts 6 and 8 of HCMC and spanning Tau Hu and Doi canals. The city government has approved the selection of four investors for the Binh Tien Bridge and road project, according to a source from the Department of Transport. The project is divided into two sections. The first section is a bridge over Tau Hu and Doi canals connecting Pham Van Chi Street, District 6 and Ta Quang Buu Street, District 8, which will be built by 319 Corporation, and East Mekong Commerce, Services, Manufacture & Construction Co Ltd. The section costs an estimated VND2.6 trillion, of which site clearance and compensation account for VND925 billion. |
Hanoi re-announces mega city near Red River after 22 years
VNExpress
"Song Hong City" project was first introduced by Singaporean investors in 1994. This firm also established joint-venture with initial capital of 61 bil VND. Hanoi authority also created project management. However, due to issues in river flow, the project was postponed.
Recently, the authority has re-announced this project with sponsorship of Korean Government with total area of 3,000 ha and 11 km along the river. The budget for this project is 7 bil USD and in future, it is expected to provide commodity for 97,000 families.
Hanoi is going to have eco & golf projects in Thuong Tin District
CafeF
| | |
| --- | --- |
| | According to general scheme of Hanoi to 2030, vision to 2050, Thuong Tin district is allowed to create a project of eco & golf, resort for SAPA NHP Vietnam JSC. The total area is 62.6 ha including commercial facilities, offices, villas, green zone and golf area. |
Hanoi invests over VND2,000 billion to expand Tam Trinh Street in twice
CafeF
The total budget for this project is 2,066.79 bil VND with a length of 3,577.7 meters with the starting point in Minh Khai road, the end in the intersection with Ring Road no.3. Total recalled land for this project is 111,956 sqm in Mai Dong, Hoang Van Thu, Yen So ward of Hoang Mai district.
When this road is available, the pressure in traffic flow in southern part of capital would be reduced, which enhances the development of economic and social issues.

Submit Parliament the proposal North-South Highway
CafeF
MOT plans to divide the project into 20 components, each component projects is managed by independent operators, based on the ability of the investor and also receive the support from State. Each section is explored independently and less than 25 years.
MOT applies the Prime Minister for consideration increasing capital, budget for the projects to support the aim that: Eastern North-South Highway can be completed before 2020 (to 2020 needs approximately VND74 692 billion investment; the period from 2021 to 2022 needs about VND18 851 billion).
If having the Prime Minister approval, the project Eastern north-south highway of Hanoi-Ho Chi Minh City will begin in May 5-2019 and completion in late 2022.
Stability of exchange rate is beneficial for economic development
CafeF
| | |
| --- | --- |
| | The foreign exchange market is with the abundant liquidity of foreign currency. Foreign reserves are reported to be more than $40 billion which is the highest number this year. The exchange rate of VND/USD for one year forward can break most forecasts when it has continued remaining stable over 10 months. The new exchange rate regime is really effective and reduces the mentality of hoarding from people and the banks. The exchange rate is not constrained for holding, but it is operated "freely" along with the market instead. |
Removing barriers to M&A
Vietnam Economic News
| | |
| --- | --- |
| | The process of withdrawing state capital to equitize (partially privatize) state-owned enterprises (SOEs) in parallel with other positive signals of the economy will boost M&A deals in the coming time. However, it is necessary to resolve existing difficulties to ensure the effectiveness of M&A deals. Real estate has been among sectors seeing many successful M&A deals in recent times. In the first quarter of 2016, the Novaland Group acquired projects totaling about 30ha of land in the Nam Rach Chiec residential area, Ho Chi Minh City, from VinaCapital. In another deal, Singapore's Keppel Land Limited acquired 40 percent of stock at the Empire City Company Limited by pouring US$93.9 million in the latter's joint venture partners, including Gaw Capital Partners, Tien Phuoc Real Estate Joint Stock Company, and Tran Thai Real Estate Joint Stock Company. |
FOR MORE INFORMATION,CONTACT:
Dung Duong MRICS
Director
T +84 8 3824 6125
dung.duong@cbre.com
An Nguyen
Director
T +84 4 2220 0220
an.nguyen@cbre.com