CBRE Newspaper Updates on Residential Ads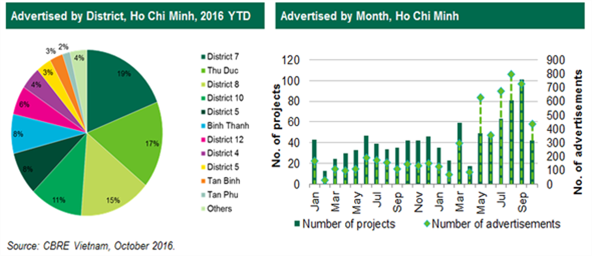 No new launch
Advertisement:

Saigon South Residence (Nha Be District)

Total units: 1,840 units
Scale: six 29-floor blocks and land area: 32,902 sm
Unit size: 60 – 97 sm
Price: from VND 2 billion per unit

Heaven Riverview (District 8)
Total units: 960 units
Scale: two 17-floor blocks and land area: 16,939.8 sm
Unit size: 52.04 – 68.68 sm (1 – 2 bedrooms)
Price: from VND 990 million per unit
Total units: 1,150 units
Scale: two 27-floor block, one 35-floor block and land area: 19,808 sm
Unit size: 54 – 98 sm (2 – 3 bedrooms)
Price: from VND 1.2 billion per unit

The PegaSuite (District 8)

* Prices included VAT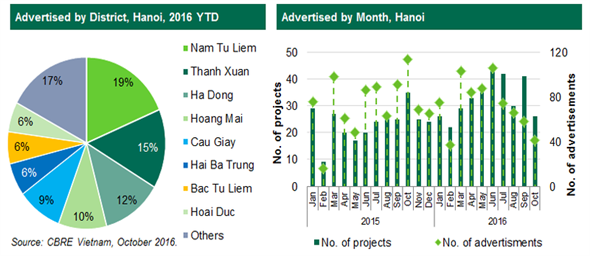 ​
Two new launches

Anland Complex (Ha Dong District)

Total units: 533 units
Unit size: 54 – 160 sm (2-3 bedrooms)
Price: VND 21 – 23 million per sm (basic furnished)

Lideco (Hoai Duc District)
Total units: launch 299 villas (the remaining of total units of 650 villas)

76 units – raw completed VND30 million/sm
44 raw completed (without cement cover): VND28.3 million/sm
120 land lots: VND25 million/sm

Unit size: 144 – 500 sm

Advertisement:
Golden Field (Nam Tu Liem District)

Total units: 398 units
Scale: one building including 30 apartment floors, 7 commercial floors with 3 basements
Unit size: 70 – 124 sm (2 – 3 bedrooms)
Price: VND 27 – 30 million per sm (fully furnished)
Note: Selected newspapers include Dau Tu Bat Dong San, Thoi bao kinh te Vietnam, The gioi thong tin bat dong san, CafeF, Tap chi dau tu bat dong san, Vietnamnet, Thi truong Bat dong san & Tai san, Nguoi dua tin, Vnexpress

* Prices included VAT
Back to top
Start dismantling Tax Department from 12th October
Nguoi Lao Dong
| | | |
| --- | --- | --- |
| | | Tax Department is an architectural icon of Saigon for 130 years and used to be the oldest commercial center in HCMC. It was built in the 80s of 19th century and became the familiar image of the city residents. However, from 12th October, the construction company has started railing Tax Department to prepare for constructing a new building at the same place of this location. This new building is called Satra Tax Plaza with 40 floors high. It will be launch in Quarter 1/2017 and is scheduled for completion in 2020 at the same time when Metro Line 1 will be put in used. |
Experts proposes compact city to ease congestion
The Saigon Times
| | |
| --- | --- |
| | The government of HCMC should change its urban planning concept towards a compact city to effectively deal with worsening traffic congestion, said the academic director of the Fulbright Economics Teaching Program. Huynh The Du, speaking at a seminar on construction management, gentrification and urban development in HCMC held by the Ministry of Construction and the municipal government last Friday, proposed the city promote high residential density, instead of doing otherwise. More high-rise buildings should be developed in downtown while stepping up development of public transit to make it more convenient for people to commute, he said. Some other experts proposed the city adopt fresh mechanisms to encourage investment in green buildings. |
Vietnam's Viettel-backed group to kickstart Myanmar telecom ops in 2017, to invest $2b
Deal Street Asia
| | |
| --- | --- |
| | The group backed by Vietnam's telecom major Viettel – the fourth operator in frontier market Myanmar – is expected to invest up to $2 billion over a five-year period as it gears to kickstart operations in early 2017, a board member of the local consortium said. Viettel, which operates in 10 countries across Asia, Africa and Americas, will be taking up a 49 percent stake in the consortium with the remaining to be held by local entities. About 23 per cent stake will be held by a consortium of 11 local companies while 28 per cent will come from Star High Public, backed by Myanmar Economic Corporation (MEC). |
Japan ventures in Vietnam realty
Vietnamnet
Japan Cooperation increasingly invests in Vietnam Real Estate market.Typically, Kajima Corporation, one of Japan's biggest builders, has entered a new joint venture with Indochina Land to develop a range of property projects in Vietnam.
The new venture will pour around US$1 billion in the next 10 years into the Vietnam property market, and will initially focus on urban residential projects in Hanoi, Ho Chi Minh City, and Danang – the markets with the biggest property potential in Vietnam. Mitsubishi Estate, another famous Japanese property developer, has recently diversified its portfolio in Vietnam by buying into a property development project in Hanoi, which has a total investment of up to US$1.9 billion.
Both Kajima and Mitsubishi are targeting high-income earners in Vietnam.

Hanoi ground breaks the Asia largest "exhibition city" project
VnEconomy
The project is located in the intersection of 3 communes: Dong Hoi, Xuan Canh, and Mai Lam in Dong Anh District. The project is 15 kilometers to the center of the capital. The southeast is near the street connecting Tu Lien street and Ring Road No.3; the northwest closes to route along the West Lake – Co Loa and the northeast is near the highway No.5.
As planned, the project will be constructed into a "city of the exhibition" with a combination of synchronized and perfect functional areas.
In particular, the core part is the National Exhibition Center, an area of ​​over 90 hectares planned, with over 550,000 m2 of indoor construction, including the main functional areas: indoor and outdoor exhibition area; trade promotion centers; conference center and other supporting areas, such as Five star hotel 52 floors,shopping center, etc.
Sungroup and 6 resort projects will turn Van Don into "paradise" tourism beach
CafeF
Sungroup is the main investor of Quang Ninh airport project started on 03.27.2015 with a total investment of 7.500 billion and other 13km main road project in this city.
About resort investment, apart from the resort project with the casino invested by Sungroup, Van Don is calling for investment of 5 other real estate projects more. These luxury resorts are planned in different prime locations, combine beach resorts, villas, hotels, marina, and ecological tourism areas, etc. The scale ranges from 5,000 to 10,000 guests.

HCMC, Daegu ink new business deals
Vietnam Breaking News
| | |
| --- | --- |
| | Organizations in HCMC and partners from the South Korean city of Daegu yesterday inked seven agreements to step up economic cooperation during the HCMC-Daegu Business Forum organized in the city. The deals include one memorandum of understanding (MOU) signed between the HCMC Investment and Trade Promotion Center and Daegu Chamber of Commerce and Industry (DCCI), and another MOU between DCCI and Vietnam Chamber of Commerce and Industry. There are also four MOUs signed between enterprises of the two cities, including one between Korea's Poong Kuk and Vietnam's Bich Chi Food Joint-stock Co. in the food sector, one between FressBell and Vietko in the beverage sector, and two between Vietnam's Hoang Gia Real Estate and Tourism Co. and Korea's Jinu Co. and Idea Group Communication. |
PM approves Quang Ninh seaport and industrial park project
Vietnam Economic Times
| | |
| --- | --- |
| | Prime Minister Nguyen Xuan Phuc has approved the development of a seaport and industrial park complex in the Nhà Mạc marsh area, Quảng Yên town, northern Quảng Ninh Province. The CDC Corporation headquartered in the Cayman Islands, the Middle Utilities Company Pte Ltd from Singapore and the Infra Asia Investment Limited in Hong Kong are the investors of the project. The project will cover 1,193 hectares at a cost of VNĐ6.940 trillion (US$310 million). |
Ho Chi Minh City will spend more than VND7,500 billion investing in Binh Khanh and Cat Lai Bridge
CafeF
| | |
| --- | --- |
| | HCMC People's Committee has asked the government to allow building Binh Khanh, Cat Lai Bridge and new route parallel to Highway 50 in order to connect infrastructure with Long An Province. The reason of these projects comes from the flow of vehicles crossing through Cat Lai ferry increasing. Moreover, the flow of goods from the industrial park along Highway 51 and Nhon Trach urban area was transported from Hanoi Highway to the port system on Saigon River which causes more traffic jam to this highway. The construction of these bridges replacing for Binh Khanh ferry will directly link the transportation of the South of HCMC in order to develop the advantages of local areas and creating efficient transportation services. |
Hanoi has a new 12ha park near the western zone
VnEconomy
Lake Park is located at Trung Van Ward, South Tu Liem District, in the new urban campus Phung Khoang; to the North is Me Tri ditch, to the west is traditional medicine Police Department Hospital, to the south is To Huu Road, etc.
The building has total area of 11,9ha, in which, the lake area is 7,1ha; green landscape area occupies 4,8ha and 1,075m length of embankment.
The project was designed following the style of high-end golf courses, fully planned with internal facility such as amusement plaza, hotel zone, marina restaurants, local footpaths, lotus pond, pine trees, fountains
Hanoi transfers 12,500m2 land for implementing complex project at Dong Anh District
CafeF
The whole land area of 12.478m2 belonging to Nguyen Khue commune (Dong Anh District) was delivered to Hanoi Construction and Commerce Investment JSC to implement the construction of service shop, supermarkets, and sport club project.
The entire land area 12.478m2 includes 1.980m2 land revoked, completed site clearance by Dong Anh People's Committee and 10.498m2 land is transferred to Hanoi Construction and Commerce Investment JSC, Nguyen Khe commune, Dong Anh district the MPC. Hanoi investment certificates.
Lending rate likely lowering further by the end of this year
Nguoi Lao Dong
| | |
| --- | --- |
| | With abundant resource mobilization, the pressure of interest rate race is no longer to happen like the previous quarters. Director of VEPR states that overall lending rate can reduce further by the end of this year. The pressure on demand for credit has not existed, but instead it helped to mobilize abundant domestic interest rates in declining in Quarter 3. Besides, the average interest rate's movement of interbank (overnight and one week) has fallen down continuously for three months. In particular, the one-week rate decreased from 1.6% in June down respectively to 1.35%, 1.01% and 0.54% in the next three months. |
FOR MORE INFORMATION,CONTACT:
Dung Duong MRICS
Director
T +84 8 3824 6125
dung.duong@cbre.com
An Nguyen
Director
T +84 4 2220 0220
an.nguyen@cbre.com