CBRE Newspaper Updates on Residential Ads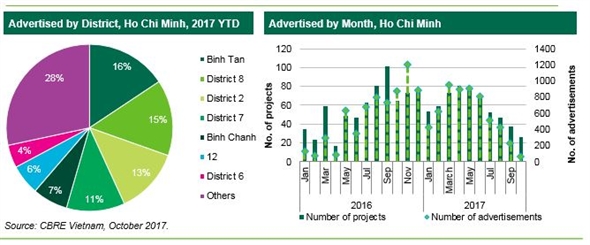 No new launch.
Advertisements:

The Eastern (District 9)

Total units: 648
Scale: one 20-floor block, one 22-floor block
Unit size: 50 – 69 sm (1-2 bedrooms).
Price*: from VND 20 – 22 million/sm.

Jamona Heights (District 7)

Total units: 286 (for condos only)
Scale: two 17-floor blocks
Unit size: 52 – 96 sm (1 – 3 bedrooms)
Price*: VND 28 million/sm

New City (District 2)

Total units: 1229
Scale: four blocks (25 – 28 floor)
Unit size: 45 – 300 sm (1 – 3 bedrooms and duplex)
Price*: from VND 46.9 million/m2
* Prices included VAT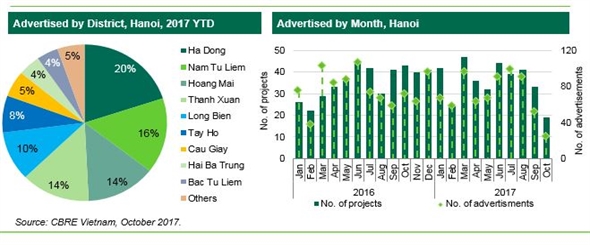 ​
One new launch

Sky Central – Tower B (Hoang Mai District)

Total units: 396
Unit size: 64 – 99 sm (2 – 3 bedrooms)
Price*: from VND 25 million/sm

Advertisements

Anland Complex (Ha Dong District)

Total units: 500
Scale: 7,052 sm land area
Unit size: 54 – 90 sm (2-3 bedrooms)
Price*: from VND 23 million/sm

EcoHome Phuc Loi (Long Bien District)

Total units: 680
Unit size: 50 – 90 sm (2-3 bedrooms)
Price*: from VND 17.5 million/sm

Eurowindow River Park (Dong Anh District)

Total units: ~2,000
Unit size: 60 – 93 sm (2-3 bedrooms)
Price*: from VND 17.5 million/sm
Prices included VAT
Note: Selected newspapers include Dau Tu Bat Dong San, Thoi bao kinh te Vietnam, The gioi thong tin bat dong san, CafeF, Tap chi dau tu bat dong san, Vietnamnet, Thi truong Bat dong san & Tai san, Nguoi dua tin, Vnexpress
HCMC industry parks need new plan
VIR
| | |
| --- | --- |
| | Industrial and processing parks in HCMC have not developed to their potential due to poor infrastructure and a lack of connection among the parks. Twenty five years after the first industrial and processing park was established, only 4,500 hectares out of a total of 8,900 hectares in parks have been put in use. It is key that the HEPZA encourages industrial clusters to create close linkages with support industries. |
HCMC poured more than 3,000 billion dong for infrastructure in the East
VnEconomy
| | |
| --- | --- |
| | HCMC People's Committee has approved the proposed project of dredging two canal – Kinh river and Ba Da – Rach Gia canal in District 9 and constructing Cai Me bridge on Long Thuan and Dinh bridge on Long Thuan road. Public Private Partnership Form (BT Contract). The project aims to connect the waterway network linking Tac and Dong Nai rivers, increasing the capacity of waterway circulation, helping to reduce the pressure on the overloaded road system in the northeastern part of the city. At the same time, facilitate the development of two river side activities; increase drainage area, improve the environment. |
Vietnamese smart cities start with infrastructure
VIR
| | |
| --- | --- |
| | Vietnam is pursuing sustainable development in the wave of the Fourth Industrial Revolution, with a focus laid on creating smart cities. Siemens Vietnam's president and CEO Pham Thai Lai discusses the use of smart technologies to optimize existing infrastructure, and the role of Siemens will play in implementing a more efficient public transportation system. |
ADB applauds Vietnam on reducing deficit
VIR
| | |
| --- | --- |
| | The Vietnamese government's efforts to reduce the state budget deficit accumulated by fiscal imbalances have been applauded by the Asian Development Bank. Recently, the World Bank and the International Monetary Fund also commended Vietnam for its efforts to control rising public debt. The World Bank said in its update on Vietnam's economic situation that Vietnam has been showing "early signs of fiscal consolidation." |
WB retains 6.3% growth forecast
Vietnam Economic Times
| | |
| --- | --- |
| | Vietnam's medium-term economic outlook remain positive, the bank confirmed, with 6.3 per cent GDP coming from domestic demand, agricultural production, the manufacturing sector, and recovery in external demand. The WB forecasts that the long-term challenge for Vietnam is to maintain high growth rates coupled with sustainable poverty reduction. |
New wave of business investment
Nhan Dan
| | |
| --- | --- |
| | The first nine months of 2017 has seen 93,967 newly established enterprises, up 15.4% over the same period in 2016. The Vietnamese economy has never witnessed such a strong business wave. It proves that the potential and business spirits of the Vietnamese are always good seeds and would bloom and bear fruit if there are favourable conditions in which to do so. |
Warburg Pincus, Credit Suisse together hold more than 20% of Vincom Retail
Deal Street in Asia
| | |
| --- | --- |
| | Global private equity firm, Warburg Pincus, and bank Credit Suisse have converted their preferred stocks, which they held after the $300 million investment into Vincom Retail, to hold 15.7% and 5.05% respectively of the Vietnamese retailer. According to Bloomberg, Vincom Retail's IPO could fetch $600 million, a value considered as the largest offer by a private company in Vietnam. |
CJ Group expands into Vietnamese logistics
Nikkei in Asia
| | |
| --- | --- |
| | South Korea's CJ Group has acquired over 50% of the shipping and logistics subsidiaries of Germadept, Vietnam's biggest logistics company. The South Korean conglomerate has plans to investment in everything from cinemas to meatballs. |
Hanoi has more urban areas in Ha Dong and Long Bien
NDH
Bac Lam new urban area in Ha Dong district and construction project in Thuong Thanh district Long Bien has just been approved by Hanoi People's Committee.

Accordingly, on September 28, the People's Committee of Hanoi issued Decision No. 6777 / QD-UBND approving the detailed plan of Bac Lam new urban area at 1/500 scale in Phu Luong ward, Ha Dong district. , Hanoi.

According to the decision, approval of the blueprint of Bac Lam new urban area with the scale of 1/500 with the planned area of 41.79 ha; The population is about 8,886 people.

Bridges projects boost land prices in Hanoi's Eastern area
Vietnam Breaking News
| | |
| --- | --- |
| | Land prices in the Eastern area of Hanoi have sharply increased following the news of four planned bridges. The bridges are expected to better connect Hanoi and ease congestion during rush hours. Tu Lien and Tran Hung Dao bridges are estimated to be completed in 2019 and Duong 2 and Giang Bien bridges are set to be completed in 2021. |
FOR MORE INFORMATION,CONTACT:
Dung Duong MRICS
Director
T +84 8 3824 6125
dung.duong@cbre.com
An Nguyen
Director
T +84 4 2220 0220
an.nguyen@cbre.com