CBRE Newspaper Updates on Residential Ads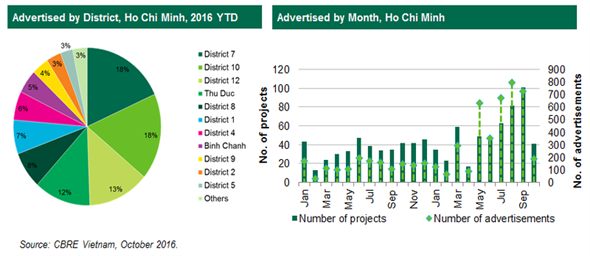 No new launch
Advertisement:

Duc Long Golden Land (District 7)

Total units: 900 units
Scale: 12,000 sqm, 27-floor building with 1 basement
Unit size: 70 – 80 sqm (2 bedrooms); 95 – 100 sqm (3 bedrooms)
Price: from VND 1.89 billion per unit (2 bedrooms)

Xi Grand Court (District 10)
Total units: 748 units
Scale: 17,940 sqm, 4 buildings, more than 29 floors each block, with 2 basements
Unit size: 70 – 111 sqm (1 – 3 bedrooms)
Price: from VND 1.9 billion per unit
Total units: 508 units
Scale: 4,997.8 sqm, 2 basements, 345 units of office-tel, 163 apartments
Unit size: 24 – 50 sqm (office-tel), 52 – 80 sqm (1 – 3 bedrooms)
Price: from VND 1 billion/unit (2 bedrooms)

Charmington La Pointe (District 10)

* Prices included VAT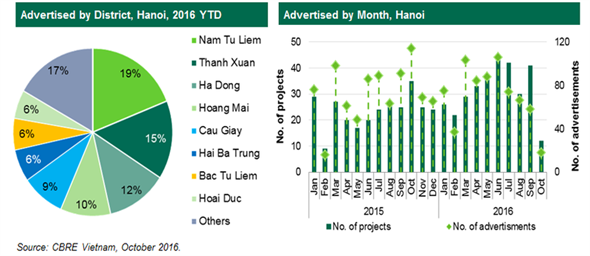 ​
No new launch
Advertisement:

Artemis (Thanh Xuan District)

Total units: 365 units
Scale: 8,956 sqm, 3 basements, 5 floors shopping mall, 18 floors apartment
Unit size: 78.47 – 102.3 sqm (1 – 4 bedrooms)
Price: VND 32 million per sqm (fully furnished)

Horizon Tower (Bac Tu Liem District)
Total units: 374 units
Scale: 62.8 ha, 2 buildings 25 floors with 2 basements
Unit size: 103,3 – 157,6 sqm (2 – 4 bedrooms)
Price: from VND 26 million per sqm (basic furnished)
Total units: 519 units
Scale: ~1,6 ha, 2 buildings
Unit size: 46 – 167 sqm (1 – 4 bedrooms)
Price: from VND 78 million per sqm (fully furnished)
Sun Grand City (Tay Ho District)
Note: Selected newspapers include Dau Tu Bat Dong San, Thoi bao kinh te Vietnam, The gioi thong tin bat dong san, CafeF, Tap chi dau tu bat dong san, Vietnamnet, Thi truong Bat dong san & Tai san, Nguoi dua tin, Vnexpress

* Prices included VAT
Back to top
China eyes Vietnam's hundred-billion dollar retail market
Retail in Asia
| | |
| --- | --- |
| | Following Thai, Japanese and South Korean retailers flocking to Vietnam, Chinese investors are now jumping into the market. Miniso has been mentioned repeatedly in local newspapers. The retailer has announced its official presence in Vietnam through a franchise contract signed with Le Bao Minh Group. Analysts commented that with the investment from Alibaba, Lazada Vietnam would have more opportunities to develop because it would be able to spend more money on advert campaigns and increase goods supply from China. |
German investors shift attention to Vietnam
Vietnam Plus
| | |
| --- | --- |
| | German businesses are seeking new investment opportunities in Vietnam. According to the German Embassy in Hanoi, many major German companies, which are operating in various fields such as automobile, energy and industrial machinery in Vietnam, plan to expand their presence in Vietnam to take advantage of the improved investment climate and signed free trade agreements (FTAs). Mercedes-Ben also has plans to expand business in Vietnam after investing US$20 million in the country in 2013-2014. Close to 300 German businesses are operating in Vietnam with 268 valid projects worth 1.36 billion USD. German Ambassador to Vietnam Carl Georg Christian Berger said apart from giants such as Mercedes Benz, BMW, Siemens and Bosch, most of German businesses in Vietnam are small-and medium-sized ones. |
PropertyGuru buys batdongsan.com.vn, Cyberagent exists
Deal Street Asia
| | | |
| --- | --- | --- |
| | | Singapore-based PropertyGuru has invested an undisclosed amount in Vietnam's largest real estate information platform Batdongsan.com.vn. This folllows its buyouts of realty portals ePropertyTrack and RumahDijual. Japanese investor Cyberagent Ventures exited Dai Viet Group, the parent firm of Batdongsan.com.vn, through the transaction. PropertyGuru will have a chair on the board of Batdongsan.com.vn as a major shareholder, while the Vietnamese company's founder-cum-CEO, Le Xuan Truong, will continue to run the business, according to a company announcement. PropertyGuru and Batdongsan.com.vn started their cooperation in October 2011, to boost the engagement of regional users for both companies. |
Samsung turns Vietnam's farmers into bigger earners than bankers
The Business Times
| | |
| --- | --- |
| | Samsung Electronics Co and its affiliates have built a factory town with 45,000 young workers and hundreds of foreign component suppliers – a miniature version of the family-run chaebol conglomerates that dominate business back in Korea. The investment has been a windfall for businesses in Bac Ninh – almost 2,000 new hotels and restaurants opened between 2011 and 2015 according to the provincial statistics office – helping raise the province's per capita GDP to three times the national average. Samsung's US$15 billion investment in Vietnam has made it the country's largest single exporter, shipping about US$33 billion of electronics last year. The year before the South Korean company came, Vietnam's total exports of mobile phones and other telecommunications products was US$593 million. |
Update 1-Thailand's Hemaraj expands with $1 bln Vietnam project
Reuters
A subsidiary of Thailand's Hemaraj Land and Development Pcl and Vietnamese construction firm Cienco 4 have teamed up to build a $1 billion industrial zone in Vietnam, the first country in Southeast Asia the Thai firm has expanded into. The venture, Hemaraj-Cienco 4 Co, signed a deal on Wednesday with the provincial government of Nghe An, in central Vietnam, to start building the industrial zone next year in seven phases for completion in 2038, Cienco 4 said in a statement posted on its website on the same day. The project includes two industrial parks, with a combined area of 3,000 hectares (7,400 acres) and rental contracts for 70 years, the executive said. In the first phase, they will develop an industrial estate on an area of about 500 hectares, which should start providing revenue in the second half of 2017, Jareeporn Jarukornsakul, chief executive officer of WHA Corp, a major shareholder of Hemaraj, told Reuters.
Japan firms eye real estate projects
Talk Vietnam
A number of Japanese firms are looking to inject a total of more than US$2 billion into property projects in Vietnam. Than Thanh Vu, chairman of investment and trade firm Sao Khue which has just organized a promotion trip for Vietnamese real estate companies to Japan to find partners said many Japanese companies are looking for opportunities to invest in Vietnam's property market. However, Vu said it is hard for Japanese firms to find land in the central business districts of HCMC and Hanoi and land procedures in this market remain complicated.
The state bank requires commercial banks explain clearly about the 30,000 billion package's interest rate
CafeLand
SB suggested banks to have effective communication activities, explain and notify particularly about the policy, interest rate to customers so that they could better understand and coordinate with banks in order to shorten the implementing progress of the program.
Specifically, customers are individuals that buy, rent social housing; commercial housing, new construction or repair of houses will have the disbursement deadline on December 31st 2016 and applied favorable interest rates of the program. Disbursements after this day will come from commercial banks' source and apply their interest rate.
By the end of September, the 30,000 billion credit package for housing has been disbursed 28,345 billion, which account for more than 86% of the total amount of the package
VinMart+ stores to reach 1,000 by end of 2016
Vietnam Plus
The group currently runs 650 shops across the nation.
Deputy Director of the Domestic Market Department under the Ministry of Industry and Trade said the convenience stores help boost Vietnam's retail market.
The Ministry has offered numerous incentives to support convenience stores to enhance domestic consumption.
The group set a retail development strategy involving the construction purchase of 100 VinMart supermarkets and 1,000 VinMart+ convenience stores by 2017.
The strategy aims to provide perfect service and quality goods for consumers.
Real estate developers march towards southwestern region
Vietnam Breaking News
| | | |
| --- | --- | --- |
| | | After eight years of focusing on real estate projects in HCMC, real estate developers now tend to eye land in the southwestern region of the country. However, instead of building residential quarters and industrial zones, they are now focusing on retail and tourism real estate projects. To date, all the three large retail chains, including South Korean Lotte and Vietnamese Saigon Co-op and Vingroup, are present in Mekong Delta's provinces. |
More than VND3,100 billion used to build Vanh Dai 3 Street Mai Dich – Thang Long bridge
CafeF
On 5th October 2016, Hanoi People's Committee has held the groundbreaking ceremony of the ring road No.3 expansion project, Mai Dich – Thang Long Bridge part, one of the main roads of Ha Noi
The route will be fully invested in accordance with the approved plan, that there will be 6 lanes each side, according to standard for urban main route level I
The expansion of the ring road No.3 will contribute to developing important transporting infrastructure and solve traffic congestion on the route Pham Van Dong, the complex intersections with heavy traffic Hoang Quoc Viet, Co Nhue, Nguyen Hoang Ton
Sapa is being planned to become international tourism area
CafeF
The Prime Minister has decided to approve the master plan on development of the national tourism zone Sa Pa, Lao Cai province through year 2030, with the goal to develop special tourism products, high quality, attracting around 5.2 million tourists.
According to the master plan to develop tourism products, the products that Sapa can offer are: unique tourism products, sightseeing, ecotourism combined with leisure tourism
Supporting tourism products including spiritual tourism with the variation of temple; Fansipan telepheric; gradually connect to the close by tourist sites; Tourism in combination with traditional festivals, events; Tourism for sightseeing, shopping at trade centers, traditional markets; tourism for researching, learning about the ecology with environmental education; adventure sports tourism …
Bac Ninh to be next destination of horseracing investment fad
Vietnam Breaking News
According to information published on the website of the Bac Ninh People's Committee, a Korean enterprise visited the province to find investment opportunities and study the ground for a horse racing course and amusement complex.
The project is expected to bring a total investment capital of $500 million for the first phase and generate 5,000-10,000 jobs.
In addition to the horseracing course, the project is going to include a 72-hole golf course, a sport and entertainment area, a horse riding and polo club, residences, and villas on a total area of 750 hectares.
Once completed, the complex is expected to become a highlight, attracting both domestic and foreign visitors to the capital, promoting Hanoi's tourism development.
FOR MORE INFORMATION,CONTACT:
Dung Duong MRICS
Director
T +84 8 3824 6125
dung.duong@cbre.com
An Nguyen
Director
T +84 4 2220 0220
an.nguyen@cbre.com