CBRE Newspaper Updates on Residential Ads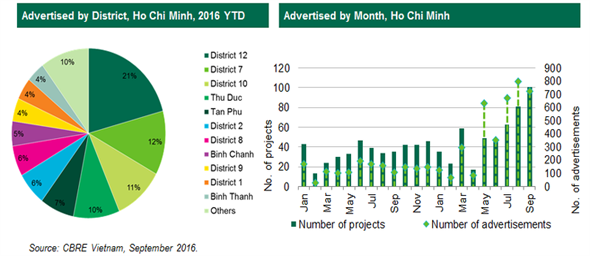 One new launch:

Palm Heights (District 2)

Total Units: 816 units
Scale: three 34-floor blocks, 1 basement – 168 hecta
Unit size: 75 – 121 sqm (2 – 3 bedrooms)
Price: from VND 2.2 billion per unit

Advertisements:
Topaz Home (District 12)

Total Units: 1,172 units
Scale: eight 20-floor blocks – 14,770 sqm
Unit size: 43 – 70 sqm (2 – 3 bedrooms)
Price: from VND 595 million per unit

Diamond Lotus Lake View (Tan Phu District)
Total Units: 360 units
Scale: three 22-floor blocks – 16,800 spm
Unit size: 50 – 81.4 sqm (2 – 3 bedrooms)
Price: from VND 1.2 billion per unit
Total Units: 764 units
Scale: 8,000 sqm 25 floors, 2 basements
Unit size: 70 – 100 sqm (1 – 3 bedrooms)
Price: from VND 1.15 billion per unit
EverRich Infinity (District 5)

* Prices included VAT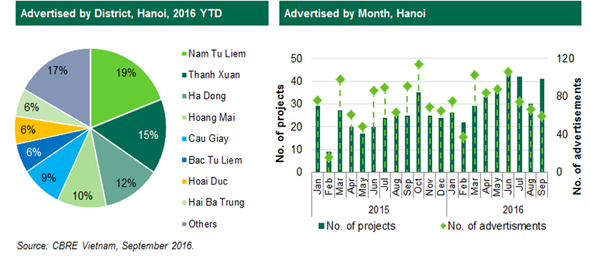 ​
Two new launches:

Sunshine Garden (Hai Ba Trung District) – launch on 25th Sep. 2016

Total Units: 1,278 units
Scale: H1, H2, H3
Unit size: 51.45 – 153 sqm (2 – 3 bedrooms)
Price: VND 34 million per sqm (fully furnitured)

Hoang Cau Skyline (Dong Da District) – launch on 2nd Oct. 2016
Total units: 180 units
Scale: one 18 floor building, 18,869 sqm land.
Unit size: 67 – 112 sqm (2 – 3 bedrooms)
Price: VND 40 – 45 million per sqm (unfurnitured)

Advertisements:
Vinhomes D'.Capitale (Cau Giay District)

Total Units: 1,700 – 1,800 units
Scale: 7 buildings, C1-C7, on land 5ha and GFA 400,000 sqm
Unit size: 56 – 97 sqm (1 – 3 bedrooms)
Price: VND 46 – 50 million per sqm (basic furnished)

Camelia Homes – Gamuda (Hoang Mai District)
Total Units: 133 units
Unit size: 105 – 271 sqm (1 – 3 bedrooms)
Price: VND 65.71 million per sqm (fully furnished)
Note: Selected newspapers include Dau Tu Bat Dong San, Thoi bao kinh te Vietnam, The gioi thong tin bat dong san, CafeF, Tap chi dau tu bat dong san, Vietnamnet, Thi truong Bat dong san & Tai san, Nguoi dua tin, Vnexpress

* Prices included VAT
Back to top
Vietnam's Economy Remains Outperformer as GDP Climbs 6.4%
Bloomberg
| | | |
| --- | --- | --- |
| | | Vietnam's economic growth accelerated this quarter, boosted by foreign investments and rising exports. Growth is being buoyed by rising foreign direct investment and exports, stronger credit demand and a slight recovery in agriculture following a crippling drought. Vietnam's economy has benefited in the past five years from companies such as Samsung Electronics Co. setting up plants in the country, transforming it into a manufacturing hub for electronics goods, including smartphones. |
Realistic valuations are making Vietnam an easier place for deal-making: Jonh Ditty, KPMG
Deal Street Asia
| | |
| --- | --- |
| | Vietnam has grabbed big ticket investments this year, a clear signal that companies see long term potential in the market. In the first seven months of 2016 alone, M&A value in this market reached a total of $3.2 billion, thanks to two $1 billion transactions closed by Central Group (taking over Big C Vietnam) and Singha Asia Holding (acquiring stakes at Masan Group). "Five years ago, it was very unusual for M&A transactions in Vietnam to be about $100 million and up. Currently, we still don't have lots of $100 million deals, but the number of larger transactions is inc |
CapitaLand acquires S$70 mil prime site in Ho Chi Minh for residential development
The Edge Markets
CapitaLand has made its third acquisition in Vietnam within 14 months with the purchase of a prime site in Ho Chi Minh City, for US$51.9 million (S$70.4 million).
Wholly owned subsidiary CapitaLand (Vietnam) Holdings will hold a 100% stake in the 0.5ha site which is expected to offer 302 units across two towers: A 17-storey residential tower and a 22-storey serviced residence tower.
The Somerset branded serviced residence will be managed by CapitaLand's serviced residence arm, The Ascott Limited.
With an estimated project value of S$143 million when completed, the development will be CapitaLand's ninth residential project and 19th serviced residence in the country.
Located in the bustling Cau Kho ward of District 1, Ho Chi Minh City, the development is slated to be completed in 2018, and will be near amenities such as shopping malls, cinemas, schools, office buildings, restaurants, and medical facilities.
Realty Dealbook: Keppel ups stake in Vietnamese firm; Yanlord buys Suzhou site
Deal Street Asia
| | | |
| --- | --- | --- |
| | | Keppel Corporation limited announced on Tuesday that its property unit Keppel Land Limited, will acquire a 25 per cent stake in Quoc Loc Phat Joint Stock Company (QLP) for S$25.6 million. This raises the company's effective stake in the Vietnamese real estate development company to 45 per cent |
Hanoi has approved the proposal of investing a 3000 sqm complex at 153 Yen Phu street
CafeF
| | | |
| --- | --- | --- |
| | | Accordingly, the total land area of the project mentioned above is about 2,678 sqm. In particular, land located in the red-line boundaries around 377 sqm; the area for construction about 2,301 sqm; construction area of about 795 sqm; construction density 35%; about 2555 sqm of GFA (excluding basement area).The project has a total investment of about VND 132.8 billion, operating duration of the project is 50 years from the date of issuance of official investment approval decisions. On the schedule, the project will be prepared to invest in Q4/2016 and make investments in Q1/2017, and expected to complete and put the project into operation in the Q4/2018. [The original article is available in Vietnamese only.] |
Euromoney names Vingroup Vietnam's best property developer
Tuoi Tre News
| | | |
| --- | --- | --- |
| | | Conglomerate Vingroup has been ranked first in three real estate categories in Vietnam by British magazine Euromoney. The company was named Vietnam's best developer of mixed-use projects, best developer of shopping centers, and best developer of resorts in 2016, Vingroup announced in a press release on Monday. The firm sat atop the leader board of Vietnam's housing sector with the Vinhomes real estate brand thanks to its prime location, high-quality construction and infrastructure, excellent services, and others. In terms of retail, the conglomerate has established a total of 26 shopping centers under the Vincom brand across the country, contributing to the improvement of urban images and the enhancement of local economic growth. |
Vietnamese tech major FPT lauches new ad venture after acquiring startup
Deal Street Asia
| | | |
| --- | --- | --- |
| | | FPT Corporation, one of the biggest private technology firms in Vietnam, has launched a new advertising venture, FPT AdTrue, by way of an acquisition. Prior to the FPT deal, the startup's services were available in over 100 countries thanks to its network of more than 17,000 partners worldwide. As a programmatic advertising platform, FPT AdTrue aims to tap the $36-billion global market and the $45-million local market. The programmatic advertising accounted for two-third of the total online advertising revenue, the company said. In Vietnam, online ads growth increased annually by 15 per cent over the past five years. |
New signal for real estate market: The number of newly registered real estate companies is nearly doubled to 2.5 times the amount of captial
CafeF
| | |
| --- | --- |
| | According to data from the General Statistics Office, in the first 9 months, the number of newly registered enterprises is above 81,000. In particular, the number of new companies in real estate sector reached impressive figures and outperformed other sectors. Total registered capital was VND629.1 billion which was 19.2% higher than number of enterprises and 49.5% higher than the registered capital over the same period in 2015. The average registered capital of an enterprise also increased by 25.4% (reached VND7.7 billion). [The original article is available in Vietnamese only.] |
Mai Linh Investment JSC withdrew from Sala project: Leaving Thu Thiem to the Capital?
NDH
| | | |
| --- | --- | --- |
| | | THACO currently holds 90% of capital of Dai Quang Minh – developer of Sala urban residence, while Mai Linh Investment JSC has sold the entire stake in this business. After several Southward, Mai Linh Investment JSC has made a big decision in withdrawing from Sala project. There is an information that Mai Linh Investment JSC left Sala project because they want to return to Hanoi and become the developer for Golden Palace A which was known as PVN Tower project in the past. [The original article is available in Vietnamese only.] |
FOR MORE INFORMATION,CONTACT:
Dung Duong MRICS
Director
T +84 8 3824 6125
dung.duong@cbre.com
An Nguyen
Director
T +84 4 2220 0220
an.nguyen@cbre.com