CBRE Newspaper Updates on Residential Ads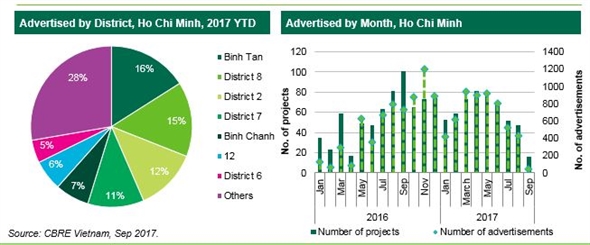 No new launch.
Advertisements:

The Eastern (District 9)

Total units: 648
Scale: one 20-floor block, one 22-floor block
Unit size: 50 – 69 sm (1-2 bedrooms).
Price*: from VND 20 – 22 million/sm.

Khuong Viet (Tan Phu District)

Total units: 233
Scale: one 17-floor block.
Unit size: 51 – 94 sm.
Price*: from VND 1 billion/unit.

Lavita Charm (Thu Duc District)

Total units: 939
Scale: three 20-floor blocks.
Unit size: 49 – 90 sm (1-3 bedrooms).
Price*: from VND 1.3 billion/unit.
* Prices included VAT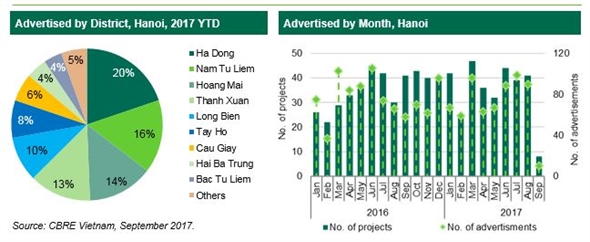 ​
No new launch
Advertisements:

TNR Goldmark City (Bac Tu Liem District)

Total units: ~ 5,000
Scale: 120,000 sm land area
Unit size: 74 – 173 sm (2-3 bedrooms)
Price*: from VND 27 million/sm

Sunshine Center (Nam Tu Liem District)

Total units: 398
Scale: 6,500 sm land area
Unit size: 117 – 168 sm (2-3 bedrooms)
Price*: from VND 31.5 million/sm

D'.Le Roi Soleil (Tay Ho District)

Total units: 498
Scale: 9,185 sm land area
Unit size: 88 – 344 sm (2-4 bedrooms)
Price*: from VND 63 million/sm
Prices included VAT
Note: Selected newspapers include Dau Tu Bat Dong San, Thoi bao kinh te Vietnam, The gioi thong tin bat dong san, CafeF, Tap chi dau tu bat dong san, Vietnamnet, Thi truong Bat dong san & Tai san, Nguoi dua tin, Vnexpress
Work starts on bridge to Kim Cuong Island in HCMC
Nhan Dan
| | |
| --- | --- |
| | The Ho Chi Minh City's Department of Transport commenced the construction of a bridge to Kim Cuong (Diamond) Island in District 2 on September 7. The bridge, which will span the Sai Gon River, will begin stretch from Thanh My Loi residential area to Mai Chi Tho Street in District 2. The project is estimated to cost VND493 billion (US$21.69 million) which is sourced from the city's budget and contributions from private enterprises. The bridge is 291m long, 22m wide and has four lanes. It is scheduled for completion in 2019. |
Vingroup shakes hands with Siemens
Vn Economic Times
| | |
| --- | --- |
| | Vingroup and German conglomerate Siemens signed a memorandum of understanding (MoU) on September 7 to promote technological cooperation in many important areas. Vingroup will cooperate with Siemens in applying innovative technologies and solutions for projects in three fields: automobile manufacturing, building and residential development, and hospital development involving Vinmec. The two sides will also consider collaborating closely in agriculture and other industries Vingroup may expand into in the future. |
Old Navy opens the first store in Hanoi
Vietnamnet
Old Navy, one of the famous brands under Gap Inc. from the US, officially opened its first store in Hanoi at a prime location in Vincom Nguyen Chi Thanh.
This is the first Old Navy store in Hanoi and the second one in Vietnam, following the first store in Ho Chi Minh City since June. According to the general director of Old Navy Vietnam, the brand scheduled to open another additional store in Hochiminh City in the middle of September.
HCMC: Approval for Quoc Loc Phat Company to invest 7,300 billion VND in Thu Thiem
Cafe Land
| | |
| --- | --- |
| | The City's People's Committee has approved Quoc Loc Phat Joint Stock Company to invest in the development of Song Viet Complex at the functional area No.1 – Thu Thiem New Urban Area, An Khanh Ward, District 2 on the land area of 75,965m2, the total investment of the project is expected to be nearly 7,300 billion VND. This project includes financial center, bank, commercial center, housing and related service. |
Agribank to auction V-Ikon Project in Ho Chi Minh City
CafeF
| | |
| --- | --- |
| | Agribank AMC announced the auction of all assets and land use rights of the V-Ikon project with the starting price of VND 320 billion.The auction is scheduled to take place on September 19 2017. The auction participants will have to pay a deposit of VND48 billion, equivalent to 15% of the starting price. |
Corporate tax law changes worry businesses
VIR
| | |
| --- | --- |
| | The Ministry of Finance (MoF) has announced changes in the Law on Corporate Income Tax (CIT) to better regulate and monitor the level of equity and taxable income for firms operating in Việt Nam. The MoF said the current CIT regulations did not clearly limit the debt-to-equity ratio at which the interest from such debt is no longer considered an allowable expense. |
Samsung Securities to acquire stake in Dragon Capital
VN Economic Times
| | |
| --- | --- |
| | Samsung Securities will acquire a stake in Dragon Capital, the largest asset management company in Vietnam, to accelerate its presence in the country rather than establishing a corporation, foreign newswire BusinessKorea has reported. Samsung Securities turned its eyes overseas so as not to lag behind its competitors. |
Macau Junket King Plans to Invest Billions in Japan, Vietnam
Bloomberg
| | |
| --- | --- |
| | In Vietnam, the junket operator partnered with Hong Kong's Chow Tai Fook Enterprises Ltd. and Vietnam-based VinaCapital Investment Management Ltd. to build a $4 billion integrated resort in Hoi An. Suncity owns 34 percent of the coastal project through its Hong Kong-listed subsidiary and has a management contract to operate the casino. The subsidiary's shares have risen 118 percent this year, compared with a 27 percent increase for the Hang Seng Index. |
Vietnamese retailers look to foreign retail markets
Retail News Asia
| | |
| --- | --- |
| Back to top | In late June, The Gioi Di Dong JSC, which owns the largest mobile phone distribution chain in Vietnam, opened its first shop in Phnom Penh, Cambodia. A senior executive of Pico, a home appliance distribution chain, in early 2016 told the press that the chain was considering penetrating markets like Myanmar, Laos and Cambodia. Nguyen Ngoc Hoa, when he was chair of Saigon Co-op, affirmed the importance of foreign markets for Saigon Co-op, saying that the retail chain targets Laos and Cambodia for its plan to expand the network. |
Tan Vu-Lach Huyen Highway officially open for traffic
VIR
| | |
| --- | --- |
| | After three years of construction, the Tan Vu-Lach Huyen road section was officially put into operation. Located in the northern port city of Haiphong, the Tan Vu-Lach Huyen Highway is part of the "Lach Huyen International Port infrastructure system construction" funded by Japanese official development asisstant (ODA). The highway is a total 15.63 kilometres long, including the 5.44-km Dinh Vu-Cat Hai Bridge—the longest cross-sea bridge in Southeast Asia.It connects the developing areas in the east of the northern port city of Haiphong with Lach Huyen Port in the island district of Cat Hai and Hanoi-Haiphong Highway. After the opening of the highway and bridge session, Lach Huyen Port is also expected to be put into operation in 2018. |
FOR MORE INFORMATION,CONTACT:
Dung Duong MRICS
Director
T +84 8 3824 6125
dung.duong@cbre.com
An Nguyen
Director
T +84 4 2220 0220
an.nguyen@cbre.com