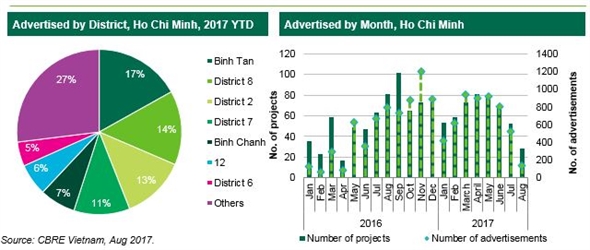 One new launch.

Masteri An Phu (District 2)

Total units: 900
Scale: two 33-floor block.
Unit size: 48 – 92 sm (1-3 bedrooms).
Price*: from VND 1.8 billion/unit.

Advertisements:

Heaven Riverview (District 8)

Total units: 960
Scale: two 17-floor blocks (each 480 units).
Unit size: 50 – 69 sm (1-2 bedrooms).
Price*: from VND 800 million/unit.

Lavita Charm (Thu Duc District)

Total units: 939
Scale: three 20-floor blocks.
Unit size: 49 – 90 sm (1-3 bedrooms).
Price*: from VND 1.3 billion/unit.

Saigon Mia (Binh Chanh District)

Total units: 872 (condos).
Scale: two 22-floor blocks and one 27-floor block.
Unit size: 50 – 83 sm (2 – 3 bedrooms).
Price*: from VND 990 million/unit.
* Prices included VAT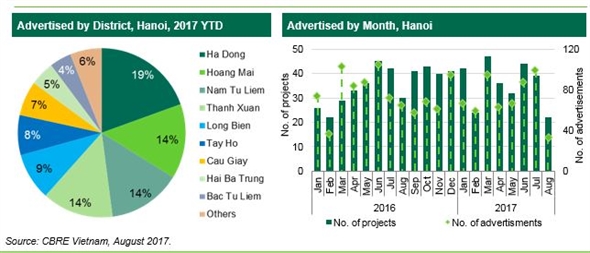 ​
No new launch.
Advertisements:

Hong Ha Tower (Hoang Mai District)

Total units: 251
Scale: 2 ha land area (apartments, terraces, villas)
Unit size: 60 – 100 sm (terraces, villas, 2-3 bedrooms)
Price*: from VND 17 million/sm

Sunshine City (Bac Tu Liem District)

Total units: 2,368
Scale: 10.6 ha land area
Unit size: 80 – 122 sm (2-3 bedrooms)
Price*: from VND 29 million/sm

Xuan Mai Riverside (Ha Dong District)

Total units: 696
Scale: 5.6 ha land area
Unit size: 47 – 80 sm (2-3 bedrooms)
Price*: from VND 18 million/sm
Prices included VAT
Note: Selected newspapers include Dau Tu Bat Dong San, Thoi bao kinh te Vietnam, The gioi thong tin bat dong san, CafeF, Tap chi dau tu bat dong san, Vietnamnet, Thi truong Bat dong san & Tai san, Nguoi dua tin, Vnexpress
Vietnam Learns Becoming a Tiger Economy Comes With a Cost
Bloomberg
According to Bloomberg, as the "Asia's newest tiger", Vietnam`s economy is about to find out the cost of being a member of the club.
Vietnam has more than doubled its gross domestic product over the past eight years, becoming a high performer in the world's fastest-growing region.
However, the famous finance paper also warned about the cost that Vietnam would have to pay for being the "Asia's newest tiger economy".
Vietnamese retail sector to flourish in AEC era
VIR
| | |
| --- | --- |
| | Since the establishment of the ASEAN Economic Community (AEC), Vietnam has become a potential market for regional retailers, which promotes the development of the domestic retail sector, but also alerts domestic enterprises to watch out and continuously improve to not fall behind in this fierce competition. |
Vietnamese derivatives market to launch with VN30 futures
Bizhub
| | |
| --- | --- |
| | Vietnam's derivatives market will start official operations on August 10 with the VN30-Index futures contract set to launch first. In Viet Nam, the current law allows three types of derivative products — futures contracts of shares indexes with the VN30-Index and HNX30-Index as underlying assets, and five-year Government bond future contracts. |
PM issues ultimatum to speed up ODA projects
VIR
| | |
| --- | --- |
| | The Vietnamese government has lost patience over the slow disbursement of official development assistance (ODA) for several projects and the prime minister had to issue an ultimatum to speed up disbursement or risk losing this important capital source. |
Construction of a highway linking India and Vietnam
CafeF
| | |
| --- | --- |
| | The expressway runs through India – Myanmar – Thailand, Cambodia, Laos and Vietnam. This route will bridge the gap between the Mekong and Western India. The Indian government will invest part of the expressway from India to Myanmar and Thailand. This project aims to develop transport infrastructure between India and ASEAN countries, promote trade and investment, create opportunities for regional development especially in East India and ASEAN. |
Vietnam: Mobile World to acquire electronics retailer Tran Anh
Deal Street Asia
Mobile World's chairman Nguyen Duc Tai reportedly said at a meeting last week that the company proposed to take over an electronics retailer in the north of Vietnam as well as a pharmacy distribution company, without revealing the details. Mobile World has set aside a budget of VND2.5 trillion ($110 million) for M&A activity in 2017 to consolidate its business. Mobile World will be acquiring electronics retailer Tran Anh Digital World, according to people familiar with both companies.
A person from Tran Anh will join the management board of Mobile World following the completion of the transaction, while Tran Anh's shareholders will be entitled to purchase Mobile World shares at a discounted rate.
Anpha Holdings picks up Novaland subsidiary
VIR
Vietnamese real estate developer Anpha Holdings has announced completing the purchase of a 99.98 per cent stake in Nova Galaxy Real Estate JSC from Novaland Group, according to newswire Saigontimes.
The deal value has yet to be disclosed. Novaland also refused to release the reasons of its divestment, however, decrease in net revenue and after-tax profit may have played a part. Notably, in the first half of this year, Novaland earned VND3.33 trillion ($145.9 million) in net revenue and VND841 billion ($36.85 million) in after-tax profit, signifying decreases of 33 and 45 per cent, respectively.
Skechers shoes arrive in Vietnam
VN Economic Times
| | |
| --- | --- |
| | Skechers shoes are now available in Vietnam, with the Viet Tien Garment Joint Stock Corporation (VTEC) agreeing to a franchise arrangement with a US partner. VTEC began selling Skechers shoes at one of its Ho Chi Minh City stores on August 8. |
Upgraded Chu Lai Port opens
Bizhub
| | |
| --- | --- |
| Back to top | Quang Nam Province has put into operation the Chu Lai Port as a key logistics hub for the central and Central Highlands region after a one-year upgrade and expansion. The project carried out by the Truong Hai Auto Corporation (THACO) included the expansion of the berth upstream, the expansion and upgrading of the warehouse system and the completion of infrastructure. The project cost VND120 billion (US$5.2 million), raising the level of investment to build Chu Lai Port from 2010 to the present to nearly VND800 billion. |
Social housing must look nice: construction official
VIR
| | |
| --- | --- |
| | Tran Trong Tuan, director of the Department of Construction, told a conference on Friday that building affordable apartments has been part of the city's agenda for decades. The city administration recently instructed the construction apartment and architecture association to organise a social housing design contest. Tuan said the aim of the competition is to come up with social housing models which are not only affordable and have decent infrastructure but also look "nice" to buyers and put paid to the negative perception of workers' apartments. |
Asian powers map varied M&A plans
VIR
In recent years, enthusiastic Asian firms have been flocking to Vietnam as part of their global ambitions.
Thailand, Singapore, Japan, and South Korea are the four most prominent players in Vietnam's merger-and-acquisition (M&A) scene. Thailand investors are interested in Vietnamese firms in retail and consumer goods. Meanwhile, most Singaporean investors stick to the real estate industry. Japanese buyers usually target multiple sectors in Vietnam, covering pharmaceuticals, packaging, construction materials, food and beverage, finance, and real estate. Meanwhile, Korean buyers have purchased a slew of Vietnamese consumer goods firms.
FOR MORE INFORMATION,CONTACT:
Dung Duong MRICS
Director
T +84 8 3824 6125
dung.duong@cbre.com
An Nguyen
Director
T +84 4 2220 0220
an.nguyen@cbre.com