CBRE Newspaper Updates on Residential Ads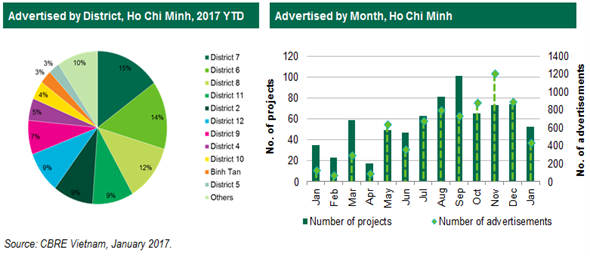 Two new launches

Moonlight Boulevard (Binh Tan District)

Total units: 656 condos, 54 office-tels and 54 shop houses
Scale: one 20-floor block
Unit size: 51.41 – 96.16 sm (2 – 3 bedrooms)
Price: from VND 999 million per unit

Duc Long New Land (District 8)

Total units: 800 units
Scale: 2 blocks, land area: 10,598 sm
Unit size: 52 – 87 sm (1 – 3 bedrooms)
Price*: from VND 1.4 billion per unit

Advertisements

The Sun Avenue (District 2)

Total units: 1,860 units
Scale: 8 blocks from 28 to 30 floors
Unit size: 55.8 – 108.8 sm (1 – 3 bedrooms)
Price: from VND 1.67 billion per unit

Vinhomes Golden River (District 1)

Total units: ~3,000 units
Scale: 9 blocks
Unit size: 49 – 162 sm (1 – 4 bedrooms)
Price: from VND 3.9 billion per unit
* Prices included VAT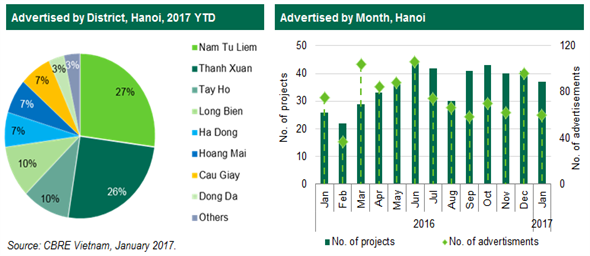 ​
Two new launches

Foresa Villa (Nam Tu Liem District)

Total units: 315 villas, 382 terraces, 116 shop houses.
Total area: 3.8 ha
Unit size: 90 – 350 sm

Vinhomes Green Bay – G1 Building (Nam Tu Liem District)

Total units: 242 units (G1 Building)
Total area: 31.8 ha
Unit size: 42.4 – 92.2 sm (1 – 3 bedrooms)
Price*: from VND 40 million per sm (basic furnished)

One re-launch

Times Tower (Thanh Xuan District)

Total units: 269 units
Total area: 4,471 sm
Unit size: 107 -127 sm
Price*: from VND 30 million per sm (basic furnished)

Advertisements

FLC Twin Towers (Cau GiayDistrict)

Total units: 420 units
Total area: 10,629 sm
Unit size: 97 – 127.4 sm (2 – 3 bedrooms)
* Prices included VAT
Note: Selected newspapers include Dau Tu Bat Dong San, Thoi bao kinh te Vietnam, The gioi thong tin bat dong san, CafeF, Tap chi dau tu bat dong san, Vietnamnet, Thi truong Bat dong san & Tai san, Nguoi dua tin, Vnexpress
CapitaLand to develop office tower in Ho Chi Minh City​
The Business Times
| | |
| --- | --- |
| | CapitaLand announced, prior to the start of trading on Tuesday, that it will be developing its first international Grade A office tower in in the heart of Ho Chi Minh City, Vietnam. CapitaLand will have 100 per cent stake in the 0.6 ha site with a gross floor area of 106,000 sm, which will be developed into a 240 m international Grade A office tower with retail units on the ground and basement levels. The development, located near the Saigon River in the heart of District 1, will be directly connected to a planned metro station, linking the central business district to the districts of Binh Thanh, 2 and 9. Vietnam is CapitaLand's third largest market in South-east Asia, after Singapore and Malaysia. |
6-star Hotel in Hoan Kiem Lake area named Four Season
VnEconomy
Intimex Vietnam, a subsidiary of the BRG Group, held a breaking ground ceremony on January 17 for the construction of the 6-star Four Seasons Hanoi hotel near Hoan Kiem Lake.
Location: 22-32 Ly Thai To Street
Scale: 100 high-end rooms
Four Seasons is the world top hotel brands, in which 47.5% of its capital from Bill Gates.
Vingroup, Sungroup, Geleximco planning to build modern city along Red River
CafeF
| | |
| --- | --- |
| | Hanoi Municipal Committee Party officially assigns Sungroup, Vingroup, and Geleximco to do research and planning for Red River's banks' urban area. The research must follow some criteria to prevent floods, build a modern city, make use of limited property resources, and create leverage for the city's further planning. Developing transportation system, riverside tourism, prioritizing stay-in reallocation, planning flood-defensing way along the riverbanks are emphasized. The research for planning is divided into 2 phases. Phase 1 is from Thang Long Bridge to Thanh Tri Bridge, and phase 2 is for the rest of the riverbanks area. Deadline for final drafting research proposal is March 30, 2017. All the named investors are allowed to invite consulting agencies to take part in the project. |
Selecting competent developer to open casinos
Tuoi Tre Online
| | |
| --- | --- |
| | In order to operate commercial and entertaining casino complex, developer must commit to have minimum capital of US$2 billion, instead of US$4 billion as in previous proposal from the Ministry of Finance. In a working session with Quang Ninh Province in the last week (2016), Prime Minister Nguyen Xuan Phuc said that the trial permission for Vietnamese to enter casinos in Van Don (Quang Ninh) and Phu Quoc (Kien Giang) will be granted in three years. |
Multimillion-dollar exhibition center to open near Ha Long Bay
Tuoi Tre News
| | | |
| --- | --- | --- |
| | | A giant exhibition center overlooking the Gulf of Tokin will be inaugurated in northern Vietnam's Quang Ninh Province next week, the provincial administration announced Thursday (01/12). The Quang Ninh Exhibition of Planning and Expo Center, built in just 19 months and featuring 21,000 square meters of floor space, cost VND1.15 trillion (US$51.34 million). Located on Tran Quoc Nghien Street in the province's Ha Long City, the complex consists of two separate buildings connected by a system of elevators, escalators, and stairs.The exhibition complex will be a venue for significant cultural and social activities in the province and highlight its economic achievements, its developers said. |
Thua Thien – Hue calls for Singaporean investment in tourism, seaport​
Vietnam Plus
| | |
| --- | --- |
| | The central province of Thua Thien – Hue has held a conference in Singapore to call for Singaporean investment in the province's key sectors of tourism and sea port. Addressing the event on January 12, Chairman of the provincial People's Committee Nguyen Van Cao said Thua Thien-Hue selected Singapore as the first market to promote the local potentials because many Singaporean investors have had effective projects in the province, citing as an example the Banyan Tree Group with the Laguna Lang Co resort. |
Cable car proposed for passengers to reach Tan Son Nhat airport
Tuoi Tre News
| | |
| --- | --- |
| | A cable car developer has proposed building a cable-propelled transit system for passengers to reach Tan Son Nhat International Airport in Ho Chi Minh City, instead of struggling in the usually crowded main streets leading to Vietnam's busiest airdrome. The cable car system is proposed to be built in the nearby Hoang Van Thu and Go Vap parks. |
French constructors join in Hanoi urban metro project​
Vietnam Breaking News
The Hanoi Metropolitan Railway Management Board on January 17 signed a deal with a joint venture of French contractors to build a section of the urban metro connecting Nhon with the Hanoi station. The joint venture includes leading French companies, namely Alstom Transport S.A, Colas Rail S.A and Thales Communication & Security S.A.S.
The deal is worth 7,667 billion VND (334.5 million USD), sourced from loans provided by the French Government.
The project info:

Total length of 12.5km (including an 8.5-km elevated railway and a 4-km underground section)
Cost estimation: EUR 1.17 billion, earmarked for nine package deals

Construction time (expected): 47 months
Ho Chi Minh City launches digital traffic map
Vietnam Breaking News
The Ho Chi Minh City Department of Transport has announced the launch of a digital traffic map aimed at informing commuters of traffic congestion in the city in a bid to alleviate congestion on busy routes. The Ho Chi Minh City Department of Transport has announced the launch of a digital traffic map aimed at informing commuters of traffic congestion in the city in a bid to alleviate congestion on busy routes.
HCM City builds double tunnel to ease traffic
Vietnam Plus
| | |
| --- | --- |
| | The tunnel work is expected to ease traffic congestion at the intersection, which is known for numerous accidents and traffic jams. The project, with total capital of 514 billion VND (23 million USD), is expected to be completed within 20 months. Construction of a double tunnel at An Suong intersection between Ho Chi Minh City's District 12 and Hoc Mon District was kicked off on January 19. One tunnel extends from Truong Chinh Street towards National Highway No 22, and the other in the opposite direction. |
SBV aims to hold inflation under 4 percent in 2017​
Vietnam Plus
| | |
| --- | --- |
| | The State Bank of Vietnam (SBV) will control inflation under 4 percent and stabilise the macro economy to reach a GDP growth of 6.7 percent, as well as ensure a safe operation for the banking system. The SBV has set a goal to gain a credit increase of 16 percent for growth of 16 – 18 percent in total payments, and will try to cut the medium- and long-term interest rates, as well as stabilize the foreign currency exchange rate. |
FOR MORE INFORMATION,CONTACT:
Dung Duong MRICS
Director
T +84 8 3824 6125
dung.duong@cbre.com
An Nguyen
Director
T +84 4 2220 0220
an.nguyen@cbre.com