CBRE Newspaper Updates on Residential Ads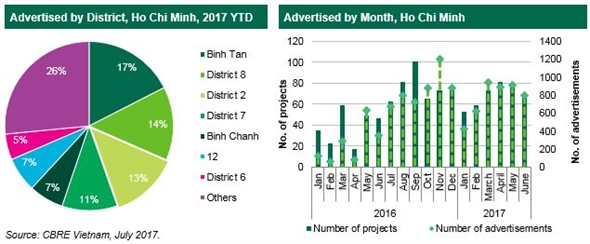 No new launch.
Advertisements:

Heaven Riverview (District 8)

Total units: 960
Scale: two 17-floor blocks (each 480 units)
Unit size: 50 – 69 sm (1-2 bedrooms)
Price*: VND 800 million/unit

Saigon Mia (Binh Chanh District)

Total units: 872 (condos)
Scale: two 22-floor blocks and one 27-floor block
Unit size: 50 – 83 sm (2 – 3 bedrooms)
Price*: VND 990 million/unit

Khuong Viet (Tan Phu District)

Total units: 233
Scale: one 17-floor block
Unit size: 51 – 94 sm
Price*: from VND 1 billion/unit
* Prices included VAT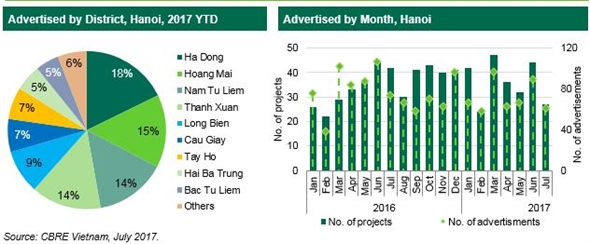 ​
One new launch:

Sun Tower (Tay Ho District)

Total units: 160
Scale: 27-floor block
Unit size: 70.5 – 94.7 sm (2 – 3 bedrooms)
Price*: from VND 38.5 million/sm

Advertisements:

Rivera Park (Thanh Xuan District)

Total units: 368
Scale: Two 22-storey blocks
Unit size: 76 – 114 sm (2 – 3 bedrooms)
Price*: from VND 33 million/sm

An Phu Shop-villa

Total units: 246
Scale: 47 ha land area (3.5-storey villa)
Unit size: 162 – 220 sm
Price*: from VND 45 million/sm

Vinhomes Riverside – The Harmony (Long Bien District)

Total units:1400
Scale: 97 ha land area
Unit size: 90 – 315 sm (villas, apartments, single houses)
* Prices included VAT
Note: Selected newspapers include Dau Tu Bat Dong San, Thoi bao kinh te Vietnam, The gioi thong tin bat dong san, CafeF, Tap chi dau tu bat dong san, Vietnamnet, Thi truong Bat dong san & Tai san, Nguoi dua tin, Vnexpress
Hong Kong investor stakes $500 million to build racecourse in southern Vietnam
Retail News Asia
| | |
| --- | --- |
| | A Hong Kong-based company has been given the all clear to conduct a feasibility study for a racecourse in Vietnam's southern city of Can Tho. SIBC International Ltd. met with the city's leaders on Wednesday to discuss plans to build an entertainment complex that would cover over 150 hectares (370 acres). The project, which also includes a hotel, park and golf course, is expected to cost $500 million, it said. |
Vietnam: Joint ventures preferred for equity investment in real estate
Deal Street Asia
Joint ventures are the most preferred route for investors in the Vietnamese real estate sector since the beginning of this year, as they seek to combine the assets owned by local developers with the capital and expertise of foreign companies.
Acquisition of local realty firms was another favoured route for overseas developers wanting to navigate the market, while private equity funds shied away from closing deals.
Vietnam's Rate Cut May Spur Growth Amid Credit Worries
Bloomberg
| | |
| --- | --- |
| | The central bank reduced the refinance rate by 25 basis points to 6.25 percent late on Friday and also lowered the discount rate to 4.25 percent from 4.5 percent. The changes come into effect on Monday, the State Bank of Vietnam said on its website. The central bank said in its statement that the move was to help boost economic growth and keep inflation under control. |
Singapore company invests $45.7 million to build a tower in Ho Chi Minh City
VN Economy
| | |
| --- | --- |
| | Chairman of HCMC People's Committee has decided to approve UOA Investments PTE from Singapore to build UOA Tower project. The project area is 2.975m2, the total floor area is 37.425m2. The building is located in Tan Phu Ward, District 7, Ho Chi Minh City. The total investment of the project is VND1,001 billion, equivalent to US$45.7 million. The project is allocated land until 19/5/2043. |
Hanoi to impose parking space rules for high-rises
Vietnam Breaking News
| | |
| --- | --- |
| | The Hanoi People's Committee has proposed regulations related to underground parking space in high-rises to the municipal People's Council, which will be approved in a meeting in July. Accordingly, at least 22 percent of the total construction area must be dedicated to underground parking space in new buildings in downtown districts; it is 17 percent for other districts. |
Prime Minister authorizes HCMC to receice advance ODA for construction of metro No.1
VN Economy
| | |
| --- | --- |
| | Budget allocated in 2017 to implement the metro project No. 1 from ODA is 5,422 billion. However, the Ministry of Planning and Investment has just agreed to allocate VND2,119 billion to VND3,303 billion. Ho Chi Minh City has proposed to the Government to advance VND3,303 billion in 2017 from the mid-term ODA budget for 2016-2020. The Prime Minister agreed with this proposal to carry out the project in a timely manner, supporting economic growth. |
Many resort projects in Vung Tau to be retrieved
CafeF
According to the report of People's Committee of Xuyen Moc District, there are 104 licensed projects with a total area of 3,792 ha. There are more than 60 projects in Dat Do District and Binh Chau Commune, but only two have been completed, the remaining projects are unfinished.
In 2016, People's Committee of Xuyen Moc District proposed the People's Committee of Ba Ria-Vung Tau Province to retrieve 22 projects. But only 3 projects were retrived: Phuoc Tan Market, Phuoc Thuan Market and Wild Safari.
HBC picks up several large projects
VN Economic Times
| | |
| --- | --- |
| | The Hoa Binh Construction Group Joint Stock Company (HBC) has been entrusted with six new large-scale projects with a total contract value of VND2.075 billion ($91.27 million): The Riviera Point Phase 2, Oriental Garden, Zone A at the Movenpick Resort, Crowne Plaza at Bai Dai Resort on Phu Quoc Island, a tunnel for the Opal Tower project and Vincom Quang Binh. |
THACO hands over 12 double-decker buses in Da Nang
VN Economic Times

Back to top
The Truong Hai Auto Corporation (THACO) has handed over 12 double-decker buses to Da Nang as the central city bolsters its tourism offerings.
THACO and the Empire Group held a handover and trial run of the buses for the "Coco City Tour" in Da Nang on the afternoon of July 11. Coco City Tour is a unique and impressive travel experience and appears for the first time in Da Nang.
HCM City adjusts planning schemes for industrial zones
Vietnamnet
| | |
| --- | --- |
| | Ho Chi Minh City is adjusting its industrial development strategy until 2020, including removing zoning plans for delayed industrial parks and downsizing the scale of industrial complexes in a bid to speed up investment projects and lure more investment. |
Da Nang to have first waste-to-electricity project
Vietnam Plus
| | |
| --- | --- |
| | The Empire Group and ViDe Bridge Limited Company of Vietnam will implement a project producing electricity from urban solid waste using advanced technology in the central city of Da Nang, Lao Dong newspaper reported. Coco Tran, Deputy Director General of the Empire Group, said that the first phase of the project will treat 400,000 tonnes of waste a year to produce 350 million kWh of electricity and 24,000 tonnes of coke, while reducing 500,000 tonnes of CO2. Later on, the project will be expanded to other cities nationwide. |
FOR MORE INFORMATION,CONTACT:
Dung Duong MRICS
Director
T +84 8 3824 6125
dung.duong@cbre.com
An Nguyen
Director
T +84 4 2220 0220
an.nguyen@cbre.com