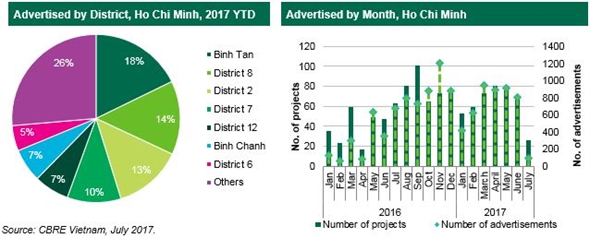 One new launch:

Hado Riverside (District 12)

Total units: 256
Scale: one 15-floor block
Unit size: 48 – 56 sm (1-2 bedrooms)
Price: VND 838 million/unit

Advertisements:

Heaven Riverview (District 8)

Total units: 960
Scale: two 17-floor blocks (each 480 units)
Unit size: 50 – 69 sm (1-2 bedrooms)
Price*: VND 800 million/unit

Saigon Mia (Binh Chanh District)

Total units: 872 (condos)
Scale: two 22-floor blocks and one 27-floor block
Unit size: 50 – 83 sm (2 – 3 bedrooms)
Price*: VND 990 million/unit

Grand riverside (District 4)

Total units: 240
Scale: one 22-floor block
Unit size: 49 – 139 sm
Price*: VND 2.48 billion/unit
* Prices included VAT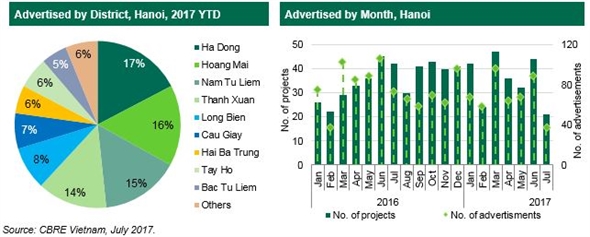 ​
No new launch
Advertisements:

PentStudio (Tay Ho District)

Total units: 321
Scale: 18-floor block
Unit size: 45 – 106 sm (1 – 3 bedrooms)

Stellar Garden (Thanh Xuan District)

Total units: 368
Scale: Two 30-storey blocks
Unit size: 92.4 – 153 sm (1 – 3 bedrooms)
Price*: from VND 33 million/sm

Vinhomes Metropolis (Ba Dinh District)

Total units: 750
Scale: Two 45-storey office blocks, 41-storey block, two 45-storey blocks
Unit size: 51 – 149 sm (1 – 4 bedrooms)
Price*: from VND 70 million/sm

The ZEN Residence (Hoang Mai District)

Total units: 927
Scale: 31-floor block, 33-floor block, 35-floor block
Unit size: 52 – 221 sm (1 – 3 bedrooms, Sky Villa, Penthouse)
Price*: from VND 27 million/sm
* Prices included VAT
Note: Selected newspapers include Dau Tu Bat Dong San, Thoi bao kinh te Vietnam, The gioi thong tin bat dong san, CafeF, Tap chi dau tu bat dong san, Vietnamnet, Thi truong Bat dong san & Tai san, Nguoi dua tin, Vnexpress
Traffic takes off on new overpasses to Saigon airport
VnExpress
| | |
| --- | --- |
| | Traffic on an overpass to Tan Son Nhat International Airport that opened on Monday morning. The construction took five months and was completed two months ahead of schedule. The overpass goes to the domestic and international terminals, and cost VND242 billion ($10.6 million) to build. |
Hanoi People's Council approved Resolution on reducing congestion and pollution
Hanoi Times
| | |
| --- | --- |
| | The Hanoi People's Committee suggested solutions to tighten quality and quantity management of vehicle. Especially, the Hanoi People's Committee will work out incentive policies to attract investment for urban railways, bus of rapid transport, monorails and bus. Through the form of public private partnership (PPP), public transportation is expected to develop in a rapid and stable manner. |
Nam Cuong invests in Southeast Asia's first astronomy park
VN Economy
| | |
| --- | --- |
| | On 4/7/2017, Nam Cuong Corporation will be holding a press conference, announcing its Southeast Asia's first astronomy park project. In this conference, the investor and many top foreign and domestic experts will discuss with the press about the idea behind the astronomy park, and from that, share some amazing stories about the universe and astronomy in a fun and subtle way to encourage curiosity and ignite the passion for science from all of the audiences. |
Central Group opens B2S stationery store in Ho Chi Minh City
Nikkei Asian Review
| | |
| --- | --- |
| | Thailand's Central Group has launched its first B2S stationery and office supplies store in Vietnam. The 900-sq.-meter outlet has some 6,000 items for sale, including office furniture, computers, printers, stationery, cards and entertainment materials. About 80% of the goods are imported. |
VIB to acquire Commonwealth Bank's Ho Chi Minh City branch
Deal Street Asia
| | |
| --- | --- |
| | Commonwealth Bank of Australia has received the State Bank of Vietnam's nod to sell its Ho Chi Minh City branch to local commercial lender Vietnam International Bank (VIB). Accordingly, VIB will acquire all the assets and liabilities of the foreign bank's branch. Commonwealth Bank will retain its Hanoi representative office. |
Ho Tram Strip inks $63 milion natural gas deal
VIR
Ho Tram Project Company (HTP) and PetroVietnam Low Pressure Gas Distribution Joint Stock Company (PVGasD) has inked a memorandum of understanding that will see the Ho Tram Strip move to cleaner, greener and more efficient power within the next 15 months.
The $63 million (net present value) investment will be deployed on a BOO (Build-Own-Operate) model, which will see a power station built within the existing Central Plant Building on the company's 164 hectare site.
Viet Capital Securities to be listed this Friday
VIR
Viet Capital Securities JSC will debut its shares on the Ho Chi Minh Stock Exchange this Friday, following a successful private placement last month. Approximately 103 million shares will be listed on the bourse, with prices starting at VND48,000 ($2.11) per share. The band for share price fluctuations on the first day of trading is 20 per cent.
This means that Viet Capital Securities (VCSC) will be capitalised at VND4.95 trillion ($217 million) on Friday, July 7, if all goes according to plan.
HCMC: Master Plan 1/500 depot Da Phuoc Metro No. 5 with 31 ha
Cafe Land
The City People's Committee has approved the detailed plan of scale 1/500 depot Da Phuoc of railway No. 5 (Metro No. 5) in Da Phuoc commune, Binh Chanh district.
According to the planning scheme, Da Phuoc depot will have a total area of 31.68 hectares, be oriented as the operator of the urban railway No. 5, maintenance and repair system and other related activities.
Da Nang debuts new bus service
Nhan Dan

Back to top
Da Nang city People's Committee and the Toyota Mobility Foundation (TMF) commenced operations of the TMF Bus Service and TMF Park & Ride system, at Nai Hien Dong ward, Son Tra district, Da Nang city, on June 30, as part of Da Nang's urban traffic corridor improvement project.
The bus routes, which use eight 50-seater buses, will operate from 5.45am to 8.45pm every day.
FOR MORE INFORMATION,CONTACT:
Dung Duong MRICS
Director
T +84 8 3824 6125
dung.duong@cbre.com
An Nguyen
Director
T +84 4 2220 0220
an.nguyen@cbre.com