CBRE Newspaper Updates on Residential Ads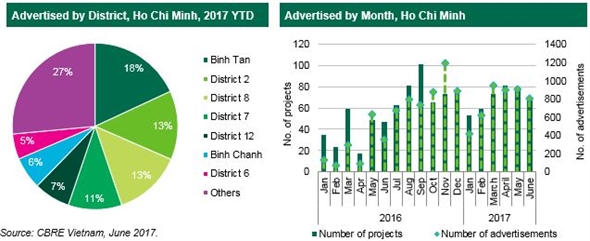 No new launch
Advertisements:

Heaven Riverview (District 8)

Total units: 960
Scale: two 17-floor blocks (each 480 units)
Unit size: 50 – 69 sm (1-2 bedrooms)
Price*: VND 800 million/unit

Saigon Mia (Binh Chanh District)

Total units: 872 (condos)
Scale: two 22-floor blocks and one 27-floor block
Unit size: 50 – 83 sm (2 – 3 bedrooms)
Price*: VND 990 million/unit

8X Rainbow

Total units: 408
Scale: one 18-floor block
Unit size: 64 – 92 sm (2 – 3 bedrooms)
Price*: VND 13.9 million/sm
* Prices included VAT

​
No new launch
Advertisements:

Xuan Mai Complex (Ha Dong District)

Total units: 696
Scale: five 26-floor blocks
Unit size: 47 – 80 sm (1 – 2 bedrooms)
Price*: from VND 18 million/sm

Sunshine Riverside (Tay Ho District)

Total units: 932
Scale: Three 32-floor blocks
Unit size: 74 – 114 sm (1 – 3 bedrooms)
Price*: from VND 36 million/sm

Goldsilk Complex (Ha Dong District)

Total units: 750
Scale: Two 32-floor blocks
Unit size: 68 – 128 sm (2 – 4 bedrooms)
Price*: from VND 23 million/sm

The ZEN Residence (Hoang Mai District)

Total units: 927
Scale: 31-floor block, 33-floor block, 35-floor block
Unit size: 52 – 221 sm (1 – 3 bedrooms, Sky Villa, Penthouse)
Price*: from VND 29 million/sm
* Prices included VAT
Note: Selected newspapers include Dau Tu Bat Dong San, Thoi bao kinh te Vietnam, The gioi thong tin bat dong san, CafeF, Tap chi dau tu bat dong san, Vietnamnet, Thi truong Bat dong san & Tai san, Nguoi dua tin, Vnexpress
Vingroup to invest $4bn in Hanoi metro
Nikkei Asian Review
| | |
| --- | --- |
| | Vingroup signed a memorandum of understanding on Sunday for part of the Hanoi metro system worth 100 trillion dong (over $4 billion). Hanoi is building an integrated metro system with elevated and underground sections. Eight routes will be spread over 318km at an estimated cost of $40 billion. Vingroup will be the first private company to invest in a public transport system in Vietnam. The Hanoi metro will be Vingroup's largest infrastructure investment to date. |
FLC Group starts construction of Vietnam's largest hotel
VIR
FLC Group expects its new mega hotel in the central province of Binh Dinh's Quy Nhon town to continue the "no-vacancy" track record of other FLC hotels as the company remains optimistic of the potential for tourism in Vietnam.
On June 15, 2017, FLC Group (FLC) started the construction of The Coastal Hill Hotel with VND2.8 trillion ($123 million) in total investment. A 1,500-room hotel with approximately a kilometre length will help the complex to increase service capacity by 150 per cent.
Mövenpick to make Danang debut in 2019
TTG
| | |
| --- | --- |
| | Mövenpick Hotels & Resorts has announced its first project in Danang, scheduled to open in 3Q2019. Mövenpick Hotel & Residences Danang Vietnam will feature 150 rooms and 354 branded residences on the banks of the Han River in the city's commercial heart, six kilometres from Danang International Airport. Leisure facilities include a swimming pool, fitness centre, spa and kids' club, as well as a ballroom and state-of-the-art meeting rooms. For F&B, there's a signature rooftop bar and restaurant, lobby lounge, Café and wine bar, pool bar and speciality restaurant. |
Innisfree Vietnam opens second store
Insider Retail Asia
Korean natural cosmetics brand Innisfree has opened its second Vietnam store after eight months.
The 100sqm-store is located at L1 floor inside the Vincom Center on Dong Khoi Street in downtown Ho Chi Minh City.
Innisfree is owned by AmorePacific, which has more than 1400 stores in 10 countries.
The brand opened first Vietnam store on Hai Ba Trung Street, District 1, Ho Chi Minh City, last October.
Ha Noi City granted the education investment decision to Nam Cuong Group
VN Economy
On June 25 th, 2007, in the framework of the conference "Hanoi 2017 – Cooperation of Investment and Development" at Lotte Hotel, Hanoi, Hanoi People's Committee handed over the investment policy for construction project 4 schools for Nam Cuong Group.
Nam Cuong Group will invest in implementing the project of building schools in Duong Noi Urban Area, Ha Dong District, Hanoi.
Foreign fast food chains show underwhelming performance in Vietnam
Retail News Asia
Experts say there are several challenges: intense competition from the increasing number of domestic and foreign food companies, high prices, hamburgers and French fries are just not for Vietnamese people.
Burger King: In 2012, expected to open 60 restaurants nationwide. Now it has only 15 restaurants.
McDonald's: In 2012, expected to open 100 restaurants nationwide. Now it has only 15 restaurants.
Jollibee: has been growing rapidly in recent years. It opened its first restaurant in 1996 and now boasts 80 outlets nationwide.
Subway: In 2011, expected to open 50 restaurants nationwide. Now it has only 6 restaurants, as reported by VIR.
FDI into property sector continues rising
Vietnamnet
The Vietnamese real estate sector has attracted a total foreign direct investment (FDI) of USD701 million in the first half of this year, up 16% on-year.
According to the Ministry of Planning and Investment, the property sector was the fifth most popular area for investment for FDI between January and June this year. The ministry reported that, of the sum, USD461.7 million came from the 39 newly-licensed real estate projects, while the rest from the capital rise of existing projects. Meanwhile, mergers and acquisitions in the local real estate market are forecasted to jump in 2017 as foreign investors look for local partners.
New bridge branches to ease congestion in downtown Ho Chi Minh City
Tuoi Tre
| | |
| --- | --- |
| | Two new branches of the Nguyen Van Cu Bridge in Ho Chi Minh City, N1 and N2, are scheduled to open to traffic this Thursday, providing new routes for commuters and easing congestion in the downtown area. The N1 measuring 300 meters will allow vehicles to travel from Vo Van Kiet Avenue directly onto the bridge. Spanning over 141 meters, the N2 will let commuters from District 4 and District 8 exit the bridge to Vo Van Kiet and continue their journeys toward the Thu Thiem Tunnel. |
VND 12,500 billion for the expressway through 3 provinces of Thai Binh, Ninh Binh, Nam Dinh
VN Economy

Back to top
Deputy Prime Minister Trinh Dinh Dung has agreed to sign the construction of the route through Thai Binh province on the highway to Ninh Binh Nam Dinh.
Total estimated investment for this high speed project is 12,500 billion.
In particular, central budget capital is 8,000 billion, local budget and other sources of capital is 1,500 billion and investor capital is 3,000 billion. Project implementation period is from 2017 to 2021, payback period is about 25 years.
FOR MORE INFORMATION,CONTACT:
Dung Duong MRICS
Director
T +84 8 3824 6125
dung.duong@cbre.com
An Nguyen
Director
T +84 4 2220 0220
an.nguyen@cbre.com