CBRE Newspaper Updates on Residential Ads

One new launch:

Emerald Precinct (Tan Phu District)

Total units: 2,122 (condos)
Scale: six 16-floor blocks (2,122 condos, 19 shophouses)
Unit size: 49 – 105 sm (1-3 bedrooms)
Price*: VND 32 – 35 million/sm

Advertisements:

Heaven Riverview (District 8)

Total units: 960
Scale: two 17-floor blocks (each 480 units)
Unit size: 50 – 69 sm (1-2 bedrooms)
Price*: VND 800 million/unit

Saigon Mia (Binh Chanh District)

Total units: 872 (condos)
Scale: two 22-floor blocks and one 27-floor block
Unit size: 50 – 83 sm (2 – 3 bedrooms)
Price*: VND 990 million/unit
* Prices included VAT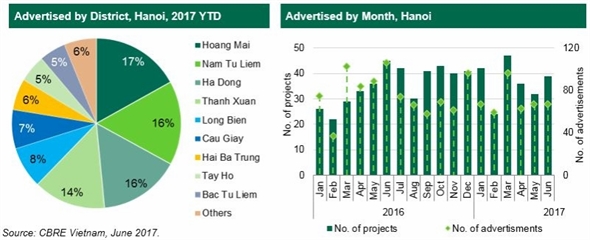 ​
No New launch:
Advertisements:

Sun Grand City Ancora Residence (Hai Ba Trung District)

Total units: 720
Scale: three 25-floor blocks
Unit size: 76 – 110 sm (2 – 4 bedrooms, penthouse/duplex)
Price*: from VND 45 million/sm

An Binh City (Bac Tu Liem District)

Total units: 2,732
Scale: Eight 35-floor blocks
Unit size: 74 – 114 sm (2 – 3 bedrooms)
Price*: from VND 27 million/sm

Anland Complex (Ha Dong District)

Total units: 533
Scale: Two 25-floor blocks
Unit size: 54 – 90 sm (2 – 3 bedrooms)
Price*: from VND 26 million/sm

Gold Season (Thanh Xuan District)

Total units: 1,500
Scale: Four 35-floor blocks
Unit size: 64-108 sm (2 – 3 bedrooms, Duplex, Penthouse)
Price*: from VND 35 million/sm
* Prices included VAT
Note: Selected newspapers include Dau Tu Bat Dong San, Thoi bao kinh te Vietnam, The gioi thong tin bat dong san, CafeF, Tap chi dau tu bat dong san, Vietnamnet, Thi truong Bat dong san & Tai san, Nguoi dua tin, Vnexpress
Indochina Capital partners up with Vietnam's first co-working space provider
Vietnam Investment Review
Indochina Capital and partner Toong have jointly announced entering into a definitive agreement under which the two companies will start working together.
Indochina Capital (ICC) is Toong's latest investor and now one of its key shareholders. The funding from ICC will allow Toong to provide more modern, progressive, and conducive working environments for companies and individuals in Vietnam.
MBLand, Pan Pacific sign contract on operation, management of Pan Pacific Danang-Hoi An Resort
Vietnam Investment Review
| | |
| --- | --- |
| | On June 20, developer MBLand Holdings, Tonkin Property and Pan Pacific Hotels Group officially signed the contract on the operation and management of the luxury Pan Pacific Danang – Hoi An Resort. Located in the central province of Quang Nam, next to two big golf courses Montgomerie Links Vietnam and BRG Danang Golf Club, the resort has total investment of a bit over $100 million. |
11 Hilton projects to be developed in Vietnam
Vietnam Investment Review
| | |
| --- | --- |
| | BRG Group said it will join hands with Hilton Worldwide Group to run 11 Hilton hotel projects in Viet Nam. According to the group, apart from brand names such as Hotels & Resorts and Hilton Garden Inn, many seven and six-star hotels will be introduced in Viet Nam for the first time. |
Zara Vietnam to open first Hanoi store
Inside Retail Asia
| | |
| --- | --- |
| | Spanish fast-fashion retailer Zara plans to launch its first Hanoi store in the second half of this year. In early April, Zara Vietnam advertised an 'urgent' need for staff for a 'Hanoi expansion'. While there has not been an official announcement about store's location, it is believed to located in Tower A of the Vincom Ba Trieu shopping centre. A large area on the first floor has been boarded up for renovation. Tenants have been moved to make room for a 'coming soon' fashion brand. |
NARS cosmetics lands in Vietnam
Inside Retail Asia
| | |
| --- | --- |
| | Shiseido-owned skincare brand Nars cosmetics has opened its first Vietnam flagship store at Vincom on Dong Khoi Street in Ho Chi Minh City. According to Barbara Calcagni, Nars' president, the brand is planning expansion throughout Asia. Well-known among global women for its modern yet minimalist product lines, Nars was founded by French make-up artist and photographer Francois Nars in 1994, and became a subsidiary of Shiseido in 2000. |
Government is about to sell Trang Tien Plaza to private entrepreneurs
CafeF
State Capital Investment Corporation (SCIC), the Ministry of Finance is calculating the plans to 2020, which consider the sale of state capital in Trang Tien Plaza.
For Trang Tien Trading Co., Ltd – the owner of Trang Tien Plaza trade center, SCIC currently holds 90% of charter capital. SCIC proposed to equitize and continue to hold 51% of charter capital.
However, the Ministry of Industry and Commerce proposed to withdraw state capital in this business because the state business sector does not need to hold shares.
CapitaLand divests entire stake in Vietnam real estate unit for S$6.4 mil
The Edge Markets
CapitaLand announced on Wednesday that its wholly-owned subsidiary CVH Sparkle has divested its entire 65% stake in Vietnam-based real estate development business Sparkle Value Homes Co (SVH) for US$4.6 million (S$6.4 million). In a filing with SGX, CapitaLand said the divestment is part of its ongoing strategy to enhance capital productivity. Following the divestment, SVH has ceased to be a subsidiary of CapitaLand.
Industry 4.0 paving the way for Vietnam's startups
Retail News Asia
| | |
| --- | --- |
| | Industry 4.0, short for emerging technologies like cloud, artificial intelligence and machine learning, is considered the fourth industrial revolution, and is rapidly changing the world. Industry 4.0 will pave the way for businesses in Vietnam, including the startup community, given the country's young demographic and high internet penetration rate, Binh commented. The revolution will also create more jobs. |
The Ministry of Defense approved for HCMC to raise building heights in the CBD by 1.5 to 2.5 times
NDH
| | |
| --- | --- |
| Back to top | Based on the practice of urban space structure in Ho Chi Minh City, the General Staff has signed the Official Letter 1997/2009 on the management of surface obstacles and obstacles management and protection areas. Sky area of HCM City. Accordingly, standards of static height that are not allowed to be built in the city center area are raised by 1.5 to 2.5 times higher than those stipulated in Decree No. 32/2016 to facilitate the People's Committee of Ho Chi Minh City. And relevant departments and agencies actively plan urban space. |
Helicopters to fly passengers from downtown Saigon to Tan Son Nhat airport
NDH
| | |
| --- | --- |
| | Southern Vietnam Helicopter Company (VNH South) made its first trip from Tan Son Nhat Airport (Tan Binh District) to meet the roof of Times Square on Nguyen Hue Street, District 1, HCMC. The airport is located at the airport. With traffic jams occurring more and more frequently on the route from Tan Son Nhat Airport to Ho Chi Minh City, this helicopter service is an expensive but extremely effective solution. |
FOR MORE INFORMATION,CONTACT:
Dung Duong MRICS
Director
T +84 8 3824 6125
dung.duong@cbre.com
An Nguyen
Director
T +84 4 2220 0220
an.nguyen@cbre.com