CBRE Newspaper Updates on Residential Ads

Two new launches:

D-Vela (District 7)

Total units: 168
Scale: one 20-floor block
Unit size: 55 – 104 sm (1-2 bedrooms)
Price*: VND 1.3 billion/unit

Starlight Riverside (District 6)

Total units: 960
Scale: two 15-floor blocks
Unit size: 57 – 72 sm (2 bedrooms)
Price*: from VND 25 million/sm

Advertisements:

Heaven Riverview (District 8)

Total units: 960
Scale: two 17-floor blocks (each 480 units)
Unit size: 50 – 69 sm (1-2 bedrooms)
Price*: VND 800 million/unit

Saigon Mia (Binh Chanh District)

Total units: 872 (condos)
Scale: two 22-floor blocks and one 27-floor block
Unit size: 50 – 83 sm (2 – 3 bedrooms)
Price*: VND 990 million/unit​
* Prices included VAT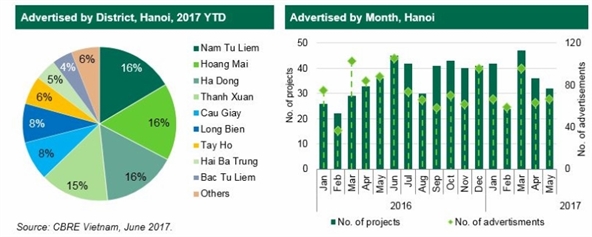 ​
Two new launches:

The Garden Hill (Nam Tu Liem district)

Total units: 375
Scale: 2 blocks ( 29-floor and 25-floor)
Unit size: 57 – 110 sm (2 – 4 bedrooms)
Price*: from VND 26 million/sm

Valencia Garden (Long Bien district)

Total units: 366
Scale: 3 blocks ( two 15-floor and one 9-floor)
Unit size: 60.04 – 93.87 sm (2 – 3 bedrooms)
Price*: from VND 21 million/sm

Advertisements:

My Dinh Pearl (Nam Tu Liem district)

Total units: 984
Scale: two 38-floor blocks
Number of units: 984
Unit size: 55 – 270 sm (1 – 4 bedrooms)
Price*: from VND 36 million/sm

Season Avenue (Ha Dong district)

Total units: 1300
Unit size: 67 – 138 sm (2 – 3 bedrooms)
Price*: from VND 30 million/sm
* Prices included VAT
Note: Selected newspapers include Dau Tu Bat Dong San, Thoi bao kinh te Vietnam, The gioi thong tin bat dong san, CafeF, Tap chi dau tu bat dong san, Vietnamnet, Thi truong Bat dong san & Tai san, Nguoi dua tin, Vnexpress
Vietnam to sign deals for up to $17 billion in U.S. goods, services: prime minister
Reuters
| | |
| --- | --- |
| | Vietnamese Prime Minister Nguyen Xuan Phuc said on Tuesday he would sign deals for U.S. goods and services worth $15 billion to $17 billion during his visit to Washington, D.C., mainly for high technology products and for services. "Vietnam will increase the import of high technologies and services from the United States, and on the occasion of this visit, many important deals will be made," Phuc told a U.S. Chamber of Commerce dinner. |
Vietnamese realty firm FLC aims to fly with new $31m airline venture
Deal Street Asia
Vietnam-based property developer FLC Group will establish a wholly-owned airline subsidiary, headquartered in Hanoi, after Malaysia's AirAsia planned a low-cost carrier in Vietnam and Vietjet successfully raised money from investors. The company, named Viet Bamboo Airlines, will have a charter capital of VND700 billion ($31 million).
Dang Tat Thang, deputy CEO of FLC Group, will lead Viet Bamboo Airlines as CEO.
ACA Investments takes 20% stake in Vietnamese baby product retailer Bibomart
Deal Street Asia
| | | |
| --- | --- | --- |
| ACA Investments, the private equity arm of Japanese diversified corporation Sumitomo, has injected an undisclosed amount into Vietnamese baby product retailer Bibomart in exchange for a 20 per cent stake. Hiroyuki Ono, partner at ACA Investments, posted on his LinkedIn page about the strategic funding which was made in the third quarter of last year. | | |
Saigon Asset Management to merge sister funds in June
Deal Street Asia
| | |
| --- | --- |
| | Ho Chi Minh City-based fund manager and investment banking firm Saigon Asset Management (SAM) is planning to merge its two funds, Vietnam Equity Holding (VEH) and Vietnam Property Holding (VPH), next month. Under the merger proposal, VPH will terminate operations while VEH will be the surviving company, taking effect on June 30, according to the documented plan the fund manager sent to Deal Street Asia. |
H&M Vietnam set to be Zara's neighbor?
Inside Retail Asia
| | |
| --- | --- |
| | A "coming soon" sign announcing a fashion store outside a construction site at Ho Chi Minh City's downtown Vincom Center is widely being interpreted as the location of the country's first H&M store. With the two-storey store fit-out shrouded by hoardings and no official word from the Swedish retailer, it is looking almost certain that H&M Vietnam will open in the mall – right alongside archrival Zara. |
From present to late years, will land plot's prices in Saigon continue to rise?
CafeF
| | |
| --- | --- |
| | Assessing the land market in Saigon in the future, experts say that in the long term, prices in this segment will always increase. In the short term, the market will pause to wait for more information. According to Mr.Le Hoang Chau-Chairman of HoREA, market demand is eternal, particularly land plots since Vietnamese favor landed properties. |
In late June, 2 crossover bridges leading to Tan Son Nhat Airport will be opened
The Saigon Times
| | |
| --- | --- |
| | Two crossover bridge leading to Tan Son Nhat Airport at the airport's gate and Nguyen Kiem – Nguyen Thai Son intersection will be opened partly in June 30th to relieve the airport of traffic jam. Another project will also be opened in June 30th is Nguyen Van Cu bridge, near Vo Van Kiet boulevard (5 months in advance). |
View from above: US$10,000 flood protection project now in shape in Saigon
CafeF
| | |
| --- | --- |
| | With record investment totaled US$10,000, 6 flood protecion projects in Saigon are now pushed up to finish on schedule so that city residents will no longer suffer from flood caused by rain and monsoon. According to the developer, Trung Nam Group, the project has been completed 37%. |
PM approves North- South Highway planning
Vir.com.vn
| | |
| --- | --- |
| Back to top | On May 25, the Government Office announced the PM's conclusion of picking Plan No.1 proposed by MoT. In particular, the plan specifies that in the first phase, 684 kilometres of road should be completed by 2022. The total investment for this phase will be VND140 trillion (US $6.16 billion), of which VND55 trillion (US $2.42 billion) will be provided by the government for site clearance, resettlement, and construction. The remaining capital will be mobilised from private firms. |
Adjusted planning for Ha Dong International Hospital, paving the way for Aeon Mall
Vir.com.vn
On May 26, the Hanoi People's Committee issued a decision approving the detailed plan of Ha Dong International Hospital and Trade Center, located in Duong Noi ward, Ha Dong district.
Accordingly, the total area of planned research area is about 16.55 ha (about 166,494 sm). In particular, the area of medical land (Ha Dong International Hospital) is about 71,124 sm; The area of public urban area (trade center) is about 95,370 sm; Bed size is maximum 600 beds.
This is considered the move paved the way for Japanese retailer Aeon Mall deployed the second shopping center in Hanoi.
FOR MORE INFORMATION,CONTACT:
Dung Duong MRICS
Director
T +84 8 3824 6125
dung.duong@cbre.com
An Nguyen
Director
T +84 4 2220 0220
an.nguyen@cbre.com