CBRE Newspaper Updates on Residential Ads

No new launch:
Advertisements:

Dream home palace (District 8)

Total units: 952
Scale: one 22-floor block
Unit size: 51.16 – 80.43 sm (2 – 3 bedrooms)
Price*: VND 866 million/unit

Sai Gon Mystery (District 2)

Total units: 600 (for condos only)
Scale: two 25-floor blocks
Unit size: 50 – 90 sm (1 – 3 bedrooms)
Price*: VND 900 million/unit

Jamila (District 9)

Total units: 867
Scale: four 23-floor blocks
Unit size: 45 – 260 sm (1 – 3 bedrooms and duplex)
Price*: from VND 22.5 million/m2
* Prices included VAT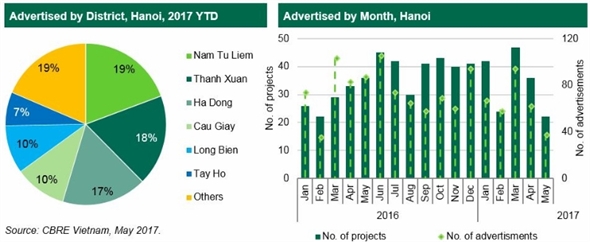 ​
New launch:

Imperia Plaza (Thanh Xuan district) – IP2 building

Scale: 29 storeys + 3 basements
Number of units: ~ 300
Unit size: 77 – 123 sm (2 – 4 bedrooms)
Price*: from VND 25 million/sm (basic furnished)

Xuan Mai Riverside (Ha Dong district)

Scale: 33 storeys + 1 basements
Number of units: 270
Unit size: 45 – 90 sm (1 – 3 bedrooms)
Price*: from 21 VND million/sm (basic furnished)

Central Lake (Hung Yen) – Lake 1

Scale: 36 storeys + 2 basements
Unit size: 46 – 157 sm (1 – 3 bedrooms)
Price*: from VND 22 million/sm (basic furnished)

Advertisements:

Imperial Sky Garden (Hai Ba Trung district)

Scale: 2 27-storey buildings
Number of units: 1,866
Unit size: 58.78 – 106.65 sm (2 – 3 bedrooms)
Price*: VND 35 million/sm (basic furnished)
* Prices included VAT
Note: Selected newspapers include Dau Tu Bat Dong San, Thoi bao kinh te Vietnam, The gioi thong tin bat dong san, CafeF, Tap chi dau tu bat dong san, Vietnamnet, Thi truong Bat dong san & Tai san, Nguoi dua tin, Vnexpress
Fitch Revises Outlook for Vietnam to Positive; Affirms at 'BB-'
Reuters
Vietnam's ratings reflect strong growth performance and prospects, persistent current account surpluses, manageable debt service costs and sustained foreign direct investment inflows. The ratings also reflect a high public debt ratio, low foreign-exchange reserve buffers, macro-prudential and banking sector risks and some structural indicators being weaker than those of peers, including per capita income and human development standards.
New Trade centre opens in Ha Noi
Bizhub.vn
The Artemis trade centre opened its doors on Sunday on Le Trong Tan Street in Ha Noi.
Financed by ACC Thang Long Company, the 29.700 sm centre boasts a supermarket, cinemas, commercial spaces and entertainment areas.
Booths at the centre will offer thousands of gifts and promotions to its customers to celebrate this occasion.
According to experts, the modern retail market in Viet Nam had much room for development, as modern shopping currently makes up 25% of the country total retail sales, much lower than that of other countries in the region.
Ministry of Construction allows building 25-sm commercial apartments
Tuoi Tre
On May 16th, Ministry of Construction informed that it has passed an official document as an approval of temporarily building apartments no less than 25 sm. Relating departments are researching technical regulations and will show the results soon. Allowing building such apartments is not the cause of creating low-standard housing. Therefore, regulations for those apartments comply with international standards.
Homes unpossessable for foreign owners made public
CafeF
The Government has ordered the Ministry of Public Security and the Ministry of National Defense to co-operate closely with all Provincial Departments of Construction to make public the lists of real estate projects which foreign organisations and individuals will be unable to own.
Under the 2014 Housing Law, all foreign organisations or individuals are eligible for homeownership in Viet Nam.
In order to put the law into practice, the Ministry of Construction (MOC) has sent letters to all municipal and provincial People's Committees nationwide, asking them to facilitate conditions for foreign organisations and individuals so they can apply for homeownership at their place of residence.
According to the MOC, all information relating to foreign homeownership must be posted on the web sites of local Provincial Departments of Construction.
VND 12,000 billion project to stop trading and return money to customers
Vnexpress
| | |
| --- | --- |
| | Developer of the River City complex (District 7, HCMC) informed that they are settling their contracts with customers due to adjustment in the project. This project is situated in Saigon South, near Phu My Bridge and jointly developed by Phat Dat Real Estate Development, Creed Group and An Gia Investment. |
Amazon, channel for Vietnam's apparel to enter EU
Retail in Asia
| | |
| --- | --- |
| | Amazon, leading online shopping channel, has the potential to become a window for Vietnamese textile and garment products to gain access to European Union market. This was stated in Hanoi at a seminar, organised by Vietnam Textile and Apparel Association. Vietnamese businesses got advice on e-commerce by experts from Germany's Vorwarts company at the event. |
Zalora Vietnam becomes Robins after merger
Retail in Asia
| | |
| --- | --- |
| | Online fashion platform Zalora Vietnam has officially merged with Robins, becoming one online platform, following the pair's merger 12 months ago. As of May 12, Central Group-owned fashion retailer Robins and e-commerce giant Zalora Vietnam will be shopped at Robins.vn only, not on individual websites. The merger is believed to make the new platform the largest fashion e-commerce site for Vietnam. |
Ground broken on coastal road connecting Hai Phong- Thai Binh
Vietnam Investment Review
A groundbreaking ceremony has recently been held in Hai Phong for the construction of a VND3.46 trillion (US$152.24 million) coastal road connecting the northern port city and the northern province of Thai Bình.
The route will be implemented in the form of public-private partnership (PPP) with a total length of 29.7 kilometres, as part of a master construction plan for the Viet Nam coastal route, which has been approved by the PM.
The 20.7 kilometre section through Hai Phong city features four bridges, each measuring 3.52 kilometres, across Nam canal and the Lach Hong, Van Uc and Thai Binh Rivers, in addition to one overpass of the same length across Road 212.
The route spans nine kilometres in Thai Binh province with four small bridges measuring 127.6 metres in total.
$18.15 million disbursed for Cat Linh – Ha Dong railway project
Vietnam Breaking News

Back to top
The China Eximbank has disbursed US$18.25 million for the Cat Linh – Ha Dong Railway Project, said Vu Hong Phuong, Deputy Director General of the Railway Project Management Unit under the Ministry of Transport, on May 16.
The amount, part of the delayed US$22.75 million, has been transferred to the Engineering, Procurement, Construction (EPC) contractor, to be paid to sub-contractors.
The project has completed 90 percent of the construction work. Equipment installation is underway. However, the delay in capital disbursement has hindered the progress of the project.
The project is scheduled to begin trial run in October and be put into official operation in the second quarter of 2018.
Decathlon Group wants to build supermarket in HCMC
The Saigon Times
| | |
| --- | --- |
| | Decathlon Group (France) is awaiting approval soon to build a supermarket in HCMC, beginning a plan to set up a chain of 50 supermarkets across Vietnam, said Lionel Adenot, CEO of Decathlon at the meeting with Ms. Nguyen Thi Thu, Vice Chairman of the People's Committee. According to Mr.Adenot, this supermarket will be 5000 sm in size and has three floors. |
FOR MORE INFORMATION,CONTACT:
Dung Duong MRICS
Director
T +84 8 3824 6125
dung.duong@cbre.com
An Nguyen
Director
T +84 4 2220 0220
an.nguyen@cbre.com