CBRE Newspaper Updates on Residential Ads

One new launch:

Tara Residence (District 8)

Total units: 989
Scale: one 20-floor block
Unit size: 45 – 84 sm (1 – 3 bedrooms)
Price*: VND 1 billion/unit

Advertisements:

Sai Gon Mystery (District 2)

Total units: 600 (for condos only)
Scale: two 25-floor blocks
Unit size: 50 – 90 sm (1 – 3 bedrooms)
Price*: VND 900 million/unit

Jamila (District 9)

Total units: 867
Scale: four 23-floor blocks
Unit size: 45 – 260 sm (1 – 3 bedrooms and duplex)
Price*: from VND 22.5 million/sm

Xi Grand Court (District 10)

Total units: 740 (540 condos, 200 officetels)
Scale: three 29-floor blocks, one 25-floor block
Unit size: 39.1 – 70.0 – 113.2 sm (1 – 3 bedrooms)
Price*: from VND 3 billion/unit
* Prices included VAT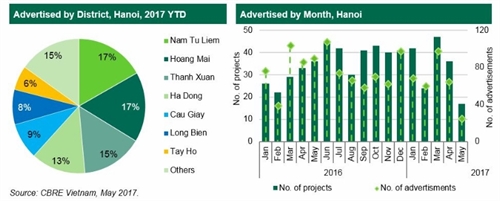 ​
Advertisements:

Gelexia Riverside (Hoang Mai District)

Total units: 1966
Scale: three 31-floor blocks, one 33-floor block
Unit size: 66.8 – 97.6 sm (2 – 3 bedrooms)
Price*: from VND 18 million/sm

Anland Complex (Ha Dong District)

Total units: 533
Scale: one 25-floor block
Unit size: 53.56 – 90.82 sm (2 – 3 bedrooms)
Price*: VND 26 million/sm

HPC Landmark (Ha Dong District)

Total units: 762 and 4 penthouse
Scale: one 35-floor floor, one 50-floor block
Unit size: 76.94 – 155.22 sm (2 – 3 bedrooms)
Price*: from VND 22 million/sm

Tay Ho Riverview (Tay Ho District)

Total units: 252
Scale: one 21-floor block
Unit size: 55.43 – 99.57 sm (2 – 3 bedrooms)
Price*: from VND 24 million/sm
* Prices included VAT
Note: Selected newspapers include Dau Tu Bat Dong San, Thoi bao kinh te Vietnam, The gioi thong tin bat dong san, CafeF, Tap chi dau tu bat dong san, Vietnamnet, Thi truong Bat dong san & Tai san, Nguoi dua tin, Vnexpress
Vietnam: SonKim Land hits first close of $46m follow-up round led by EXS Capital
Deal Street Asia
| | |
| --- | --- |
| | Vietnamese real estate developer SonKim Land Corporation has closed the first fundraising round of US$46 million led by Asia-dedicated investment firm EXS Capital, the realty firm said on Wednesday. As part of the expected US$100 million follow-up fundraising round, the first closure is subscribed as redeemable convertible loans into SonKim Land. In the round, the company also partnered with ACA Investment, a Japanese fund manager based in Singapore. Earlier, ACA had invested in Vietnamese companies such as Bibo Mart and Cung Mua. |
Japan's FamilyMart may limit investment in Vietnam following losses
Vietnam Breaking News
Japan's second largest convenience store chain FamilyMart plans to stay focused on domestic market as it reported losses in several Southeast Asian economies including Vietnam.
Koji Takayanagi, the chain president, said the firm is reviewing loss-making businesses in Indonesia, Thailand and Vietnam.
The Japanese franchise has forecast operating profit to grow by more than twice to JPY1,000 billion (US$8.79 billion) in four years from JPY412 billion in the current fiscal year. But as the business is profitable in China and Taiwan, it is not doing well elsewhere.
The chain's diversion comes as its rival Seven & i Holdings, which owns Japan's largest convenience store chain 7-Eleven, keeps expanding overseas, most recently in the U.S.
Nikkei last August said the first 7-Eleven store will open in Vietnam in February 2018, adding heat to the convenience store boom with entry and expansion from many local and foreign retailers in recent years.
Prime Minister approved of three trillion-dong traffic projects, which is a great opportunity for Saigon real estate
CafeF
| | |
| --- | --- |
| | The Prime Minister approved of adding Cat Lai Bridge in replacement of Cat Lai ferry, Can Gio Bridge in replacement of Binh Khanh ferry, and construction of parallel road with National Highway 50 in HCMC urban traffic planning until 2020. Cat Lai Bridge will serve residents' need, particularly in relocating residents into new urban area in Nhon Trach. Regarding Can Gio Bridge, in the near future, Can Gio will be an attracting site to investors. |
Several resorts in Phu Quoc will benefit from the upcoming trillion route, which will begin construction soon
CafeF
| | |
| --- | --- |
| | Kien Giang People's Committee have approved of the proposal to expand the route Duong Dong – Cua Can – Ganh Dau and construct a new route connecting with North – South axis road under the type of PPP (BT contract). The construction period is 2017 – 2018. |
Plan to transform Son Tra into tourist zone to remain intact: Vietnam's tourism admin
Tuoi Tre News
| | |
| --- | --- |
| | The Vietnam National Administration of Tourism (VNAT) said on Thursday that it will not amend a controversial plan to turn nearly one-fourth of the city's Son Tra Peninsula into a tourist zone. The statement was made at a closed meeting between VNAT and the Da Nang Tourism Association to address the latter's suggestion to amend the controversial planning of a Son Tra National Tourist Zone. |
Three options to relocate Bien Hoa 1 Industrial Park
NDH
| | |
| --- | --- |
| | On May 11th, in a meeting with Deputy Chairman of Dong Nai People's Committee, Mr.Tran Van Vinh and other related departments about conversion of Bien Hoa 1 Industrial Park, Sonadezi presented three options for conversion. The plan has determined that the current Industrial Park will be developed into a new urban area. Total investment needed for the conversion is VND 11,364 billion. |
On the way to construct Bien Hoa – Tan Thanh – Cai Mep Thi Vai Expressway
NDH
| | |
| --- | --- |
| | Prime Minister has approved of Framework for site clearance, relocation and compensation for Phase 1: Construction of Bien Hoa – Tan Thanh – Cai Mep Port Expressway. This project belongs to Bien Hoa – Vung Tau Expressway with the BOT contract. Phase 1 of the project has the length of 46.8 km. |
Assign two companies to make detailed research and planning for Bach Dang Park
NDH
| | |
| --- | --- |
| | HCMC People's Committee have assigned Saigontourist – Sai Gon An Phat Investment Corporation to cooperate with related departments to complete the 1/500 ratio plan of Bach Dang Park, preserving Tran Hung Dao monument and Thu Ngu flag pole. Particularly, the flag pole site needs an international competition to choose the optimal plan. |
Deputy Prime Minister made a statement on the proposal from Ministry of Finance to postpone 60 real estate projects
CafeF
| | |
| --- | --- |
| Back to top | Regarding the document 2000/BTC-TTr dated February 15th, 2017, Deputy Prime Minister Vuong Dinh Hue recommended that Ministry of Finance transfer the list of projects, whose purpose of land usage subject to conversion, to Government Inspectorate for investigation and management of properties. Confronting with the situation, HCMC Real Estate Association (HoREA) submitted document to the Prime Minister to help developers finish the projects and to assure homeowner's right. |
Hanoi builds a road which is 50 meters in width parallel with De La Thanh
Tien Phong
The People's Committee of Hanoi has just approved the red line of Ring Road 1 and De La Thanh Street at Hoang Cau – Lang Ha, 1/500 scale in Ba Dinh District, Dong Da District, Hanoi.
Accordingly, the records of the new red line in the belt 1 parallel with the De La Thanh road section Hoang Cau – Lang Ha section by the Hanoi Planning – Architecture Department identified the point of intersection with Hao Nam – Hoang Cau, End point with Giang Vo – Lang Ha.
Ring road 1 has a typical cross-sectional width of 50m including: width of road 2×15.5m, width of 3m, width of sidewalks 2x8m. The detailed cross-sections will follow the approved road construction project.
Vietnam calls Hong Kong's investment in infrastructure
Vietnam Breaking News
Vietnam will create the best possible conditions for foreign enterprises, including those from Hong Kong (China), to invest in the country, particularly in the field of infrastructure, Prime Minister Nguyen Xuan Phuc affirmed.
At a reception for a delegation of Hong Kong businesses, led by Chairman of the Hong Kong Trade Development Council Luo Kangrui, in Hanoi on May 10th, the PM explained that Vietnam needs smart infrastructure to meet requirements of socio-economic development, adding that infrastructure, covering railways, roads, aviation and waterways, requires huge investment.
Vietnam is accelerating the reform of investment climate and actively integrating into the world's economy, the PM noted.
Citing the World Bank's ratings on business environment in 2016 in which Vietnam climbed nine spots, he said the country has to date attracted 23,000 FDI projects valued at over USD$300 billion.
Building elevated expressway to relieve Tan Son Nhat airport
NDH
| | |
| --- | --- |
| | The elevated expressway has the total investment of more than VND 2 trillion to tackle traffic jam in Tan Son Nhat airport neighboring areas. This is an added project beside other five elevated expressways that got approval from the Prime Minister. Connecting international and domestic terminal with the elevated expressway system will make vehicles traveling in the fastest time. |
FOR MORE INFORMATION,CONTACT:
Dung Duong MRICS
Director
T +84 8 3824 6125
dung.duong@cbre.com
An Nguyen
Director
T +84 4 2220 0220
an.nguyen@cbre.com