CBRE Newspaper Updates on Residential Ads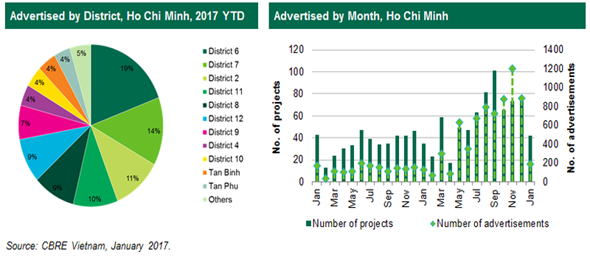 No new launch
Advertisements

Prosper Plaza (District 12)

Total units: 1,540 units
Scale: 3 blocks
Unit size: 47 – 70 sm (1 – 2 bedrooms)
Price*: from VND 868 million per unit

Lux City (Tan Phu District)
Total units: 432 units
Scale: 2 blocks
Unit size: 65 – 85 sm (1 – 3 bedrooms)
Price*: from VND 1,59 billion per unit
Total units: 233 units
Land area: 3.324,60 sm
Scale: 17 floors
Unit size: 45.92 – 87.91 sm (1 – 3 bedrooms)
Price*: from VND 980 million per unit
Khuong Viet (Tan Phu District)
•Two new lauches
•Eco Lake View (Hoang Mai District)
•Number of units: 1,218 apartments
•Total area: 3,86 ha
•Unit size: 65 – 100 sqm (2 – 3 bedrooms)
•Price*: from VND 22 million per sqm (basic furnished)
•FLC Green Home (Nam Tu Liem District)
•Number of units: 350 apartments
•Total area: 3,661 sqm
•Unit size: 48 – 76 sqm (2 – 3 bedrooms)
•Price*: from VND 15 million per sqm (basic furnished)
•Advertisement
•Sun Square (Nam Tu Liem District)
•Number of units: 420 apartments
•Total area: 12,435 sqm
•Unit size: 85 – 130 sqm (2 – 4 bedrooms)
•Price*: from VND 29 million per sqm (basic furnished)
•One18 (Long Bien District)
•Number of units: 220 apartments
•Unit size: 77 – 112 sqm (2 – 3 bedrooms)
Price*: from VND 26 million per sqm (basic furnished)
* Prices included VAT
Note: Selected newspapers include Dau Tu Bat Dong San, Thoi bao kinh te Vietnam, The gioi thong tin bat dong san, CafeF, Tap chi dau tu bat dong san, Vietnamnet, Thi truong Bat dong san & Tai san, Nguoi dua tin, Vnexpress
Vietnam 2016: Real estate sees spate of M&As, investment platforms
Deal Street Asia
| | |
| --- | --- |
| | Investments into Vietnam's real estate market saw a fillip in 2016 buoyed by stable economic conditions, a rising middle class and improved legislation climate. New foreign direct investment (FDI) in the real estate sector is estimated at $1.3 billion for 2016, declining 44 per cent over the prior year. However, real estate was still the second largest industry in terms of attracting foreign investment, and the disbursement of capital was also higher than last year, according to the local association of foreign invested companies. |
Samsung looking forward to investing US$2.5 billion in Bac Ninh
NDH
| | |
| --- | --- |
| | Samsung Display Vietnam has officially announced to keep investing US$2.5 billion in Bac Ninh within 5 years, starting from 2018. This will increase the total amount of investment in this province to US$6.5 billion. The deal is categorized as a big-scale project which will receive tax promotion according to high-technology criteria. Responding to Samsumg's proposal, Bac Ninh authority has asked the Prime Minister to keep applying additional tax promotion to the corporate, which means only 50% of the revenue tax from Yen Phong Industrial zone will be submitted. Korea has 592 direct-investment projects in Bac Ninh with US$8.6 billion registered, in which US$13.1 billion is FDI. |
Hue: Lisence VND 1,000-billion project at begining of the year
Dau Tu Online
| | |
| --- | --- |
| | Hue Amusement & Beach Park project total scale of VND 1,060 billion. Total unit: 1,000 hotel rooms (4 – 5 stars), 93 high – end villas and others entertaining services. According to Hue Plan and Investment Departure, the project will start in A2/2017. This project is expected to improve Hue's tourism environment and attract more tourists. |
Aeon Vietnam launches online store
Inside Retail Asia
| | |
| --- | --- |
| | Aeon Vietnam has launched an online store, AeonEshop.com, offering discounted Japanese goods and local brands. The Japanese-headquartered retailer says its AeonEshop.com B2C platform in Vietnam will stock a majority of Japanese and imported products, along with Aeon's own brand Topvalu which has been available at its physical stores nationwide. |
Singapore restaurant group Jumbo to open restaurants in Vietnam
The StraitsTimes
| | | |
| --- | --- | --- |
| | | Jumbo Group Restaurant chain will expand in Vietnam in 2017. The restaurant group announced on Tuesday (Jan 3) that it has inked a franchise agreement with Vietnam's Nova Bac Nam 79 Joint Stock Company to operate Jumbo Seafood restaurants in Ho Chi Minh City and Danang in Vietnam. The first Jumbo Seafood restaurant in Vietnam is expected to open in Ho Chi Minh City in the middle of 2017, and there are also plans to open two other outlets, in Ho Chi Minh City and Danang, over the next two years. The company aims to tap the potential demand for their quality Singapore seafood cuisine in the Vietnamese consumer market with their franchise partner. |
Japan investors keen on Vietnam's market
Hanoitimes
New Land Vietnam will provide modern cold chain logistics services by using its own four-temperature (room temperature, fixed temperature, refrigerated, and frozen) logistics centres and trucks to consistently manage temperatures across all food product operations, from storage to store shipment.
The management of New Land envisions reaching US$9.7 million annual sales within 10 years, said the news release. It will also serve to complement an existing joint venture – Huong Thuy Manufacture Service Trading Corporation – of the three stakeholders and act as a catalyst to further expand their food value chain in Vietnam.
Forbid real estate trading in cash to prevent "black" money?
CafeF
| | |
| --- | --- |
| | Prime Minister has just passed Proposal of non-cash payment in Vietnam (2016-2020). It aims to achieve a proportion of cash in payment of below 10% at the end of 2020. Besides, this policy will help improve transparency in real estate trading, prevent money laundering, and organize money flow into the banking system. On the other hand, people will pay a transaction fee to banks. |
Ho Chi Minh City to move 10,000 manufacturing facilities from residential areas
Tuoi Tre News
| | |
| --- | --- |
| | Authorities in Ho Chi Minh City have announced a plan to relocate 10,000 manufacturing facilities away from residential areas in a campaign to minimize pollution and ensure citizen safety. The decision to move manufacturing facilities from residential areas has sparked concern among many of the small scale businesses who will be affected by the relocation. |
Disbursement of housing stimulus on time
Vietnam Investment Review
| | |
| --- | --- |
| | The disbursement of the housing stimulus package, valued at VND30 trillion (US$1.4 billion) in preferential loans, will finish on schedule, according to the State Bank of Vietnam. Also, this source stated that, as of the end of November, VND29.239 trillion had been disbursed, with outstanding loans remaining at VND24.116 trillion. The package is believed to contribute to the recovery of the property market, reducing stockpiles, removing difficulties for developers, as well as for the recovery of the economy. It enabled more than 50,000 households to purchase affordable homes. |
Credit growth goal set at 18 percent for 2017
Vietnam Plus
The State Bank of Vietnam (SBV) has set a credit growth target of 18 percent for this year and it pledged to continue measures to keep credit growth suitable to the country's economic development.
Credit management has succeeded in curbing the rise of lending to the real estate sector and shifting the capital flow to production industries.
FOR MORE INFORMATION,CONTACT:
Dung Duong MRICS
Director
T +84 8 3824 6125
dung.duong@cbre.com
An Nguyen
Director
T +84 4 2220 0220
an.nguyen@cbre.com