Japan's Aeon Group to collaborate with Vietnamese retailers,Vietnam's business hub among 10 best emerging cities for startups: CNN,New flight path for HCM City-Hanoi route
CBRE Newspaper Updates on Residential Ads

One new launch:

Jamona City (land plot) in District 7:

Total area: 105,953 sm;
Site coverage: 35%;
Residential area has 1,801 apartments, 23 townhouses, 82 villas and 96 sky villas;
Asking price for land plot is from VND21.8 million per sm.
The most actively advertised projects are:

Dong Tang Long (land plot) in District 9:

Total area: 159.36 ha;
Asking price for land plot is from VND6.9 million per sm.·

Dai Phuc River View (land plot) in Binh Thanh:

Total area: 40,249 sm;
Site coverage: 40%;
Residential area has 209 townhouse and villa units;
Asking price for land plot is from VND23.4 million per sm.·

Le Thanh Tan Tao in Binh Tan:

Total area: 31,953 sm;
Site coverage: 40%;
Residential area has 2,464 units with range of area is from 34sm to 38sm.·

Viet Phu Garden (land plot) in Binh Chanh:

Total area: 22.14ha;
Residential area has 759 units;
Asking price for land plot is from VND10 million per sm.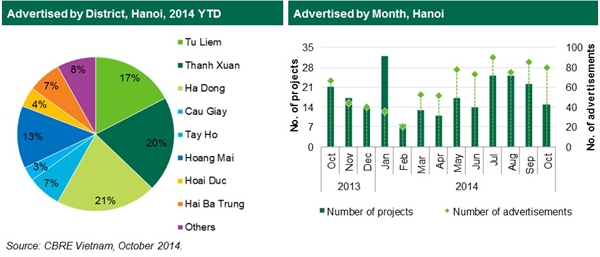 No new-launch this week
Re-launch

Diamond Flower (Thanh Xuan)

Asking price from VND34 mil per sqm (including VAT)

New Skyline (Ha Dong)
Asking price from VND19.8 mil per sqm (including VAT)
Asking price from VDN13 mil per sqm (furnished including VAT)
Asking price from VND42 mil per sqm (furnished including VAT +management fee)
Discount up to 3.5%-7.5% for non-loaned contract
Gemek Tower (Tu Liem)
Royal City (Thanh Xuan)

Other active advertised projects
Dolphin Plaza (Cau Giay)

Incentive worth up VND2.2 billion applied to last 8 units
Incentive including: furniture, parking fee or management fee
Applied to 4 bedroom units and penthouses
Japan's Aeon Group to collaborate with Vietnamese retailers
HA NOI (Biz Hub) — The Japanese Aeon retail group is planning to team up with two leading Vietnamese retailers, Fivimart and Citimart, later this year, according to the Vietnam News Agency correspondent in Tokyo.

Fivimart and Citimart operate 15 and 26 supermarkets in the country's northern and southern regions, respectively. The co-operation with the two chains is expected to help Aeon expand its activities to the urban areas in the country's two most highly developed economic regions.
Vietnam's business hub among 10 best emerging cities for startups: CNN
| | | |
| --- | --- | --- |
| | | Ho Chi Minh City which is Vietnam's southern metropolis is among ten emerging market cities that CNN believes are the best places for people to launch and nurture a startup. The list of the ten best emerging cities to launch startups in was featured on CNN's Virtual Think Tank digital series, which focuses on "the emerging markets, covering their startups, the power of the middle classes on their economies and the macro environment." |
New flight path for HCM City-Hanoi route
| | | |
| --- | --- | --- |
| | | A new air route between Hanoi and HCM City passing through Laotian and Cambodian airspace will start operating in June, 2015, according to the Civil Aviation Authority of Vietnam. |
RoK to transfer more than 100 technologies to Vietnam
| | | |
| --- | --- | --- |
| | | The Republic of Korea has agreed to transfer more than 100 technologies to Vietnam in 2015, according to a report by the Heavy Industry Department under the Ministry of Industry and Trade (MoIT). The move is part of a cooperative effort to more fully develop the manufacturing support industry between the MoIT and its counterpart agency in the RoK in industries such as garment and textiles, footwear, electronics and motorbikes. |
Auto sales hit over 16,000 units in September
(VOV) -Vietnam's automobile industry sold nearly 16,150 units in September, up 29% in August and 65 % on the same month of last year, according to Vietnam Automobile Manufacturers ' Association (VAMA).

Of the figure, 10,511 were cars and 5,638 were trucks, up 30% and 25% against last month. Of these automobiles, 11,232 were domestically-assembled, and 4,917 were imported, or 16%, and 73% percent month-on-month respectively.
ODA for Long Thanh airport not to affect public debt
| | | |
| --- | --- | --- |
| | | VietNamNet Bridge – The impact, if any, of ODA loans on the Long Thanh international airport project on gross domestic product (GDP) would not be considerable, especially in 2016-2019, Deputy Minister of Transport Nguyen Hong Truong said last week.Truong said the project's first-phase investment would total around VND165 trillion, with State capital accounting for VND84 trillion (ODA loans included), and that loans would not leave an impact on GDP in the 2016-2019 period.The economic internal rate of return (EIRR) would be 22.1%, higher than the standard EIRR for public projects in Vietnam (10-12%), so the debt repayment ability is deemed as high. |
Foreign retailers grow the fastest
HANOI – Foreign-invested retailers posted the highest growth rate in the January-September period, though they are holding market share of only 3.4%, said the Association of Vietnam Retailers at a forum in Hanoi on Monday.
Dinh Thi My Loan, president of the association, said foreign retailers obtained a growth rate of over 21% in the nine-month period compared to 8.4% at State-owned enterprises and 11% at private entities.
However, of the total retail value of commodities and services at VND2,100 trillion in January-September, foreign retailers occupied only 3.4% compared to 10.1% held by the State sector and over 85% by the domestic private sector. Overall, Vietnam's total retail sales of goods and services increased over 11% year-on-year.
Hanoi to build a large-scale township in Dong Mo
| | | |
| --- | --- | --- |
| | | Hanoi Department of Planning and Architecture just announced the Master Plan 1/500 for Van Minh township in Thach That and Quoc Oai districts, Hanoi. With the land size of 123.2 ha, the project is planned to accommodate for a population of 6,996 people. It comprises of low rise properties and mixed-use commercial development and a high rise residential component. [The original article is Vietnamese only] |
Dat Xanh will launch Pearl block of Sunview Town in Thu Duc District in November.
| | | |
| --- | --- | --- |
| | | Dat Xanh Group will launch Pearl Block (including 508 apartments) of SunView Project on 9th September after selling out Ruby and Sapphire. Pearl is identified the proudest landscape of SunView Town with the diversified area (41.5sm – 93.35sm) and reasonable price (VND570 – VND970 million for 1-3 bedroom unit). [The original article is Vietnamese only] |
Only 80% of property projects to continue development
According to a report released by Ministry of Construction on property market 2014, there are totally 4,015 residential and township projects nationwide with total investment of VND4,486 trillion. Out of these projects, 3,258 projects (or 81%) are to continue development, 455 projects need revision, and 287 projects are terminated. [The original article is Vietnamese only]