CBRE Newspaper Updates on Residential Ads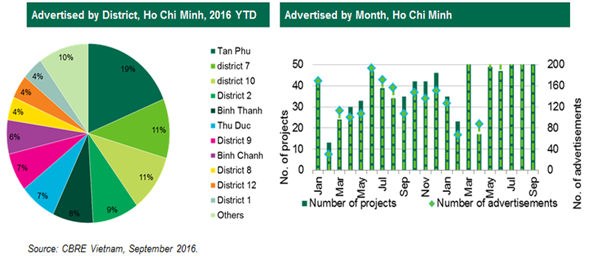 One new launch.

Hado Centrosa (District 10)

Total Units: 2,178 units
Scale: eight 30-floor buildings – 6.85 hecta
Unit size: 48 – 240 sqm (2 – 3 bedrooms)
Price: from VND 2.1 billion per unit

Advertisements:
Xi Grand Court (District 10)

Total Units: 748 units
Scale: 4 blocks – 17,940 sqm
Unit size: 63.36 – 121.92 sqm (2 – 3 bedrooms)
Price: from VND 2.1 billion per unit

Conic Skyway Residence (District 7)
Total Units: 360 units
Scale: 15-floor buildings – 4,000 spm
Unit size: 45 – 164 sqm (2 – 3 bedrooms)
Price: from VND 1 billion per unit
Total Units: 535 units
Scale: two 22-floor blocks with 2 basements
Unit size: 50 – 112 sqm (1 – 3 bedrooms)
Price: from VND 1.1 billion per unit
Moonlight Residences (Thu Duc District)

* Prices included VAT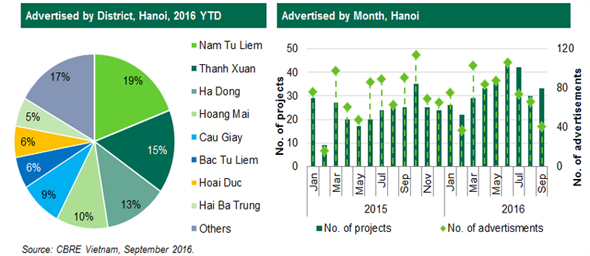 ​
One new launch:

An Binh City (Bac Tu Liem District)

Total Units: 784 units
Scale: 3 buildings: A1, A7, A8building: 17 floors, D building: 8 floors
Unit size: 79 – 121 sqm (2 – 3 bedrooms))
Price: VND 26 – 340 million per sqm (basic furniture)

Advertisements:
Oriental Westlake (Tay Ho District)

Total Units: 100 units
Scale: one 15-floor building with 2 basements
Unit size: 54.75 – 135.29sqm (1 – 3 bedrooms)
Price: VND 42.1 – 46.4 million per sqm (fully furnished)

FLC Star Tower (Ha Dong District)
Total Units: 455 units
Scale: one 41-floor building with 4 basements
Unit size: 57.58 – 93.5 sqm (2 – 3 bedrooms)
Price: VND 22.8 – 25.7 million per sqm (basic furniture)
Total units: 363 units
Scale: 24ha
Unit size: 50.55 – 90.73 sqm (1 – 3 bedrooms)
Price: VND 61.32 – 62.89 million per sqm (fully furnished)
Vinhomes D'. Capitale – C1 (Cau Giay District)
Note: Selected newspapers include Dau Tu Bat Dong San, Thoi bao kinh te Vietnam, The gioi thong tin bat dong san, CafeF, Tap chi dau tu bat dong san, Vietnamnet, Thi truong Bat dong san & Tai san, Nguoi dua tin, Vnexpress

* Prices included VAT
Back to top
South Korea firm plans $1.5-billion racecourse complex in northern Vietnam
Vietnam Breaking News
South Korea's G.O.Max I&D has asked authorities in Vietnam's Vinh Phuc Province for permission to build a $1.5-billion racecourse, golf course and luxury villa complex. The racecourse will cover 200 hectares and racing will take place three times per week.

Construction of the complex is expected to take 36 months if permission is granted by the local government, and will be ready to kick off the project at any time.

The developer also plans to establish betting shops in 54 provinces and cities across Vietnam and operate an online betting site. G.O.Max I&D aims to make $972 million/year in revenue and contribute $100 million/year to the state budget during the first five years of operations.
Japan's Kajima forms $1-billion real estate alliance in Vietnam
VNExpress
| | |
| --- | --- |
| | Japan's Kajima Corporation and Indochina Capital struck a deal to establish a joint venture which would invest US$1 billion to develop high-end property projects in Vietnam over the next ten years. Indochina Kajima Development (ICC-Kajima), equally owned by the two firms, is the first venture of Kajima in Vietnam's real estate market. In its initial phase, ICC-Kajima will focus on residential projects and hotels in Hanoi, HCMC and Danang, said Peter Ryder, CEO of Indochina Capital. Development of resorts, serviced apartments, hotels and housing is what both Indochina Capital and Kajima are strong in. So far 50 projects have been taken into consideration. ICC-Kajiman will pour some US$100 million into four projects in HCMC, Hanoi, and Danang in the next 12 to 15 months, Ryder said. |
​Vietnam starts building northern coastal region's tallest tower
Tuoi Tre News
| | | | |
| --- | --- | --- | --- |
| | | | A local realty conglomerate turned the first sod on Sunday at a 45-story tower in the northern city of Hai Phong, which will be the tallest of its kind in Vietnam's northern coastal region once completed. The 148 meter high building is developed by Vingroup, within the company's Vinhomes Riva City Hai Phong urban area. The tower, fully covered with environmentally-friendly glass, is a complex of a modern trade-service center and the 300-room Vinpearl Hotel City, the first-ever five-star hotel in the port city, spanning a total area of 30,000 square meters. The project is slated for completion by the end of next year and is scheduled for commission in late 2018. |
Domestic developers take over golden land
Vietnamnet
| | |
| --- | --- |
| | Domestic real estate developers seem to surpass foreign investors in the race to gain investment opportunities in golden land plots of Ho Chi Minh City. Another reason that encourages domestic developers to join the race is, many of them are strongly developed and have enough capacity to take on large scale projects by themselves. Ho Chi Minh City now has around 20 prime land plots with a total area of 50 hectares located in the city's busiest streets, which have been offered to attract investors. However, due to a variety of reasons, the selection of investors has been delayed for a long period of time. The main reason given was the difficulties faced in land clearance and compensation, and the complicated procedures required to proceed with the projects. |
Consortium selected to draw up investment plan for Thu Thiem 3 bridge
The Saigon Times
The HCMC government has picked a consortium consisting of two local enterprises to draw up an investment plan for a project to build Thu Thiem 3 bridge and expand Ton Dan Street in District 4. According to the city government office, Thai Son Group under the Ministry of National Defense and Vietnam Infrastructure and Property Development Group Corporation have been assigned to study and propose an investment plan for the project. The project will be carried out under the public-private partnership (PPP) and build-transfer (BT) formats. Thu Thiem 3 bridge is designed to start from Ton Dan Street, run over Nguyen Tat Thanh Street and Saigon Port before spanning the Saigon River to connect to Thu Thiem New Urban Area in District 2.
Investors selected for HCMC's Thu Thiem No. 4 Bridge
Vietnam Economic Times
| | | |
| --- | --- | --- |
| | | The HCM City People's Committee has asked for permission from the government to appoint investors for the Thủ Thiêm Bridge 4 project under the BT (build-transfer) model. The city proposed three investors, Phát Đạt Corporation Real Estate Development, Investment Corporation 620, and 168 Construction Development Investment JSC. The 2.16-km, six-lane bridge connecting District 2 and 7 is expected to have a vertical clearance of 45 metres, similar to that of Phú Mỹ Bridge. The clearance would ensure traffic flow of waterway vehicles. The cost of building a tall bridge is expensive, according to the Ministry of Transport. |
Vincom plaza inaugurated in Can Tho
The Saigon Times
| | | |
| --- | --- | --- |
| | | Vingroup yesterday opened a shopping mall called Vincom Plaza Xuan Khanh in the Mekong Delta city of Can Tho. The plaza covers more than 25,000 square meters of the first five floors and three basements of the 30­story building. It features fashion and jewelry shops, a supermarket, areas for entertainment, food and beverages, among others. |
HCMC spends nearly VND 900 billion building parallel road with HCMC-Long Thanh-Dau Giay expressway
VNExpress
| | | |
| --- | --- | --- |
| | | The HCM City People's Committee has approved the feasibility study of a road that runs parallel to the HCM City-Long Thành-Dầu Giây Expressway. According to the feasibility study submitted to the committee by a private company, the parallel road will start at Mai Chí Thọ Street and run through the Nam Rạch Chiếc Residential Area to Ring Road No. 2 at the An Phú Interchange. The construction of the road is expected to start next year under the Build-Transfer contract and is estimated to cost VNĐ900 billion (US$40 million). |
FLC started 5.300 billion project in Hai Phong
Land Today
| | | |
| --- | --- | --- |
| | | FLC Group signed with the People's Committee of Hai Phong city the memorandum on complex projects of golf courses, resorts, villas and high-end entertainment FLC Do Son. The project locates on an area of about 500 ha, total investment of 5,300 billion VND and start being built in 2017. FLC is committed to focusing resources and investment to soon put the project into operation, contributing to a breakthrough for economic development – economic development of Hai Phong. |
Foreign companies to develop seaport, industrial park complex in Quang Ninh
BizHub
The CDC Corporation headquartered in the Cayman Islands, the Middle Utilities Company Pte. Ltd from Singapore and the Infra Asia Investment Limited in Hong Kong are the investors of the project.

The project will cover 1,193 hectares at a cost of VND6,940 billion (US$310 million).

The province is asked to require the investors to compile a report assessing environmental impacts and submit it to authorized agencies and to monitor the implementation of projects posing risks to the environment.

It will also instruct the Economic Zone's Management Board to review and revoke investment certificates of cancelled projects according to ensure effective land use and increase the occupancy rate at industrial parks.
Truman to build $89.6m project in Thai Binh
BizHub
HA NOI (Biz Hub) – Private realty developer Truman Holdings Corporation Viet Nam announced a VND2 trillion (US$89.6 million) project named New City Project in northern Thai Binh Province on September 14.

New City is spread over 26ha of land with a building density of 40 per cent.

The project will have 1,000 townhouses, 53 luxury villas, a business center and a pool, as well as a sport centre, a children's playground, a kindergarten and a park.

Besides the New City Project, Truman Holdings Corporation Viet Nam also announced three realty projects in HCM City, Da Nang City and Binh Thuan Province, with the total investment for the projects amounting to VND4 trillion. .
VietJet plans IPO in Vietnam first, then abroad
Vietnam News
| | | |
| --- | --- | --- |
| | | VietJet Aviation Joint Stock Company plans an initial public offering (IPO) in Vietnam before going overseas, the airline firm's spokesperson told Vietnam News yesterday. "The company will first hold an IPO and list in Vietnam, probably within this year. After listing on the domestic market, we may consider listing on international markets, subject to market conditions and trends," she said. "The fact that we list in Vietnam's stock market first satisfies the country's securities laws and regulations." "The company currently completes IPO documents as per international standards and is the first Vietnamese company to have completed doing so," the spokesperson said. "These documents will therefore be available and accessible to potential investors." |
FOR MORE INFORMATION,CONTACT:
Dung Duong MRICS
Director
T +84 8 3824 6125
dung.duong@cbre.com
An Nguyen
Director
T +84 4 2220 0220
an.nguyen@cbre.com