CBRE Newspaper Updates on Residential Ads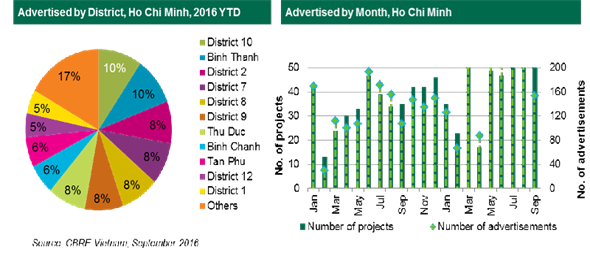 One new launch.

River-City (District 7)

Total Units: 8000 units
Scale: 3 buildings and 12 blocks
Unit size: 87.9 – 110 sqm (2 – 3 bedrooms)
Price: from VND 230 million per 55 sqm

Advertisements:
Ehome 3 (Binh Tan District)

Total Units: 2000 units
Scale: 14 blocks with 9 – 10 floors
Unit size: 48 – 69 sqm (2 – 3 bedrooms)
Price: from VND 980 million per unit

Charmington La Pointe (District 10)
Total Units: 470 units
Scale: one 15-floor building with 2 basements
Unit size: more than 32 sqm (2 – 3 bedrooms)
Price: from VND 28 million per sqm
Total Units: 426 units
Scale: two 19-floor buildings
Unit size: 65 – 85 sqm (2 bedrooms)
Price: from VND 1.59 billion per unit
Luxcity (District 7)

* Prices included VAT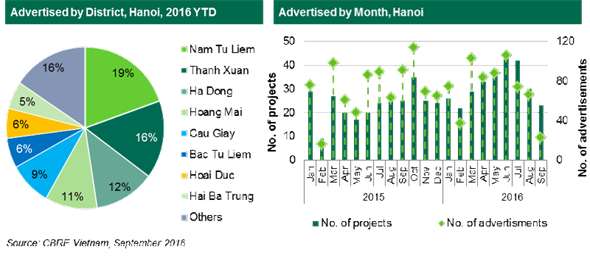 ​
One new launch:

Eco City (Long Bien District)

Total Units: 412 units
Scale: includes 4 buildings, 1 basement – A building: 16 floors, B building: 8 floors, C building: 17 floors, D building: 8 floors
Unit size: 63.58 – 89.86 sqm (2 – 3 bedrooms)
Price: VND 23 – 25 million per sqm (fully furnished)

Advertisements:
Legend Nguyen Tuan (Thanh Xuan District)

Total Units: 460 units
Scale: one 30-floor building with 2 basements
Unit size: 64 – 105.2 sqm (2 – 3 bedrooms)
Price: VND 28 million per sqm (fully furnished)

Golden Field (Nam Tu Liem District)
Total Units: 398 units
Scale: one building including 30 apartment floors, 7 commercial floors with 3 basements
Unit size: 70 – 124 sqm (2 – 3 bedrooms)
Price: VND 27 – 30 million per sqm (fully furnished)
Total units: 798 units: Villas: 611 Units, Attached Dwelling: 115 Units and Shophouse: 72 Units
Scale: 24ha
Unit size: Villas: 120 – 416 sqm, Attached Dwelling: 221sqm (GFA), Shophouse: 243.43 sqm(GFA)
Price: VND Villa: 9-30 billion VND, Attached Dwelling: 6-10 billion VND, Shophouse: 7-9 billion VND (Full furnished)
Vinhomes Thang Long (Hoai Duc District)
Note: Selected newspapers include Dau Tu Bat Dong San, Thoi bao kinh te Vietnam, The gioi thong tin bat dong san, CafeF, Tap chi dau tu bat dong san, Vietnamnet, Thi truong Bat dong san & Tai san, Nguoi dua tin, Vnexpress

* Prices included VAT
Back to top
Ocean Group to restart 25 Tran Khanh Du Project
CafeF
| | | |
| --- | --- | --- |
| | | On 14 Sep, Ocean Group held a ground-breaking ceremony of a complex at 25 Tran Khanh Du, Hoan Kiem District, Hanoi. The complex includes shopping mall, office, hotel and rental apartments. Total land area is 5,400 sqm, of which nearly 3,000 sqm is set to be construction area. With the total investment of the project of VND700 billion, the complex is expected to be in operation in Q4/2018. |
Vietnam: Korean retailer E-mart to invest $200m for retail chain ops
Deal Street Asia
| | |
| --- | --- |
| | South Korea's largest discount chain E-mart has committed to invest $200 million in Vietnam, continuing the trend of foreign investors entering the Southeast Asian nation's rapidly growing consumer sector. A memorandum of understanding between E-mart and Vietnam's Ho Chi Minh City was signed on September 9. Emart will make the investment over the next four years |
​Hanoi will place subway station near Hoan Kiem lake
CafeF
The people committee of Ha Noi has agreed upon the location and method of station C9, urban rail route project No.2, from South Thang Long to Tran Hung Dao, and there will be no roof on gate 3 and 4 (behind Ba Kieu temple and the public rest room).
The people committee of Ha Noi also assigns the Urban rail route management unit, Northern electricity general company, Ha Noi electricity general company to discuss and planning the surrounding area.
Good news to low-income people: Continue constructing 110 social house project
CafeF
The ministry of construction announced that 110 social house projects are being constructed for low-income people, with the scale of 70,000 apartments and VND 38,000 billion overall investing
In the first 8 months of 2016, the work of developing house according to national house development strategy has been accelerated; accommodate people's needs of house.
There are 87 social house projects for worker have been completed, and 64 more projects for workers in industrial zone are being deployed with the scale of 69,300 apartments and VND 18,800 billion overall investing
Sign of the slowdown of the real estate market
Lao Dong
Vietnamese tend to avoid buying house during July in lunar calendar, so there is sign of the slowdown of the real estate market; meanwhile the resort and condotel market has been eyed by small investors. There is not much fluctuation in real estate market price in August compare to last month, the price of apartments, condominiums, villas are quite stable.
In Ha Noi, there are about 1,200 successful transactions in August (equal to July), while in HCMC, the amount of successful transaction stay the same.
The real estate inventory continues to decrease but the pace has been decreased, most of the inventory are land in uptown area that the infrastructure has not developed fully.
Vinamilk on an M&A drive, seeks to buy second US dairy firm in growth push
Deal Street Asia
| | | |
| --- | --- | --- |
| | | The company, known as Vinamilk, expects the deal to close as early as next year, Chief Executive Officer Mai Kieu Lien said in an interview, declining to give the name of the target or the deal value. The dairy firm, which already has a stake in California-based Driftwood Dairy, may increase its mergers and acquisitions war chest as it strives to achieve annual revenue of $3 billion by the end of 2017, she said. |
Hanoi construct a new model that grant land-use right through the internet
CafeF
Ha Noi party committee secretary Hoang Trung Hai has issued Directive No.9-CT/TU regarding strengthening the leadership of the party committees for the issuance of certificates of land use rights
Ha Noi aims to finish granting land use right certificate to organizations, person, and household at the end of June, 2017
Build the new model "granting land use right in 1 step" that is truly lean and efficient. Moreover, enhancing information technology applications, urgently take action to put the certificate's adjustment or addition steps online, and implement granting land use right certificate through the internet for the whole city
Tan Son Nhat Airport evelated road requires VND3.5 trillion
BizHub
| | | |
| --- | --- | --- |
| | | The HCMC Department of Transport said it has got a proposal to build the road under the public-private-partnership (PPP) format at a total investment of VND3.5 trillion (US$156.9 million) from a consortium comprising 319 Corporation under the Ministry of Defense, East Mekong Commerce, Services, Manufacture & Construction Co. and Dong A Infrastructure Joint Stock Co. The road is envisaged having a total length of over five kilometers and a width of 7.5 to 12.5 meters. |
VSIP plans to expand industrial park
BizHub
| | | |
| --- | --- | --- |
| | | The Viet Nam Singapore Industrial Park Joint Venture Company (VSIP) plans to expand its scale in Binh Duong and Bac Ninh provinces to offer more diverse services to investors. Kelvin Teo, co-chairman of VSIP Group Management Board, said that two Memoranda of Understanding (MoU) had been signed with local authorities. "These two expansions will potentially add 1,500ha to the current 6,660 ha of the existing seven VSIP projects," he said. "We're still studying their feasibilities." Teo also said that during 20 years operating in Viet Nam, VSIP had attracted US$9 billion investment from more than 630 multi-national companies. The company has brought more than 174,000 jobs to the industrial service sector, supporting the rise of the country's middle class. |
Quang Chau industrial zone, Bac Giang will receive USD 550 million new investment
CafeF
The first cooperation agreement was signed between the Kinh Bac Urban Development company (KBC) and Luxshare-ICT corporation that 14 hectare of the industrial zone will be leased in the framework of the Business & Investment forum Hong Kong – Vietnam
Luxshare – ICT is a high-tech company, specializes in producing components for Apple, Samsung, Lenovo…
The second agreement was signed during the high-level summit of China – ASEAN in Nanning with JA Solar Group with investment projects in the solar battery on the area of 40 hectares and an investment of USD 450 million
SHB and VVF to merge
Vietnam Economic Times
| | | |
| --- | --- | --- |
| | | Hanoi Bank (SHB) and the Vinaconex Viettel Finance Corporation (VVF) have received in principle approval from the State Bank of Vietnam (SBV) to merge, with VVF to become a subsidiary consumer finance company of SHB. It is is one of the largest caps on HNX and while VVF is on the UPCoM market transactions have been terminated. |
FOR MORE INFORMATION,CONTACT:
Dung Duong MRICS
Director
T +84 8 3824 6125
dung.duong@cbre.com
An Nguyen
Director
T +84 4 2220 0220
an.nguyen@cbre.com