CBRE Newspaper Updates on Residential Ads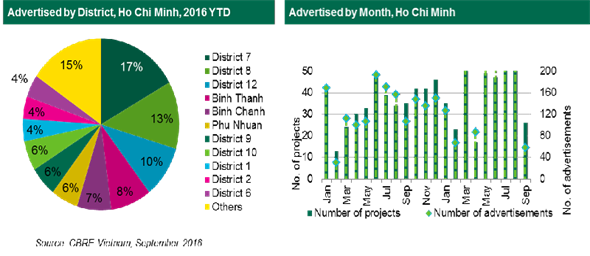 No new launch.
Advertisements:

Sunrise Riverside (District 7)

Total Units: 2,200 units
Scale: 8 buildings with 21 – 25 floors
Unit size: 68.86 sqm – 113.01 sqm (2 – 3 bedrooms)
Price: from VND 2 billion

The Pegasuite (District 8)
Total Units: 100 units
Scale: one 25-floor building
Unit size: 68.8 – 92.65 sqm (2 – 3 bedrooms)
Price: VND 999 million/unit
Total Units: 248 units
Scale: one 20-floor building with 2 basements
Unit size: 75.70 – 101.92 sqm (2 – 3 bedrooms)
Price: from VND 3.6 billion/unit
Total Units: Shophouse, 100 Officetel and 909 apartments
Scale: three 20-floor buildings with 2 basements
Unit size: 52.15 – 90.40 sqm (2 – 3 bedrooms)
Price: VND 1.6 billion/unit
Newton Residence (Phu Nhuan District)
Botanica Premier (Tan Binh District)
* Prices included VAT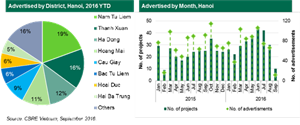 ​
No new launch.
Advertisements:

Gemek Premium (Ha Dong District)

Total Units: 992 units
Scale: two 34-floor buildings with 1 basement
Unit size: 65.5 – 91.3 sqm (2 – 3 bedrooms)
Price: VND 15 – 16 million per sqm (basic furniture)

Green Pearl (Hai Ba Trung District)
Total Units: 61 units (villa, terrace, shophouse)
Scale:12,9928.5 sqm
Unit size: 70.9 – 324.8 sqm (3 floors, 1 attic)
Price: VND 8.84 billion per unit (unfurnished)
Total Units: 429 units
Scale: one 41-floor building with 4 basements
Unit size: 59.3 – 139 sqm (2 – 3 bedrooms)
Price: VND 17.3 – 21 million per sqm (basic furniture)
FLC Star Tower (Ha Dong District)
* Prices included VAT
Back to top
Foreign investment funds leave path to ruinous promises
Vietnam Investment Review
| | | |
| --- | --- | --- |
| | | Vietnam has seen the appearance of foreign investment funds committing thousands of billions of dong for a stake in Vietnamese enterprises, but many of them remained empty promises with the unannounced disappearance of investors, according to newswire Dauthau.vn. One of these was Global Emerging Markets Group (GEM) from the US. GEM has the total asset value of $3.4 billion and numerous subsidiaries over the world. |
Consortium proposes evalated road near TSN airport
Talk Vietnam
A consortium comprising three local companies has proposed building an overhead road in Tan Son Nhat airport area at a total investment of VND3.5 trillion (US$156.9 million) and under public-private partnership (PPP) format. The HCMC Department of Transport said it has got the proposal of the consortium, which consists of 319 Corporation under the Ministry of Defense, East Mekong Commerce, Services, Manufacture & Construction Co Ltd and Dong A Infrastructure Joint Stock Co (JSC). The road is envisaged having a total length of over five kilometers and a width of 7.5 to 12.5 meters.
​Experts call for drastic changes to drive growth
The Saigon Times
| | | |
| --- | --- | --- |
| | | Experts and scholars are of the opinion that Vietnam should make bold changes to fuel economic growth and catch up with other regional economies as it is running out of ammo for further growth. Vietnam is lagging far behind many other countries, Deputy Minister of Planning and Investment Dao Quang Thu said at a workshop held in Hanoi last week to collect comments on a draft scheme to improve the country's competitiveness. The ministry has assigned the Central Institute for Economic Management (CIEM) to draw up the scheme, which will be submitted to the Politburo for consideration. |
VND4,600 billion for 'Disneyland' project phase 1 in Hanoi
Nguoi Lao Dong
| | | |
| --- | --- | --- |
| | | Hanoi City and Sun Group on September 2 held a ground-breaking ceremony for Kim Quy theme park featuring the north's traditional culture and entertainment models of Universal Studios and Disneyland in Dong Anh District. Covering more than 100 hectares, the international-standard park in Vinh Ngoc Commune has an initial investment of VND4.6 trillion (US$209 million) invested by Sun Group. The design of the park is inspired by the story about the Co Loa Citadel |
UOB & ORIX invest $50mn in Bitexco Power
Vietnam
| | | |
| --- | --- | --- |
| | | Singaporean UOB Venture Management Pte Ltd (UOBVM), a wholly-owned subsidiary of United Overseas Bank Limited, and Japan-based ORIX Corporation (ORIX) announced they would each invest US$25 million in one of Viet Nam's largest privately-owned hydropower companies, Bitexco Power Corporation (Bitexco Power). |
Vietnam refuses to lift casino ban on locals and foreign investors aren't happy
South China Morning Post
| | | |
| --- | --- | --- |
| | | The failure of Vietnam's government to reverse a longstanding ban on locals in casinos may be detrimental to foreign investment in the sector, analysts cautioned. In its latest draft decree this week, the Ministry of Finance maintained that only foreigners and Vietnamese with foreign passports can access casinos, according to local media reports. |
Close look to 'Monumental projects' to the South of Danang
CafeF
| | | |
| --- | --- | --- |
| | | Plenty of Real Estate Projects are carried out in Danang by "Big Inbvestors" and has trend of moving to the South of this City, especially District Ngu Hanh Son. Several big Projects are FPT New Urban City, invested by Danang FPT Urban Joint Stock Company, 181ha next to Co Co River and majorly distributed by Rongbay Real Estate Exchange. This project includes FPT complex- working place of thousand engineer and FPT Smart Flat Nano – living house, hotel standardized 5 stars. The other is Cocobay Complex: 31ha, includes 600m coat with indoors and outdoor Stage, large tourism square, longest walking street in Vietnam, Beach Clubs, etc. And the last is Sheraton Da Nang Hotel is under construction as preparation for APEC 2017. |
Hai Phong: Super urban city by Cam River valued 10 000 billion VND is planed with 4 main fuctional Areas
CafeF
The project has total area of 324ha, total population of 17.500 and focuses on the Northern side and a part of Southern side of Cam River
According to the project, reorganization area includes 4 main functional areas: Administrative – Political Area, Multi-functional Area, Commercial Area and Water-surface landscape Area. Three auxiliary functional Areas include cultural Center, residence apartment building combining with Multifunctional, Commercial and Water Landscape Areas.
In terms of transportation, the project will be located 01 cruise to the southern of tourism area along along Cam River, and expand several strategic road.
It is not million dollar villas …this is the 'property' that the Hanoi rich peple are hunting for
CafeF
| | | |
| --- | --- | --- |
| | | The recent situation shows that people have trend of buying street house instead of saving money in bank or other method. Three main reasons which are also the outstanding features of streets house are mentioned. Firstly, Multi-functional: the house owner can use streets house for plenty of purpose at the same time such as easily lending first floor for commercial purpose and living/lending the rest floors. Secondly, the number of street house has possibility of decreasing or being narrower in the future while the demand for commercial purpose not decreases. This naturally brings the advantage for street house. And lastly, street house is not affected by inflation and market price, vice-versa, street house stands number one in terms of price increasing speed compared with other real estate type such as villas, apartment, etc. |
Big real estate groups Vingroup, Sungroup, Bitexco, etc. joint the investing race into Sapa-Lao Cai, will turn this place into paradise for holiday resort.
CafeF
| | | |
| --- | --- | --- |
| | | The fact is that right after the high way Sapa-Lao Cai completed that big real estate players started investing to those locations. It is because these two places are experiencing increasing number of visitors based on the fresh atmosphere, suitable for holidays. From 2011, Bitexco Group invested in eco-resort The Manor Eco Lao Cai with initial investment of 1500 billion VND. At the end of 2012, Truong Giang Sapa JSC. Introduced the 5* resort Mecure Sapa Resort and Spa (current name is Sa pa Jade Hills) with investment of 2000 billion VND. Recently, Sungroup, Vingroup and Ton Hoa Sen also joint this race. Sun Group launches Fansipan Cable project and five star hotels, cooperated with AccorHotels. Vingroup constructs Lao cai Vincom Mall, Shophouse in Lao Cai and a technical agriculture project in Sapa. Ton Hoa Sen plans a 4 star Hotel and an eco-tourism area. |
​Hanoi finds key investor for $1 billion milestone software and digital content park
Vietnam Investment Review
| | | |
| --- | --- | --- |
| | | The Hanoi People's Committee has approved in principle to allow Binh Duong Investment and Trade JSC (Becamex ITC) to study the development of a software and digital content park in the capital's Dong Anh district. This project has the investment capital of VND24 trillion ($1.08 billion) and cover an area of 80 hectares in the two communes of Nguyen Kha and Tien Duong is expected to generate 40,000 jobs. |