CBRE Newspaper Updates on Residential Ads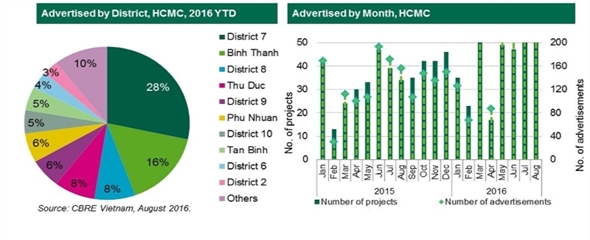 No new launch.
Advertisements:

Lux City (District 7)

Scale: two 19-floor buildings and a botanic park of 1,912 sm
Unit size: 65 – 73.5 sqm (2 bedrooms); 82.6 – 85.2 sqm (3 bedrooms)
Price: VND 26 million per sqm (fully furnished)

Richmond City (Binh Thanh District)
Total units: 880 units
Scale: three 25-floor blocks with 1 shared basement
Unit size: 65.6 – 86.2 sqm (2 – 3 bedrooms)
Price: from VND 23.5 million per sqm
Total Units: 460 units
Scale: four 16-floor blocks
Unit size: 67.7 – 218.0 sqm (2 – 3 bedrooms)
Price: from VND 1.4 billion (fully furnished)
Total Units: 1,150 units
Scale: two 37-floor blocks and one 35-floor block with 1 basement
Unit size: 54 – 98 sqm (1 – 3 bedrooms)
Price: from VND 980 million (fully furnished)
Opal Garden (Thu Duc District)
The Pega Suite (District 8)
* Prices included VAT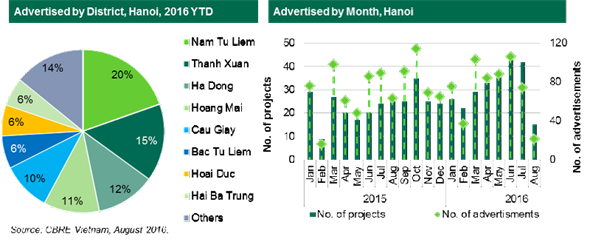 ​
No new launch.
Advertisements:

Sun Grand City Thuy Khue Residence (Tay Ho District)

Total units: 519 units
Scale: one 21-floor building and one 23-floor building with 2 basements
Unit size: 46 – 56 sqm (1 bedroom), 90 – 107 sqm (2 bedrooms), 121 – 149 sqm (3 bedrooms) and 167 sqm (4 bedrooms)
Price: VND 65 – 75 million per sqm (fully furnished)

Loc Ninh Singashine (Chuong My District)
Total units: 448 units
Scale: two 19-floor buildings with 1 basement
Unit size: 49.2 – 83.4 sqm (2 – 3 bedrooms)
Price: VND 11.6 – 12.9 million per sqm (basic furniture)
Total Units: 326 units
Scale: one 23-floor building with 4 basements
Unit size: 64.8 – 448.5 sqm (2 – 4 bedrooms)
Price: VND 41 – 45 million per sqm (fully furnished)
D'. Le Pont D'or (Dong Da District)
* Prices included VAT
Back to top
Oil pushes up VN Index for 2nd day
Vietnam Breaking News
| | |
| --- | --- |
| | Vietnamese shares advanced yesterday as the oil sector was boosted by a positive trend in global oil prices. Large-cap oil stocks, such as PetroVietnam Gas Corp (GAS), PetroVietnam Drilling and Well Services Corp (PVD) and PetroVietnam Technical Services Corp (PVS) made gains. Other leading industries such as insurance firms, property developers and food and beverage producers also improved. Leading stocks in those sectors helped lift the market as usual, including insurer Bao Viet Holdings (BVH), property and retail corp Vingroup JSC (VIC), dairy firm Vinamilk (VNM) and consumer goods producer Masan Group (MSN). |
Vietnamese real estate – a leading market to Singaporean investors
Hanoi Times
| | |
| --- | --- |
| | Singaporean property investors are operating successfully in Vietnam. Particularly, seven Vietnam-Singapore Industrial Parks (VSIPs) have lured more than US$8 billion in investment capital in 2015 and created more than 155,000 jobs. So far, Singapore has 1,663 projects worth US$38.1 billion, making up nearly 80% of projects and 60% of total investment capital from ASEAN. Investment of Singapore in real estates accounted for more than 30% of total foreign direct investment of ASEAN in Vietnam. Singaporean firms mainly invested in housing, offices for lease, retail surfaces, tourism and entertainment real estates. |
​Vietnam: Is Apple setting up a $1b data hub in Danang?
Deal Street Asia
| | |
| --- | --- |
| | Danang, the central city of Vietnam, has been identified as the location for Apple's $1 billion regional data centre, according to reports in local Vietnamese media, which cited speeches made by members of the city's committee during a recent foreign direct investment (FDI) review session. The link on this development on the city's official portal is not accessible. But media reports cited this post titled 'Danang improves capacity in attracting FDI', and attributed it to be the source for their stories on Apple mulling the setting up of a data centre in the city's central IT park or the Danang Hi-tech Park. |
Vietnam Dealbook: Malaysia's Mitra Energy, Thai Union strike M&As
Deal Street Asia
| | |
| --- | --- |
| | Malaysia's Southeast Asia-focused oil and gas group Mitra Energy has reached a sales and purchase agreement with Japan's Teikoku Oil to acquire a 30 per cent interest in Vietnam's oilfields in the Nam Con Son basin. Meanwhile, Songkla Canning, a wholly-owned subsidiary of Thai Union Group, will increase its stake in Vietnam-incorporated canned seafood producer from 51 per cent to over 95 per cent. |
GIC 'eyeing 7% stake in Vietnam's biggest bank by value'
The Strait Times
GIC is in talks to own a stake of at least 7 per cent in Vietcombank, sources with knowledge of the matter said yesterday, in what would be the Singapore wealth fund's second major investment in Vietnam this year. Vietcombank will issue new shares to GIC should the deal go through, the sources said.
​Emirates launches service to Hanoi
Vietnam Breaking News
| | |
| --- | --- |
| | Fast-growing airline Emirates has commenced a daily passenger service from Dubai to Yangon in Myanmar and Hanoi in Vietnam as part of a strategy to expand its presence in Southeast Asia. The carrier said Hanoi is the carrier's new passenger gateway within Vietnam following the launch of passenger flights to HCMC in 2012 and the cargo-only service to Hanoi in 2013. The new service expands the airline's network in Southeast Asia to 12 cities in seven countries and offers more choices and convenience to passengers travelling between Hanoi and Yangon to Dubai and beyond. |
Hanoi to have US$500 million racecourse
Cafe F
| | |
| --- | --- |
| | The project, located in Soc Son District, will be developed by a joint venture of Hanoi Tourism Corporation and Korean's Global Consultant Network Co.Ltd with estimated total investment capital of USD500 million. The components of the project include hotel, shopping mall, entertainment zone, racecourse and golf course in 5-star standard. [The original article is available in Vietnamese only.] |
Ministry of Construction officially doubled planning area of capital region
| | |
| --- | --- |
| | Capital region area of Hanoi will include the entire area of Hanoi and 9 surrounding provinces of Vinh Phuc, Bac Ninh, Hai Duong, Hung Yen, Ha Nam, Hoa Binh, Phu Tho, Thai Nguyen and Bac Giang. The total area of the capital region will be over 24,000 sqkm, increasing 13,000 sqkm as compared to the former plan. The goal of the adjustment is to meet the requirements of development, and planning and investment management, with the assignment, cooperation, sharing, and links between the locals in the region; ensure the national resource allocated effectively; limit the downside of the process of urbanization on the environment in order to build a prosper region with sustainable environment. [The original article is available in Vietnamese only.] |
Vingroup to kick-off new investments in Thua Thien Hue
Vietnam Economic Times
| | |
| --- | --- |
| | Vingroup will invest more than VND740 billion (USD33.3 million) in building a trade center and an agriculture project in central Thua Thien Hue province. The Thua Thien Hue People's Committee granted an investment license to the North Vincom Retail LLC on August 8 to build the Vincom Huong Tra Trade Center, with investment capital of VND215 billion (USD9.5 million) on an area of 12,500 sqm and four storeys and an investment license to the Vineco Agricultural Investment, Production, and Development Co. to build VinEco-Thua Thien Hue. The project has investment capital of over VND525 billion (USD23.3 million) and covers an area of 213 ha. The investor will complete all construction procedures in the third quarter of this year and begin construction by the end of the year. Construction of an operations center will begin in the second quarter of 2017 and finish at the end of the year, while construction of a technology transfer center will also start in the second quarter of 2017 and be finished at the end of 2018. |
Ha Nam seeks Japanese and South Korean investors
Ha Nam's focus is on support industries, processing, and high-tech manufacturing that is environmentally friendly and sustainable. It also views investors from Japan and South Korean as strategic investors because of their quality and environmental protection. In the first half of this year Ha Nam's GDP totaled VND11.8 trillion (USD532.2 million), representing 48.1 per cent of its annual plan and growing 10.9 per cent year-on-year. GDP per capita stood at VND21.9 million (USD985), representing 45.5% of the annual plan and a 16.2 per cent increase year-on-year.
​Hoa Binh to become national tourism zone by 2020
Vietnam Economic Times
| | |
| --- | --- |
| | Hoa Binh tourism zone is expected to become the largest tourism zone in Hoa Binh province and one of 12 key national tourism zones in northern mountainous areas, with special tourism products. The zone straddles four districts: Da Bac, Cao Phong, Tan Lac, and Mai Chau. The core area, excluding water areas and focused on developing tourism, is 1,200 ha. The tourism zone is estimated to have 800 rooms by 2030, including 160 in hotels. Homestays in villages are being prioritized. Luxury hotels and resorts are also planned in Ngoi Hoa commune, Tan Lac district. |
FOR MORE INFORMATION,CONTACT:
Dung Duong MRICS
Director
T +84 8 3824 6125
dung.duong@cbre.com
An Nguyen
Director
T +84 4 2220 0220
an.nguyen@cbre.com