CBRE Newspaper Updates on Residential Ads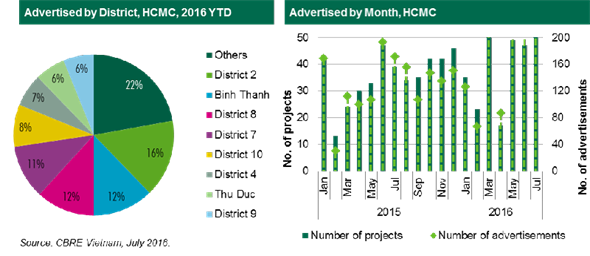 3 new launches:

City Soho (District 2)

​Launch date: 31st July, 2016
Scale: 3 tower with 25 floors (781 units)
Unit size: 56.2 – 60.3 sqm (2 bedroom)
Price: from VND 1.1 billion

Riverpark Premier (District 7)
Launch date: 31st July, 2016
Scale: 3 towers with 13 – 22 floors (268 units)
Unit size: 112 – 132 sqm (Over 95% 3-bedroom units)
Price: from VND 50 – 56 million psm
Launch date: 30th July, 2016
Scale: 8 towers with 30 floors
Unit size: 47 – 240 sqm (1 – 4 bedrooms)
Price: VND 19 – 21.5 million per sqm (Basic furniture)
Ha Do Centrosa Garden (District 10)

Advertisement:
Vinhomes Gold River Bason (District 1)

Consists of 60 storeys and 4 basements
Total construction area is 24 ha (expected)
Highest price: VND500 million per sqm

* Prices included VAT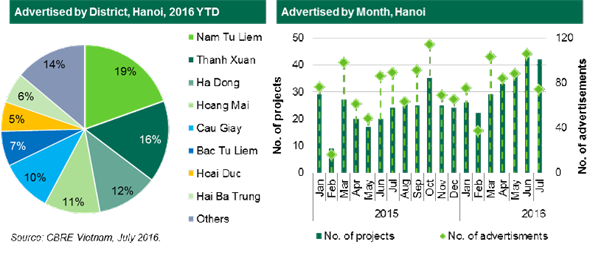 ​
4 new launches:

T&T Riverview (Hoang Mai District)

​Total units: 610 units
Scale: one 23-floor building with 2 basements
Unit size: 50 – 113 sqm (2 – 3 bedrooms)
Price: VND 19 – 23 million per sqm (basic furniture)

The Golden An Khanh – Tower A&C (Hoai Duc District)
Total units: 572 units each
Scale: two 32-floor buildings
Unit size: 65 – 75 sqm (2 bedrooms) and 91 sqm (3 bedrooms)
Price: VND 15 – 18 million per sqm (basic furniture)
Total units: 246 units
Total area: 47,257 sqm
Unit size: 161 – 220 sqm (3 floors and 1 attic)
Price: VND 8 – 9 billion per unit
Total Units: 498 units
Scale: one 25-floor building with 6 basements
Unit size: 83 – 333 sqm (2 – 4 bedrooms)
Price: VND 65 – 80 million per sqm (unfurnished) or VND 120 million per sqm (fully furnished)
An Phu Shop Villa (Ha Dong District)
D'. Le Roi Soleil (Tay Ho District)
* Prices included VAT
Mitsubishi Corporation Participates in Residential Development Project in Vietnam​
ACN News Wire
Mitsubishi Corporation ("MC") will become a partner in a residential development project in Hanoi. The project is located in the Hoang Mai District, just 8 km southwest of Hanoi's city center, and is part of The Manor Central Park ("TMCP"), a large-scale mixed-use project developed by Bitexco. During the first phase of cooperation, MC and Bitexco will establish a joint venture for the development of 240 low-rise housing units and two high-rise condominiums (comprising 1,036 units). MC will hold a 45% stake in the joint venture while Bitexco will hold 55%, with the total investment cost estimated to be JPY30 billion for the first phase.
Japan's ANA completes deal to buy 8.8% stake in Vietnam Airlines
Deal Street Asia
| | |
| --- | --- |
| | Vietnam Airlines has completed the deal to sell 8.8 per cent stake to Japan's ANA Holdings, according to an announcement from Citigroup Inc and Morgan Stanley, the advisors for the transaction. The Vietnamese state-controlled carrier raised $108 million from this strategic stake sale to Japan's largest airline group. The two US headquarted banks were the advisors for Vietnam Airlines' IPO in 2014, and the latest strategic stake sale is related to the company's listing two years ago. |
As Japan Grays, Retailers Covet Youthful Masses in Vietnam​
Bloomberg
| | |
| --- | --- |
| | With a young population, an expanding middle class and one of Southeast Asia's fastest-growing economies, Vietnam is an alluring market for Aeon, Takashimaya Co. and Seven & i Holdings Co. The reason: China is slowing and growth is flat-lining at home. However, homegrown retailers are pushing back. Hanoi-based Vingroup aims to open as many as 500 supermarkets and 8,000 convenience stores under its VinMart and VinMart+ brands in the next five years, even as large retailers from overseas have "created difficulties for local companies," |
Daikin to invest $94 mln in air conditioner plant in Vietnam​
VnExpress
Daikin Industries Ltd. has decided to pour JPY10 billion (US$94 million) into an air conditioner assembly plant in Vietnam, at Thang Long Industrial Park II on the outskirts of Hanoi. Scheduled to open in April, 2018, the plant is expected to produce around 500,000 units a year, which could double by 2020, depending on demand. Other large overseas manufacturers, according to the Asian Nikkei Review, also keep their eyes on Vietnam, especially Gree (China) and UTC Carrier (USA).
RoK's firm opens plant, research centre in Bắc Ninh
Vietnam News
| | |
| --- | --- |
| | Samil CTS Vina Co Ltd of the Republic of Korea (RoK), which specialises in manufacturing computers and computer peripherals, inaugurated a plant and a research and development (R&D) centre in the Yen Phong Industrial Park, northern Bac Ninh province. The opening of the plant and R&D Incentech-Samil centre in Bac Ninh will be the first steps for Samil CTS to penetrate the Southeast Asian market. |
HCMC – Announcing 77 mortgaged real estate projects at banks
Doi Song Phap Luat
| | |
| --- | --- |
| | In the list published on 8 June, 77 housing projects in the city are mortgaged at banks by many "giants" in the real estate sector such as: Him Lam with the Riverside project at Lot A3, Quoc Cuong Gia Lai in the 6B residential area of the South zone of the city (Binh Chanh district), the Nam Long Company with the An Lac ward mortgaged residential area (Binh Tan), Hoang Quan Real Estate Company with the mortgaged apartment project in Binh Chanh district. [The original article is available in Vietnamese only.] |
Hanoi officially launches CV1 park and conditioning lake​
Hanoi Times
| | |
| --- | --- |
| | The park located in Cau Giay new urban area has a total area of ​​31.76ha, of which 19ha are dedicated to digging the conditioning reservoirs, 12.7ha for green items and entertainment area. Total investment for the project is VND938 billion, it is expected to be built in 30 months and will be completed and put into use in 2018. CV1 park and conditioning lake is built in a concentrated area of ​​urban and high-rise buildings, so as to bring more ecologically significant and important role for the environment. [The original article is available in Vietnamese only.] |
Thua Thien-Hue draws 88 FDI projects​
| | |
| --- | --- |
| | As many as 88 foreign direct investment (FDI) projects with a total registered capital of 2.26 billion USD have landed in the central coastal province of Thua Thien-Hue so far, making the locality the 6th most attractive destination for foreign investors in the central region. Large groups operating in the locality include Singaporean Banyan Tree Holdings Limited, HBI Group from the US and Charoen Pokphand (CP) Group from Thailand. The overriding priority has been given to the study of additional suitable mechanisms and policies to lure foreign investors, especially large and strategic enterprises like Bitexco, Vingroup and Bayan Tree. |
Singapore Blue Circle approved for 40MW wind project in Vietnam
The Business Times
The Blue Circle, a Singapore-based wind energy developer, has received an investment certificate from Vietnamese authorities for its 40-megawatt project in Ninh Thuan province, south Vietnam. The certificate to the Blue Circle and its Vietnamese partner, TSV, opens the process to sign a long-term lease and power purchase agreement with EVN, the national power utility, the Blue Circle said in an e-mailed statement.
Vietnam Feed Plant Opening Spurs Growth And Commitment To Collaboration​
| | |
| --- | --- |
| | In May of this year, farmers, Vietnamese government officials, and staff from the U.S. Embassy in Vietnam gathered in Nghe An province for the opening ceremony of an $8.5 million animal nutrition plant. This ribbon-cutting ceremony marked the eleventh such event in Vietnam for the plant's owner, Cargill, and was another milestone in the continuation of the key public-private sector collaborations that continue to supercharge economic growth in the country. |
Vietnam M&A market heating up​
Vietnam Net
| | |
| --- | --- |
| | Viet Nam's merger and acquisition (M&A) market is heating up, as the country deepens its international integration with the establishment of the ASEAN Economic Community (AEC), the upcoming Trans-Pacific Partnership (TPP) and new signing of free trade agreements. Vietnamese companies have been more active over the past two years as many domestic companies became buyers, expanding their presence in other sectors with the expectation of growing and becoming more competitive, such as VinGroup, Masan Group, Vinamilk and Thanh Thanh Cong Group. |
First ultra high-speed inter-country train line in Southeast Asia first
Nhip Cau Dau Tu
| | | |
| --- | --- | --- |
| | | The project will be completed in 2020 and shorten the connection time between Singapore and Malaysia from 5 hours to 90 minutes. There are more than 250 investors have participated and 98 investors are being recruited. Among leading real estate corporations in two countries such as YTL Group – the owner of the super-luxury hotel Ritz Carlton and JW Marriot Kuala Lumpur, Gamuda – owner of thousands of hectares of real estate, highways , the subway system in Malaysia and Singapore and many technology corporations, financial Japan, China, Germany, France, Canada. [The original article is available in Vietnamese only.] |
FOR MORE INFORMATION,CONTACT:
Dung Duong MRICS
Director
T +84 8 3824 6125
dung.duong@cbre.com
An Nguyen
Director
T +84 4 2220 0220
an.nguyen@cbre.com