CBRE Newspaper Updates on Residential Ads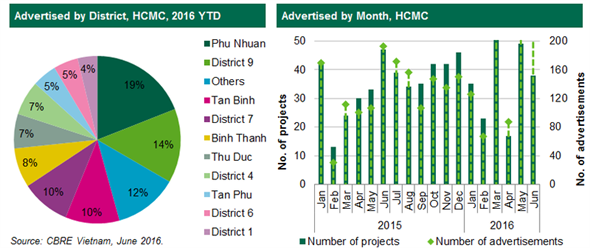 Two new launches:

Le Jardin – Nam Phuc – Block B (District 7)

Date of official launch: 25/06/2016
Scale: two 22-floor
Unit size: 91.63 to 164.38 sqm (2 to 3 bedrooms)
Price: from USD 1,500 per sqm

Flora Fuji (District 9)
Date of official launch: 25/06/2016
Scale: 2 blocks, 800 units
Unit size: 54 – 67 – 87 sqm (1, 2 to 3 bedrooms)
Price: from VND 985 million per unit

Other advertisements:
Riva Park (District 4)

Total units: 320 units with 18 storeys
Average price: from VND 29 million per sqm (excluded VAT)
Unit size: 58 – 113 sqm

Wilton Tower (Binh Thanh District)
2 blocks with 22 storeys in a total land area of 7,168 sqm
Price from: VND 28 million per sqm
Total number of units: 494 units
* Prices included VAT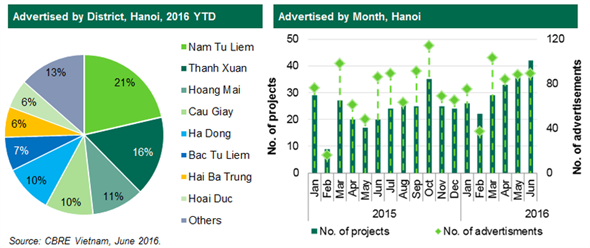 ​
One new launch:

Vinhomes Metropolis Lieu Giai – M1 Building (Ba Dinh District)

Unit launched: 300 units
Scale: two 45-floor and one 41-floor buildings
Unit size: 55.52 to 148.19 sqm (2 to 3 bedrooms)
Price: from VND 70 million per sqm (Fully furnished)

Advertisements:
Canal Park – Hanoi Garden City (Long Bien District)

Total land area: 5,777 sqm
Scale: two 11-floor buildings with one basement
Unit size: 86 – 227 sqm (2 – 5 bedrooms)
Price: from VND 19 million per sqm (Basic furniture)

The Vesta (Ha Dong District)
Total construction area: 45,093 sqm
Scale: eight 18- floor buildings, with 1 basement and 1,902 units
Unit size: 48 – 69 sqm (2 – 3 bedrooms)
Price: from VND 16 million per sqm (Fully furnished)
Scale: two 29-floor buildings and 3 basements, 460 units of condo and 8 units of penthouse
Unit size: 73.2 – 146 sqm (2 – 3 bedrooms)
Price: from VND 24 million per sqm (Fully furnished)
Ho Guom Plaza (Ha Dong District)
* Prices included VAT
Hanoi finds investors for 43 projects
Vietnam Investment Review
The government of Hanoi City is finding investors for 43 projects planned for implementation this year at a total cost of VND 372.25 trillion (US$ 16.6 billion). Of the projects, the capital city needs a combined VND 316.8 trillion for 10 projects to upgrade and build apartment buildings in Cau Giay, Ba Dinh, Dong Da, Hai Ba Trung and Hoang Mai districts. Other big projects include Dong Mo tourism area, two projects in the agricultural sector, three industrial park projects, seven trade centers and five commercial- service projects.
Daewoo plans construction of US$ 2.2 billion urban area in Hanoi​
VnExpress
Daewoo Engineering & Construction (Daewoo E&C) recently announced the construction of high-end urban area in Hanoi from July 4th. This Star Lake project spanning on an area of 1.86 million sqm locates at Ho Tay district. The total investment is approximately US$ 2.2 billion, in which the first phase will cost US$ 1.2 billion. Also Daewoo E&C will start selling their first 182 units of 4-floor house this year. Estimated price ranges from US$ 720,000 to US$ 2.35 million. The next 600 units of house will be introduced next year. And expected handover date is from the second half of 2017. [The original article is in Vietnamese only.]
Opening ceremony of Vincom shopping mall in Thai Binh
Lao Dong
On June 18, Vingroup hold an opening ceremony of the first Vincom shopping center in Thai Binh. The Vincom Plaza Ly Bon shopping center belongs to the Shopping center – shophouse complex project which locates at the center of Thai Binh. Spanning on an area of more than 16,000 sqm, Vincom Plaza Ly Bon is designed with 5 floors and 1 basement, including shopping area, food center, cinema, etc. In addition, this is the 3rd shopping mall in Northeast region and the 20th one of Vingroup national wide.
New player in real estate market
Cafe F
| | |
| --- | --- |
| | Danko has officially joined the real estate market, with the role as distributor of FLC Star Tower Ha Dong and buying other projects. According to chairman of Danko Group, their new business strategy is to focus on developing real estate business via selling housing and housing's services. Specifically, Danko has signed with FLC Group in distributing the FLC Star Tower Ha Dong. This project locates at 418 Quang Trung, Ha Dong district. This project is a 37-floor building with 4 basements and 2 floors for shopping center. [The original article is in Vietnamese only.] |
Licogi 13 to sell 70 percent of Twitter Beans Coffee
Vn Economic Times
| | |
| --- | --- |
| | The listed Licogi 13 is to sell 70 percent of its stake in the Twitter Beans Coffee franchise to an as yet unknown buyer. A total of 840,000 shares will be sold at VND 23,600 (US$ 1.04) each, bringing in an expected VND 19.8 billion (US$ 880,000) and will be included in profits for the second quarter of this year. Twitter Beans Coffee has charter capital of VND 30 billion (US$ 1.35 million) and six outlets in Hanoi. The company also owns 2 hectares of land in a high-tech zone in Thach That district, Hanoi, on which it plans to build a fast food outlet and coffee shop. |
Japanese investor looks to develop amusement park in Ha Nam
Vietnam Investment Review
| | |
| --- | --- |
| | Japanese-owned Frontier International Vietnam One Member Company Limited (Frontier Company) expressed interest in developing an amusement and a water park in the northern province of Ha Nam. The proposal was made in the framework of the working session with provincial leaders on June 14. The company will co-operate with a US partner with experience in amusement park development. |
4.8pct of home loan interest rate: People are waiting
Vietnamnet
| | |
| --- | --- |
| | The Prime Minister has recently signed the Resolution No.1013/2016 regarding of social housing loan interest rate at Vietnam Bank for Social Policies, following the regulation in the government's Decree No.100/2015. To be more specific, the interest rate will be 4.8pct per year, equivalent to 0.4pct per month. For overdue debts, the interest rate will be calculated at 130pct of the interest rate when the loan is taken.[The original article is in Vietnamese only.] |
HCMC seeks to step up PPP projects
| | |
| --- | --- |
| | The HCMC government is finding ways to clear obstacles to public-private partnership (PPP) investment projects to quicken their implementation. The city government is asking for the Prime Minister's for such projects. In addition, inflation should be factored into periodic payments for investors of PPP projects. Many investors have asked for more specific and clearer legal grounds to ensure benefits for investors and the State, and ease the paperwork burden when they access such projects. |
National advisory council on financial, monetary policies setup
The Saigon Times
The Prime Minister has signed a decision establishing a 39-member national financial and monetary policy advisory council led by Deputy Prime Minister Vuong Dinh Hue. The council is tasked with discussing and proposing major policies and programs relating to financial and monetary issues, and is also responsible for giving advice to the Government and the PM on financial and monetary policies and plans, and on how to execute policies and plans effectively.
Aeon to open second mall in HCMC next month
| | |
| --- | --- |
| | Aeon Vietnam looks set to inaugurate its Aeon Mall Binh Tan in HCMC on July 1, the second shopping complex of the firm in the city. The new mall is bigger than Aeon Mall Tan Phu Celadon, which opened in early 2014. It has an total investment of over US$120 million and is located at the Hi-Tech Healthcare Park of Hoa Lam Shangri-La. Aeon Mall Binh Tan covers over 4.6 hectares and has four floors and a basement. Its parking lot is designed to house 1,500 cars and 4,000 motorbikes at a time. Around 80% of goods on sale at the mall will be made in Vietnam and 20% imported from Japan. |
VN stocks rebound as investors find opportunities
Vietstock
| | | |
| --- | --- | --- |
| | | Vietnamese shares may bounce back this week, as exchange traded funds (ETFs) completed reviewing their investment portfolios, and oil prices had a strong recovery on Friday, to bolster investor confidence. Last week, investors on global stock markets were cautious ahead of the US central bank's meeting, on expectations that the US central bank would keep interest rates unchanged and signal fewer rate increases this year. While the US central bank's decision had little impact on Viet Nam's stock markets, it was the ETFs, with their review of second-quarter investment plans that weighed on investor confidence in Vietnamese stocks. Almost all stocks that were removed and sold by the ETFs declined. Property and retail firm Vingroup JSC (VIC) slumped 3.7 per cent during the week, HHS lost 4 per cent, and Sai Gon Securities Inc (SSI) declined 6.8 per cent. |
First Pan Pacific hotel in Vietnam to open in October 2016
Business Times
| | |
| --- | --- |
| | PAN Pacific Hotels Group (PPHG) will launch its Pan Pacific Hotels and Resorts brand in Vietnam in the fourth quarter of this year with the introduction of Pan Pacific Hanoi in the capital city. The property was acquired by PPHG in 2001 through a joint venture with Hanoi Construction Corporation and has been operating as Sofitel Plaza Hanoi at a prime location by the West Lake. |
New Vietnam Casino Proposal A $4 Billion Gamble
| | | |
| --- | --- | --- |
| | | Last month, a group of investors led by local property developer Imex Pan Pacific Group announced plans for a US$4 billion project in Ho Chi Minh City, the nation's commercial capital formerly known as Saigon. US$4 billion is the magic number for a casino license, and investors linked to the project include famed casino resort designer Paul Steelman's Steelman Partners and Weidner Holdings, headed by William Weidner, former president and chief operating officer of Las Vegas Sands LVS +2.74% during the development and opening of Sands Macao and Venetian Macao. |
FOR MORE INFORMATION,CONTACT:
Dung Duong MRICS
Director
T +84 8 3824 6125
dung.duong@cbre.com
An Nguyen
Associate Director
T +84 4 2220 0220
an.nguyen@cbre.com