New faces to brighten real estate market, Korean group – EUNSAN & OUE suggests to invest in Ba Son factory – HCMC,Sacomreal set to sell low-priced apartments,Payments caps proposed for foreign-investment housing projects…
CBRE Newspaper Updates on Residential Ads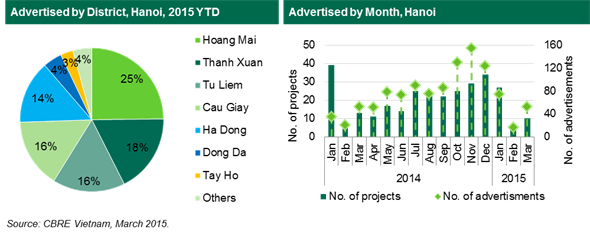 Three new launches

Park Hill – Tower Park 3 in Times City, Hoang Mai District:

Units launched: 108

Handover condition: Fully-furnished; unit sizes: 52 – 151 sm, one to four bedrooms

Promotion: discount for 7%/annum for early payment; serveral valuable prizes with lucky lotteries;

The One Residence in Gamuda City, Hoang Mai District:

Units launched: 100Price from VND1.1 bn per unit

Promotion: 20 first customers can win valuable prizes with luck lotteries;

CT36 Dream Home in Hoang Mai District:

Advertisment activities:
Thousands of real estate firms established, causing concerns
| | | |
| --- | --- | --- |
| | | According to the General Statistics Office (GSO), 13,766 businesses were registered in the first two months of the year with total investment capital of VND77.5 trillion, an increase of 26.6 percent in the number of businesses and 23.3 percent in registered capital compared with the same period last year, with real estate firms increasing sharply by 89 percent in comparison with the same period in 2014. The sharp increase in the number of newly set up real estate businesses is attributed to the investors' hope of a warmer real estate market in 2015. |
Housing inventory dropped by more than 55.000bn VND
| | | |
| --- | --- | --- |
| | | Housing inventory dropped by more than 55.000bn VND but still reached over 73.000bn VND. Land lot inventory accounted for the most valuable portion. However, according to Ministry of Construction, despite large decreases resulted from rosy future of the market, the number still remains rather high. At the moment, the pace of inventory decline started to slow down. [The original article is available in Vietnamese only.] |
Korean group – EUNSAN & OUE suggests to invest in Ba Son factory – HCMC
New faces to brighten real estate market
Apart from existing experienced real estate developers eager to expand their portfolios, recent times have seen the emergence of new companies willing to test their ambitious development plans. Blenheim Real Estate Group with its $302 million Green Tech City investment in Hanoi. Besides, Japan's office-for-lease specialist Daibiru has debuted as new operator of the CornerStone Building in Hanoi after a successful purchase from VIBank. Overall, more than $2.54 billion of new granted and capital increasing of last year, direct investment capital into real estate has reached a 4-year high

.
Vietnam to build $350mn airport in province home to Ha Long Bay
| | | |
| --- | --- | --- |
| | | The feasibility study report for the Quang Ninh airport, a VND7.5 trillion (US$349.52 million) terminal to be built at the Van Don Economic Zone, has been approved by the provincial administration. The 288.38-hectare airport will be able to serve two million passengers a year, with a runway capable of receiving wide-body jetliners such as the Boeing B777 or those of similar sizes. Construction is expected to be completed in two years, whereas the investor will need as many as 45 years in order to recoup investment. Quang Ninh will cover part of the VND730 billion ($34.02 million) required for site clearance tasks, which it hopes to complete by the end of this month so that the airport can break ground in April. |
Sacomreal set to sell low-priced apartments
| | | |
| --- | --- | --- |
| | | Property developer Sacomreal is set to offer for sale 1,290 units at its Jamona Apartment project in Phu Thuan Ward, District 7, at what is possibly the lowest price in the area. The apartments will start at VND636 million (US$30,285). |
Payments caps proposed for foreign-investment housing projects
| | | |
| --- | --- | --- |
| | | Investors of foreign-investment housing projects, who have not handed over the units to the buyers, will not be allowed to collect more than half of the apartment's value. Under the draft, the payments for renting or buying apartments in future real estate projects can be made several times, but the first payment cannot exceed 30 per cent of the contract's value. The payments that follow must be made in line with the progress of the project's construction, and must not surpass 70 per cent of the contract's value if the apartments have not been handed over to buyers. |
Vietnam outpaces ASEAN neighbors in productivity growth
| | | |
| --- | --- | --- |
| | | The latest Economic Insight report by ICAEW shows that Vietnam's productivity boom of 184% from 1991 to 2012 and a rise in skilled workers have helped the nation's transition to a manufacturing-based economy. Vietnam has improved more than already productive members like Singapore and Malaysia. Many technology multinationals have moved production to Vietnam. Maintaining a low base cost is now key for the country to ensuring a steady inflow of investments. |
ANZ forecasts 6.5 pct GDP growth for Vietnam in 2015-16
ANZ, in a report issued Monday, has revised its GDP growth forecast for Vietnam to 6.5 percent year-on-year for both 2015 and 2016, from 6.2 percent and and 6.4 percent, respectively. The increase is attributed to a recovery of domestic demand pointed by various indicators, including the rise in industrial production and retail sales, according to a report issued by ANZ on Monday. Industrial production posted the fastest annual gains since 2012. ANZ estimates industrial production growth of 14.2 percent year-on-year over the first two months of the year, up from 5.6 percent over the same period in 2014.

Retail sales see the fastest rise over the past 5 years, averaged at 13.7 percent in the first two months.
CPI to increase in March on back of higher power tariffs
| | | |
| --- | --- | --- |
| | | The country's consumer price index (CPI) is expected to increase 0.26 per cent following the hike in electricity tariffs and petroleum, said Nguyen Bich Lam, the head of the General Statistics Office.The Government said it would ensure that the GDP growth rate this year is 6.2 per cent and inflation is curbed to 5 per cent. |
Report revises 2014 FDI figures
| | | |
| --- | --- | --- |
| | | According to the report released late last week, about 1,843 new foreign-invested projects received investment licences by the end of 2014, with a total registered capital of $16.5 billion – 14 per cent higher than the previous year's figure. |
Licogi to sell 21m shares during debut on HN-Index
| | | |
| --- | --- | --- |
| | | The Infrastructure Development and Construction Corporation (Licogi) plans to sell nearly 21.27 million shares during its initial public offering (IPO) on April 12 at the Ha Noi Stock Exchange. According to the northern bourse, the shares will be auctioned at an initial price of VND10,000 (US$0.48) per share, and the charter capital of the company is expected to reach VND900 billion ($42.86 million) after its privatisation. |