CBRE Newspaper Updates on Residential Ads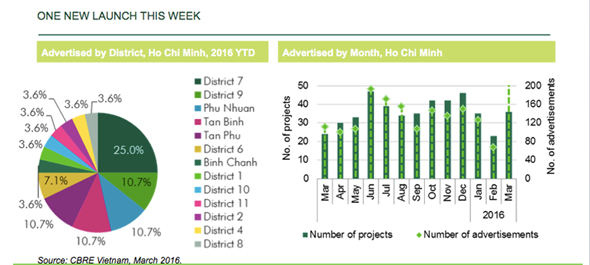 ​
One new launch:

The Art – Mozart Block:

Date of official launch: March 8th, 2016.
There are 3 blocks with 18 stories with 2 – 3 bedrooms.
It is located on Do Xuan Hop Street, District 9. Only 15 minutes away from District 1, 7 minutes away from Mai Chi Tho boulevard, and 5 minutes away from Hanoi Highway.
Facilities include parking basement, a shopping centre, a swimming pool and a gym.

Other advertisements:
Xi Grand Court:

Total Area: 15,940.5 sm.
Unit sizes: 42 – 113.2 sm.
It is situated on the junction of Ly Thuong Kiet Street and Ba Thang Hai Street, District 10.

Viva Riverside:
Total Area: 7,466 sm.
There are 2 blocks with 26 storeys and 567 units.
It is located on Vo Van Kiet Street, District 6.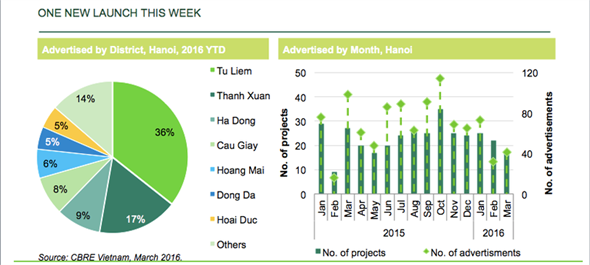 One new launch

Star Tower (Ha Dong District)

Date of second official launch: March 5th 2016
There are 3 towers: A, B and C. This is the launch of tower C with 264 units.
The project is located within the Valiant Complex, at 283 Khuong Trung
Unit size: 69 – 92.2 sm (2 – 3 bedrooms)

Other advertisements:
Trang An Complex (Cau Giay District)

The total area is 30.104 sm
Two blocks: CT1 has 23 floors and CT2 has 29 floors
Unit size: 76 – 152 sm (2 – 4 bedrooms)
Located on the intersection between Phung Chi Kien & Hoang Quoc Viet Road – a major road in Hanoi in a crowded neighbourhood

Five Star Garden (Thanh Xuan District)
Total number of units is over 1,500
Total area is 4,900 sm per floor, divided into four blocks G1, G2 and G4, G5
Unit size: 71 – 95 sm
Located on the intersection between Kim Giang & Vuong Thua Vu road, in Khuong Dinh NUA
Total area is 20,234 sm
Unit size: 55.53 – 106.21 sm
There are four towers, each with 35 floors, of which three floors are for shopping center.
Eco-Green City (Thanh Xuan District)
Hanoi has VND6,555 billion real estate inventory
Bao Dau Tu
| | | |
| --- | --- | --- |
| | | According to the report on the Hanoi real estate market in January 2016 released by Vietnam Real Estate Association (VNREA), in January 2016, there were around 1,600 transactions for Hanoi market, up 14% y-o-y. In particular, VNREA recorded that the market did not experience a fall in prices, instead, slight increases were seen from completed projects. VNREA also said that the value of real estate inventories in the first months of 2016 continued to decline. Up to January 20, 2016, the total value of real estate inventories are VND49,140 billion, down by VND1,749 billion compared to December 20, 2015. For Hanoi market, unsold real estate inventory up to January 20, 2016 was about VND6,555 billion, down VND191 billion compared to that of December 2015. [The original article is available in Vietnamese only.] |
Viet Nam Airlines sets up new VASCO airline​
| | | |
| --- | --- | --- |
| | | Viet Nam Airlines Corp officially set up a new airline based on the restructuring of its subsidiary Vietnam Air Services Co (VASCO), the national carrier said in a press release on Monday. The new airline will be named VASCO and has a minimum charter capital of VND300 billion (US$13.43 million) and 10 airplanes. Vietnam Airlines will hold 51 per cent of the venture, while the Viet Nam Technological and Commercial Joint Stock Banks (Techcombank) will have a 49 per cent stake. As soon as the airline is established, Techcombank will make an initial investment of VND147 billion, while Viet Nam Airlines will provide aircraft and other assets worth about VND157 billion. |
FLC Group injects VND4.600 billion for Vinh Thinh resort phase 2
Bao Dau Tu
| | | |
| --- | --- | --- |
| | | On March 6, FLC Group inaugurated and put into operation FLC Vinh Thinh resort at Vinh Tuong district, Vinh Phuc province. At the opening ceremony, FLC also announced the groundbreaking of phase 2 of the project with the site area of 250 ha and the total investment is expected to be VND4,600 billion. Phase 2 has adjacent sides to the Red River and Vinh Thinh Bridge, including golf courses, villas, 5-star hotel and amusement parks. [The originial article is available in Vietnamese only.] |
BIM Group woos buyers for two flagship projects​
On March 13, Syrena Viet Nam Investment and Development JSC (Syrena Viet Nam), a member of the diversified BIM Group, will launch Green Bay Village and Lotus Residences in Ha Long City, northern Quang Ninh Province.
Green Bay Village and Lotus Residences are two high-profile projects of BIM Group's 248 ha Halong Marina Urban Area which runs along 3.8 km of beachfront in Ha Long City. Syrena Viet Nam said that for Green Bay Village, buyers would be provided loans at zero interest rates from Vietcombank and VP Bank. Besides, the developer will also offer a discount of 5% of the Lotus Residences townhouse's value (before tax) for any deposits for purchase made before the end of March.
New housing projects published for first time
| | | |
| --- | --- | --- |
| | | With the list, buyers will know which investors are qualified for sales. These announcements will be made regularly to protect the buyers' interests"- Deputy Head of the department's Housing Management and Real Estate Market Division Vu Ngoc Thanh said. The list of 26 projects includes real estate developer Nam Ha Noi Urban Development Joint Stock Company, which is undertaking two projects with a total of 2,368 apartments; Tasco JSC, with 258 low-rise buildings; UDIC Urban Infrastructure Development and Investment Corporation, with a project of 324 apartments; and Hai Dang Real Estate Investment JSC, with the Hai Dang City project of 896 apartments. |
Growth plan for Starbucks Vietnam, Cambodia​
Inside Retail Asia
Dairy Farm Group says it plans to expand its Starbucks Hong Kong and Vietnam networks.
Last year, Dairy Farm opened six new Starbucks Vietnam cafes and its first in Cambodia – in the capital city Phnom Penh last December."This new market offers significant opportunities as there is no dominant market player," said CEO Graham Allan. "The group is currently working to fully understand local tastes and preferences."
Reduce dependence on banking capital​
Nguoi Lao Dong
| | |
| --- | --- |
| | In recent time, some listed property firms on the stock market, or even unlisted ones but with reputation and strong finance in the real estate market, have mobilized capital from stock investors via issuing shares and bonds. For example, FLC, Khadihouse, Nam Long Group, Thu Duc House, Novaland… have attracted over trillions dong of capital from the stock market. This enables property firms to lessen their dependence on banking capital, which will be tightened in near future in order to prevent property bubble. [The original article is available in Vietnamese only.] |
Land use fee weighs on property firms​
The Saigon Times
| | | |
| --- | --- | --- |
| The HCMC Real Estate Association (HoREA) has said property firms are complaining about the current land use fee calculation method which makes life hard for them. HoREA proposed replacing the current land use fee with a land use tax making up a fixed percentage of land value. This will make the tax transparent and easy to calculate, and help eliminate the ask-and-give mechanism in the property sector. | | |
Prime Minister reviews master plan for Hanoi
| | | |
| --- | --- | --- |
| | Prime Minister Nguyen Tan Dung chaired a conference to discuss a master plan for the development of Hanoi. The conference reviewed a number of changes to be made to the master plan, including adjustments to boundary lines shared with nine surrounding northern provinces.The provinces of Phu Tho, Thai Nguyen and Bac Giang will be incorporated into Hanoi, bringing the size of the capital city to an area greater than 24,300 sq km in size, almost double its current size. This will increase Hanoi's population to 17.6 million. The capital city aims to become a social and economic hub at both the national and Asia-Pacific regional levels. | |
Hanoi invests in 7 new bridges over the Red River and Duong River
Voice of Vietnam
| | | |
| --- | --- | --- |
| | In order to improve transport infrastructure, Hanoi will coordinate with the Ministry of Transportation to invest in key areas. There would be 65 projects with the implementation funding of over VND400,000 billion. Under the plan, the Ministry of Transportation would invest in two bridges over the Red River including Viet Tri-Ba Vi and Me So bridges, while Hanoi People's Committee would invest in the construction of 5 bridges over the Red River and 2 bridges across the Duong river. [The original article is available in Vietnamese only.] | |
FOR MORE INFORMATION,CONTACT:
Dung Duong MRICS
Director
T +84 8 3824 6125
dung.duong@cbre.com
An Nguyen
Director
T +84 4 2220 0220
an.nguyen@cbre.com