Vinpearl proposes 54-hole golf course in Hanoi,Foreign investors withdrew from 'golden site' development in HCMC,Hong Kong, Vietnam firms join hands in $100mn realty project,Ministry of construction may increase size of social housing to 90spm…
The most actively advertised projects are:

Duong Hong Garden House in Binh Chanh District:

2nd launch in January 2015
Total condo and villas is 219 units.
Total investment is 680 bil
Price is from 1,5bil/ plot (95-100 sm);

Skyway in District 7:
Price is from VND 678 mil/unit
Scale is from 53.1 sm to 107.1 sm/unit
Total 2 blocks, 19 floors, 180 units;
Total 495 units
Scale per unit is from 74.43 sm to 139.2 sm
Price is from VND 32.5 mil/sm.
Sky Center in Tan Binh District: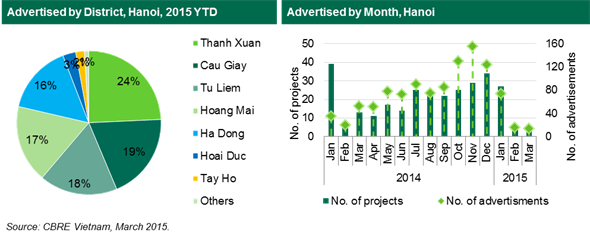 Two new launches:

Golden Silk in Hoang Mai District:

Launched on March 04, 2015
Tower C – Golden Central Tower; total units: 640
Price from VND17.3 mil psm (VAT included, semi-furnished)
Expected completion: Q1 2017;

Goldmark City in Tu Liem District:
Launched 101 units in March 03, 2015
Expected completion: Q2 2017
Price from VND27 mil psm (VAT included, fully-furnished);

Advertisment activities:
Times City phase 2 in Hoang Mai District:

Consists of 7 towers
Total land size: 74,000 sqm; 78% of which will be covered in green;

D' Le Pont D'or in Dong Da District:
Each one of the 10 first customers will be rewarded with a golded goat by Tan Hoang Minh Group.
Foreign investors withdrew from 'golden site' development in HCMC
| | | |
| --- | --- | --- |
| | | Hongkong Land (UK) and Sumitomo & Development (Japan) withdrew from a planning development with total investment of more than 7,100 billion at 164 Dong Khoi Street District 1.[The original article is available in Vietnamese only.] |
Vinpearl proposes 54-hole golf course in Hanoi
| | | |
| --- | --- | --- |
| | | About VND1,368 billion (US$63.6 million) will be invested in the two-phase project, which will be built among 2016 and 2020 near the Duong river in the Gia Lam and Long Bien districts of Ha Noi. The golf course will spread over 291 hectares and will include multi-purpose buildings, such as swimming pools, a gymnasium and a medical center. |
Hong Kong, Vietnam firms join hands in $100mn realty project
VN's Giang Vo Exhibition plans IPO, to invest in realty projects
| | | |
| --- | --- | --- |
| | | The Vietnam Exhibition and Fair Centre (VEFAC), better known as the Giang Vo Exhibition Centre, will offer 16.3 million shares for auction, during its initial public offering (IPO) on March 20.There are two things that make VEFAC's IPO notable. First, its charter capital will increase 10-fold after selling shares, an unprecendented jump in the stock market's history. Second, the proceeds from the IPO will be used to invest in a slew of mega realty projects. |
Vingroup about to start the eco-tourism project $1 billion in Haiphong
| | | |
| --- | --- | --- |
| | | Project amusement parks, housing and eco-park island Yen Vu will be construct in an area of 872ha, including the entire area of the island Yen Vu, between Hai An district and Thuy Nguyen district. Total investment project is more than VND 22,700 billion ($ 1 billion). The project is expected to begin in January 4/2015 and completed in 2019. [The original article is available in Vietnamese only.] |
Ministry of construction may increase size of social housing to 90spm
| | | |
| --- | --- | --- |
| | | At the meeting the demand of accommodation made by households with seven to eight members, they found 70sq.m. apartments too cramped. Thus, the Ministry of Construction has proposed the maximum area of social housing apartments be raised to 90 square metres (sq.m.) from the current 70sq.m. |
VN properties purchased by hotel firm Centara
| | | |
| --- | --- | --- |
| | | Centara Beach Resort and Spa Phu Quoc is the latest Vietnamese property to be acquired by Thailand's Centara Hotels and Resorts. The hotel group signed a management contract with Centara Beach Resort's owners, Binh Le Xuan Ltd Companies and Commercial Services. |
South Korean investor poured nearly $7 billion in real estate Vietnam
Construction material market grows
| | | |
| --- | --- | --- |
| | | With a wide range of models, good quality and reasonable prices, locally made construction materials like tiles and ashlar bricks are increasingly capturing the domestic market, according to traders. Many local brick producers have reasonable sales policies in addition to supplying quality products in a range of models. Their prices are comparable to that of Chinese products, and this helps boost sales of Vietnamese products. |
Vietnam Airlines asks to buy entire terminal of Hanoi airport
| | | |
| --- | --- | --- |
| | | According to a document signed by the airline's chairman of the board of members Pham Viet Thanh, and submitted to the Ministry of Transport, Vietnam Airlines wants to buy Terminal T1, which now serves domestic flights, at Noi Bai. On Wednesday last week, Minister Thang addressed the proposal of VietJet Air in a meeting in Hanoi, and ended up ordering the Airports Corporation of Vietnam to pilot transferring the operation right of Row E to VietJet Air before doing so with the entire terminal. |
Japan increases financial services in Vietnam
| | | |
| --- | --- | --- |
| | | Surveys by research organizations also showed that there is a new wave of Japanese investment in other sectors such as construction, real estate, transportation and financial investment. JETRO's report reflects the proportion of new investment projects in construction. Real estate increased from 3% in 2013 to 6% in 2014. |
New free trade deal to heighten economic ties with South Korea
| | | |
| --- | --- | --- |
| | | The Viet Nam-South Korea Free Trade Agreement (FTA) will serve as a milestone to strengthen the two countries' economic relations, expected to reach US$70 billion in trade by 2020. This was revealed at a seminar yesterday on economic co-operation between Viet Nam and South Korea in the Post-FTA era. Under the FTA, signed in December, the two countries will remove import tariffs on more than 90 per cent of all products once the FTA is implemented, probably in June. |
Private firms race to take over State-owned enterprises
| | | |
| --- | --- | --- |
| | | Major Vietnamese business people have geared up to take over State-owned enterprises, which were recently equitised, in the role of strategic partners. Thousands of billions of dong have been spent to buy stakes in State-owned enterprises in recent times, reports online vietnamnet.vn. |
Brokers raise property prices on back of new framework
| | | |
| --- | --- | --- |
| | | Although the new land price framework in HCM City has only recently taken effect, some brokers have taken advantage of the change to increase property prices, according to Thoi bao kinh te Sai Gon (Sai Gon Economic Times) newspaper. Under the new pricing framework (from January 1 to December 19), the land prices in districts have increased an average 1.5-1.6 times compared to rates in 2014. Some property brokers have increased prices on land lots in suburban districts. |
Back to top
Lotte suddenly acquired Diamond Plaza building
| | | |
| --- | --- | --- |
| | | Lotte Group bought 70% stake and took control of Diamond Plaza building. It shows that Lotte strengthen invest in real estate in Vietnam, especially retail, through mergers and acquisitions (M&A).[The original article is available in Vietnamese only.] |
Back to top
Vietnam to hike electricity prices by 7.5% on March 16
| | | |
| --- | --- | --- |
| | | The price of electricity in Vietnam will go up by 7.5 percent, the average price of electricity in Vietnam will be VND1,622 per kWh as of March 16.The adjustment of the electricity price is targeted at helping EVN cut losses from previous years, ensuring Gross Domestic Product (GDP) growth at 6.2 percent this year, and keeping the inflation rate at five percent. |
Back to top