CBRE Newspaper Updates on Residential Ads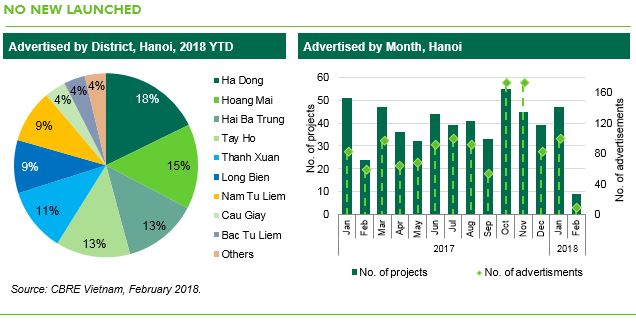 ​
Advertisement

Sun Grand City Thuy Khue Residence (Tay Ho district)

Total units: 519 units
Scale: 16,000 sm land area
Unit size: 47 – 168 sm (1 – 4 bedrooms)
Price*: from VND 61 million psm

Bohemia Residence (Thanh Xuan district)
Total units: 405 units
Scale: 3,050 sm land area
Unit size: 86 – 138 sm (2 – 3 bedrooms)
Price*: from VND 30 million psm
Scale: 7,958 sm land area
Unit size: 55 – 96 sm (2 – 3 bedrooms)
Price*: from VND 24 million psm
T&T DC Complex (Hoang Mai district)
Prices included VAT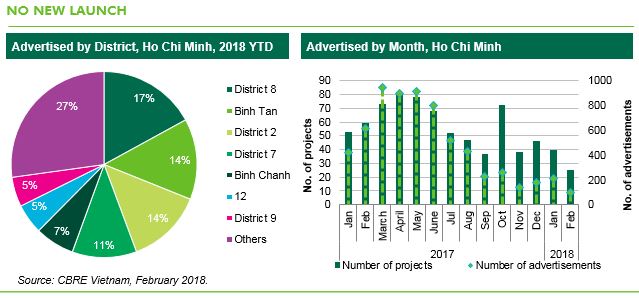 Advertisements:

Calla Garden (Binh Chanh District)

Total units: 207 (for condos only)
Scale: two 17-floor blocks
Unit size: 50 – 107 sm (1 – 3 bedrooms)
Price*: from VND 18.5 million/sm

Thu Thiem Dragon (District 2)
Total units: 274 (for condos only)
Scale: two 23-floor blocks
Unit size: 45.2 – 93 sm (1 – 3 bedrooms)
Price*: from VND 2.2 billion/2BRs
Total units: 2000 (for condos only)
Scale: six 25-floor blocks
Unit size: 56 – 75.12 sm (2 – 3 bedrooms)
Price*: from VND 1.1 billion/2BRs
Dream Home Riverside (District 8)

* Prices included VAT
Note: Selected newspapers include Dau Tu Bat Dong San, Thoi bao kinh te Vietnam, The gioi thong tin bat dong san, CafeF, Tap chi dau tu bat dong san, Vietnamnet, Thi truong Bat dong san & Tai san, Nguoi dua tin, Vnexpress
VinaCapital invests $45m in PV Power, Binh Son refinery in January IPOs
Deal Street Asia
| | |
| --- | --- |
| | VinaCapital's flagship fund, Vietnam Opportunity Fund (VOF) purchased the Binh Son Refining and Petrochemical (BSR) shares at a discount of 4% compared to the average price of VND23,000 ($1.01) for the equitization. The fund was able to secure around 10% of the available shares on offer with an investment of nearly $25 million in the refinery operator. BSR's large market capitalization and its 33% market share of the oil refinery business in the country made it an attractive target. Meanwhile, VOF invested more than $20 million into PV Power, the second-largest power generator in Vietnam. This is also an attractive investment with an estimated P/E of 11.5x at the starting price of VND14,400 ($0.63). The IPOs of PV Power and BSR, which raised $308 million and $245 million respectively last month, marked a milestone in the equitization process of state-owned enterprises of Vietnam. |
Warburg Boosts Logistics Bet With $200 Million Vietnam JV
Bloomberg
| | |
| --- | --- |
| | Warburg Pincus and the Becamex IDC Corp. announced on February 12th that affiliates from both have formed a joint venture. The venture, called BW Industrial Development JSC, will use the capital to develop and operate modern warehouses and factories in key economic and industrial zones, according to Warburg Pincus. It could also target industrial-related properties including research centers, flex office space and data centers.With the transformative shift of the manufacturing base from markets like China to Vietnam as well as with the rapid rise of domestic consumption, the logistics and industrial real estate market in Vietnam is in the 'early innings' and at an inflection point for outsized growth. The ADB forecasts the nation's economy will expand 6.7 percent this year, the second highest growth among Southeast Asian countries, trailing only the Philippines. |
Long An's infrastructure attracts real estate investors
Dantri News
| | |
| --- | --- |
| | Thanks to infrastructure projects in Long An help connect easily to HCMC: Trung Luong-HCM City highway, Ben Luc-Long Thanh Highway, Ben Luc-Hiep Phuoc Section of the Ring Road 4 is being built… With this advantage, various investors are planning carry out projects in this province such as: Van Thinh Phat Corp has 36 projects with a total 2,086 ha of land; Tran Anh Group with Bella Vista and Bao Ngoc Residence urban areas; Vingroup's Vincom Centre that costs VND400 billion (USD17.63 million); Truong Hai Auto Corp invest VND300 billion (USD13 million) shopping centre that covers over 20,000 square metres. Long An Bus Station was recently relocated and Nguyen Kim Development and Investment JSC company will use the 5,845 sm land for another shopping centre. On the other hand, The Hoan Cau Group in Long An has received approval to build Hoan Cau Long An hi-tech industrial zone. |
Top five infrastructure projects will be completed in 2018
Phap Luat Vietnam
1/ Quang Ninh airport with a total investment of VND485 billion on an area of 288.38 ha, airport level 4E.
2/ Ha Long Highway – Hai Phong is over 20 km long connecting Ha Long City and Hai Phong, total investment of over VND13,000 billion.
3/ HCMC urban planning exhibition centre, with a total investment of about $30 million, land area of 5.993 sm.
4/ Kim Quy Theme Park with total investment capital of VND4,600 billion, covering an area of over 100 hectares.
5/ Cua Hoi Bridge linking Nghe An – Ha Tinh with total investment of about VND1,050 billion. The total length of the bridge is about 6.2 km, of which the bridge is 1.63 km long, the bridge section of the bridge is 4.57 km long; bridge width 12m with 2 lanes, 2 lanes and ramps.
Hapro to conduct IPO
Vietnam Economic Times
| | |
| --- | --- |
| | Hapro will offer 75.93 million shares, or 34.51% of its charter capital, with a starting price of VND12,800 ($0.56) per share. It will bring in at least VND971 billion ($42.7 million) if successful. The IPO is scheduled to take place at 8.30am on March 30 at the Hanoi Stock Exchange. Under the approved equitization plan, Hapro has charter capital of VND2.2 trillion ($96.8 million). Regarding the structure of charter capital, the State does not hold shares, while preferred shares for employees total 1.07 million, representing 0.49% of charter capital, 75.93 million shares will be for public auction, or 34.51%, and 143 million shares will be sold to strategic investors, or 65%. Hapro is the first corporation belonging to Hanoi to be equitized. Its main activities are trading services, imports and exports, and the development of commercial infrastructure. |
Vietnam's Mobile World wins US$43.8 million investment
Inside Retail Asia
| | |
| --- | --- |
| | Vietnam's Mobile World, the nation's largest smartphone retailer, has received a US$43.8 million investment from Alstonia Costata, a subsidiary of South and Southeast Asia-focused private equity firm Creador. The deal follows the decision of previous investor Mekong Capital to sell its stake. The deal is Creador's first transaction in Vietnam. "Mobile World stands out among its peers, not only because of its dominance in offline retailing, but also its market-leading position in online retailing with 16 percent market share currently," Creador said in a statement. |
VI Group invests in Vietnamese supermarket chain Kid Plaza
Deal Street Asia
| | |
| --- | --- |
| | Vietnamese private equity firm Vietnam Investment Group (VI Group) has invested in Kid Plaza, becoming a minority shareholder in the mother-and-baby segment focused retailer. A top company executive has confirmed the investment to DEALSTREETASIA. Its value, however, was not disclosed. Founded in 2009 by CEO Do Van Tuan, Kids Plaza owns 72 supermarkets nationwide and an online retail channel, offering over 10,000 products for mother and children. VI Group is a private equity firm that focuses on high growth businesses in Vietnam. Founded in 2006, the PE firm provides early-stage and expansion capital to industry-leading companies and works with management to grow revenue and margins and improve operations, thus creating shareholder value |
Viglacera builds houses for industrial zone workers
Bizhub
| | |
| --- | --- |
| | The Viglacera Corporation on Wednesday started construction of a housing project for workers in the Phu Ha Industrial Zone in the northern province of Phu Tho. Tran Anh Tuan, director of the Viglacera projects management board, said the social housing project covered an area of 4.3ha in Ha Loc Commune of Phu Tho Town. The VND480 billion (US$21 million) project is expected to provide 630 apartments, ranging from 26sm to 70sm, to some 2,500 workers. The rent is estimated at VND30,000 per square metre. The project aims at improving the living standard of the employees, ensuring their commitment to the enterprise, as well as attracting more investments in the industrial zone. |
THACO opens $22mn agricultural machinery factory
Dantri News
| | |
| --- | --- |
| | Truong Hai Auto JSC opened a THACO agricultural machinery factory with a capacity of producing 2,000 tractors a year on February 21 in the Chu Lai – Truong Hai Automobile Mechanical Complex at the Chu Lai – Truong Hai Open Economic Zone in central Quang Nam province. Construction began in January 2017 on an area of 12,500 sm with total investment of VND500 billion ($22 million) and the factory will manufacture agricultural tractors with a capacity of 18HP – 120HP, harvesters, and farming equipment for agriculture under the ISO:TS16949 quality management system. The factory will prioritize the use of materials available in Vietnam, cooperate with local manufacturers to produce localized components, and import high-tech components that cannot be produced domestically from South Korea and ASEAN countries. |
Japanese group builds auto parts factory in Thai Binh
Vietnamplus
| | |
| --- | --- |
| | Construction on a USD24.6 million auto parts factory is under-way in the northern Thai Binh province's Tien Hai Industrial Zone with completion expected in July 2019. Financed by the Japanese Toyoda Gosei Group, the 11.3ha-factory will manufacture airbags and leather steering wheels which will be mainly exported to Japan, the US and Europe. Work on the factory kicked off early this month. Once operational, the factory is expected to create about 1,500 local jobs. The company said it believes that the project will contribute to accelerating the development of Thai Binh province as it will create more jobs for local people and improve their skills. |
FOR MORE INFORMATION,CONTACT:
Dung Duong MRICS
Director
T +84 8 3824 6125
dung.duong@cbre.com
An Nguyen
Director
T +84 4 2220 0220
an.nguyen@cbre.com