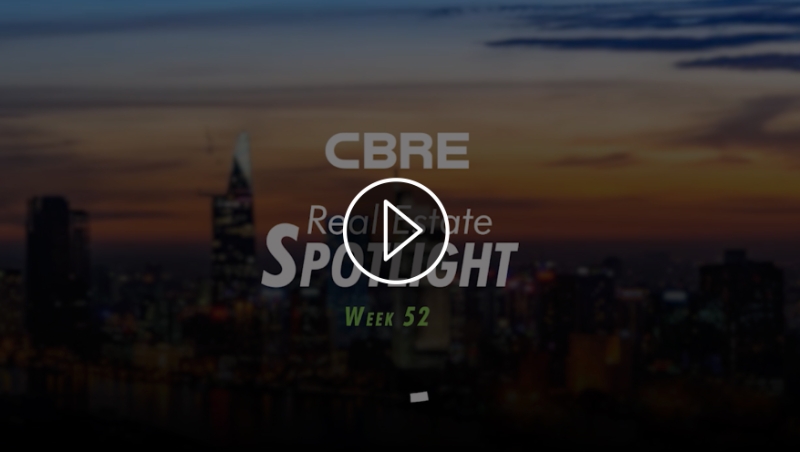 Bac Ninh City is recognized as 1st-tier City
Nhan Dan Online
| | |
| --- | --- |
| | Prime Minister Nguyen Xuan Phuc has signed Decision No. 2088 / QĐ-TTg dated 25-12-2017, recognizing Bac Ninh City as first-tier urban area under Bac Ninh province. The city has a system of road, railway and inland waterway transports which are favorable for the production and circulation of goods and attract investment in the fields of trade – services, industry – cottage industry and handicraft towards high technology and tourism development |
Foreign funds rushing year-end stock transactions
Vietnam Investment Review
| | |
| --- | --- |
| | Specifically, during December 4-8, foreign funds were reported to sell a whopping volume of stocks worth around $53 million. As claimed by numerous market specialists, foreign-owned funds might be restructuring their portfolios by divestiture and capital relocation. Several market analysts suggested a new wave of investment will reach real estate firms whose properties are condensed in Ha Dong district. |
GDP growth in 2017 exceeded target, reached 6.81%
NDH
| | |
| --- | --- |
| | Vietnam's GDP growth in 2017 reached 6.81% compared to 2016. Thus, this year Vietnam exceeds the growth rate of 6.7% set out from the beginning of the year and higher than the growth rate of 2011-2016. In order to achieve GDP growth, the Government has implemented a number of solutions, including the reduction of administrative procedures and business conditions, enabling enterprises to develop. |
Vietnam's Economic Growth Will Accelerate In 2018 As Investors Flood The Country
Forbes
| | |
| --- | --- |
| | Most offshore investment comes from South Korea, Singapore, Japan and Taiwan, all places where manufacturing costs more than in Vietnam. Registered FDI increased 44% y-o-y through December 20 to $29.68 billion. Major 2017 investments are Samsung Electronics with an additional investment of $2.5 billion and Thai Beverage's proposed investment of 25% to 51% in the major Vietnamese brewery Sabeco. |
Credit growth in 2017 increases 19%
NDH
| | |
| --- | --- |
| | By the end of the year, credit growth will be about 19%, focusing on priority areas, tighter credit control on real estate, securities, consumer spending. This results helps the basic inflation of the banking sector gradually decreases from 1.8% to the expected level at the end of the year. Credit growth this year is in line with the absorption capacity of the economy, positive support for growth but not too high to create inflationary pressures. |
Int'l tourist arrivals to VN increases 29.1 percent over 2016
VnExpress
Vietnam welcomed 12.9 million international travelers in 2017, an increase of 29.1 percent compared to the previous year. Also this year, Vietnam was ranked the sixth position in the world and the Asia- Pacific region in the tourism growth and attractive tourism destination.
Hanoi recovers more than 4,600 hectares of land for projects in 2018
VNExpress
Hanoi approved the list of 1,415 buildings, land acquisition projects with an area of 4,654 ha and the list of 407 buildings, projects on changing land use purpose of rice, protective forest and special-use forest with an area of ​​644.67 ha. Among them, there are many new housing projects such as Ecohome3 – 5.8 ha, mixed use Constrexim building – 2.55 ha, Dong Ngac Social Housing – nearly 23ha, etc.
ADB provides support to Northeastern and North Central provinces in Viet Nam
CafeF
| | |
| --- | --- |
| | Local authorities are calling for investment in 5 projects in Van Don, including Phuong Hoang ecotourism project (691 ha with total estimated investment of VND 5,500 billion); a tourism project in the island of Nui Dat (116ha, total investment of about 3,150 billion); a tourism project in the island of Hon Nhu (120ha with total investment of VND 637 billion); Cai Bau eco-tourism project (452ha with total investment of 3,500 billion VND) and a tourism project at Hon Chong (28ha with total investment of 2,500 billion). |
Deputy PM approves adjustments to inland container depot master plan
Saigon Giai Phong
| | |
| --- | --- |
| | Inland container depots will be developed into centres for organising goods transport and providing logistics services. According to the plan, 15 inland container deports will be built across the country, including six in the north, six in the central and Central Highlands and three in the south. Total investment capital for the plan to 2020 is estimated at 9-15 trillion VND (US$396.9 – 661.5 million), while for 2020-2030 funding will be about 20-22 trillion VND (US$882 – 970.2 million). |
CBRE Newspaper Updates on Residential Ads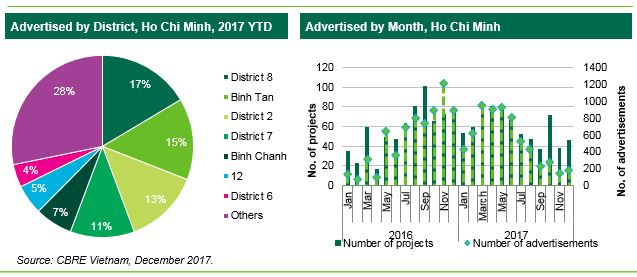 No new launch
Advertisements:

Flora Mizuki (Binh Chanh District)

Total units: 1080 (for condos only)
Scale: five 25-floor blocks
Unit size: 56.03 – 98.41 sm (2 – 3 bedrooms)
Price*: from VND 1.2 billion/2BRs

Ascent Lakeside (District 7)

Total units: 144 (for condos only)
Scale: one 23-floor block
Unit size: 60.24 – 123.29 sm (1 – 3 bedrooms)
Price*: from VND 38 million/sm
* Prices included VAT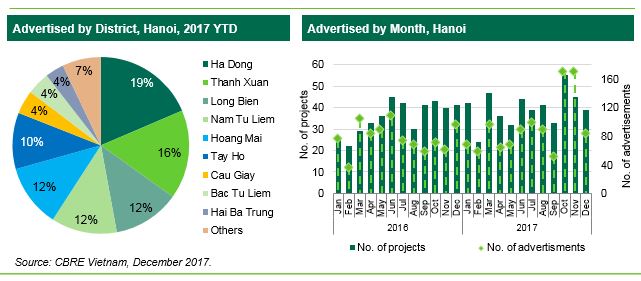 ​
2 new launches

Green Pearl (Hai Ba Trung district)

Total units: 504 units
Scale: 11,404 sm land area
Unit size: 71 – 140 sm (2 – 3 bedrooms)
Price*: from VND 31 million psm

Sky Central (Hoang Mai district)

Total units: 902 units
Scale: 13,461 sm land area
Unit size: 64.6 – 104.7 sm (2 – 3 bedrooms)
Price*: from VND 25 million psm

Advertisement

Hinode City (Hai Ba Trung district)

Total units: 1,099 units
Scale: 31,246 sm land area
Unit size: 76 – 128 sm (2 – 4 bedrooms)
Price*: from VND 40 million psm

The Mansions – Terrace and Villa (Ha Dong district)

Total units: 146 units
Scale: 51,600 sm land area
Unit size: 154 – 284 sm (4 – 5 bedrooms)
Price*: from VND 85 million psm
* Prices included VAT
Note: Selected newspapers include Dau Tu Bat Dong San, Thoi bao kinh te Vietnam, The gioi thong tin bat dong san, CafeF, Tap chi dau tu bat dong san, Vietnamnet, Thi truong Bat dong san & Tai san, Nguoi dua tin, Vnexpress
FOR MORE INFORMATION,CONTACT:
Dung Duong MRICS
Director
T +84 8 3824 6125
dung.duong@cbre.com
An Nguyen
Director
T +84 4 2220 0220
an.nguyen@cbre.com