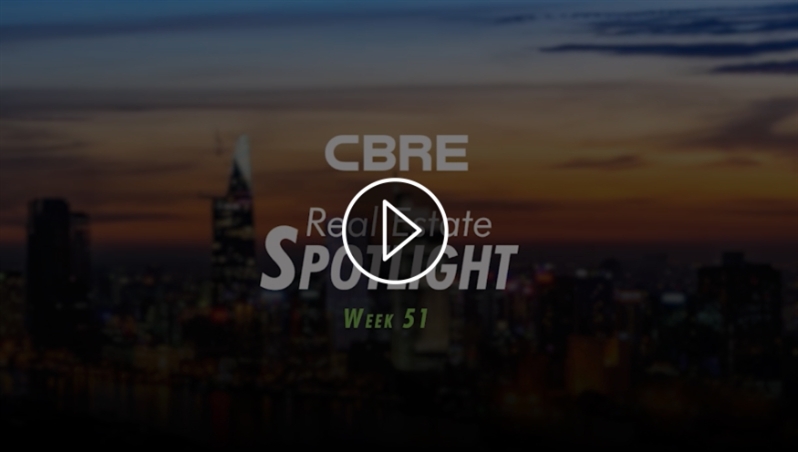 Keppel Land to buy two prime sites in Vietnam for US$297m
The Business Times
Keppel Land has entered into two conditional sales and purchase agreements to acquire 100% interest in two prime sites in HCMC. The first site located in Saigon South of HCMC, the second site is located in District 9 and borders the affluent residential enclave of District 2. The total development cost of the two sites amounts to US$297 million.
Vietnam sees robust investment activities with multi-million-dollar deals in 2017
NDH
| | |
| --- | --- |
| | Foreign investors poured more capital into real estate, retail and financial services. Notable deals are KKR invests US$250 million in Masan, US$740 million IPO deal from Vincom Retail, Caldera Pacific and Samsung Securities to buy Dragon Capital's shares, CapitaLand launches its first investment fund worth US$300 million in Vietnam. |
Kuwait Fund loans for coastal infrastructure development
Vietnam Plus
| | |
| --- | --- |
| | The Ministry of Finance and the Kuwait Fund for Arab Economic Development signed a US$9 million loan agreement on December 19 to develop infrastructure in coastal areas in Thai Thuy district of the northern province of Thai Binh. The project is expected to help the province increase business production. To date, Kuwait Fund has supported loans for Vietnam to carry out 14 projects worth nearly US$169 million. |
A subsidiary of Suoi Tien invested in 177-ha site in Dong Nai
NDH
| | |
| --- | --- |
| | Dong Nai People's Committee has approved the 1/500 master plan of Son Tien resort in An Hoa commune, Bien Hoa city with an area of ​​over 177 hectares by Son Tien Ecotourism City JSC (member belonging to Suoi Tien Tourist Group, HCMC) as an investor. According to the approved planning, Son Tien Resort has a total area of ​​over 177ha, serving 40,000 people per day – night. |
Ha Long – Cam Pha sea route will be started before 30 June 2018
Laodong
| | |
| --- | --- |
| | Mr. Nguyen Van Doc – Quang Ninh Provincial Party Secretary – agreed on the proposal of Vingroup and requested before 30 June 2018 must start of the route of Ha Long – Cam Pha. According to the report of Vingroup, the project of the sea route of Ha Long – Cam Pha, about 30km long, is implemented in the form of BT. This is a very interesting project of the province, inviting investors to connect the traffic between two big cities of the province, forming a system of ports along the route, exploiting the potential development of seaports. |
Amazon Group has two-step strategy for Vietnam
Inside Retail Asia
| | |
| --- | --- |
| | Meeting with the Vietnam e-Commerce Association (VECOM) last week, the group revealed a two-step strategy for Vietnam. As well as exporting goods to Vietnam, it also wants to help Vietnamese small and medium enterprises sell Vietnamese goods overseas. Amazon's move follows Chinese online giant Alibaba acquiring a controlling stake in Lazada Group last year with the aim of making Lazada the leading e-commerce site in Vietnam. |
AEON MALL Haiphong project to be kicked off in second quarter of 2018
Vietnam Investment Review
| | |
| --- | --- |
| | The investor of AEON MALL Haiphong in collaboration with the Haiphong People's Committee, has accelerated completing the procedures in early 2018 so that the construction can be started in the second quarter. The city will complete the site clearance this month, simultaneously completing the approval of procedures in January 2018. Under the agreement, AEON MALL Vietnam will invest, build, manage, and develop an integrated shopping mall and provide related services. |
ADB provides support to Northeastern and North Central provinces in Viet Nam
Hanoi Times
| | |
| --- | --- |
| | The Asian Development Bank's (ADB) Board of Directors has approved a $150 million loan to help improve economic connectivity and raise living standards in four of Viet Nam's northeastern provinces by enhancing basic infrastructure and services. Specifically, the project will improve road connectivity among the provinces by upgrading about 121 kilometers (km) of provincial and 144 km of district roads, provide rural water supply, benefiting 42,300 people. Total cost of the project is $190.3 million, with the Government of Viet Nam contributing $40.3 million. The project is expected to be completed by the first quarter of 2023. |
The "push" for Binh Duong's real estate in 2018
CafeF
| | |
| --- | --- |
| | A series of positive information on development indicators is helping Binh Duong real estate market flourish and is expected to accelerate strongly in 2018 such as: The Prime Minister signed the decision to recognize Thu Dau Mot city as a tier 1 city in Binh Duong province, The metro line 1 extends to Binh Duong, FDI enterprises invested nearly US$2 billion in Binh Duong, Economy is growing strongly with an average growth of about 15% per year, etc. |
Ha Noi prepares land for developing resettlement apartments
Vietnam

Breaking News
The capital city recently submitted a document to the Government Office to clarify its proposed mechanisms for firms to develop resettlement apartments in the capital city. Under the proposals, Ha Noi will prepare land and select developers with adequate capacity to develop these resettlement housing projects. An important criterion for developers is that they must promise not to calculate loan costs in the apartment price.
CBRE Newspaper Updates on Residential Ads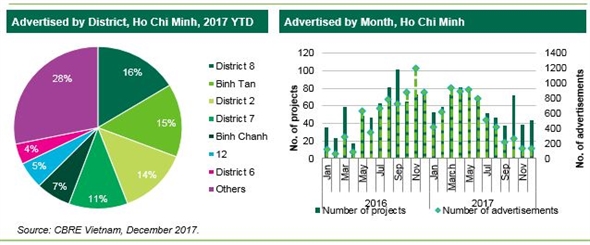 No new launch
Advertisements:

CitiEsto (District 2)

Total units: 528 (for condos only)
Scale: two 25-floor blocks
Unit size: 55.5 – 103.6 sm (2 – 3 bedrooms)
Price*: from VND 1.2 billion/2BRs

Calla Garden (Binh Chanh District)

Total units: 207 (for condos only)
Scale: two 17-floor blocks
Unit size: 50 – 107 sm (1 – 3 bedrooms)
Price*: from VND 18.5 million/sm

Thu Thiem Dragon (District 2)

Total units: 274 (for condos only)
Scale: two 23-floor blocks
Unit size: 45.2 – 93 sm (1 – 3 bedrooms)
Price*: from VND 2.2 billion/2BRs
* Prices included VAT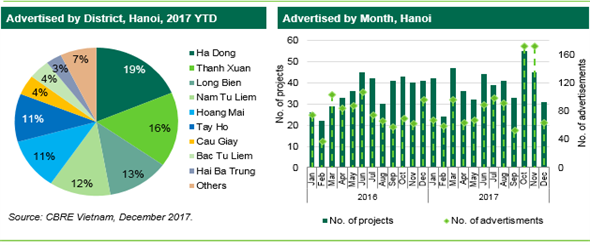 ​
No new launched
Advertisements

D' El Dorado (Tay Ho District)

Total units: 448 units
Scale: 3,182.7 sm land area
Unit size: 33 – 160 sm (1 – 3 bedrooms)
Price*: from VND40 million/sm

Green Pearl (Hai Ba Trung District)

Total units: 504 units
Scale: 11,404 sm land area
Unit size: 71 – 140 sm (2 – 3 bedrooms)
Price*: from 31 million/sm

Sunshine City (Tay Ho district)

Total units: 2.368 units
Scale: 21.702 sm land area
Unit size: 76 – 114 sm (2 – 3 bedrooms)
Price*: from 32.6 million/sm
* Prices included VAT
Note: Selected newspapers include Dau Tu Bat Dong San, Thoi bao kinh te Vietnam, The gioi thong tin bat dong san, CafeF, Tap chi dau tu bat dong san, Vietnamnet, Thi truong Bat dong san & Tai san, Nguoi dua tin, Vnexpress
FOR MORE INFORMATION,CONTACT:
Dung Duong MRICS
Director
T +84 8 3824 6125
dung.duong@cbre.com
An Nguyen
Director
T +84 4 2220 0220
an.nguyen@cbre.com