CBRE Newspaper Updates on Residential Ads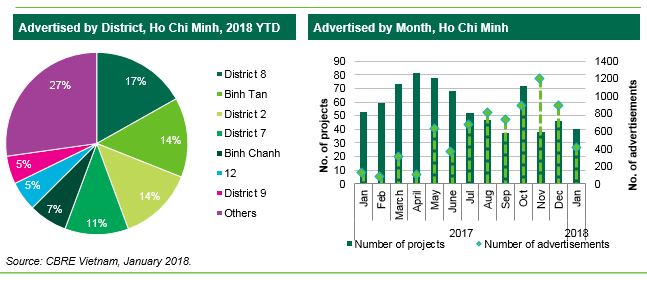 No new launched
Advertisements:

Q2 Thao Dien

Total units: 315 (for condos only)
Scale: one 32-floor block
Unit size: 50 – 180 sm (1 – 4 bedrooms)
Price*: from VND 60 million/sm

Dream Home Riverside
Total units: 2000 (for condos only)
Scale: six 25-floor blocks
Unit size: 56 – 75.12 sm (1 – 3 bedrooms)
Price*: from VND 19 million/sm
Total units: 900 (for condos only)
Scale: two 33-floor blocks
Unit size: 45 – 92 sm (1 – 3 bedrooms)
Price*: from VND 46 million/sm
Masteri An Phu

* Prices included VAT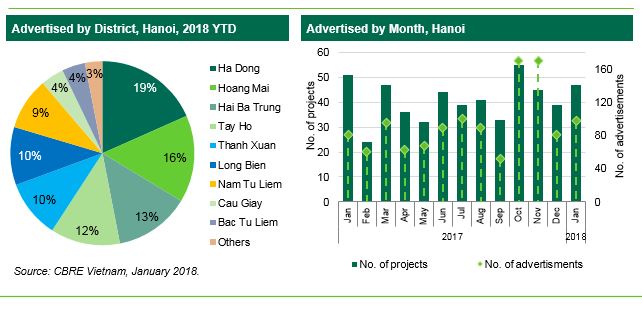 ​
No new launched
Advertisement

Northern Diamond (Long Bien district)

Total units: 196 units
Scale: 9,166 sm land area
Unit size: 94.4 – 107.6 sm (2 – 3 bedrooms)
Price*: from VND 28 million psm

TNR Goldmark City (Bac Tu Liem district)
Total units: 5,000 units
Scale: 113,909 sm land area
Unit size: 74 – 172 sm (2 – 4 bedrooms)
Price*: from VND 23 million psm
Total units: 359 units
Scale: 41,798 sm land area
Unit size: 60 – 135 sm (3 – 4 bedrooms)
Price*: from VND 55 million psm
La Casta – Landed Properties (Ha Dong district)
Prices included VAT
Note: Selected newspapers include Dau Tu Bat Dong San, Thoi bao kinh te Vietnam, The gioi thong tin bat dong san, CafeF, Tap chi dau tu bat dong san, Vietnamnet, Thi truong Bat dong san & Tai san, Nguoi dua tin, Vnexpress
My Thuy intersection tunnel opens to traffic in HCMC
SGGP Online
| | |
| --- | --- |
| | HCMC Department of Transport opened to traffic the tunnel under My Thuy intersection, District 2 after eight months of construction to ease traffic jam in roads leading to Cat Lai seaport. The 405m long tunnel permits vehicles to travel 40 kilometers an hour. Two and three wheel vehicles are banned from entering the tunnel. The tunnel started construction in June 2016. The first phase has the total investment capital of VND840 billion (US$37 million) from the state budget. |
Van Hanh Mall opens in HCMC
Inside Retail in Asia
| | |
| --- | --- |
| | Van Hanh Mall, has opened in HCMC, on Su Van Hanh Street in District 10. Built on a 90,000sm site, the shopping complex has 55,000sm of retail space, which is 90 per cent occupied already, by more than 200 international and local brands. Tenants include Bata, Charles & Keith, CGV multiplex cinema, a Superbowl amusement center and a giant European-themed bookstore. A Co.opXtra hypermarket, operated by Saigon Co.op and Singapore's NTUC FairPrice, also opened, marking the brand's third outlet in the city. There are nine parking floors from basement to fifth floor, enough space for 350 cars and 3000 bikes. Built at the cost of VND 1 trillion (US$ 43.9 million), Van Hanh mall rentals range from US$30-60 per sqm. |
HCMC seeks private investment to relocate canal slums
VnExpress
| | |
| --- | --- |
| | The city plans to spend VND22.4 trillion from its own budget to remove nearly 14,400 slums from along small canals that do not have high commercial value and are unattractive to investors. The sum includes the cost to resettle those families in 52 condo projects. It will need around VND22 trillion more from investors for the other 8,000 shanty houses. "Investors will be permitted to use either the land along the canals or other ideal locations around the city for their businesses," said Tran Trong Tuan, director of the city's construction department. |
PV Power acquires $308.2 million from IPO
VIR
| | |
| --- | --- |
| | PV Power acquired VND 6.99 trillion (US$ 307.8 million) from selling 468.37 million shares, equaling 20% of its charter capital, via its initial public offering (IPO). 1,928 investors won in the auction, including 94 organizations and 1,834 individuals. After the auction, all the 468.37 million shares on offer were sold at the average selling price of VND14,938 ($0.66) per share, with the highest and lowest selling prices being VND28,000 ($1.23) and VND14,500 ($0.64). After the sale, PV Power's total capitalization reached $1.48 billion. After the IPO, PV Power will sell 676 million shares, or 29% of its charter capital, to strategic investors. |
Moody's Cautions Vietnam Against Further Monetary Easing
Bloomberg
Vietnam should be cautious against more monetary accommodation as it could pose risks to the economy and the banking sector, Moody's Investors Service said. "Given the government's focus appears to be towards supporting headline growth, the State Bank of Vietnam may continue to pursue a neutral to accommodative policy stance," Anushka Shah, Moody's sovereign analyst in Singapore, said in a Jan. 26 emailed reply to questions. "However, easier monetary policy risks undermining macroeconomic stability, particularly amid already rapid credit growth," Shah said. "A continued acceleration in credit growth could also pose some risks to the banking sector by eroding banks' capital buffers." Vietnam lending rose 18.2 percent in 2017 and the central bank forecasts growth of 17 percent this year. The World Bank in December also warned against rapid credit expansion in Vietnam, saying it may induce excessive risk taking and could worsen asset quality.
Vietnamese province proposes plan to build tunnel under Ha Long Bay
VnExpress
| | |
| --- | --- |
| | Quang Ninh Province wants to build a tunnel running more than 1.3 km (less than a mile) from Hon Gai Pier to Bai Chay Beach at the entrance to the bay. The two tourist destinations are currently connected by a bridge but travel is often threatened by stormy weather. If the prime minister gives his approval, work on the six-lane tunnel could start in early 2019, according to local media reports. The project would cost an estimated VND7.9 trillion ($346.57 million) |
TH Group begins construction of juice factory in Son La
Vietnam Plus
| | |
| --- | --- |
| | The TH Group began construction of its fruit and fruit juice processing factory in Van Ho district in the northern mountainous province of Son La on January 25. Capitalised at 1.2 trillion VND (53 million USD), the factory will be developed in 2 phases. The first, worth 300 billion VND, will process fruits such as orange, longan, mango and passion fruits with an annual capacity of 30,000 tonnes of products to be sold to other fruit juice producers. Meanwhile, the second, valued at 900 billion VND, will provide several kinds of canned fruit juices. |
HCMC approves planning project of Can Gio Urban Area
NDH
| | |
| --- | --- |
| | HCMC approved the planning project of Can Gio Tourism Urban Area in 1/5.000 rate. The project spreads over the area of 2870 ha including Long Hoa Commune and Can Thanh Ward, Can Gio District. The planning project will reserve ecologic environment in Can Gio Mangrove Forest and Wildlife Reservation Area. Can Gio is the only district surrounded with seaside and large mangrove forest, locating 70 km from HCMC. |
Hoa Binh Construction Group wins multi-million dollar contracts
Vietnam Plus
| | |
| --- | --- |
| | On January 31, Hoa Binh Group signed a contract worth 470 billion VND (over 20.6 milion USD) with the Cam Lam Investment Ltd. under which it will undertake the construction of the Swiss Belresort Nha Trang. It has a total investment of 2,100 billion VND (nearly 92.2 million USD). One day earlier, the group also inked two contracts with a total value of 110 billion VND (4.8 million USD) for the construction of the foundation and basement of the Hoang Cau office and commercial complex in Hanoi's Dong Da district and the structure of the office building at No. 198 Tran Quang Khai street in Hanoi's Hoan Kiem district. |
Forbes: U23 Vietnam – a success of youth training
Vietnamnet
The Vietnamese Football Federation (VFF) cooperated with Arsenal FC and opened the Hoang Anh Gia Lai academy which has trained players with technical competence, hard-tackling style, and athleticism. Last year, on one U23 national side, nine of the 18 players came from the HAGL academy. The number of Vietnamese teams on the international level has also grown. Vietnam was Southeast Asia's only representative at the FIFA U20 World Cup.

The Vietnamese football team became the runner-up at the AFC U23 Championship 2018 after losing 1-2 to Uzbekistan in the final.

Therefore, the only thing most people know about Vietnamese football is that the youth team looks extremely promising.