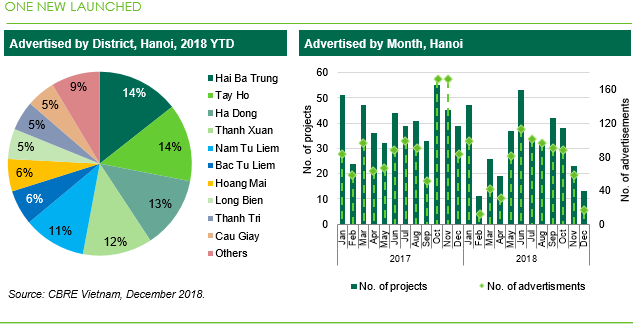 One New Launched:

Pandora Tower (Thanh Xuan District)

Scale: 41,648 sqm land area
Total units: 286
Unit size: 78 – 146 sqm
Price*: from VND 29 million psqm

Advertisement:
Rivera Park (Thanh Xuan District)

Total units: 666 units
Scale: 11,234 sqm land area
Unit size: 68.6 –104.7 sqm (2- 3 bedrooms)
Price*: from VND 32 million psm

The Sun Me Tri (Nam Tu Liem District)
Total units: 270 units
Scale: 36,800 sm land area
Unit size: 74 – 116 sm (2- 3 bedrooms)
Price*: from VND 31 million psm
* Prices included VAT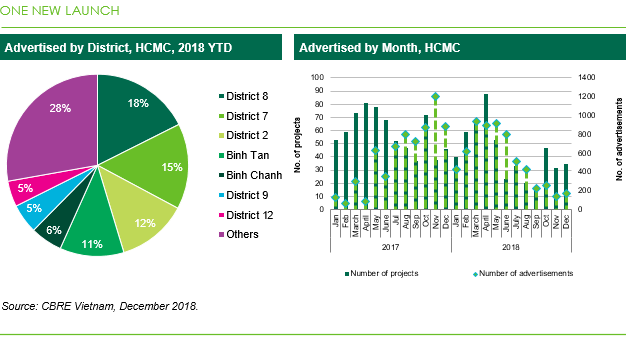 One New Launch

CitiAlto (District 2)

Total units: 675 units
Scale: 1.7 ha
Unit size: 52 – 55 sm (2 bedrooms)
Price: VND 1.45 billion/ 2BRs

Advertisement:
Q7 Sai Gon Riverside Complex (District 7)

Total units: 3,580 units
Scale: 75,224.5 sm
Unit size: 53.2 – 86.7 sm (1 – 3 bedrooms)
Price: VND 29 million psm (excl VAT)

Charmington Iris (District 4)
Total units: 1,438 units
Scale: 16,645 sm land area
Unit size: 45 -122 sm (1 – 3 bedrooms)
Price*: from VND 52 million psm
* Prices included VAT
Update base on newspaper date 3 – 7 December 2018
Vietnam all set for first private airport


The first private airport in Vietnam, near the world-renowned Ha Long Bay, will become operational on December 30. The 325-hectare (803 acres) airport in northern Quang Ninh Province, owned by real estate giant Sun Group, costs VND7.7 trillion ($330 million) and can handle 2.5 million passengers a year.
AirAsia to launch airline in Vietnam with local partner

AirAsia, the largest low-cost carrier in Southeast Asia, said on Thursday that it has agreed with its partner in Vietnam to launch a domestic airline next year, to gain a footprint in the fastest growing air travel market in the region.
South Korean banks race into Vietnam, drawn by deregulation

South Korean banks are scrambling to expand their presence in Vietnam, betting on the emerging country's growth potential and its intent to loosen foreign ownership limits.
Indochina and Kajima lay first brick of billion-dollar hotel chain

Indochina Kajima, a joint venture between Indochina Capital, a leading real estate property developer in Vietnam, and Kajima Corporation, Japan's most prolific overseas real estate developer, has just broken ground on its first Wínk Hotels in HCMC. Located in a rapidly gentrifying area within District 1, Ho Chi Minh City's central business district, Wínk 75 NBK will appeal to the young-at-heart business and leisure traveller. The 237-room hotel will offer modern design, a hip interactive lobby, co-working space, innovative food and beverage concepts, cutting edge technology, and beautifully appointed minimalist-style guestrooms.
Vietnam's Central Premium Mall set to open next year

HCMC is getting a new shopping centre, Central Premium Mall, in District 8, next year. Set to open in the third quarter of next year, the six-storey mall spans 40,000sqm, and is expected to welcome more than 3 million visitors annually.
Vung Tau revised its master plan to lure investments

With a view to transforming the city of Vung Tau into a modern financial, trade, and tourism centre of national and ­international significance, the Vung Tau People's Committee has made sweeping changes to its master plan ­towards 2035.
Vietnam's first aircraft engine parts factory launched

The Hanwha Aero Engines factory project was granted an investment registration certificate by Hoa Lac Hi-Tech Park Management Board with a total investment capital of US$200 million. Construction started on September 21, 2017 on a total area of nearly 97,000 sqm.
Apple assembler Foxconn considering iPhone factory in Vietnam -state media

Foxconn, the world's biggest electronics contract manufacturer and a key Apple Inc supplier, is considering setting up a factory in Vietnam to mitigate any impact of an ongoing trade war between the United States and China, Vietnamese state media reported.
World's largest car rental firm drives into Vietnam

The world's largest car rental servicer, Enterprise Holdings, recently announced that its Enterprise Rent-A-Car service is now available in Vietnam. The move is part of Enterprise Holdings' goal to expand its car rental services across the Asia Pacific region. Enterprise Rent-A-Car will operate in Vietnam through its Vietnamese franchise partner MP Logistics.
How do real estate firms find capital when the "G" credit squeeze is approaching?

Crowds flocked to the Landmark 81 building in Vinhomes Central Park in HCMC's Binh Thanh District on November 26 to see the four latest automobile and electric motorbike models unveiled by local carmaker VinFast, a member of Vingroup.
Steps taken to draw foreign investment in Vietnam's infrastructure

The Vietnamese government has recently launched the Vietnam Infrastructure Working Group in a move to better lure private investment, especially foreign flow, into the country's infrastructure development.
FOR MORE INFORMATION,CONTACT:
Dung Duong MRICS
Director
T +84 8 3824 6125
dung.duong@cbre.com
An Nguyen
Director
T +84 4 2220 0220
an.nguyen@cbre.com