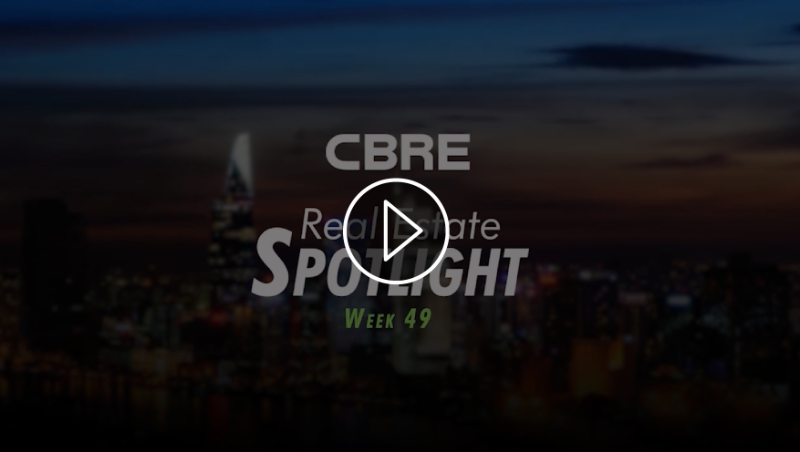 Within 11 months, 16,000 real estate businesses were newly established in HCMC
Baocungcau
Of the 37,600 newly established companies with registered capital of VND500,751 billion in HCMC, 42.4% were real estate businesses, with registered capital of VND212,199 billion dong, an increase of 95.3% y-o-y. These are mainly concentrated in districts 1, Tan Binh, Binh Thanh, Go Vap and Binh Tan. HCMC had approved for 751 projects which have foreign investment. The total registered capital is US$1.97 billion, increased 240%
y-o-y.
Hanoi: 6 industrial clusters to be established
Hanoitimes
| | |
| --- | --- |
| | Hanoi People's Committee issued a number of decisions on establishing industrial clusters: Cam Thuong in Ba Vi District (15.59 ha), Yen Son in Quoc Oai District (8.76 ha), Lien Hiep in Phuc Tho District (8.1 ha) and Bac Van Dinh in Ung Hoa suburban districts (50 ha). |
Thu Dau Mot became first-tier urban area
VnEconomy
| | |
| --- | --- |
| | Prime Minister Nguyen Xuan Phuc has just signed a decision to recognize Thu Dau Mot city as a tier-1 city belonging to Binh Duong province. Thu Dau Mot has a natural area of 118.67 km and 293,349 people (2015), with 14 administrative units at ward level. This is an important city of Binh Duong province which lead the whole province economy, tourism and industrial production. |
CIMB Makes Digital Banking Push, Starting With Vietnam Next Year
Bloomberg
| | |
| --- | --- |
| The Kuala Lumpur-based lender will launch its first fully digital bank in Vietnam in Jan 2018. Digital retail banking will allow lenders to reduce their cost-to-income ratios to 20-30% from around 50% once such operations gain size and momentum in 5 to 10 years. Cost savings is one reason why CIMB continuing to improve profitability over the next two years. | |
Van Don int'l airport to be operational in 2018's Q2
Vietnamnet
| | |
| --- | --- |
| | The Van Don International Airport in the northern province of Quang Ninh, the first airport invested by a private business in Vietnam, is scheduled to be operational in late June 2018. It is designed to serve 2 million passengers a year by 2020. The total investment was nearly 7.5 trillion VND (US$330 million) by Sun Group. Construction on the airport started in 2015. It is the first airport project in Vietnam developed under build-operate-transfer (BOT) format, with a payback period of 45 years. |
Vietnam to audit public investment, BOT projects
Tuoi Tre News
A total of 40 BOT projects were audited in 2016 and 2017.
In 2016, the State Audit Office of Vietnam audited 27 BOT projects, suggesting a reduction in construction costs worth a total of VND1.15 trillion (US$50.6 million). Several BOT projects will also come under scrutiny in 2018, namely the Trung Luong- My Thuan Expressway in the Mekong Delta, Viet Tri- Ba Vi Bridge in northern Phu Tho Province, and the upgrade of National Highway 18 in the northern province of Uong Bi.
Hanoi approves Hoa Lac satellite town
The Saigon Times
Hanoi People's Council on December 5 has approved a project to develop Hoa Lac satellite town which will be home to 600,000 people by 2030. Hoa Lac will be a science & technology research center which will help train high-skilled workers, save energy and provide healthcare services. Hanoi authorities should propose the central Government issue preferential policies to attract investment in the Hoa Lac Hi-Tech Park project. Site clearance for the project remains incomplete due to a lack of capital.
Vietnam: FPT Retail's IPO launch set for December 15
Deal Street Asia
| | |
| --- | --- |
| | Details of the IPO pricing are not disclosed, although the company's book value per share stood at VND34,525 apiece by the end of September. It is also said that FPT Retail intends to pay dividend in the form of stocks at the rate of 100 per cent this year.In the first six months of 2017, the business has delivered revenue of VND6.2 trillion ($273.12 million), up 31 per cent year-on-year, and profit before tax of VND141 billion, up 44 per cent. It expect to reach 27.5 per cent and 40 per cent increases in terms of revenue and profit before tax for this fiscal year. |
Vinalines partners with Belgian enterprise to build grain port in Hai Phong
Vietnam Plus
| | |
| --- | --- |
| | Vinalines and Rent A Port will develop a grain specialised port, capable of receiving 100,000 DWT ships, and construct a 250 hectare logistics centre opposite the grain port to facilitate the handling, storage and distribution of grain for the northern region. Under the IPO plan, Vinalines is allowed to hold a maximum of 65% of registered capital at key ports, including Hai Phong, Sai Gon and Da Nang. Vinalines currently manages a fleet of off-shore vessels with total capacity of nearly two million tonnes, occupying some 25% of the national fleet's capacity. |
Standard & Poor's upgrades credit rating for Vingroup
Viet Nam News
| | |
| --- | --- |
| | S&P upgraded the long-term credit rating for Vingroup from "B" to "B+". With the positive improvement of Vietnam's economy, S&P forecasts sales of Vingroup's real estate will reach VND70-75 trillion between 2017 and 2019, double the group's sales revenue in the previous years. Besides real estate for sale, Vingroup's real estate for lease is also expanding. Vincom Retail is maintaining its position as the biggest commercial centre operator in Việt Nam, accounting for 60 per cent of the market share in Ha Noi and HCMC, with nearly 1.2 million sm of retail floor area. |
CBRE Newspaper Updates on Residential Ads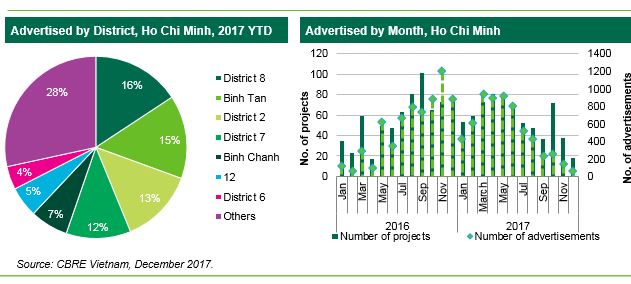 No new launch
Advertisements:

CitiEsto (District 2)

Total units: 528 (for condos only)
Scale: two 25-floor blocks
Unit size: 55.5 – 103.6 sm (2 – 3 bedrooms)
Price*: from VND 1.2 billion/2BRs

Calla Garden (Binh Chanh District)

Total units: 207 (for condos only)
Scale: two 17-floor blocks
Unit size: 50 – 107 sm (1 – 3 bedrooms)
Price*: from VND 18.5 million/sm

Thu Thiem Dragon (District 2)

Total units: 274 (for condos only)
Scale: two 23-floor blocks
Unit size: 45.2 – 93 sm (1 – 3 bedrooms)
Price*: from VND 2.2 billion/2BRs
* Prices included VAT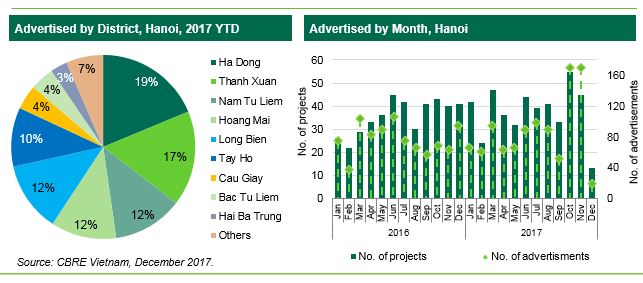 ​
One new launched

An Binh City – A3 Block (North Tu Liem District)

Total units: 396 units
Scale: 22,693 sm land area
Unit size: 60 – 89 sm (2 -3 bedrooms)
Price*: from VND26.5 million/sm

Advertisements

Sky Central (Hoang Mai District)

Total units: 902 units
Scale: 13,462 sm land area
Unit size: 65 – 104.7 sm (2 – 3 bedrooms)
Price*: from VND25 million/sm

KOSMO (Tay Ho District)

Total units: 648 units
Scale: 10.9 ha land area
Unit size: 50 – 130 sm (1 – 4 bedrooms)
Price*: from 32 – 38 million/sm

Startup Tower (Nam Tu Liem District)

Total units: 312 units
Scale: 3,929 sm land area
Unit size: 65 – 90 sm (2 – 3 bedrooms)
Price*: from VND 16 million/sm
* Prices included VAT
Note: Selected newspapers include Dau Tu Bat Dong San, Thoi bao kinh te Vietnam, The gioi thong tin bat dong san, CafeF, Tap chi dau tu bat dong san, Vietnamnet, Thi truong Bat dong san & Tai san, Nguoi dua tin, Vnexpress
FOR MORE INFORMATION,CONTACT:
Dung Duong MRICS
Director
T +84 8 3824 6125
dung.duong@cbre.com
An Nguyen
Director
T +84 4 2220 0220
an.nguyen@cbre.com