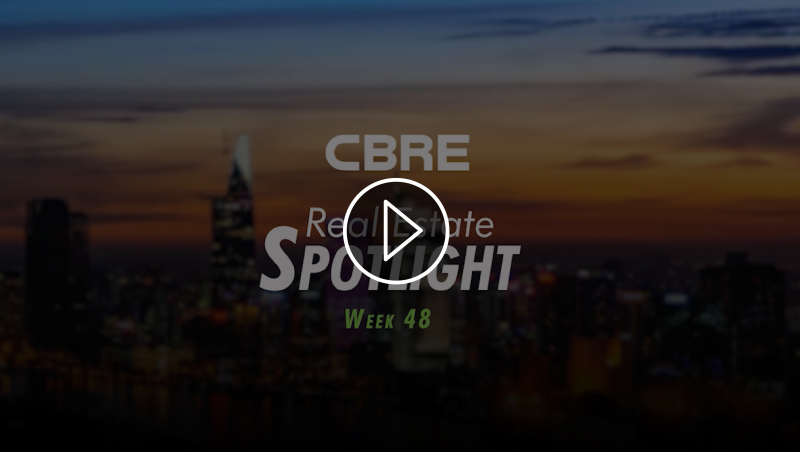 Vietnam's Jan-Nov FDI rises 11.9 pct y/y
Reuters
Vietnam received an estimated $16 billion in foreign direct investment (FDI) in the first 11 months of this year, up 11.9% from the same period in 2016, the government said on Monday. FDI pledges for new projects, increased capital and stake acquisitions jumped 82.8 percent from a year ago to $33.09 billion, the investment ministry said in a report published on its website.

The manufacturing and processing industry received the most foreign funds as of November, followed by the electricity and air production and distribution sector. South Korea, Japan and Singapore were the biggest investors in Vietnam.
Planning law gets NA approval
The Saigon Times
The law on planning which is expected to make considerable changes in planning activities when coming into effect in 2019 was passed last Friday with over 88% of National Assembly (NA) deputies voting in favor.

Planning activities in the past time have been reported to lack transparency, be fragmented, overlapping and ineffective, spelling trouble for enterprises and people.

One crucial point in the planning law is that planning of areas and products, including business conditions which are often abused to create the ask-give mechanism, is eliminated.

Another advancement of the law is integrated planning. That is, the planning process needs to have the involvement of relevant ministries, agencies, localities, local and foreign experts, and starts from the bottom on a particular order, and is taken charge of by one agency.
PM approves $1.3b for tourism infrastructure in 2016-2020
Vietnamnet
By 2020, the Government plans to develop a comprehensive and modern infrastructure system for three to five tourist attractions and provide support to improve access to 30 national tourist sites.

The programme will focus on constructing major roads leading to tourist sites, a waste treatment system, lake embankment and dredging and embellishment of natural resources.

In the first 10 months of this year, international tourist arrivals to Viet Nam reached more than 10 million, representing a rise of 28.1% over the same period last year.

Vietnam to spend over US$1 billion for upgrading three airports
Hanoi Times
The Civil Aviation Administration of Vietnam (CAAV) has recently submitted to the Ministry of Transport a plan to upgrade three international airports near Vietnam's top tourist destinations from now to 2020 with a total cost of over VND23.3 trillion (US$1.03 billion).

The CAAV said that the money would be spent at Cat Bi Airport, which is 70 kilometers from Ha Long Bay; Phu Bai Airport just outside the former royal capital Hue; and Chu Lai Airport, 77 kilometers south of Hoi An. The investment will be mainly spent on building new terminals, runways and taxiways.

Under the plan, Cat Bi airport will need more than VND6.2 trillion while the amount for Phu Bai and Chu Lai will be over VND6 trillion and VND6.6 trillion, respectively.
Hanoi builds plan of four underground parking lots
SGGP Online
The Prime Minister has approved a proposal by the Ministry of Planning and Investment to choose consultant firms to build a plan of underground parking lots in four districts Hoan Kiem, Ba Dinh, Dong Da and Hai Ba Trung in Hanoi. According to the committee, Hanoi had 5.9 milion vehicles last year with the average growth rate reaching 4.6 percent a year.

Urban construction area approximates 3,861 hectares with parking lot area accounting for 15.6% in the four inner districts. So the area for static traffic is only 0.4% while it must be 2-3% to meet requirements.

At present, building more parking lots on the ground is unfeasible so implementation of the plan is suitable.
HCMC's Metro Line 1 may extend to Dong Nai and Binh Duong
VnEconomic Times
| | |
| --- | --- |
| | The metro line 1 is proposed to have an interchange station 2km to the north of Suoi Tien station (HCMC). From this interchange, there will be two urban railway lines to Di An town (Binh Duong province) and Bien Hoa city (Dong Nai province). |
42 banks capable of providing bank guarantee for housing projects
Vietnamnet
| | |
| --- | --- |
| | State Bank of Vietnam has recently announced the list of 42 commercial banks which are capable of providing bank guarantee for housing projects, which include both local banks and some foreign banks such as ANZ, HSBC or Shinhan. |
NPLs in property drop significantly
VIR
Statistics showed that real estate NPLs dropped from 7.05% in 2013 to 4.06% as of July 31.

Governor of the State Bank of Viet Nam Le Minh Hung at a recent hearing of the National Assembly said lending for the real estate sector accounted for 7.1% in the first 10 months of this year, compared with 10 per cent last year.

The central bank would continue to control credit flow into the property sector.

Vietnam's e-commerce growth among world's highest
Vietnam Economic Times
In Vietnam, the e-commerce channel has evolved thanks to booming internet use and smartphone ownership, along with massive investment by key retail players, and now takes 0.5% of the FMCG market in the four key urban cities. The percentage of e-commerce shoppers grew from 5.4 per cent to 8.8 per cent in the 4 key urban cities' population in the last year alone, and online trip size is triple an offline basket.

"Although the size of Vietnam e-commerce market is still small compared to other formats, it holds strong potential because the value growth of e-commerce within FMCG is up to 69 per cent, which makes Vietnam post among the highest e-commerce growth rates in the world," said Mr. David Anjoubault, General Manager of Kantar Worldpanel Vietnam.
Franchise restaurants boom in Vietnam
Tuoi tre News
With prices that target middle-income earners, restaurant franchises are becoming increasingly popular with the younger generation in Vietnam as a go-to place for dining, hanging out with friends, and meeting with business partners. Presently, Vietnam is already home to 71 foreign restaurant franchises, including 'big players' like McDonald's, Starbucks, Burger King, and BBQ Chicken.

Most of these franchises are currently flourishing in the country's largest hubs of Hanoi and Ho Chi Minh City, but others are beginning to target growing cities such as Da Nang and Hai Phong to further cement their foothold.
CBRE Newspaper Updates on Residential Ads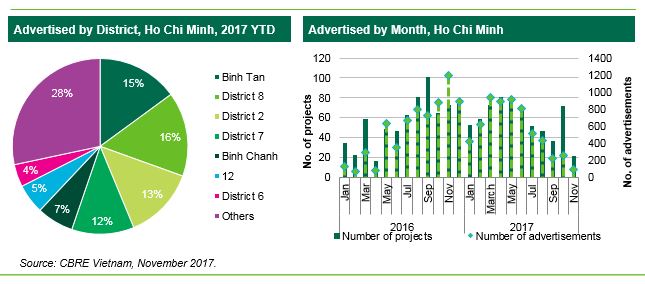 No new launched
Advertisements:

Calla Garden (Binh Chanh District)

Total units: 207 (for condos only)
Scale: two 17-floor blocks
Unit size: 50 – 107 sm (1 – 3 bedrooms)
Price*: from VND 18.5 million/sm

Thu Thiem Dragon (District 2)

Total units: 274 (for condos only)
Scale: two 23-floor blocks
Unit size: 45.2 – 93 sm (1 – 3 bedrooms)
Price*: from VND 2.2 billion/2BRs

Mizuki Park (Binh Chanh District)

Total units: 576 (Phase 1)
Scale: two 20-floor blocks
Unit size: 56 – 98 sm (2 – 3 bedrooms)
Price*: from VND 24.4 million/sm
* Prices included VAT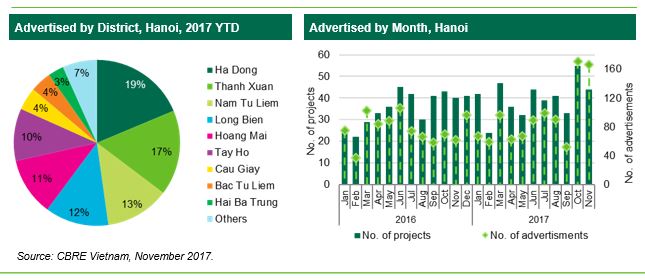 ​
No new launched
Advertisements

Golden Field ( Nam Tu Liem District)

Total units: 437 units
Scale: 4,435 sm land area
Unit size: 70 – 124 sm (2 – 3 bedrooms)
Price*: from VND 29 million/sm

D. Le Roi Soleil ( Tay Ho District)

Total units: 498 units
Scale: 9,185 sm land area
Unit size: 88 – 344 sm (2 – 3 bedrooms)
Price*: from VND 65 million/sm

Tokyo Tower ( Ha Dong District)

Total units: 688 units
Scale: 4,557.3 sm land area
Unit size: 76 – 133 sm (2 – 3 bedrooms)
Price*: VND 20 – 25 million/sm

Grand Gardenville Ciputra (Tay Ho District)

Total units: 161 villas
Unit size: 140 – 396 sm (villas)
Price*: from VND 115 million/sm
* Prices included VAT
Note: Selected newspapers include Dau Tu Bat Dong San, Thoi bao kinh te Vietnam, The gioi thong tin bat dong san, CafeF, Tap chi dau tu bat dong san, Vietnamnet, Thi truong Bat dong san & Tai san, Nguoi dua tin, Vnexpress
FOR MORE INFORMATION,CONTACT:
Dung Duong MRICS
Director
T +84 8 3824 6125
dung.duong@cbre.com
An Nguyen
Director
T +84 4 2220 0220
an.nguyen@cbre.com