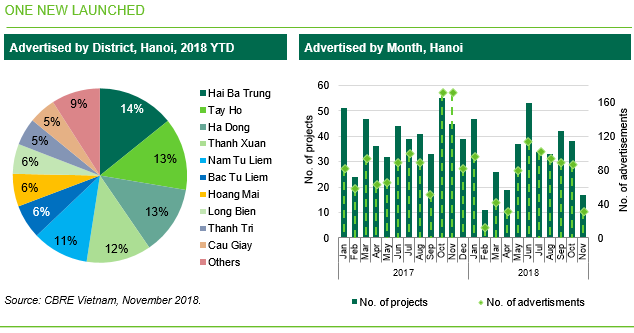 One New Launched:

D'. El Dorado II – Phu Thanh (Tay Ho District)

Total units: 260 units (Apartment for sale)
Scale: 3,182.7 sqm land area
Unit size: 76 – 116 sm
Price*: from VND 53 million psm

Advertisement:
HDI Tower (Hai Ba Trung District)

Total units: 76 units
Scale: 1,924.8 sqm land area
Unit size: 75 – 98 sm
Price*: from VND 77 million psm

Imperia Sky Garden (Hai Ba Trung District)
Total units: 1,866 units
Scale: 38,155.8 sqm land area
Unit size: 57 – 106 sm (2- 3 bedrooms)
Price*: from VND 35 million psm

* Prices included VAT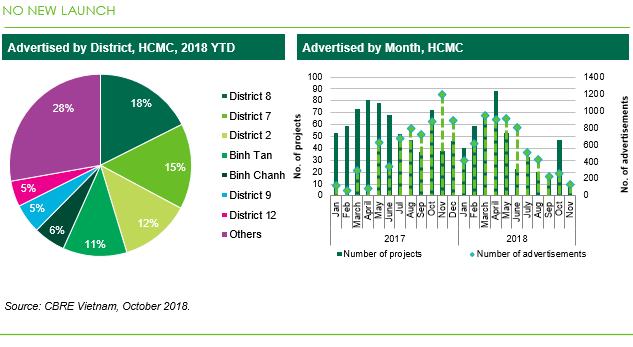 No New Launch
Advertisement:

Q7 Sai Gon Riverside Complex (District 7)

Total units: 3,580 units
Scale: 75,224.5 sm
Unit size: 53.2 – 86.69 sm (1 – 3 bedrooms)
Price: VND 29 million psm (excl VAT)

Charmington Iris (District 4)
Total units: 1,438 units
Scale: 16,645 sm land area
Unit size: 45 -122 sm (1 – 3 bedrooms)
Price*: from VND 52 million psm
* Prices included VAT
Update base on newspaper date 12 – 16 November 2018

Vietnam's newest airline Bamboo gets aviation licence


Vietnam's Transport Ministry said Bamboo's official aviation licence had been approved and that it would aim to operate 100 routes, including to lesser-travelled destinations in Vietnam and elsewhere in Asia, with plans to eventually fly to North America. The airline is owned by Trinh Van Quyet, who heads the FLC property empire that includes lush beachside resorts, golf clubs and luxury condos across Vietnam, a country still under one-party communist rule. Bamboo has already signed up to buy 20 of Boeing's 787 Dreamliners worth US$5.6 billion and committed a further US$3.2 billion to buy 24 Airbus A321neo planes. The airline said its inaugural flight, originally scheduled for last month, should take place before the end of the year.
Central Group Vietnam launches GO! My Tho mall in Tien Giang


Central Group Vietnam opened its innovative retail concept GO! My Tho trading and service mall in southern Tien Giang Province. The three-storey retail concept will satisfy all the needs of customers, from food to necessity products, consumer goods, apparel, accessories, fashion and lifestyle products, home appliances, playgrounds and entertainment services.

The special feature of GO! My Tho is the smart layout of "Eat – Shop – Play." The mall offers integrated services from the food court, coffee and tea shops, restaurants, grocery shopping, playgrounds and entertainment on each floor.
Pharmaceutical retail market heats up with big players


Conglomerate Vingroup last weekend officially entered the pharmaceutical retail segment, with a launch of its VinFa Pharmacy chain in Hanoi. VinFa's first eleven stores have been opened at Vingroup's VinMart + convenience stores in urban areas or apartment buildings.


With a series of locations in trade centers and large-scale urban areas, VinFa promises to become a heavy-weight competitor of other big retailers, such as Mobile World Group, FPT Retail, Nguyen Kim Group and Digiworld JSC (DGW), which have entered in the pharmaceutical retail market over the past year.
Vietnam is among world's top 50 economies after 32 years of reform

After 32 years undergoing economic reform, Vietnam's economy has maintained an average GDP growth rate of 6.6%, featuring among the world's top 50 economies, according to Nguyen Thien Nhan, head of the Party Committee of HCMC. During 28 years from 1989 to 2017, Vietnam's economy expanded by 34.3-fold, reaching US$216 billion from US$6.3 billion. Over the last 22 years (1995 – 2017), the nominal GDP had increased by more than 10-fold from US$20.8 billion to US$216 billion.
The country is currently the 47th-largest economy in the world, Nhan continued.
Hanoi works out 25 satellite urban planning projects

Hanoi's five satellite urban areas approved by the Vietnamese government under the master plan for the capital's construction to 2030 with a vision to 2050 include Soc Son satellite urban area with six subdivisions, Xuan Mai satellite urban area with three subdivisions, Phu Xuyen satellite urban area with three subdivisions, a satellite urban area with nine subdivisions, and Hoa Lac satellite urban area with four subdivisions.
Quang Ninh to put into use three big transport projects in December

The northern border province of Quang Ninh will put into service three major transport projects in December this year, said Secretary of the provincial Party Committee Nguyen Van Doc. The Van Don international airport, the Hon Gai international port, and the Ha Long-Van Don highway having a combined investment of VND 25 trillion will be operating between December 25 and 30, Doc announced after making a fact-finding tour of the three facilities on November 14.
Construction works destroys banks of Sai Gon River

Along the river from District 12 to Binh Thanh, Go Vap, Thu Duc districts and District 2, dozens of houses are built on water.

Construction of embankments along the riverbanks has narrowed the river. A dozen houses and buildings have been erected along the riverbank in Thu Duc District. Construction works and houses have also been built along the bank of the Sai Gon River in Thao Dien Ward in District 2.
HCMC to launch seven more waterway tour routes


Daily Company will roll out seven additional waterway bus routes in HCMC in the near future after getting approval from the municipal Department of Transport. The service is expected to help meet the growing demand of tourists for waterway services in the city.
Work on two North-South expressway sections begins next year

All 11 subprojects of the Eastern North-South Expressway for the 2017-2020 period have had their feasibility studies approved. As such, work on the first two of the three sections funded by the State budget will start early next year.
Land for phase one of Long Thanh Airport to be handed over in 2019

Dong Nai Province will hand over 1,165 hectares of land to the Long Thanh International Airport project next year to develop its first phase, VietnamPlus news site reported, citing a Project Steering Committee meeting on November 12.
FOR MORE INFORMATION,CONTACT:
Dung Duong MRICS
Director
T +84 8 3824 6125
dung.duong@cbre.com
An Nguyen
Director
T +84 4 2220 0220
an.nguyen@cbre.com