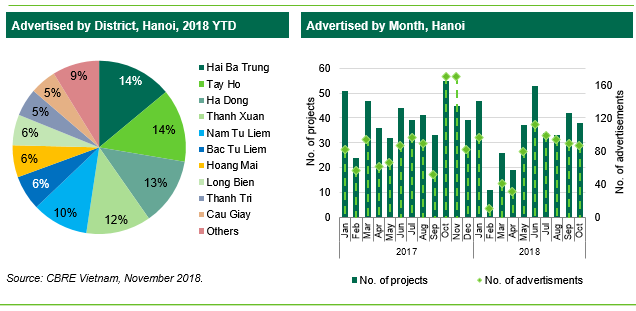 No New Launched:
Advertisement:

Hinode City – Asahi Tower (Hai Ba Trung District)

Total units: 226 units
Scale: 2,8ha land area
Unit size: 70 – 105 sm (2 – 4bedrooms)
Price*: from 45 million psm

Hope Residences (Long Bien District)
Total units: 1,504 units
Scale: 20,000 sm land area
Unit size: 51 – 77 sm (2 – 3 bedrooms)
Price*: from VND 16 million psm

* Prices included VAT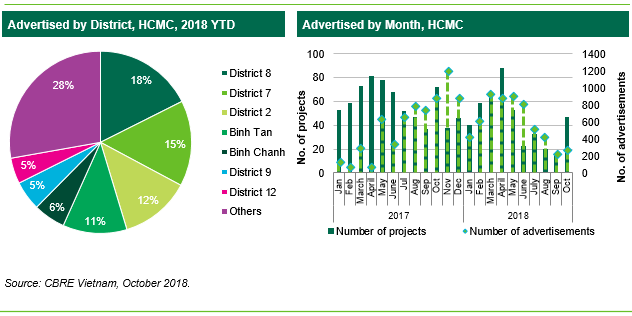 No New Launch
Advertisement:

Q7 Sai Gon Riverside Complex (District 7)

Total units: 3,580 units
Scale: 75,224.5 sm
Unit size: 53.2 – 86.69 sm (1 – 3 bedrooms)
Price: VND 29 million psm (excl VAT)

Charmington Iris (District 4)
Total units: 1,438 units
Scale: 16,645 sm land area
Unit size: 45 -122 sm (1 – 3 bedrooms)
Price*: from VND 52 million psm
* Prices included VAT
Update base on newspaper date 29 Oct – 2 November 2018

Vietnam primed for M&A boom as foreign ownership limit eases


Vietnam appears poised for a surge of investment following the country's move to lift restrictions on foreign ownership of companies, as Asian multinationals realize the benefits of having a presence in one of the region's fastest-growing economies. The planned reform comes as the growing trade war between Washington and Beijing turns Vietnam into a haven for businesses wary about maintaining or expanding production in China.
Mapletree Logistics Trust to acquire Vietnam warehouse for US$43m

MAPLETREE Logistics Trust will be acquiring a warehouse in the Vietnam-Singapore Industrial Park I located in Binh Duong province, Vietnam for approximately US$43 million. Upon completion of the acquisition, the property will be leased to Unilever Vietnam for 10 years.
Foreign fashion giants set footprint in Vietnam through M&A


Japanese global apparel retailer Uniqlo last week took a step closer to opening its first store in Vietnam next year as planned by acquiring a 35% stake of Vietnamese fashion company Elise, which has more than 100 outlets nation-wide. Uniqlo has recently announced plans to open the store in HCMC next year. The store will be operated through a joint venture between Fast Retailing and Mitsubishi Corporation, who will own a 75% and 25% of the company, respectively.
AccorHotels targets 19 more hotels in Vietnam

AccorHotels currently has 28 properties across the country, 12 of which are in the luxury and upscale segment. The group plans to add 19 more hotels to its portfolio within the next two years following the acquisition of Fairmont, Raffles, Swissôtel, and most recently, Mövenpick.
Quang Nam to develop Chu Lai Port into port hub

The Quang Nam government has sent a seaport plan up to 2020 with a vision toward 2030 to competent authorities asking for approval to upgrade Chu Lai Port in the province into an international standard seaport and port hub in central Vietnam. Chairman of Quang Nam Province Dinh Van Thu said in October 31 that the 5,186-hectare Chu Lai deep-water port project will be carried out by upgrading the Ky Ha and Chu Lai wharfs. In particular, Chu Lai Port is expected to handle 30,000-DWT container vessels in full load and cargo ships of 50,000 DWT or more. The project will be expanded by adding cargo harbors and wharfs that will be separately used for tourism.
HCMC-Moc Bai Expressway project to cost VND10.5 trillion

Project Management Unit No.2 has proposed the Ministry of Transport build the HCMC-Moc Bai Expressway, connecting the city with Tay Ninh Province. The expressway project, with a total length of 53.5 kilometers, will require around VND10.5 trillion in investment capital for the first phase.
Binh Quoi-Thanh Da project investor to remain unidentified for 2-1/2 years

It will take at least another 2-1/2 years to get a new investor for the long-stalled Binh Quoi-Thanh Da ecological urban area project on Thanh Da Peninsula in Binh Thanh District, said HCMC Chairman Nguyen Thanh Phong.
New innovation centre to provide grounds for Vietnam 4.0


According to the project draft drawn up by the MPI's Central Institute for Economic Management (CIEM), the New Innovation Centre (NIC) will be developed on an area of 23 hectares in Hoa Lac Hi-Tech Park with the total investment of VND1.9 trillion (US$82.6 million), including VND1.7 trillion (US$73.9 million) for the physical construction and VND200 billion (US$8.7 million) for operating capital. The project, set to break ground in 2019, will be developed within three years, and it could be put into operation in 2020.
Danang International Airport requests third Terminal

On November 1, the Danang People's Committee submitted a document to the Ministry of Transport requesting it to approve Dang International Airport's planning outline built by Civil Aviation Authority of Vietnam, and simultaneously arrange capital to build the third terminal for the airport. According to the plan, the airport will welcome 13 million passengers and handle 50,000 tonnes of cargo by 2020, and these figure increased by 28 million and 200,000 tonnes by 2030. However, in reality, the city estimates that the airport will likely welcome 13.3 million passengers this year, exceeding the expected capacity in 2020.
Vietnam emerges as key beneficiary of trade war

Vietnamese companies are emerging as key winners of the trade war between the U.S. and China, according to a new survey of companies from the two nations. Both American and Chinese companies participating in the survey, published on Monday by the Guangzhou-based American Chamber of Commerce in South China, said that as a result of the trade conflict, they have been losing market share, especially to companies from Vietnam.
FOR MORE INFORMATION,CONTACT:
Dung Duong MRICS
Director
T +84 8 3824 6125
dung.duong@cbre.com
An Nguyen
Director
T +84 4 2220 0220
an.nguyen@cbre.com