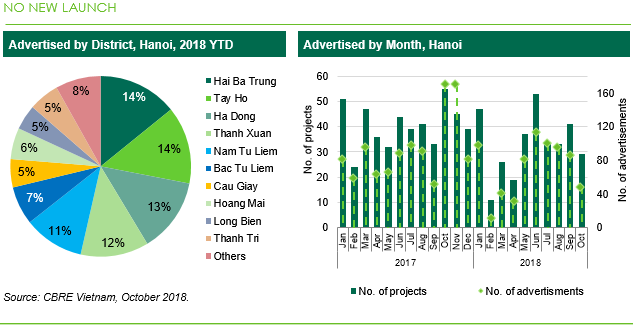 No New Launch
Advertisement:

Seasons Avenue (Ha Dong District)

Total units: 1,300 units
Unit size: 67 – 135 sm (2 – 3 bedrooms)
Price*: from VND 28 million psm

TNR Goldseason (Thanh Xuan District)
Total units: 1,500 units
Scale: 22,000 sm land area
Unit size: 64 – 106 sm (2- 3 bedrooms)
Price*: from VND 33 million psm
Total units: 352 units
Scale: 3,611 sm land area
Unit size: 45 – 70 sm (2- 3 bedrooms)
Price*: from VND 28 million psm
FLC Green Apartment (Nam Tu Liem District)
* Prices included VAT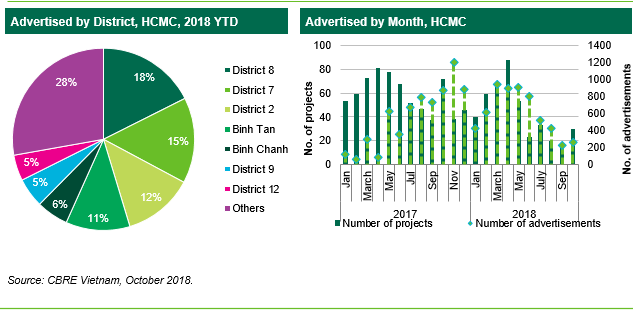 No New Launch
Advertisement:

Charmington Iris (District 4)

Total units: 1,438 units
Scale: 16,645 sm land area
Unit size: 45 -122 sm (1 – 3 bedrooms)
Price*: from VND 52 million psm
* Prices included VAT
Update base on newspaper date 15 – 18 October 2018

Vietnam's economic growth forecast at 6.88% in 2018: CIEM

The Central Institute for Economic Management (CIEM) has forecast Vietnam's economy growth for 2018 may be at 6.88% thanks to positive socio-economic results in the first nine months of this year. The forecast is higher than the institute's prediction of 6.71% released three months ago.
Hyosung Group gunning for M&A in Vietnam

South Korean industrial giant Hyosung Group aims to turn Vietnam into a major manufacturing base to realise its global expansion target. The group was recently licensed for its polypropylene (PP) production plant and an associated liquefied petroleum gas (LPG) underground storage depot in the southern province of Ba Ria-Vung Tau worth US$1.2 billion in total investment value. The PP plant element of the project is expected to replace Hyosung's existing PP production line in South Korea.
Bac Ninh licences 148 new projects


Authorities in the northern province of Bac Ninh have licenced 148 new investment projects worth US$376.154 million. The province also allowed 94 existing projects to increase their capital by over US$652.1 million and revoked 17 projects with a combined investment capital of more than US$153 million. At present, as many as 1,275 foreign-invested projects from 32 countries and territories are operating in Bac Ninh.
Hai Phong has first inland container depot

Deputy Transport Minister Nguyen Van Cong signed a decision on the opening of the Dinh Vu-Quang Binh Inland Container Depot (ICD) at the Dinh Vu Industrial Park in the northern port city of Hai Phong. Covering some 26 hectares, the more than 400 billion VND (US$17 million) project will be the first ICD in Hai Phong and one of the biggest in the northern region. Once operational, the three-phase project will be able to handle 100,000 tonnes of goods and have yard capacity of 400,000-500,000 TEU per year.
Vietnam's logistics costs higher than global average

Vietnam's logistics costs currently account for nearly 20.9% of gross domestic product, double that of developed economies and higher than the global average of 14%. The high logistics costs, of which 40%-60% are transport expenses, are attributed to the loose link between transport modes.
Lien Chieu seaport urgently seeking investment

The quantity of general cargo handled by Danang seaport this year will grow by 16.2% on-year (22.6% for container shipments). The load is estimated to reach 10 million tonnes in 2020 and 30 million tonnes in 2030. Correspondingly, from 2020, the load will exceed not only the handling capacity of Tien Sa Port but also of transport infrastructure in the city centre, causing serious traffic congestion and badly affecting the environment as well as tourism growth. Tien Sa Port is getting full to bursting and cannot be expanded, thus it is imperative to construct Lien Chieu Port and replace Tien Sa Port as the international gateway to the country. Danang city is stepping up the construction of Lien Chieu Port, however, it is struggling to mobilise capital.
Vietnam ranks 77/140 in Global Competitiveness Index

The analysis presented in the Global Competitiveness Report 2018 is based on a methodology integrating the latest statistics from international organizations and a survey of executives. Vietnam was placed 77th out of 140 countries in the Global Competitiveness Report 2018
Central Vietnam expressway traversed a rough path, remains rough


Construction of the expressway that runs 139 kilometers (86 miles) between Da Nang City and Quang Ngai Province started in May 2013. The investor promised to get the entire expressway ready for test driving in late June 2018 but kept missing the deadline repeatedly.
Can Tho commits support to Singaporean firms

Can Tho is set to be an industrial, commercial, service, financial, healthcare, agriculture, and education-training hub of the Mekong Delta. It is hoped that the city will establish strategic ties with Singaporean partners in the above fields, and that Singapore will share its experience and technological advances for mutual development.
HCMC chairman meets Thu Thiem residents over land dispute

A discussions with some 30 local households, who have yet to relocate or who have filed complaints over coercive relocation as their houses are located outside the zoning area of the Thu Thiem New Urban Area project, has been held by The HCMC People's Committee Chairman Nguyen Thanh Phong. The meeting covered several topics, especially the announcement of Conclusion No. 1483 issued by the Government Inspectorate on September 4 on the results of an investigation into major issues related to the project drawing prolonged complaints from local residents. Feedback was collected on site-clearance compensation policies for households within the 4.3-hectare area, and the shortcomings of municipal ex-chairpeople over multiple tenures and those of agencies related to the project were publicly announced.
FOR MORE INFORMATION,CONTACT:
Dung Duong MRICS
Director
T +84 8 3824 6125
dung.duong@cbre.com
An Nguyen
Director
T +84 4 2220 0220
an.nguyen@cbre.com