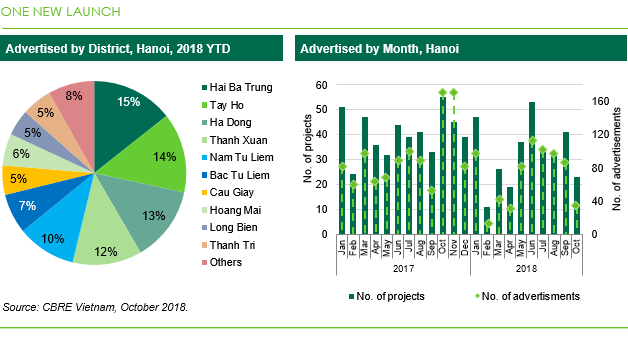 One New Launched:

Muong Thanh Thanh Ha Apartments (Ha Dong District)

Total units: 1,200 units
Unit size: 60 – 80 sm (2 – 6 bedrooms)
Price*: from VND 10.5 million psm
Advertisement:
Eurowindow River Park (Dong Anh District)

Total units: 2,230 units
Scale: 4,200 sm land area
Unit size: 60 – 100 sm (2- 3 bedrooms)
Price*: from VND 16 million psm

FLC Green Apartment (Nam Tu Liem District)
Total units: 348 units
Scale: 3,611 sm land area
Unit size: 45 – 70 sm (2- 3 bedrooms)
Price*: from VND 27 million psm

* Prices included VAT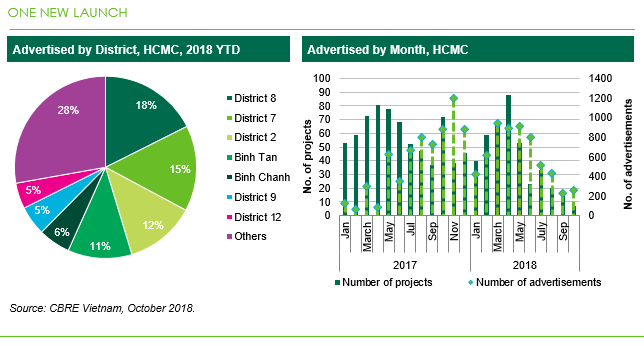 One New Launch:

Conic Riverside (District 8)

Total units: 664 units
Scale: 13,650.8 sm land area
Unit size: 49.41- 126.63 sm
Price: from 22.75 million psm

Advertisement:
Charmington Iris (District 4)

Total units: 1,438 units
Scale: 16,645 sm land area
Unit size: 45 -122 sm (1 – 3 bedrooms)
Price*: from VND 52 million psm
* Prices included VAT
Update base on newspaper date 8 – 14 October 2018
Sluggish site clearance leads to delay of Thu Thiem 2 Bridge

Dai Quang Minh Real Estate Investment Company will work on the Thu Thiem 2 Bridge, and the bridge is expected to put into operation before April 30, 2020. Until now, the bridge project falls behind schedule because of slow site clearance. Specifically, a land area of 13,000 square meter where six households and four companies are still located. The Department of Transport in HCMC has petitioned to the People's Committee and relating agencies to help speed up compensation and site clearance work of Thu Thiem 2 Bridge to hand over the vacant land to Dai Quang Minh Real Estate Investment Company.
Malaysia's Parkson may close fifth Vietnam mall

Malaysia's Parkson is apparently shutting down its fifth mall in Vietnam after suffering serious losses in recent years. If it shuts down, it would be the second outlet in HCMC that the company is downing the shutters on this year, following Parkson Flemington in District 11, and would bring the number of Parkson stores in Vietnam down to five, of which three are in HCMC, one in northern Hai Phong City and one in central Da Nang City.
VinCommerce acquires Fivimart


VinCommerce, a subsidiary of Vingroup, has officially announced the completing of its acquisition of the entire Fivimart supermarket chain. With the acquisition of a 100% stake from the Nhat Nam JSC, VinCommerce now owns all 23 supermarkets of Fivimart, which has been in operation for ten years and has good locations in populated areas.
New expressway, bridge opened to link Hanoi with neighboring provinces

In October 10, The Ministry of Transport launched The Hoa Lac-Hoa Binh Expressway connecting the capital city of Hanoi with the northern province of Hoa Binh and a bridge linking Hanoi with neighboring Phu Tho Province. The Hoa Lac-Hoa Binh Expressway, which is 25 kilometers long, costs over VND2.7 trillion (US$115.6 million) under the build-operate-transfer (BOT) investment format. The expressway helps shorten the travel distance from Hanoi to Hoa Binh by some 20 kilometers compared with the route via National Highway 6.
Hanoi's mega smart city set to kick-off construction in December

On 12/10/2018, the BRG-Sumitomo joint venture and Japanese consultancy unit Nikken Sekkei held a working session with the Hanoi People's Committee to report on the implementation of the Nhat Tan-Noi Bai smart city project and listen to instructive comments from the city's administration to soon start work on the project. The investors expect that the construction of the $4.2 billion project could be kicked off this December if they receive the project approval and the land on time.
Nghe An attracts 7.58 trillion VND in investment

The central province of Nghe An has so far this year granted investment licences to 82 projects with a total registered capital of VND7.58 trillion (US$325 million), representing decreases in both number of projects and registered capital; the number of investment projects decreased 29.2 percent compared to the same period last year while total investment capital fell 40.08 percent year-on-year.
Prime Minister approves Ha Long city expansion

Prime Minister Nguyen Xuan Phuc has approved the task of adjusting the expansion of Ha Long city by 2040 and a vision until 2050. The scope of direct research in the administrative boundaries of Ha Long city with an area of 27,753.91 hectares. The area of indirect research includes the districts of Hoanh Bo (4 communes in the south of Hoanh Bo district) and Quang Yen town (two wards, communes). The project aims to enhance the position of Ha Long city and Quang Ninh province in the international area.
Vietnam to remove 49% foreign ownership cap on listed companies


Vietnam plans to remove restrictions on foreign ownership of state-owned and listed companies by the end of 2019, as Hanoi looks to open its capital-hungry economy further in order to sustain rapid growth. Banking and aviation limits also expected to be raised, but not above 50%.
US$4.1bln project to reduce traffic accidents, boost public transportation in HCMC

HCMC, the country's biggest city with a population of 13 million, has been struggling for years to deal with worsening traffic congestion. The number of personal vehicles has increased exponentially, with 7.6 million motorbikes and 700,000 cars currently on the roads, while the public transport system has played a marginal role. A US$4.1 billion infrastructure project which will build 49 new bridges and 190 kilometers of roads from 2018 to 2020, will reduce traffic congestion.
Chorus of disapproval greets HCMC's new opera house plan

Last week, the municipal legislature, the city's People's Council, had approved a plan to build an opera house in the Thu Thiem New Urban Area in District 2. However, people consider that Ho Chi Minh City has many problems that need urgent attention, a new opera house is a skewed priority.
FOR MORE INFORMATION,CONTACT:
Dung Duong MRICS
Director
T +84 8 3824 6125
dung.duong@cbre.com
An Nguyen
Director
T +84 4 2220 0220
an.nguyen@cbre.com