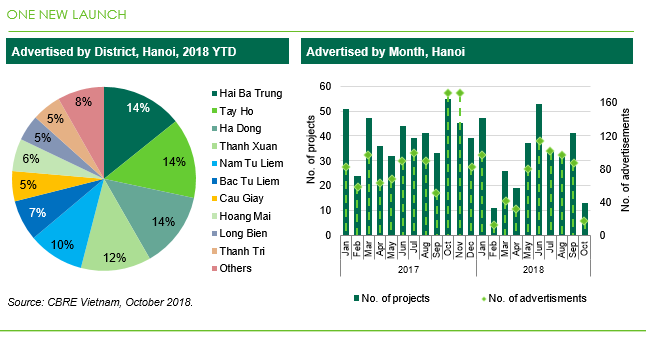 One New Launched:

King Palace (Thanh Xuan District)

Total units: 410 units
Scale: 6,793 sm land area
Unit size: 82 – 259 sm (2 – 6 bedrooms)
Price*: from VND 45 million psm

Advertisement:
Hateco Laroma (Dong Da District)

Total units: 264 units
Scale: 3,153 sm land area
Unit size: 80 – 138 sm (2- 3 bedrooms)
Price*: from VND 61 million psm

Anland Premium (Nam Tu Liem District)
Total units: 575 units
Scale: 8,570 sm land area
Unit size: 53 – 85 sm (2- 3 bedrooms)
Price*: from VND 26 million psm

* Prices included VAT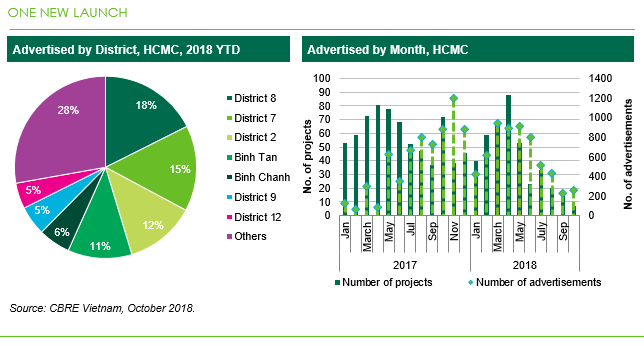 One New Launch:

Southgate Tower (District 7)

Total units: 347units and 315 officetels
Scale: more than 5.300 sm land area
Unit size: 53.7- 118.8 sm

Advertisement:
Charmington Iris (District 4)

Total units: 1,438 units
Scale: 16,645 sm land area
Unit size: 45 -122 sm (1 – 3 bedrooms)
Price*: from VND 52 million psm
* Prices included VAT
Update base on newspaper date 1 – 5 October 2018

Fast and serious: Vietnam's first domestic car manufacturer bets big

VinFast, a unit of Vietnam's largest conglomerate Vingroup JSC VIC.HM, is set to become the country's first fully-fledged domestic car manufacturer when its first production models built under its own badge hit the streets next August. From a standing start, VinFast will have the capacity to produce 250,000 cars annually in the next five years or so, equivalent to 92 percent of all the cars sold in Vietnam last year. Vingroup says it only embarked on creating VinFast a little over a year ago and has earmarked about US$3.5 billion for the project.
Vietnam supports foreign investors

Vietnam will maintain its policy of encouraging foreign investment and continue to improve its investment environment to facilitate investors, said Prime Minister Nguyen Xuan Phuc.
World Bank ups Vietnam's growth forecast to 6.8 pct


The World Bank has upped its 2018 growth forecast for Vietnam to 6.8̀̀%, but warned of trade war fallout. The report forecasts that Vietnam's growth will fall to 6.6% in 2019 and 6.5% in 2020 due to possible negative impacts from the rising trade tensions between the U.S. and China.
Pending project market gets busy towards the year end

A number of projects left unimplemented for many years have changed hands, while more and more large transfer deals have been reported recently. Analysts say that once the large-scale project heats up again, this will have positive impact on the market. A report showed that in 2017, consumer goods manufacturing was the industry with the highest M&A value accounting for 57 percent of total value, followed by the real estate sector with 27 percent, finance & banking (4 percent) and materials & chemicals 3 percent. Meanwhile, in the first six months of 2018, the real estate sector jumped into the first position with 66.75 percent.
E-Mart Vietnam to build first Hanoi store at StarLake

South Korean retail group E-Mart is to build its first hypermarket in Hanoi's StarLake urban area. According to StarLake, E-Mart and THT Development have signed an agreement to transfer two commercial land lots within StarLake Project, for an area of 1.86 million sqm in Hanoi's Tay Ho (West Lake) district.

After exiting China, E-Mart plans to open 50 stores in Vietnam during the next five years.
More casinos open in central coastal region
Vietnamnet

More integrated resorts with a hotel, resort and casino have arisen in the coastal areas, in the inner city and around Da Nang, from Hoi An to Hue City. Under the newly released decree on casino business, Vietnamese citizens are now allowed to go to the casinos in Vietnam if they can satisfy some requirements.
Can Tho a major investment magnet

With constant infrastructure upgrades and a strong commitment from the leadership to ameliorate the local investment climate, the city of Can Tho in the Mekong Delta has emerged as one of the investment hotspots in the country.
Vietnam warned it is planning one airport too many


Experts are concerned that Vietnam is building too many airports without carefully evaluating their necessity. And the majority of them are not making any profit. The Can Tho International Airport in the south is one of those.
Nearly US$475 million for construction of Van Don-Mong Cai highway

The Van Don-Mong Cai highway in the northern coastal province of Quang Ninh will be constructed under the build-operate-transfer (BOT) and public-private partnership (PPP) contract at the total cost of more than 11 trillion VND (US$474.4 million), according to the provincial People's Committee.
Japanese firm seeks to join new coach station project

A representative from Japan's Tokyu Corporation proposed the HCMC government for the company's participation in setting up a joint venture with Saigon Transportation Mechanical Corporation (SAMCO) to construct the new Mien Dong Coach Station covering an area of three hectares in District 9, HCMC, heard a meeting with HCMC vice chairman Tran Vinh Tuyen on October 4.
FOR MORE INFORMATION,CONTACT:
Dung Duong MRICS
Director
T +84 8 3824 6125
dung.duong@cbre.com
An Nguyen
Director
T +84 4 2220 0220
an.nguyen@cbre.com