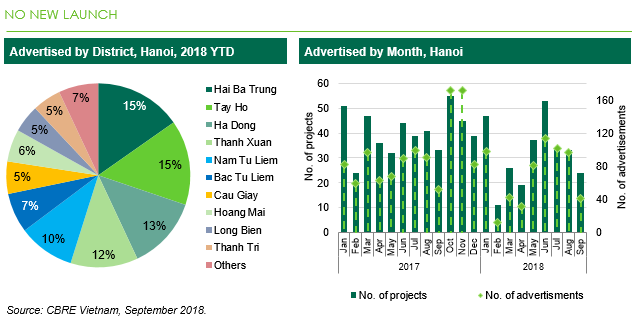 Three New Launch

Mipec City View – M1 Building (Ha Dong District)

Total units: 414 units
Unit size: 56.8 – 83.2 sm (2 – 3 bedrooms)
Price*: from VND 16 million psm

Golden Park (Cau Giay District)
Total units: 368 units
Scale: 4,576 sm land area
Unit size: 82.6- 132.5 sm (2 – 3 bedrooms)
Price*: from VND 37 million psm
Total units: 648 units
Scale: 10,895 sm land area
Unit size: 74 – 181 sm (2- 4 bedrooms)
Price*: from VND 32 million psm
Kosmo Tay Ho (Tay Ho District)

Advertisement:
TNR GoldSeason (Thanh Xuan District)

Total units: 1,475 units
Scale: 22,371 sm land area
Unit size: 64- 101 sm (2- 3 bedrooms)
Price*: from VND 32 million psm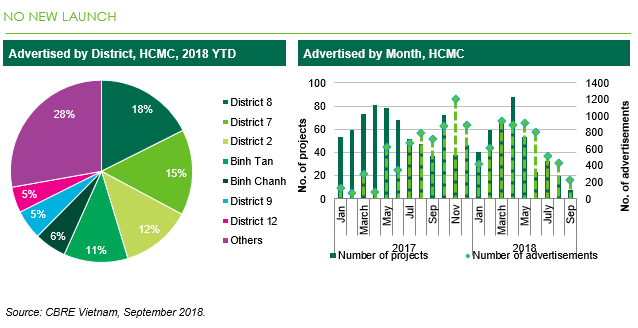 * Prices included VAT
No New Launched:
Advertisement:

Charmington Iris (District 4)

Total units: 1,438 units
Scale: 16,645 sm land area
Unit size: 45 -122 sm (1 – 3 bedrooms)
Price*: from VND 52 million psm

Heaven Riverview (District 8)
Total units: 960 units
Scale: 16.939,8 sm land area
Unit size: 50.37 – 68.68 sm (1 – 2 bedrooms)
Price*: from VND 20-22 million psm
* Prices included VAT

Vietnam shines despite Southeast Asia's struggles with trade and emerging market pressures

Vietnam is a heavily trade-dependent economy with a trade-to-GDP ratio of approximately 200% and rising", according to Standard Chartered Bank economist, Chidu Narayanan. Still, FDI inflows are set to remain high in 2018, led by manufacturing which makes up close to 50% of inflows, Narayanan said in research published in late June. Standard Chartered expects both registered and implemented FDI to be close to $15 billion in 2018, moderating from $21 billion in 2017, he said. "Vietnam has benefited from its participation in regional trade pacts, a young and educated population, a still-cheap and growing labour force, and geographical proximity to China," he said.
Vietnam's Premier Seeks 'New Ways' to Survive U.S.-China Trade War

Vietnam's government will use a combination of trade deals and domestic reforms to survive the fallout from a U.S.-China trade war, according to Prime Minister Nguyen Xuan Phuc. "This trade war between the U.S. and China will surely affect Vietnam," the premier said in an interview with Bloomberg Television's Haslinda Amin at the Government Office in Hanoi on Monday, ahead of the World Economic Forum on Asean, which Vietnam is hosting. "We are seeking new ways to grow," he added. "We want to maintain good relations with both the U.S. and China."
Vietnam among economic outperformers: McKinsey

Vietnam is classified as one of the 11 more recent, less heralded and more geographically diverse outperformers among the emerging economies, according to a report by U.S.-based McKinsey Global Institute. Vietnam is listed among the 11 economies that achieved average annual per capita gross domestic product (GDP) growth of at least 5% over 20 years between 1996 and 2016.
The 5,000-billion-dollar road linking Hanoi's four districts will soon be inaugurated

More than 20 km in the South of Hanoi with a total investment of 5,000 billion has been carpeted, planted trees to prepare opening on the occasion of the 10 October. The road runs through 4 districts and 13 communes and wards such as Ha Dong, Thanh Oai, Ung Hoa, Phu Xuyen … The project was originally invested by Cienco5 Land Development Joint Stock Company (Cienco5 Land) However, the project was bought 95% by Muong Thanh Group Joint Stock Company.
Approved the policy of building technical infrastructure of industrial zones over 2,200 billion in Bac Ninh

Deputy Prime Minister has signed the decision approving the investment policy investment project construction Yen Phong II-C industrial infrastructure system, Bac Ninh province. The investor of this project is Viglacera Corporation. The project has an area of 219.22 hectares with a project investment capital of VND2,234 billion with a term of 50 years. In particular, the capital contribution of investors is 357.4 billion, loan capital is 558.5 billion and other capital is 1.318 billion. The project is located in Cho town and Dong Tien, Tam Giang, Yen Phong district, Bac Ninh province. The progress of the project in 5 years since the investment policy.
HCM City advances nearly VND3,300 bln to Metro Line 1

According to the municipal Management Authority for Urban Railways, about 56% of the works have been completed, including the tunnel between Ba Son station and Opera House, infrastructure at Tham Luong depot, underground section from Ben Thanh station to the municipal Opera House station. In 2018, the Ministry of Planning and Investment has temporarily suspended the allocation of ODA to the project because of legal obstacles related to investment adjustments.
The People's Committee of HCMC has given an advance of nearly VND3,300 billion (US$143 million) for the project since 2016 till date.
Transport ministry to restart road project in Mekong Delta


The Ministry of Transport has decided to resume work on a project to build a road running parallel to National Highway 30 and connecting the Mekong Delta provinces of Tien Giang and Dong Thap. When the HCMC-Can Tho and Binh Phuoc-Kien Giang expressways are opened to traffic, the number of vehicles running on National Highway 30 would be even higher. Therefore, the Ministry of Transport has decided to build the road running parallel to it. The 31-kilometer road will begin from the starting point of National Highway 30 and end at Cao Lanh Bridge, of which the section passing through Tien Giang Province will be nine kilometers long. The road, measuring 23 meters in width, will have 4 lanes.
Ho Tram to invest over US$183 million in building airport in Ba Ria – Vung Tau


Ho Tram Project Company, the operator of Grand Ho Tram Strip casino resort, had a meeting with local authorities in the southern province of Ba Ria – Vung Tau to discuss the construction of a airport dedicated to serve its resort. Once completed, the airport would be used to transport tourists from domestic airports to the Grand Ho Tram Strip. For an investment capital of VND4.25 trillion (US$183.47 million), the airport will meet the standard of 4C, including one take-off runway with a length of 2,400 meters. Total area of the land used to build the airport is estimated at 224 hectares, of which over 47 hectares is located in Loc An commune and more than 196 hectares in Lang Dai commune, Dat Do district.
Ho Chi Minh City approved the plan of the zoning of 1/5000 scale in Can Gio sea tourism urban area


According to the HCM City People's Committee, Ho Chi Minh City has just approved the planning project of the scale of 1/5000 Can Tho sea tourism area of 2,870 ha in Long Hoa and Can Thanh town, Can Gio district (adjusted detailed planning of the scale of 1/2000 Can Gio urbanization and tourism area).
Vietnam – attractive destination for estate investors

Vietnam will become an attractive destination for real estate investment and business because of the high demand for housing, industrial park infrastructure, shopping malls, and tourism property.
FOR MORE INFORMATION,CONTACT:
Dung Duong MRICS
Director
T +84 8 3824 6125
dung.duong@cbre.com
An Nguyen
Director
T +84 4 2220 0220
an.nguyen@cbre.com