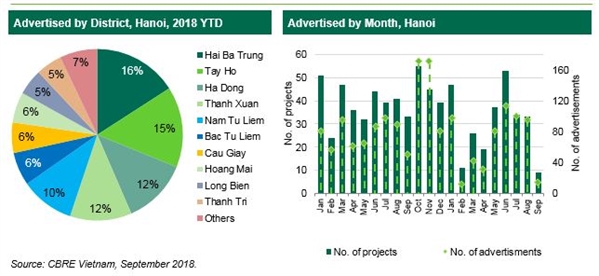 No New Launch
Advertisement:

Anland Premium (Ha Dong District)

Total units: 575 units
Scale: 8,570 sm land area
Unit size: 54 – 85 sm (2 – 3 bedrooms)
Price*: from VND 26 million psm

Eco Dream Nguyễn Xiển (Thanh Tri District)
Total units: 572 units
Scale: 5,341 sm land area
Unit size: 45 – 98 sm (1 – 3 bedrooms)
Price*: from VND 26 million psm
Total units: 2,368 units
Scale: 21,720 sm land area
Unit size: 80 – 122 sm (2 – 3 bedrooms)
Price*: from VND 35 million psm
Sunshine City (Tay Ho District)

* Prices included VAT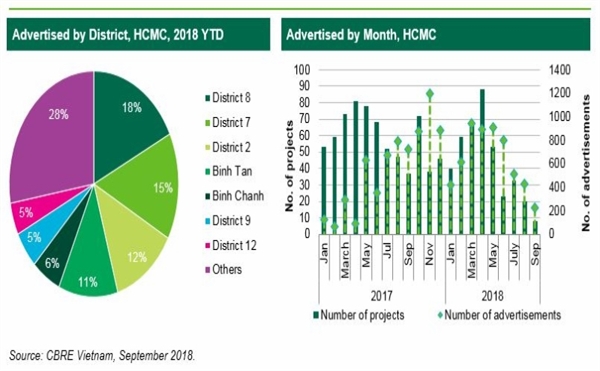 No New Launched:
Advertisement:

Heaven Riverview (District 8)

Total units: 960 units
Scale: 16.939,8 sm land area
Unit size: 50.37 – 68.68 sm (1 – 2 bedrooms)
Price*: from VND 20-22 million psm

Eco Green Saigon (District 7)
Total units: 1,000 units
Scale: 140,000 sm land area
Unit size: 52 -95 sm (2 – 3 bedrooms)
* Prices included VAT
Korea Infrastructure Management plans US$3.2-billion resort project in Vietnam

South Korean real estate firm Korea Infrastructure Management plans to invest US$3.2 billion in the Paradise Golf Resort and Bau Trung residential area, a resort complex project in the southern province of Ba Ria – Vung Tau.
Phu My Hung acquired the owner of a 200-ha project in Bac Ninh

Phu My Development Company Limited has spent VND319 billion to buy back 99.7% of shares of Vietinbank Trade -Union Invesment Joint Stock Company. Vietinbank is the investor of the technical infrastructure building project for Hong Lac – Xuan Lam eco-residence in Bac Ninh. The project has a total technical infrastructure investment of approximately VND3,000 billion and a planning scale up to 198.5 ha.
Ha Noi agreed to build a 25-storey building in the housing complex of Vietnam Film Institute
Vietnam-Australia Real Estate Investment and Trading Limited Company has been granted with the approval for the Vietnam Film Institute's housing complex renovation and rebuilding project implementation. The project is carried out with extra-budgetary resources from direct investment. The total estimated investment capital of the project is VND366.2 billion, including its own equity, loan and licit financial fund, of which the investor's equity must be at least 20% of the total project investment
Mountain top resort, golf course and safari zoo to be built on Ba Den

The Prime Minister has approved the master plan for the construction of Nui Ba Den National Park in Tay Ninh Province by 2035. It consists of a total area of 2,903.79 ha and many types of resorts on mountain peaks and golf courses. and Safari Zoo…
Five routes connecting Tay Ninh with Ho Chi Minh City to be built and upgrade

The Tay Ninh People's Committee has started construction of five projects to expand and upgrade roads connecting the neighboring provinces to Nui Ba Den National Park. Total capital for these projects is VND 1,715 billion.
Hai Phong builds VND1.5 trillion interchange to improve northwest gateway

The interchange is located to the south of the Binh Bridge in Hai Phong and consists of three levels: an underpass, ground-level roads and a flyover system. The construction commenced on September 2 and worth VND1.5 trillion (US$64.5 million). It is expected to ease congestion along the northwest gateway to the northern port city.
Vietnam eyes $2.4 bln upgrade to all civilian airports

Vietnam's airport operator has recommended a VND56.7 trillion (US$2.4 billion) upgrade of 16 of the 21 civilian airports in the country. The renovation list includes Tan Son Nhat Airport in Ho Chi Minh City, Noi Bai airport in Hanoi, nine airports in the Central, two airports in the southern islands, an airport in the Central Highlands, and three airports in the northern region.
3-3.5% is the appropriate annual interest rate for social housing loan


According to HoREA, the annual interest rate for social housing loan at 3-3.5% will be more reasonable when the economy stabilizes. The association also recommends setting a monthly savings deposit equal to VND 500,000 or less than VND 1 million for the monthly paid home loan and the saving depositors at the Social Policy Bank can also enjoy the same savings interest rate applied at the commercial banks (currently about 7% per year). In addition, the deposit for social housing renting should be adjusted from the rent of 3-12 months to 1-3 months.
BHMA expands in Vietnam


Flight Centre Travel Group's hotels and accommodation business, BHMA, has announced the launch of a new hotel in Vietnam – X2 Vibe Viet Tri Hotel. The 4-start hotel is located 60 km from Hanoi's Noi Bai International Aiport and features 60 rooms. This property would be the only hotel under an international branding in the city of Viet Tri.
CapitaLand spent 1.380 billion VND to purchase of a housing project in District 2
CapitaLand Group has spent about 1,380 trillion VND, equivalent to 81.4 million Singapore dollars to buy a housing project in Binh Trung Dong Ward, District 2, HCMC. The project covers an area of over 6 hectares, includes 100 landed properties and is expected to be completed by 2021. This is CapitaLand's third acquisition within a month, contributing to 1.1 billion USD of the group's portfolio.
FOR MORE INFORMATION,CONTACT:
Dung Duong MRICS
Director
T +84 8 3824 6125
dung.duong@cbre.com
An Nguyen
Director
T +84 4 2220 0220
an.nguyen@cbre.com