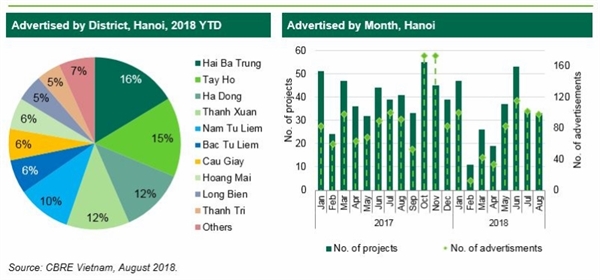 No New Launch
Advertisement:

Imperia Sky Garden (Hai Ba Trung District)

Total units: 1,866 units
Scale: 38,156 sm land area
Unit size: 59 – 105 sm (2 – 3 bedrooms)
Price*: from VND 36 million psm

Season Avenue (Ha Dong District)
Total units: 1,238 units
Scale: 13,651 sm land area
Unit size: 67 – 133 sm (2 – 3 bedrooms)
Price*: from VND 28 million psm
Total units: 348 units
Scale: 3,611 sm land area
Unit size: 45 – 70 sm (2 – 3 bedrooms)
Price*: from VND 27 million psm
FLC Green Apartment (South Tu Liem District)

* Prices included VAT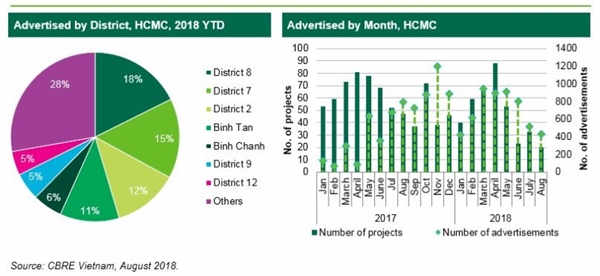 No New Launched:
Advertisement:

Heaven Riverview (District 8)

Total units: 960 units
Scale: 16.939,8 sm land area
Unit size: 50.37 – 68.68 sm (1 – 2 bedrooms)
Price*: from VND 20-22 million psm

Charmington Iris (District 4)
Total units: 1,438 units
Scale: 16,645 sm land area
Unit size: 45 -122 sm (1 – 3 bedrooms)
Price*: from VND 52 million psm
* Prices included VAT
Update base on newspaper date 27-31 Aug

Feasibility report ready for Vietnam's $58 billion high-speed railroad

Vietnam's north-south high-speed railway is expected to cost US$58 billion. Two sections – from Hanoi to the central city of Vinh and from the central city of Nha Trang to HCMC – will be built first in 2020-2030 at a cost of US$24 billion, and commercial operations are likely to begin in 2032. All sections are expected to be completed and operational by 2040-2045.
Consideration of Tuy Hoa – Buon Ma Thuot railway construction
Nguyen Van The, the Minister of Transport, has agreed with the leaders of Dak Lak province People Committee on the policy of Tuy Hoa – Buon Ma Thuot railway construction. In the future, the Tuy Hoa – Buon Ma Thuot railway with a total length of 169 km will be connected to the railway along the Central Highlands from Kon Tum to Binh Phuoc.
VND2.2 trillion needed for Phu Bai Airport expansion

The Airports Corporation of Vietnam (ACV) plans to allocate some VND2.2 trillion to upgrade and expand Phu Bai Airport in the central city of Hue. The expansion project will include the building of two-story passenger terminal T2, covering some 16,500 square meters and costing an estimated VND1.7 trillion.
HCMC plans to build new bridge to connect Go Vap District and District 12

People's Committee of Ho Chi Minh City has approved the proposal of Department of Transport on continuing to deploy An Phu Dong temporary bridge (steel structure) construction project. The bridge connects Ward 5, Go Vap District with An Phu Dong Ward, District 12.
Can Tho finalises smart-city plan

Can Tho City has completed its plan for smart-city development, which is divided into three phases. The first phase (2018–20) will focus on establishing a technological foundation for a smart city, building a digital government, and working on smart solutions for city planning. The second phase of the plan (2021–23) will carry out solutions concurrently and build on the foundation. The third phase (2024 –25) will see the continued development of systems and solutions applied to more areas of the city, which will provide more efficient processing capability, storage and security.
The Prime Minister agrees to adjust the master plan of Bac Ninh city

The Prime Minister agrees to adjust the master plan of Bac Ninh city to 2035 with a vision to 2050. The goal of the project was to build and develop Bac Ninh urban area into a class I city in the twenties of the 21st century, as a premise to turn the province into a centrally-administered city by 2030. By 2030, Bac Ninh will form 06 subregions.
Khanh Hoa: 4 more industrial zones and 12 industrial clusters are under planning

By 2025, the province will have 4 industrial parks with a total area of 897 hectares and 12 industrial clusters with a total area of 628 hectares. The four industrial parks are: Suoi Dau (Cam Lam district); Ninh Thuy (Ninh Hoa town); Nam Cam Ranh (Cam Ranh city); Van Thang (Van Ninh district).
Locals spend billions on realty abroad


Vietnamese buyers spent US$3 billion on homes in the US between April 2016 and March 2017, which propelled Vietnam into the top 10 of countries with buyers in US real estate during this one-year period. Not only the US, but also properties in the region, including Thailand, are attracting rich Vietnamese homebuyers. This has prompted many foreign developers to take roadshows to Vietnam to introduce their projects to local buyers.
Sojitz continues its M&A spending spree in Vietnam


PAN Group last week revealed its plan to offload 14.86 million shares, equal to an 11 per cent stake, to Sojitz Corporation. Under the plan, PAN Group proposed a minimum selling price of VND55,000 ($2.43) a share. The transaction is expected to be completed in either the third or the fourth quarter. Established in 1998, PAN Group has become one of the leading agricultural companies in Vietnam, with total assets of VND7.6 trillion ($336.3 million).
Sansiri expands to Vietnam, partners with Denzell Vietnam

The Sansiri Public Company Ltd has announced an exclusive strategic partnership with the one-stop real estate agent Denzell Vietnam. In 2017 Sansiri increased its sales revenue in overseas markets to US$279 million and in 2018 laid out an aggressive plan to introduce 31 new projects worth US$1.03 billion and a sales target of US$815.6 million.
FOR MORE INFORMATION,CONTACT:
Dung Duong MRICS
Director
T +84 8 3824 6125
dung.duong@cbre.com
An Nguyen
Director
T +84 4 2220 0220
an.nguyen@cbre.com