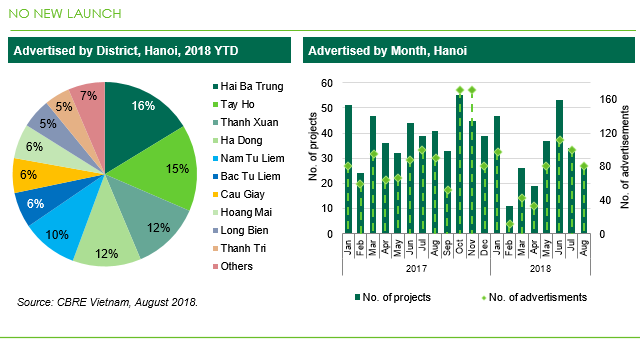 No New Launch
Advertisement:

Sky Central (Hoang Mai District)

Total units: 902 units
Scale: 13,462 sm land area
Unit size: 65 – 105 sm (2 – 3 bedrooms)

Price*: from VND 26 million psm
TNR Goldmark City (North Tu Liem District)
Total units: ~ 5,000 units
Scale: 113,996 sm land area
Unit size: 68 – 161 sm (2 – 4 bedrooms)
Price*: from VND 27 million psm
Total units: 1,218 units
Scale: 38,609 sm land area
Unit size: 67 – 105 sm (2 – 3 bedrooms)
Price*: from VND 23 million psm
Ecolake View (Hoang Mai District)

* Prices included VAT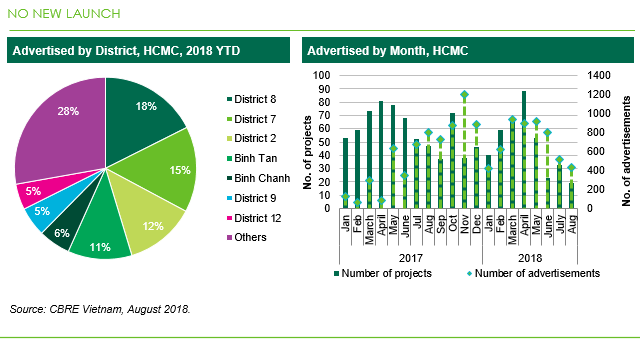 No New Launched:
Advertisement:

Heaven Riverview (District 8)

Total units: 960 units
Scale: 16.939,8 sm land area
Unit size: 50.37 – 68.68 sm (1 – 2 bedrooms)
Price*: from VND 20-22 million psm

Charmington Iris (District 4)
Total units: 1,438 units
Scale: 16,645 sm land area
Unit size: 45 -122 sm (1 – 3 bedrooms)
Price*: from VND 52 million psm
* Prices included VAT
Vingroup to raise US$400 million by selling shares to Hanwha Asset Management

Vingroup will issue 84 million convertible dividend preference shares to the South Korean fund at a price of VND110,976 (US$4.76) apiece. Vingroup's charter capital is expected to increased by VND840 billion (US$36.08 million) to VND32.75 trillion (US$1.4 billion) after the issuance.
Thai retailer Central to splash $500m on Vietnam expansion

Central Group has already invested US$1.5 billion in Vietnam since 2012 and plan to invest another US$500 million in the next five years, from 2018 to 2022. Store penetration year to date in total is 250 stores nationwide and it plan to reach 720 stores in the next five years, or by 2022.
FLC Group launches Bamboo Airways


The FLC Group officially launched Bamboo Airways on August 19. Established in 2017, Bamboo Airways has charter capital of VND700 billion ($31.1 million) and is a pioneer in the hybrid model. In its first year of operations, Bamboo Airways is expected to operate eight to ten routes to priority domestic destinations. In subsequent years it will add more international routes and by 2023 will open long-haul routes to the US, Europe and Africa.
PHI Group enters competition in Vietnamese real estate market

Recently, PHI Group has signed a Memorandum of Understanding (MoU) for a comprehensive cooperation to partner up with Hanoi MHD. Through the co-operation, PHI Group is expected to establish solid operations in the real estate market and development in Vietnam.
Hanoi to build smart parking lot in Hoang Mai district

The Hanoi People's Committee is going to select investors to implement a smart parking project in Den Lu urban area, Hoang Van Thu ward, Hoang Mai district. The parking lot will be built on an area of 1,155.3m2 and have a system of automatic high-rise parking. It will be able to handle 116 vehicles at the same time. The project is estimated to cost about VND25 billion (US$1.08 million) from non-state budget.
Halong – Haiphong expressway opened on 31/08

Expected on August 24, the State Council will test the whole project. If all the conditions are qualified, the Expressway will be put into operation on September 2. Started construction in early 2015, the project includes two component projects: Bach Dang Bridge, the road, the intersection of the end of the route and the road connecting Ha Long City with Bach Dang Bridge. Total length of the route is 24.6km with total investment of more than 13,000 billion.
Request on Tan Son Nhat Airport expansion plan completion prior to September 2nd
The Vietnam Civil Aviation Authority, Vietnam Airlines Corporation (ACV) and related agencies were required to complete the Tan Son Nhat airport expansion plan before September 2nd. According to the plan, a passenger terminal will be built to the South of Tan Son Nhat in order to serve 20 million passengers per year and raise the capacity to at least 50 million passengers per year. Also, new cargo terminal, aircraft parking area, and maintenance area will be added to the North, where the current golf course is located.
New industrial cluster to be developed in Dung Quat EZ


Six Korean companies will invest more than US$11 million in Dung Quat Economic Zone in Quang Ngai Province to create a new industrial cluster, covering some 65,000 square meters, in the zone. The six companies are Samshin Valve Vina; Yoobong Vina; Wookwang Vietnam; Kwang Jin Vietnam; Hanbit P&L Vina; and Nasan Electric Industries.
Binh Phuoc licenses 24 projects worth $1 billion


The Binh Phuoc People's Committee has granted investment licenses to 10 foreign invested projects and 14 locally-invested projects with the total investment capital of $1.13 billion.
Bac Ninh licenses 116 FDI projects in seven months

The northern province of Bac Ninh licensed 116 new foreign direct investment (FDI) projects worth US$332.5 million in the first seven months of 2018. The province also allowed 69 existing FDI projects to increase their capital by $536.7 million and revoked 14 projects with investment capital of more than $149.6 million.
FOR MORE INFORMATION,CONTACT:
Dung Duong MRICS
Director
T +84 8 3824 6125
dung.duong@cbre.com
An Nguyen
Director
T +84 4 2220 0220
an.nguyen@cbre.com