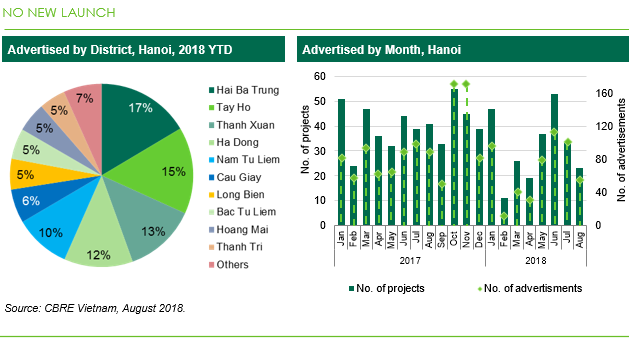 No New Launch
Advertisement:

Riverside Garden (Thanh Xuan District)

Total units: 572 units
Scale: 8,873 sm land area
Unit size: 50 – 126 sm (1 – 3 bedrooms)
Price*: from VND 27 million psm

Green Pearl (Hai Ba Trung District)
Total units: 504 units
Scale: 10,334 sm land area
Unit size: 71 – 139 sm (2 – 4 bedrooms)
Price*: from VND 33 million psm
Total units: 3,283 units
Scale: 167,000 sm land area
Unit size: 74 – 101 sm (2 – 3 bedrooms)
Price*: from VND 21 million psm
Hong Ha Eco City (Thanh Tri Conmune)

* Prices included VAT
One New Launched:

Hung Phuc Premier (District 7)

Total units: 192 units
Scale: 5,001,95 sm land area
Unit size: 62.51 – 86.22 sm (2 – 3 bedrooms)
Price*: from VND 60 million psm

Advertisement:
Charmington Iris (District 4)

Total units: 1,438 units
Scale: 16,645 sm land area
Unit size: 45 -122 sm (1 – 3 bedrooms)
Price*: from VND 52 million psm
* Prices included VAT

Growing purchasing power buoyed up retail stores

Vietnam's growing retail service revenue and a big number of newly-established enterprises in the sector mirror the uptrend in local purchasing power and retail stores. Since the beginning of the year, there were about about 25,700 newly-established wholesale and retail businesses in Vietnam, accounting for 33.9 per cent of the total newly-founded enterprises
Indirect investment aims at Vietnamese real estate

Singaporean indirect investments into promising Vietnamese sectors currently exclude the local finance and banking sectors while others including real estate are seeing prospects. Three most prominent real estate deals are $37.4 million forked out by KEPPEL Land for an additional 16 per cent stake in Saigon Centre; a $130 million fund launched by CapitaLand aiming to invest in Grade A office buildings around Vietnam; and $1.3 billion invested by GIC Private Ltd. in Vinhomes this year.
Hanoi: A nearly 200ha super residence will be placed along the Yen Son Lake

The Yen Son Lakeside Residence and Yen So Park (the B area of Yen So Park) project has been approved. The total area is 191.67 ha, of which the area of Yen So Park accounts for 149.61 ha (including 95 ha of water surface); the construction land area is 29.95ha, the rest is the transport and urban area. The population size of the residence is about 12,800 people.
District 9 is allocated the largest portion of urban land

118,890 ha of non-agricultural land are allocated to 24 districts. Of these, five suburban districts were allocated the largest portion. In specific, Can Gio is allocated 22,984 ha, Cu Chi (16,746 ha), Binh Chanh (15,740 ha), Nha Be (7,993 ha) and Hoc Mon( 7,495 ha). Among 19 districts, District 9 is allocated the most non-agricultural land with 9,929, while district 4 is allocated the least with 418 ha.
US$41 billion is poured to HCMC real estate market each year

By the end of July 2018, the total mobilized capital of HCMC is VND2.50 trillion, increases 7.21% comparing to the beginning of the year. Capital mobilization activities in HCMC account for 1/3 of the country's mobilized capital. In addition to the growing real estate credit, FDI inflows and overseas remittances are also making an important contribution to the city's capital. On average, during the last 3 years, overseas remittances amounted to US$ 5 billion, of which 21% was spent on real estate, which equivalent to over 1 billion dollar is poured into its real estate market each year.
Macau's Suncity again defers Hoiana casino-resort stake purchase

Hong Kong's Suncity Group Holdings has twice delayed a deal in the last two months to acquire 34 percent of a casino-resort in Quang Nam Province. The Macau casino operator and investor said it is waiting for the joint venture between VinaCapital and Hong Kong's Chow Tai Fook to obtain approval from a Vietnamese bank, which has given a loan to the developers of Hoiana. So it is postponing completion of the deal, worth $76.8 million, until August 31 this year. Hoiana is one of eight casinos to be licensed in Vietnam now. To be built in 7 phases it will have a casino with 140 tables and around 1,000 slot machines, guest rooms and a golf course.
More than VND 18,000 billion invested in Nha Trang – Phan Thiet highway
The project of Cam Lam (Nha Trang) Highway – Vinh Hao (Phan Thiet) has a length of 104km was submitted to the Ministry of Transport with the total investment of VND18.463 billion. The expressway is 104km long with 6 lanes, the width of the road is 32.25m. Phase 1 has 4 lanes, 17m wide, including 19 bridges with a total length of 2.781m, 2 tunnels (720m in length) and Nui Vung (2,195m in length). End of Nha Trang – Cam Lam (Cam Hiep Bac Commune, Cam Lam District); The last point at Km134, coincides with the beginning point of Vinh Hao – Phan Thiet (Vinh Hao commune, Tuy Phong district, Binh Thuan province).
Quang Nam approves an international education project of VND1.5 trillion


The project has a total land use area of 41 ha, located in Binh Duong, Binh Minh, Binh Dao communes (Thang Binh district) with designed capacity of 12,000 students. The total investment of the project is VND1,500 billion. In which the capital contribution is 500 billion, the remaining loan. The duration of the project is 50 years from the date of issuance of investment policy decision.
Novaland signs MoU for two new tourism projects in Can Tho city


Novaland signed a Memorandum of Understanding with the Can Tho People's Committee to conduct a study and build a database to implement 2 new tourism projects in the city. These Novaland projects are Can Tho Marina serving passengers, cargo, and tourists on 3.5 ha in Ninh Kieu District and Con Son Tourism Area, located on 74.4 ha in Binh Thuy District. Novaland is cooperating with its consultant Boston Consulting Group and leaders of other provinces of the Mekong Delta to find suitable tourism models which can combine local advantages and elevate the region to international standard while keeping the environment pristine and local cultural characteristics undisturbed. 2018 is the first year Novaland joins tourism and resort projects. The group has also recently opened Azerai Can Tho—its first resort project in Vietnam.
Moody's upgrades Vietnam's ratings to Ba3, changes outlook to stable

Moody's Investors Service ("Moody's") has upgraded the Government of Vietnam's long-term issuer and senior unsecured ratings to Ba3 from B1 and changed the outlook to stable from positive. The upgrade to Ba3 is underpinned by strong growth potential, supported by increasingly efficient use of labor and capital in the economy. Moody's estimates that Vietnam's growth potential is strong, at around 6.5%, supported by increasingly efficient use of labor and capital in the economy.
FOR MORE INFORMATION,CONTACT:
Dung Duong MRICS
Director
T +84 8 3824 6125
dung.duong@cbre.com
An Nguyen
Director
T +84 4 2220 0220
an.nguyen@cbre.com