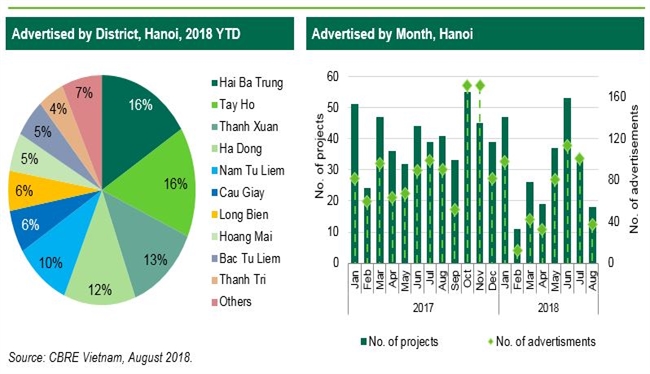 Advertisement:

Thang Long Capital (Hoai Duc Commune)

Total units: 540 units
Scale: 31,394 sm land area
Unit size: 62 – 97 sm (2 – 3 bedrooms)
Price*: from VND 16 million psm

Florence My Dinh (South Tu Liem District)
Total units: 480 units
Scale: 9,976 sm land area
Unit size: 74 – 123 sm (2 – 4 bedrooms)
Price*: from VND 27 million psm
Total units: 448 units
Scale: 2,808 sm land area
Unit size: 33 – 252 sm (1 – 4 bedrooms)
Price*: from VND 46 million psm
D'. El Dorado (Tay Ho District)
* Prices included VAT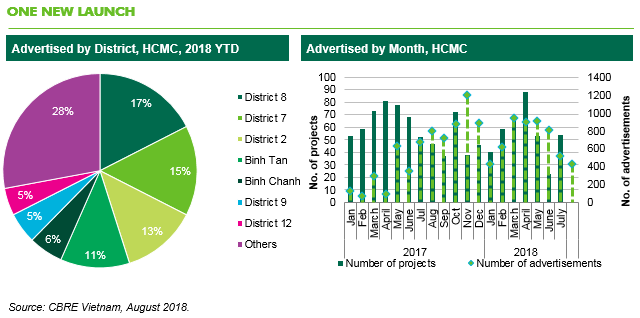 One New Launched:

Sky89 (District 7)

Total units: 430 units
Scale: 6,3 ha land area
Unit size: 55 – 114 sm (1 – 3 bedrooms)
Price*: from VND 45 million psm

Advertisement:
Metropole Thu Thiem (District 2)

Total units: 456 units
Scale: 79,224 sm land area
Unit size: 60 – 106 sm (1 – 3 bedrooms)
Price*: from VND 88 million psm

Charmington Iris (District 4)
Total units: 1,438 units
Scale: 16,645 sm land area
Unit size: 45 -122 sm (1 – 3 bedrooms)
Price*: from VND 52 million psm
* Prices included VAT

HCMC approves to build Long Kieng bridge in Nha Be district

The bridge is 318m long, 15m wide with total investment capital of VND 560billion. Of these, the construction will cost VND 255billion, the remaining will be for compensation and re-settlement works and others. It is expected that the bridge will be put into operation after 18 months of construction.
Ascott opens first Citadines apartment hotel in HCMC

The 229-unit Citadines Regency Saigon enjoys a prime location at District 3, a key business and residential district. Citadines Regency Saigon has also become Ascott's fifth operating property in Ho Chi Minh City and the twelfth one in the country, providing expatriates and travellers with more accommodation choices. Another two Citadines are scheduled to open in Binh Duong this year and in Ha Long City at the end of 2020.
Biggest Vietnam Oil Refinery Boosts Output as Defects Fixed

Vietnam's Nghi Son refinery, in which state-run Kuwait Petroleum Corp. and Japan's Idemitsu Kosan Co. each own 35.1 percent, plans to begin commercial operations by Nov. 15, Shintaro Ishida said in an interview at the plant in Thanh Hoa province. The facility is on track to reach its processing limit of 200,000 barrels a day of crude in September, after which it will complete the performance tests and documentation needed to operate commercially, he said.
Vietnam gives nod for $300mln railway upgrade

Vietnam's National Assembly has approved a $300 million budget for four railway upgrade projects on its transnational route. The four projects are to be implemented along the Hanoi-Ho Chi Minh City route. The funds will be sourced from the contingency budget of the Public Investment Plan 2016-2020 that the parliament approved in 2016. A total of VND1.95 trillion ($84 million) will be spent to reinforce over 100 weak bridges on the Hanoi-HCMC route. Propulsion systems on this route will also be improved.
Danang to turn industrial zone into urban area

Manufacturing enterprises operating in An Don Industrial Zone of Danang City have been encouraged to move to other sites as the industrial zone is scheduled to be converted into an urban area. Pham Viet Hung, a member of the management board at the central coastal city's export processing and industrial zone authority (IZA Danang), revealed that the leaders of IZA Danang will work with Hanoi Urban Architecture Development JS Company (HAAD) this week to launch the project to relocate enterprises in An Don, Son Tra District. The project proposal will be submitted to the municipal authority for approval in late 2018, and the first phase will be completed by 2020.
How is a race to build skyscrapers in Vietnam?

Bitexco was the tallest building in Vietnam for only one year. Keangnam hold this position for seven years to 2018 when Landmark 81 was completed. HCMC's Landmark 81, the tallest building in Vietnam and the 11th tallest building in the world, has reached its full height of 461m. There are several under planing projects that are taller than Landmark 81.
The 15 biggest M&A deals 2009-2018


Over the past 10 years, Vietnam has witnessed a number of high-value mergers and acquisitions (M&A) transactions in a variety of sectors, such as food manufacturing, real estate, banking, and retail. VIR's Kim Oanh presents a list of Vietnam's 15 largest M&A deals in the 2009-2018 period (from The List 100).
Shinhan Bank & MuaBanNhaDat.vn strike partnership


Property portal to act as a bridge connecting users in need with financial consultants at Shinhan Bank. Shinhan Bank Vietnam has officially announced a partnership with MuaBanNhaDat.vn to promote the Shinhan Bank brand name through digital marketing tools and to establish a brokerage cooperation program. The partnership will see digital marketing tools used on MuaBanNhaDat.vn to raise awareness among users on the products and services provided by Shinhan Bank.
UOB celebrates opening of fully-owned subsidiary in Vietnam

UNITED Overseas Bank (UOB) has incorporated its fully-owned subsidiary in Vietnam, making it the first Singapore bank to open a foreign-owned subsidiary bank in the country
FOR MORE INFORMATION,CONTACT:
Dung Duong MRICS
Director
T +84 8 3824 6125
dung.duong@cbre.com
An Nguyen
Director
T +84 4 2220 0220
an.nguyen@cbre.com